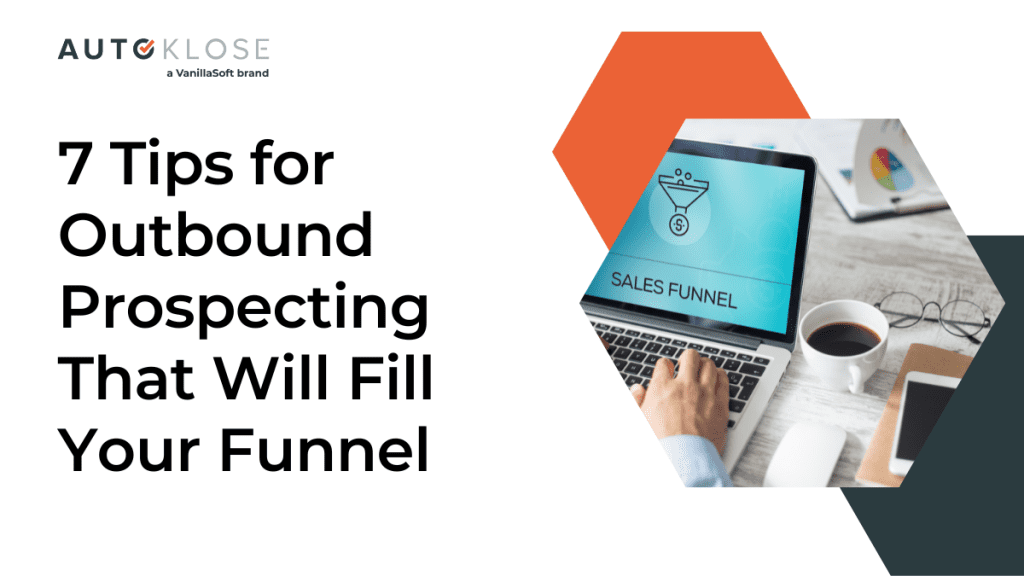 Having a funnel packed with high-quality leads is every sales professional's holy grail.
As this is a challenging task, many of them end up settling for leads that aren't the right fit, which is a big mistake.
Although every business heavily relies on having a steady stream of new prospects, this shouldn't be done at the expense of quality.
All this brings us to the topic of effective outbound prospecting that will make sure you always have a number of cold leads that you can warm up and nurture at your disposal.
Inbound vs. Outbound Prospecting
First of all, we need to distinguish between two approaches that companies use for expanding their customer bases: inbound and outbound prospecting.
Inbound Prospecting
Inbound prospecting refers to a long-term solution that revolves around the needs, challenges, interests, and goals of individual clients.
All these pain points and needs are then transformed into useful content that offers solutions. But the crucial point lies in the fact that salespeople don't push but guide potential clients through the decision-making process.
It basically boils down to attracting new customers by helping them find you through content marketing, SEO, social media marketing, and warm emailing.
Now, this strategy is great, but when you just start your business, you don't have that much time, and you can't rely solely on inbound to land new customers.
Outbound Prospecting
On the other hand, traditional, outbound prospecting isn't so subtle and delicate. It consists of:
Building a list of potential prospects, that is, people and companies that could benefit from your products or services.
Reaching out to those prospects through cold outreach, i.e., cold emails and cold calls.
As you can see, this is a pretty straightforward approach, and its purpose is to establish that first contact and qualifying leads that are after that, forwarded to sales execs who work on closing deals.
So, a growing business doesn't have the luxury of focusing on inbound prospecting, which is why outbound prospecting should be your No. 1 strategy at this point.
The goal of outbound prospecting
The aim of outbound prospecting is to identify and attract potential customers to your sales funnel. However, this can be challenging as it's crucial to connect with the right prospects who are genuinely interested in your products or services. It's even more challenging if you're creating a funnel for a high-ticket offer.
Unfortunately, the lack of trust in salespeople often leads to cold shoulders and missed opportunities.
While inbound prospecting is known to have a higher ROI, outbound prospecting can still be effective when done correctly. Thanks to technological advancements such as AI and automation, you can identify the right prospects to approach and increase your chances of success.
By taking a proactive approach and reaching out to potential customers, you can generate leads that may not have found you otherwise.
To ensure success, it's essential to have a well-planned strategy in place that allows you to target the right people with the right message at the right time.
Outbound prospecting may not be the easiest way to attract leads, but it can still yield positive results when executed smartly.
With the right tools and techniques, you can fill your sales funnel with high-quality leads and increase your chances of converting them into long-term customers.
Here are some tips and tricks to get you going.
1. Introduce Yourself Properly
When it comes to cold outreach, it's essential to introduce yourself using your full name as well as your company's name.
That's why, when I pick up the phone and call a cold prospect, I go with
"Hi Mike, this is Shawn Finder from Autoklose…"
The point behind this simple but pretty effective trick is to add some importance to yourself – behave as if your prospect is supposed to have heard of you and your company.
You've probably noticed that big shots usually say their full name when they first met you.
So, take a cue from them and add an air of importance to your prospecting. This way, you'll be able to command respect and trigger a sense of respect with your potential clients.
And if we bear in mind that timing is crucial when you're reaching out to someone for the first time, use these first 15 seconds of your call wisely.
2. Don't Apologize for Interrupting Them
If you continue your introduction by uttering that corny, overused "Is this a bad time?" you'll definitely get a polite "No."
But this doesn't mean that your cold call will be successful.
Drop this phrase from your vocabulary when you're cold calling your prospects because it makes you feel nervous and as if you believe that you're actually interrupting them with something unimportant.
And you know what?
Your product or service isn't unimportant.
Remember that you're about to offer your prospect something that can actually transform their business, help them reduce costs, improve their processes, and boost their bottom line in general.
How's that supposed to be unimportant?
In other words, add some urgency to your outreach by behaving in a manner that suggests you're about to tell them something that will make your prospects' lives better.
3. State the Purpose of Your Outreach
No matter whether you're cold calling or cold emailing your prospects, make sure to state the purpose of your outreach immediately.
Don't beat around the bush because:
a) your prospects are busy and don't have time to listen to/read your monologue
b) you'll come off as evasive.
It's crucial to say why you're calling/emailing right away before you lose their attention.
However, you should craft the wording carefully and say something along the lines of:
"I noticed that your company [state action or pain point], and since I've been in this industry long, I know what [certain issue] becomes a priority. I can show you how we helped a company similar to yours overcome potential downsides and move in the right direction."
Naturally, this step requires doing research on your prospects so that you can target their points of interest as well as pain points.


4. Don't Get Carried Away
OK, I know that you want to be detailed and thorough when you're reaching out to your prospects for the first time, but don't overstay their welcome.
Or they will lose attention.
Here are a couple of things you should bear in mind when reaching out to your prospects for the first time.
Exercise the KISS Approach
Brevity and conciseness are important when it comes to outbound prospecting.
You don't want your prospect to scratch their head while they're listening to you/reading your email and wonder what your outreach is all about.
Create sweet, short, and to-the-point email copy that focuses on a particular benefit of your product or service and the business value it will add to your prospect.
Leave Features and Functionalities Aside
Don't talk about features and functionalities, but about the way they can improve your prospect's business at this point. Leave the specs for later, when you've already sparked interest in your prospect.
Don't forget that not every segment of your email list looks for exactly the same benefits from your product – by highlighting the ones that might be of interest to a particular segment, your prospects will be aware that your message has been targeted based on previous research.
This will make your outreach relatable and relevant, thus prompting your prospects to read on.
Have a Strong Call to Action
Your call to action should sum up the point of your email and come as its natural resolution. So, this CTA should be a logical conclusion of the purpose you stated earlier.
It's worth noting that your every outreach should have just one visible, prominently placed CTA.
Otherwise, if you pack your copy with different CTAs, you'll only confuse your prospects, and they won't understand what you exactly want them to do and how all that will help them.
5. Don't forget to personalize
In today's highly competitive market, personalization has become a critical aspect of outbound prospecting. Generic, one-size-fits-all messages simply don't cut it anymore.
To stand out from the crowd and get your foot in the door, you need to show your prospects that you've taken the time to understand their unique challenges and needs.
One of the best ways to achieve this is by conducting thorough research on your prospects.
Start by checking out their social media profiles, such as LinkedIn or Twitter, to get a better understanding of their professional interests, recent accomplishments, and any news or events they may have been involved in.
Additionally, if you have a mutual connection with the prospect, it's worth reaching out to that connection for insights into their personality, interests, and preferences. This information can be invaluable when it comes to crafting a personalized message that resonates with the prospect.
Another way to personalize your outreach is by incorporating relevant details about the prospect's industry or business into your message.
By showing that you have a genuine interest in their company and understand the challenges they face, you demonstrate your value as a trusted partner, rather than just another salesperson.
The key to successful outbound prospecting is to put yourself in the prospect's shoes and show them that you genuinely care about helping them achieve their goals.
6. Add Video
An initial email with a video gets a 96% increase in the click-through rate. According to another study, 72% of people prefer videos to text marketing.
If we add the fact that the entire world is currently living in some kind of socially distanced normalcy, it's obvious that humanizing your cold emails is what will differentiate you from the crowd.
And there's no better way to do that than creating videos and attaching them to your cold emails. Besides putting a face to a name, this tactic allows you to deliver and get your message across better, build trust and authenticity, and grab your recipients' attention.
If you're not sure how to get your cold video email outreach right, here are some guidelines.
Use Videos Regularly
For this strategy to work, you need to use videos regularly.
Easier said than done, I know. It's much more complex to create a video than come up with the email copy.
But with Vidyard's GoVideo integration, you'll be able to record videos within the Autoklose email editor and simplify the entire process.
Make Your Videos Professional
This doesn't mean that you need expensive, pro equipment – plenty of light, no background noises, and keeping your top polished will suffice for starters.
You don't have to suit up, but a wrinkled, sloppy t-shirt isn't exactly an outfit for making a great first impression and coming off as a trusted professional.
Don't Run a Demo!
I have to emphasize the importance of brevity again.
As this is cold outreach, don't word vomit and deliver a full-blown demo about how your product or service is amazing.
Stick to stating the reason why you think your prospect should consider checking out your solution and how they will benefit from using it.
7. Include Social Proof
As establishing credibility plays an important role when it comes to the outcome of your outbound prospecting, you need to find a way to convince your prospects that you're a credible and reliable partner.
Remember that this might be the first time your prospect has ever heard of your company, which means that they would have to google you or look you up on social media, read reviews, and other people's experiences, etc.
Of course, this is a part of the process, but it comes later on.
At this very moment, when your prospect opens your cold email (if it manages to reach their inbox!), you'll be just one of many of those who try to sell them something.
And it's very unlikely that they will decide to further explore your background and see how you stack up.
But, you can do yourself (and your prospects) a favor and include social proof, that is, a piece of information that will show them how you successfully helped a company from the same industry achieve a certain goal.
So, don't simply tell that Hubspot, Microsoft, or any other big company is your client – you can leverage name dropping, but only by using it within a context.
How that particular big client benefited from your product or service, and what that has to do with your prospect.
So, say something along the lines of
"we helped XY improve delivery, open, and click-through rates of their email campaigns. Given that this is a huge challenge in this industry, we can do the same for you."
Over to you
All these tips work only if you tick all the other boxes with your outreach. In other words, you need to start with your ICP and buyer's persona, properly segmented list, well-crafted subject lines, copy, CTAs, and signatures, as well as with good timing and an effective cadence.
Autoklose and its automation and personalization features make the entire process of outbound email prospecting much easier, smoother, and more successful.