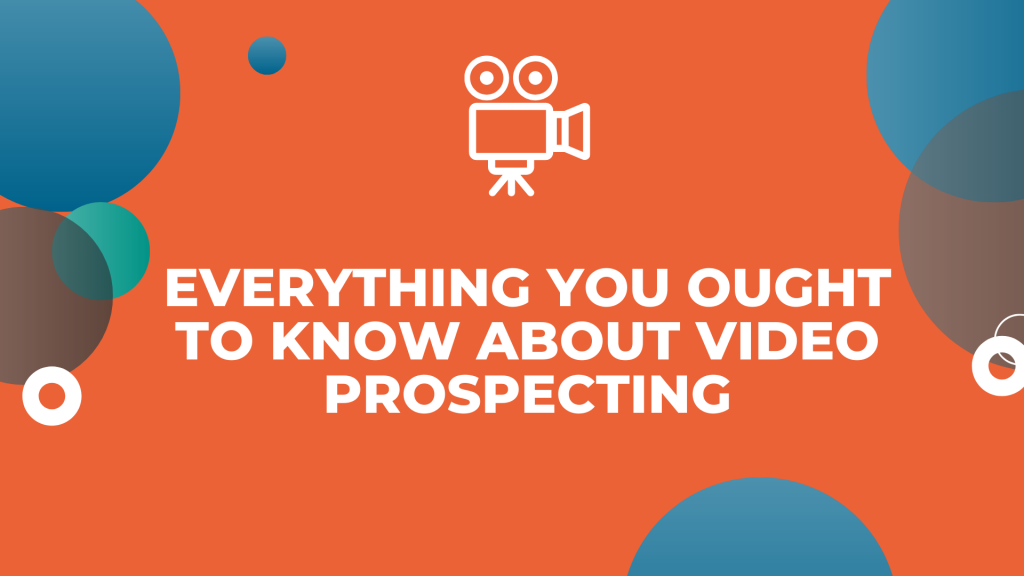 These days, if you want conversions, you need to stand out from your competition. To do that, you have to create a sales pitch that is so compelling, the lead won't be able to resist the urge to find out more about your product or service.
Video prospecting is one of those lead generation strategies you can use. Many content marketers have a working knowledge of the concept, but few know how to extract maximum utility from the practice and generate leads.
This primer guide will take you through an introduction to the concept. It will tell you why it's crucial that you consider it as part of your sales strategy and show you how to create compelling video pitches.
Let's get the ball rolling!
Why Is Video Prospecting Important?
Video prospecting is a sales approach that allows you to get face-to-face with leads or prospects through video – either in real time or with a pre-recorded clip – and explain the value of your product or service to them.
Prospecting sits close to the top of the sales funnel. Here, the primary goals are audience segmentation, awareness creation, and interest generation. Video prospecting can make all of these more straightforward and efficient when you do it the right way.
In a nutshell, video prospecting:
Adds a touch of authenticity and spontaneity to your pitch
Places you in front of the lead, where you can get to work converting them
Allows you to have conversations
Allows you to clear any misconceptions and answer questions
Differentiates your brand from the rest of the pack
It works! A Bombbomb study found enterprise sales reps had a 56% increase in replies when they included videos in their cold emails.
4 Steps to Take Before Implementing Video Prospecting
It doesn't matter if you embed video in email as part of your lead prospecting strategy or use video in your content marketing in general. You need to put a few things in place even before you press the record button on a video camera. Here are four that you need to know. 
1. Choose When to Send the Video
Video send timings might well be the least complicated of the bunch, but the most important. For your promotional material to achieve the maximum intended effect, it needs to reach the lead when they are naturally most receptive to it. If not, they might dismiss your email and, by extension, your brand.
A study reported by Hubspot showed that the best time to send promotional content for lead generation is on weekdays at 10 a.m, 1 p.m, and 6 p.m. These findings make sense since this is when most people check their morning emails, go out for lunch, and close for the day, respectively.
There are many automated email scheduler tools you can use to make sure that your content reaches its destination at the best time. Aside from ensuring maximum visibility, sending out your videos at a set time allows for uniformity. It makes the entire email campaign process easier.
2. Research Your Client
Whenever you're trying to convert one or a smaller crop of promising leads, do away with the one-size-fits-all approach. Take the time to conduct research on your clients so that you can position yourself and your offering in a compelling way.
You can do that in many ways. Check out their social media accounts. LinkedIn is particularly useful. Since it's the largest professional networking platform, you're likely to find your prospect there. Look at their company website. Maybe they have a list of employee biographies you can check out.
Hypothesize pain points, and build a persona. Think of how you'd address those pain points if you were face-to-face with the customer.
Source: Brafton
Research carried out beforehand gives you insights on prospects' product or service preferences, pain points, and past experiences. It also gives you ideas on the tone and manner best suited to the video pitch.
You can use these research findings to structure the content, language, and presentation style of the video.
3. Write a Script and Shoot the Video
This is the execution part of the entire process. The quality of your video can make or break your entire pitch. You have to make sure the content is up to par: from the video quality to audio, content, subject composure, and engagement standpoints.
Scripting is an essential part of the video pitch process. This is where you get to show your knowledge of your offering, the market in general, and the prospect.
According to Column Five Media, before you write your script, you should ask yourself these questions:
Why do I want to create the video?
What is my angle?
Who will be watching this?
What should they take away from this?
Why will they care about this story?
What value will this provide?
Once you answer those questions, you can create a list of bullet points your script should cover. Write them in paragraph form.
Now, we can move on to shooting the video. If you can, spring for a modern DSLR camera and a tripod. The camera will allow you to record crisp, high-definition videos. On the audio side of things, clip-on mics deliver excellent audio.
4. Include the Message Copy and a Strong CTA
Since you are most likely going to be sending out the videos as emails, the accompanying copy is also important to the overall success of the content. Aim for a clean, crisp, and concise copy. This is most effective when it comes to video prospecting. The writing should nudge the lead towards clicking and opening the video.
Tone and writing style are also important considerations when drafting email copy. These days, people prefer a more casual, laid-back tone. Don't be too formal. Your prospects won't be able to relate to you.
Tips to Creating a Compelling Video Pitch for Your Client
In the last section of the article, we focused on the various considerations to make ahead of your video prospecting. Here, we're going to discuss a few tips you can use to make your videos stand out.
1. Capture Attention With the Subject Line and Thumbnail
Thumbnails are the images or soundless videos that you see before you click to watch a video online. They are crucial to video prospecting. According to Wistia, videos with well-worded subject lines and relevant thumbnails are much better at converting leads (to the tune of more than 25%).
Once you're done shooting the video, choose a frame in the video that you feel best encapsulates its purpose and can lure the viewer into clicking the play button. This will be the thumbnail image.
Also, create a captivating subject line. Here's a great subject line writing guide to get you started.
2. Use Account-Level Videos for Key Clients
If you're prospecting for a group of people in the same company, you don't need to create one video for each of them.
Although it's nice to personalize videos, it's good to be practical, too. Your prospects will most likely decide as a team. That means you'd be wasting your time and resources if you created one video for each team member. Make sure, though, that you customize the video to the needs of their organization.
In other words, keep things personal but at scale.
3. Get Creative
Source: Videolicious
Content creativity in content is going to help your videos and emails achieve high click-through rates.
You need to serve up something new to the reader and pique their curiosity. You don't want them to click away from your email. This is even more pertinent since most email marketing content filters into the "promotions" folder on popular consumer email services like Gmail and Outlook.
The screenshot above, for instance, shows Tracy Lessard taking a video of herself in a car, veering away from the traditional studio-shot video. The idea was to show her prospects that, like them, she's busy, too. Her out-of-the-box idea worked since prospects end up feeling they can relate to her.
4. Focus on Providing Value
More than even getting a good deal, value is the chief driving factor in lead prospecting and conversion. This is why you must take advantage of video to show the prospect what they stand to gain with your product or service.
What special features are you offering? What pain point can it alleviate? These are a few of the questions your video must answer.
Remember, value is a relative thing. While some consider price to be a crucial element of their decision-making process, others rank it much lower. Find out the prospect's definition of value. Go back to your research. Structure your video in a way that fulfills the prospect's expectations.
5. Use Analytics for Follow-Ups
Analytics is critical to digital marketing. You can leverage the power of analytics to assess the performance of your video prospecting campaign, plug gaps in the strategy, and gain the insights you need for effective follow-up.
Did they watch your previous video? Did they click on your call-to-action (CTA) button? Did they read your last email? Use email analytics tools to find out the answers to these.
If they didn't watch your video, make some adjustments. Go back to research your prospect. Maybe your video did not quite solve their pain points. Based on your findings, create another video to use in future campaigns.
If they did not click on the CTA, then maybe you need to change that. If they did not read your last email, perhaps you need to personalize the subject line even more in your follow-up.


Conclusion
Video prospecting can be a marketing treasure trove when executed properly. Unlike other content marketing mediums that are more static in nature, videos are more dynamic. They give the prospect a more concrete peek at your brand's personality.
Use the added authenticity video prospecting gives to engage your leads. Show them your product or service's value proposition.
Before sending out a video, however, make sure that it ticks all of the content and quality boxes. Remember, video can be a double-edged sword. It can paint your brand in a good way if done well. But it can also betray its own purpose when executed poorly.
Bio
Oli Bridge is the CMO at Bonjoro, an app for sending personalized videos to convert and support your customers. He joined Bonjoro in 2016 and has helped build Bonjoro into one of Australia's fastest-growing startups, with over 50,000 customers using the tool today.