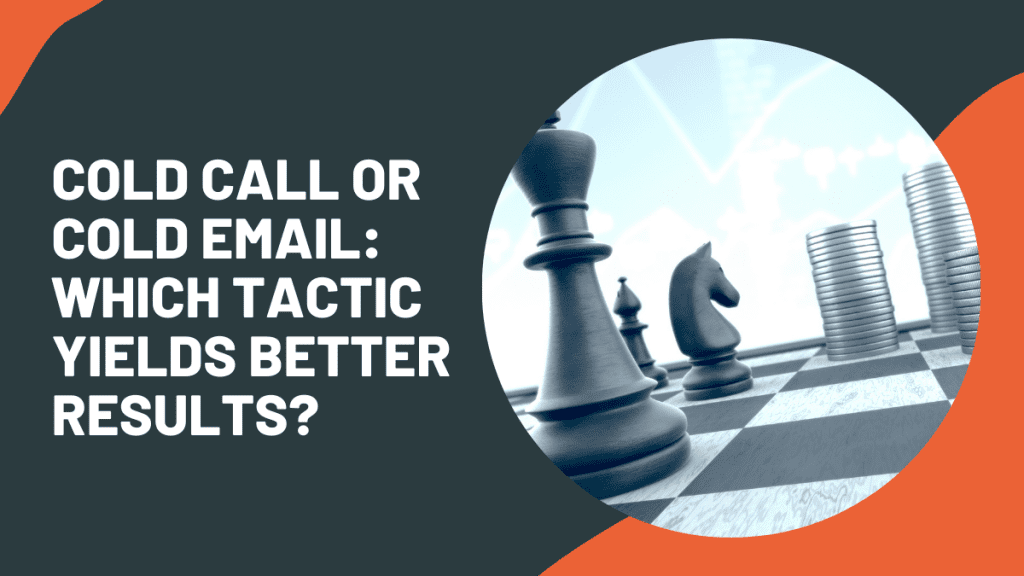 Cold calling vs cold emailing?
This dilemma is frequently faced by marketers and salespeople.
Which sales strategy is better?
And neither tactic is something that they like doing and with good reason.
Nobody likes to intrude and reach out to people they don't know, but hey, it's important to clench your teeth if you want to grow your business.
The best answer to this question is – both!
The synergy of cold calling and cold emailing can be used for breaking the ice and getting on your prospects' radar.
Is It Better to Call or Email a Prospect?
Both strategies have their benefits and downsides, and the key is to identify when it's better to grab a phone and when to hit the send button.
Email
Generally speaking, some people like emailing better, mainly because it gives them more time to think everything through.
Since with email, there's no need to engage with prospects in real time, they can come up with the best way to organize their thoughts.
Another plus lies in the fact that there are no gatekeepers that will stop them from reaching a decision-maker.
Cold calling
On the other hand, we can't deny that cold calling is popular despite its poor success rates.
Surveys have shown that an average conversion rate for cold calling rarely goes beyond 2 percent. Not to mention, that many salespeople get cold feet whenever they have to pick up a phone to make a cold call.
So, what's the catch?
When to Call?
The most straightforward answer to this question would be to call when you want to get a direct response right away.
But, the reality isn't that straightforward, so we'll explore the situations in which cold calling is a better option.
Here are some of the benefits of cold calling.
Cold Calling Is More Interactive 
When you call your prospects, you can learn a lot about them and uncover their needs or hidden pain points.
The exchanges happen in real time, which allows you to read the room more easily and adjust your narrative.
Plus, as we've mentioned, you will get your answer immediately without having to wait for the prospect to open your message, read it, and send a reply.
Cold calling gives you more control over the conversation and the opportunity to leverage your sales chops.
You Can Handle Potential Objections on the Spot 
Prospects frequently have different sales objections that can get in the way of closing the deal.
A phone call gives you more room for maneuver and enables you to address these objections as they emerge, thus speeding up the decision-making process.
Even if the prospect eventually says no, a phone call will allow you to ask them for a reason why they rejected your offer. Such a valuable insight means that you can prepare for the follow-up and potentially find a way to make them change their mind.
Cold Calls Can Be More Personal 
Talking to your prospects over the phone means that you can switch to a more personal tone once you build rapport and get to know them better.
Such an approach can result in building better and more meaningful relationships with them.
This way, it's possible to communicate your message more effectively and tailor your pitch to their needs.
So, When Should You Opt for Cold Calling? 
A phone call can be very effective when it comes to
Scheduling meetings,
Creating a more personal experience for the prospect,
Getting referrals, or
Gathering more information.
Calling is a better option when you expect that there are going to be lots of questions.
In such cases, real-time communication is more effective and time-efficient, so when you want to discuss something complex, forget about email.
How to Improve Your Cold Calling Efforts? 
Sometimes it's impossible to keep track of everything that has been discussed during the conversation. So, if you're afraid that you'll forget something important, don't take mental notes.
Grab a pen and jot down essential points and conclusions instead.
Another, even better, and more efficient method is to use the VanillaSoft platform as it offers the following features built to facilitate cold calling:
Instead of manually calling prospects, your sales reps will be able to reduce downtime between calls, which will boost their productivity by almost 300%.
With two different types of auto dialing – progressive and preview, your sales team will minimize mistakes and reach their quota more quickly.
This functionality will provide your sales reps with valuable information and feedback.
Every call is recorded and stored next to a given contact for easier access.
Also, all recordings are categorized based on their outcomes so that you can use these resources for training and coaching purposes.
If you want more than an enterprise-class calling system, this feature comes with advanced features such as Voicemail Drop, Inbound Call Screen Pop, or Text Messaging.
Scripts are a non-negotiable tool in every sales rep's arsenal. But, you don't want your reps to use robotic phrases.
Logical-branch scripting can help your sales reps quickly adapt to the flow of the conversation and come up with a winning response to a recipient's objections in a snap.
It's a dynamic tool that adjusts the narrative based on what prospects are saying so that it will automate objection-handling and help your reps sound natural.
The Downsides of Cold Calling 
Cold calling isn't all roses.
There are some disadvantages you should be aware of.
It Can Be Disruptive
Your prospects are busy and when their schedule is particularly tight, the last thing they need is a cold call from a salesperson. No wonder they are frustrated sometimes.
Of course, you can't know what it's a good time to call, but what you can do to increase the odds of having a decent cold call is to research the people you're calling and adjust your offer accordingly.
If your product is something they can actually use, they won't be dismissive.
It's Resource-Intensive
If you want your cold calls to be successful, you can't sit down, open your contact list, and start calling people randomly.
The research mentioned above takes time, and the act of calling prospects, one after another, will also last.
Apart from planning your calls, use a sales-engagement platform like VanillaSoft, that can automate your calls and serve you with the next best prospect to talk to.
It's Hard to Scale Cold Calls
To scale your cold calling efforts, you need to expand your sales team.
And that's expensive.
In addition to that, the onboarding process also takes time, and it might be a while before your start seeing an increase in ROI.
When to Email?
A TL; DR answer to this question would be to email when you want to reach more people with your cold outreach.
But, again, you can't put together a single email and blast your entire email list. This will result in many spam reports and ruin your sender reputation.
Let's talk about the benefits of cold emails to help you figure out when it's ok to opt for this method.
It's Affordable and Tremendously Scalable 
Email marketing generates $42 in ROI for every $1 spent, which makes it one of the most effective marketing methods.
Emailing makes it possible to reach several thousand people at the same time, by sending them an automated message.
However, this approach works only if
Your emailing list is relevant, accurate, and regularly updated
You segment your list and tailor your message to each group
Your content is valuable and relevant.
Otherwise, all your efforts are futile, as your carefully crafted emails won't reach the intended recipients.
Autoklose can help you with this, as our B2B database is brimming with millions of fresh, impeccably clean, and regularly updated leads from different industries, meaning that you can be sure that you don't have to worry about hard bounces.
So, email automation software is a must if you want this strategy to succeed.
It's Easier to Reach Decision-Makers
As we've already mentioned, decision-makers can be extremely hard to reach, and before you get a chance to even schedule a meeting, you need to get past the gatekeeper.
That's one of the biggest problems with cold calling.
Still, if you have a valid email address, your email will reach the decision-maker. It's worth mentioning that our database isn't only rich with leads and regularly maintained but also comes with powerful filters that can help you make a search based on different parameters, including location, title, job, company size, and many more.
In other words, you can select only managers, C-level execs, and others that have the authority to make a decision and reach out directly to them.
You Can Track the Performance of Your Email Campaigns 
When you send out a cold email campaign, you'll be able to track how it performs and adjust your efforts accordingly.
In addition to that, you can take advantage of A/B testing before you send your campaigns to hundreds or even thousands of recipients, and see which option works better.
Knowing your open, click, reply, and conversion rates will give you insight into what makes your prospects tick, and you can use these insights to improve your subsequent campaigns.
Cold Emails Can Be Informative and Educational 
While it's true that you have more time and opportunity to talk to your prospects over the phone, email is a format that allows you to send additional attachments and resources.
This means that you can educate your prospects about your company, products, and their own pain points in detail. Moreover, they will have enough time and information to think about everything and respond.
Emailing Is a Less Disruptive Than Cold Calling 
Your recipients will be significantly less likely to feel frustrated when they get your email than when you cold call them.
If they're busy, they can simply read and respond later when they have more time.
Plus, it will be less frustrating for you to get a "no" than it would be during a phone call.
You Have More Than Just One Shot to Engage Your Prospects 
With cold calls, you usually have a single chance to make a memorable first impression. You have to think quickly and engage your prospect in a conversation.
On the other hand, you have enough time and resources to craft your cold emails, fine-tune them, and even test their performance.
Finally, there's something that I always emphasize as it's, in my opinion, of critical importance for the success of your email marketing efforts – you won't achieve much if you send only one or two emails.
Being persistent and following up is the No 1. factor that will land you a lot of demos, meetings, and conversions, so don't be a quitter.
The Downsides of Cold Email
Here are some less favorable sides of cold emailing.
There's Usually No Immediate Feedback
You can't expect your prospects to respond immediately.
Moreover, they maybe won't open your email the minute they get it.
And the worst-case scenario is that your email ends up in the spam folder and never reaches your recipient. There are different reasons for this, including
Lack of personalization
Bad and outdated email list
Bad sender reputation.
Autoklose can help you prevent all these issues by allowing you to send personalized campaigns, keep your recipient list fresh and clean, and ramp up your account before sending.
The Competition in Your Recipients' Inboxes Is Fierce
People get a lot of emails every day, meaning that their inboxes are crowded.
There's a certain likelihood that your recipients will fail to notice your email among all the new messages they get. Especially if your name doesn't sound familiar.
One way to beat these odds is by crafting a compelling subject line and warming up your outreach by connecting with your recipients on other channels.
What Factors to Consider Before You Decide?
Before you decide when to use one of these sales strategies, here are a couple of guidelines to follow.
Understand Your Audience
Get to know and understand your target audience, and try to determine which channel of communication they prefer.
This way, you can connect with them more easily and increase your odds of succeeding.
What Do You Want to Achieve? 
If you're just starting your business, and your goal is to reach 50-100 people in order to schedule appointments, it's ok to call them. However, when you grow your business, it's more time and cost-effective to contact your prospects via email.
When you want to contact the top management of a company, it's better to start with an email, as it's much easier than to reach them by phone.
Is It a Weak or Strong Ask?
Consider your objective for the initial outreach and think about whether it's a weak or strong ask.
Weak objectives can be obtaining referrals or feedback from your prospects.
Strong asks require some kind of commitment on the part of your prospect.
For example, if you want to book a meeting with them or convince them to start a trial, then it's best to pick up the phone and call since that way you can handle and overcome potential objections instantly.
On the other hand, if your ask is a weak one, then a cold email will suffice.
Timing Matters
Timing plays an important role when it comes to this.
The likelihood that your prospect will answer their phone increases as the day and week progresses. If you want to call a prospect, then leave it for after 2 p.m. as well as for Thursdays and Fridays.
Even if they don't pick up in this timeframe, you can leave a voicemail, which is also an effective method since most people check their phone inbox when they're wrapping up their workday.
As for emails, there's a simple trick that might boost the visibility of your message in your prospect's inbox. Namely, as meetings usually start at the top of the hour, people check their email 15 or 10 minutes before.
Scheduling your email outreach for 10 minutes before or after the hour will increase the odds that your prospects will notice it before they go to or leave a meeting.
Closing Word
Cold outreach is tricky and challenging. It requires a lot of prep, research, and planning, and determining which of the two approaches to take depends on individual circumstances.
These tips should help you solve your cold calling vs email prospecting dilemma and boost your conversion rates.
Sales experts agree that having a well-thought-out cadence is what makes a world of difference – if you reach out to your prospects through different channels, you'll be more likely to stand out and be noticed. This, basically, means you should be everywhere – on Facebook, LinkedIn, and you should pick up the phone, and build a great email sequence, as that's how you'll grab your prospects' attention and come off as a familiar face that they can trust.