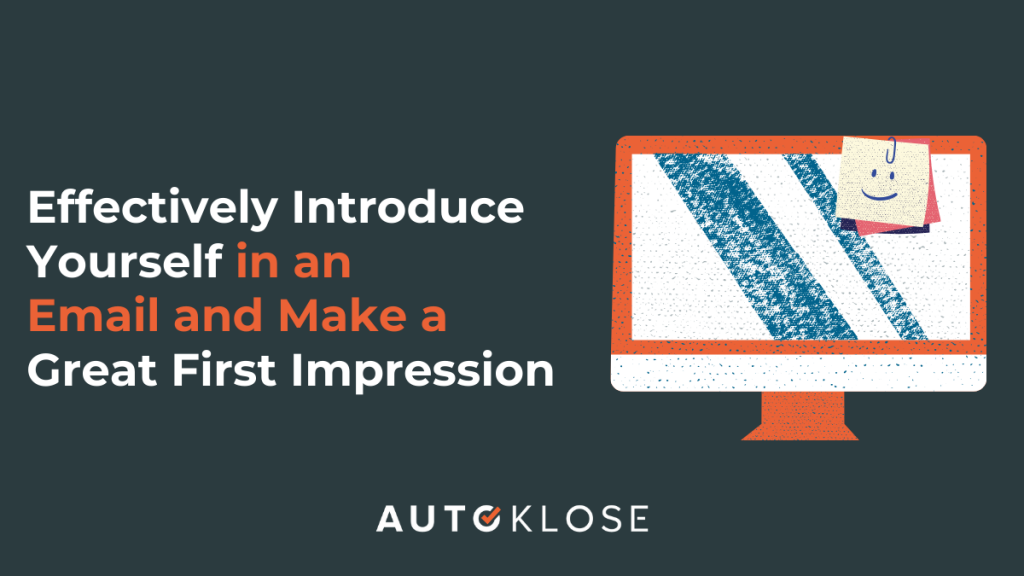 Writing a cold email to a person that you've never had contact with before might seem easy.
But, if you actually want to get a reply, it can be challenging.
Now that most salespeople have to work from home and prospect almost exclusively through email outreach, it's important to cut through the noise and make a stellar first impression.
People might think that since their prospects are self-distancing, which makes them easier to reach. That's true. But on the other hand, just imagine how many other sales reps want to get in touch with your prospects.
It's obvious why you need to introduce yourself the right way if you want to be the one whose email is opened and replied to.
Don't try to rely on your regular pitch believing that it will work in email marketing.
Here are some simple steps to show you how to introduce yourself in an email.
1. Catch Their Attention With the Right Subject Line
This is more important than ever.
With a number of people switching to telecommuting, their inboxes will burst with business messages. As a result, they won't be very keen on opening emails from people whose name doesn't ring a bell.
If you want to get them to open your email, your subject line has to be enticing and intriguing enough.
You can start with the basics of creating compelling subject lines by reading our blog post on the topic.
Here are a couple of examples for different purposes and situations:
Networking subject lines
Looking to learn more about prospecting?
Is selling from home a trend that will stay?
Hey Mike, I think you'll find this post on prospecting useful
A big fan of your blog/podcast/ here. I need some help…
Sales/Offers
How about 30% off on premium features
You don't want to miss this
Autoklose + XYZ = 30% growth
Need some help with your email marketing?
Job seeking
Ved told me you are looking to hire an SDR?
I saw your job add for a marketer
Are you looking for an HR manager?
2. Adjust Your Greeting and Copy to the Industry and Context
It's easy to overlook a greeting as a chance to keep your prospects reading, but you should be very careful about these couple of words.
Depending on who you're reaching out to and the industry they're in, it's important to use a proper greeting.
For Conservative industries such as government, finance, or law, stick to a safe bet – "Dear."
However, if you want to get in touch with someone who works in a more casual industry such as fashion, sports, tech, media, or travel, it's ok to opt for "Hi", "Hello" or "Hey."
As for the second part of your greeting, it's currently best to use your prospect's first name.
What you should avoid at all costs is using your prospect's first and last name as it's way too obsolete and generic, and you don't want to come off as too stuffy.
Similarly, titles like Mr., Mrs., or even Ms. + last name, will make you seem too young.
Sometimes, even only the first name is enough.

3. Make the First Line About Them
A compelling cold email opening line is something that will immediately capture your prospects' attention.
Instead of the "me-me-me" approach and rambling about yourself, your company, your products, make sure that the first thing you write in your email revolves around your prospects, their interests, challenges, pain points, and needs.
Don't forget that people love to talk about themselves, and the best way to ensure they will keep on reading your email is to say something along the lines of:
Your podcast is amazing and it occurred to me to ask whether you ever thought about writing a book based on it.
I decided to reach out after reading your blog post on the best sales strategies.
Your career and accomplishments in sales have inspired me to follow the same path.
Congratulations on your new position as CFO in Autoklose.
I read that you're an avid tennis player in your LinkedIn bio…
This way you'll show that you're not a complete stranger, but someone who's acquainted with their career, and this will warm them up towards your cold outreach.
4. Mentioned a Shared Similarity or Commonality
Similis simili gaudet – like rejoices in like.
In order to make your first line even more relevant, do your research and try to find some kind of common ground – a shared interest, commonalty, hobby, or preference.
Psychologically speaking, what we're talking about here is a phenomenon called the Similarity-Attraction Effect. People are more likely to be attracted to those who share a similar set of values and beliefs.
And, it's a great idea to use this trick in your email outreach. By finding out more about your prospects on their social media networks, websites, and other sources, you'll find something that the two of you have in common.
And based on that, you can craft an introduction and strike the right chord with your recipient.
Something like:
Peter, I've noticed that you're in the same coin collecting groups. It would be cool to connect and have a chat about it.
This is an excellent way to humanize your approach and build a more meaningful connection with your prospect.
5. Bring Up a Mutual Connection
Recommendations are important in the world of business.
Your email will be more likely to draw interest if you drop a common name.
Instead of being a complete stranger, you'll easily become "a friend of a friend" or "an acquaintance of an acquaintance," and practically have someone vouch for you.
Naturally, before you decide to mention a mutual connection, it's crucial to let them know that you'll use them as a reference. Since your prospect will most definitely do the same, they wouldn't be caught by surprise.
6. Tell Why You're Reaching Out
After you've sparked their interest in you, it's time to tell your recipient what the reason for your email is.
Depending on what you want to achieve and what you expect them to do, you should clearly state your intentions.
The key is to make this explanation relevant to your recipient, that is, they need to understand from this section of your email what's in it for them.
For example, if you'd like their help in learning more about a particular field, you can say:
Your career and accomplishments in sales have inspired me to follow the same path. Is it possible for me to buy you a cup of coffee and have a chat about the options I have?
In case you want to book a demo or a sales call, you can go somewhere along the lines of:
Mike told me you're in the market for a sales prospecting platform for automating your sales outreach. Autoklose might be exactly what you need. Why don't we have a quick call and I'll show you how you can save 5 hours per sales rep a week?
What you need to do is make your every recipient feel special and unique, and you can do that by tailoring your offer and email copy to their needs specifically.

7. Add Value
While most people are willing to help even if they don't get anything in return, it's a good idea to provide value to your recipients before asking anything from them.
As for adding value, it doesn't always have to be a discount or something that has a monetary value.
A relevant blog post or industry report (not necessarily yours) can be a great way to offer your prospects something that they could use, and show them that you have researched their company.
If you have a prospect who published a book, read it, leave a review, and send them a link in your email.
Or, why not suggest them a helpful tool or platform?
8. Always Have a CTA
No matter what the purpose of your email is, it needs to have a proper call to action.
This little element is a must as it eliminates any friction from the action you want your recipients to take.
For example, it can be a link to your calendar, webinar, offer landing page, or blog post. Instead of asking them to book a meeting with you and engage in emailing back and forth, you can facilitate the entire process by giving them a link to your calendar so that they can find a slot and make an appointment whenever they like.
As for the form of your CTA, provide a short intro that will sum up your offer or demand, and provide an instant link.
Being in the sales industry, I'm sure that you'll greatly benefit from reading the latest blog post on the best prospecting practices. Check it out: LINK
If you have 15 minutes to spare and have a quick chat about the ways Autoklose can help you grow your business, book a call in my calendar: LINK
While it's OK to be polite, don't exaggerate and resort to phrases such as "I would never ask you something like this, but…" or "I'd be forever grateful if you'd…"
This would imply that your recipient isn't fair if they fail to do what you ask them to, and blaming someone is the worst thing you can do.
All that we've talked about so far should like something like this:
SL: What a coincidence!
Hey [first name],
While I was browsing [social network], I noticed that you're also a member of [name of a group]. Since both of us are interested in [a particular industry, niche, issue], it would be wonderful to meet up and discuss [a particular pain point your company solves].
My company has been working on it for quite some time and I'd like to hear your opinion about our solutions.
Check out my calendar and book a call when it suits you: [LINK]
Talk to you soon,
[your name]
This is, by the way, a sneak peek at our new Templates section that we launched! 🚀