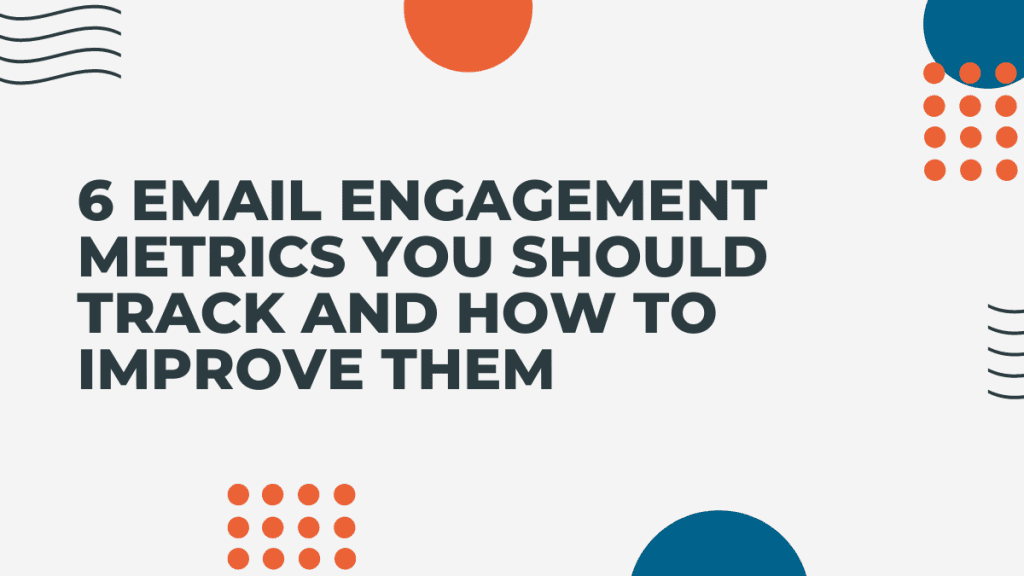 Want to supercharge your email outreach?
Here's a valuable mantra to live by: If you want to improve, you must measure.
In the dynamic world of sales, staying competitive requires more than just a gut feeling. It demands a deep understanding of your numbers and why they matter.
Sure, we could spend hours discussing the ins and outs of a winning outreach campaign — the common mistakes, nifty shortcuts, and persuasive pitching techniques.
But let's face it, those things may give you a temporary boost.
The only way to know whether all those email campaigns you launch have any impact on your audience is to track key email engagement metrics and transparently see what works and what doesn't.
1. Open Rate
Simply put, the open rate indicates the percentage of recipients who open a particular email.
This email engagement metric is not considered to be completely reliable, and the best way to make the most of it is to treat it as a comparative metric.
In other words, the open rate makes sense if you send a different message to the same list two or more weeks in a row and compare the results.
The thing is that this email engagement metric is obtained through an image embedded in the email. When your recipient opens the email, it's displayed.
However, many email clients block automatic image loading, which means that your results won't be precise since some recipients will open your email, but this won't be tracked because the image was blocked by their email client.
Nevertheless, don't neglect your open rates, and improve them by creating killer subject lines, as well as paying attention to preheaders.
Here are some tips to get your recipients to open your email.
Keep Your List Clean
Don't roll your eyes! There's a reason why we always insist on cleaning your list regularly. 
This time, we'll focus on how a fresh and carefully curated list can help you boost your email open rate.
Remove inactive subscribers from your list, as that way, you'll keep your open and engagement rates high. Before getting rid of such prospects, send them a re-engagement campaign and offer them some incentive to check whether they're still interested in your brand.
If there's no answer, you know what to do.
Segment Your List
Sending one-size-fits-all campaigns to your entire list is another culprit behind poor open rates.
Instead of this, analyze your subscribers and segment your list into several categories. This will allow you to personalize your copy and make it more appealing to them.
As a result, your emails will be more relevant to your audience and your open rates will flourish.
Avoid Spam Filters
Spam filters can heavily impact your open rates, but that's not the only issue. ESPs can blacklist your entire domain and prevent your emails from ever reaching your prospects' inboxes. 
To avoid such a scenario, make sure all your recipients have opted-in, don't send unsolicited messages, eliminate spam words from your copy, and avoid clickbaity, deceptive subject lines. 
Deliver on Your Promise
Your recipients expect your emails to be informative, educational, and interesting. This means that you should try to help them solve some of their problems, and your subject lines should indicate which one exactly.
However, if you use your subject lines only to capture your recipients' attention and trick them into opening your message without actually addressing the pain point from the subject line, they will stop opening your emails.
Even worse, they will send your emails to the spam folder.
So, spark their interest in an intriguing way – yes, deceiving them – no.
2. Click-Through Rate (CTR)
This parameter shows the percentage of recipients who clicked on a link in your email.
The click-through rate is one of the most important email engagement metrics, and marketers heavily rely on it to calculate how each individual email performs.
CTR provides you with a valuable insight into how many prospects interact with your content and are willing to find out more about your product or brand.
It's essential to use A/B testing and find successful ways of getting your audience to click on your links.
To improve your CTR, you need to come up with several versions of the call-to-action copy for each campaign and test them until you find the one that clicks with your recipients.
Other helpful tips for improving your CTR include the following.
Ensure Your Emails Are Mobile Friendly
A great majority of people read their emails on their mobile devices.
In other words, if your messages aren't optimized for displays of all sizes, you're toast – nobody wants to squint at the smartphone screen, zoom in or out, or struggle to click the CTA button.
Don't Put the Most Important Info in Images
If you put your key message in your images, you're practically hiding them.
This is a bad idea for 2 reasons:
It's bad for accessibility
Most email clients block images by default, which means that your recipients won't see the most important information that could get them to click.
Improve Readability
Make your message easily scannable, because your recipients want to be able to find the information they need quickly and easily.
So, a wall of text is a big no-no, just like in your blog posts.
Moreover, people are more likely to open and click on emails that are organized using numbered paragraphs or bulleted lists.
3. Response Rate
That's right, tracking your email response rate is a key email engagement metric that email marketers pay close attention to, especially when it comes to outreach campaigns.
But here's the thing – there's no one-size-fits-all answer when it comes to what constitutes a good response rate. It depends on a variety of factors. The type of email you're sending, the industry you're in, your target audience, the offer you're making, and even the quality of your email list all play a role in determining your response rate.
But remember, it's not just about the quantity of responses – it's also about the quality. A high response rate is fantastic, but if those responses aren't translating into conversions, it's time to reassess your approach.
When crafting your emails, keep in mind that decision-makers have fast-paced inboxes, and your message needs to capture their attention. Make your content concise, attractive, and easily digestible. Leave no room for them to resist replying by crafting compelling subject lines and engaging copy.
A positive response is the ultimate sign that you did this right. It signifies that your prospect is interested and willing to take the next step.
Now, let's address an important point — how do you separate automatic out-of-office replies from genuine responses? You don't want to get caught up in inflated response rates due to these auto-replies.
This is where Autoklose Sentiments™ comes into play. With its AI-powered technology boasting a remarkable 97% accuracy rate, it categorizes replies, allowing you to easily distinguish engaged prospects from auto-replies. 
By tracking your email response rate and leveraging the power of Autoklose Sentiments™ to identify engaged prospects, you can optimize your outreach campaigns, save time, and focus your efforts on nurturing the prospects that have the highest potential to convert.
4. Conversion Rate
This one is the holy grail of email marketing.
Your every email has to have a clearly defined goal, such as for your recipients to sign up for a free trial, read your new blog post, or purchase your product or service.
The conversion rate is the percentage of email recipients who completed the desired action.
Again, your call-to-action plays an important role in this email engagement metric as its wording and design can make a big difference.
However, it's always a good idea to emphasize that phrases consisting of action words should be used such as "register for our webinar," "read our new blog," or "grab a discount."
The conversion rate practically sums up how effective and successful your overall marketing efforts are.
5. Bounce Rate
The bounce rate is actually the percentage of emails that couldn't be delivered.
A high bounce rate is, obviously, a very bad thing and it's usually the result of a poorly managed contact list.
We should distinguish between two types of bounces – soft and hard.
Soft Bounces
Soft bounces happen when a recipient's inbox is full, or when there's a temporary server issue or something like that.
In such situations, the recipient's server might still deliver the email once the problem has been solved, but in case that this doesn't happen you should re-send the email. If the same happens again, then we're talking about hard bounces.
Hard Bounces
Hard bounces occur when you send an email to a closed, non-existent, or invalid email address.
Make sure to remove such addresses from your contact list because if you keep on sending emails to them, you might be marked as a spammer by the internet service providers.
ISPs tend to use closed email addresses as spam traps, and if your emails end up in these traps frequently, your reputation can be ruined.
That's why it's essential to clean your database regularly, and with Autoklose you won't have to worry about all these problems, because it detects potential issues and sorts them out by putting hard bounces in the "Don't email" folder.
6. ROI
When it comes to the return-on-investment rate of your email campaigns, it tracks how successful they are in terms of cost-effectiveness.
In other words, this metric shows you how much you earn in comparison with how much you invest.
It's relatively simple to calculate your overall ROI – subtract all the costs of an email campaign from the total campaign revenue, then divide the result by the same cost.
After that, multiply the result by 100, and there you are.
Autoklose keeps track of all these metrics, and they're easily accessible from your dashboard in real-time. Besides, it helps you automate your email marketing and allows you to monitor the performance of your campaigns. 
Closing Words
To supercharge your sales email outreach, remember that measurement is key. Understanding your numbers and the impact of your email campaigns is essential in the competitive world of sales.
By tracking key email engagement metrics such as open rate, click-through rate, response rate, conversion rate, bounce rate, and ROI, you can gain valuable insights into the effectiveness of your campaigns.
With detailed analytics and automation at your fingertips, you can optimize your strategies, personalize your messaging, and ultimately achieve impressive results.
So, start measuring, analyzing, and fine-tuning your email campaign efforts to reach new heights of success.