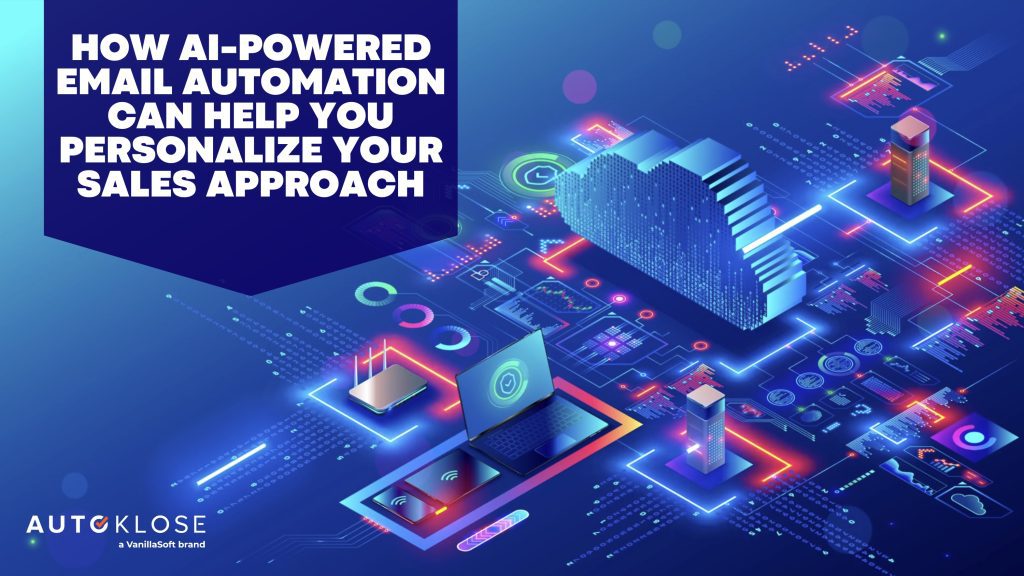 Artificial Intelligence (AI) is changing the sales game and email automation is no exception. By automating repetitive and time-consuming tasks, AI enables sales teams to focus on what really matters – building relationships and closing deals.
With its ability to analyze data and make predictions, AI is playing an increasingly crucial role in the world of email automation, helping businesses to personalize their sales approach and achieve better outcomes.
In the world of sales, personalization is the secret ingredient that sets the great apart from the good. And thanks to artificial intelligence (AI), we can now add some extra zing to our email automation game.
By tapping into the power of AI algorithms, sales teams can streamline their outreach and serve up personalized sales messages to prospects, tailored to their unique preferences and interests.
So, let's dive into how AI-powered email automation can help you elevate your sales approach.
Benefits of AI-powered Email Personalization
AI development algorithms can analyze customer data and craft tailored messages to help businesses deliver an experience that is truly personal and relevant to each customer.
By considering factors such as demographics, interests, and past behavior, AI algorithms can craft messages that resonate with each customer and increase the chances of engagement and conversion.
Some of the key benefits of AI-powered personalization include:
Increased engagement: By delivering messages that are relevant and tailored to each customer, AI-powered personalization can increase the chances of engagement and conversion. Customers are more likely to engage with emails that are relevant and personalized to their needs and interests.
Better customer experience: By personalizing the sales approach, businesses can enhance the customer's experience and build stronger relationships. Personalization helps to establish a sense of trust and loyalty between the business and the customer, leading to a more positive and memorable experience.
More efficient sales process: AI-powered personalization can automate certain aspects of the sales process, such as data analysis and segmentation. This streamlines the sales process, saving time and resources and allowing sales teams to focus on more strategic and high-value tasks.
Improved conversion rates: By delivering more relevant and engaging messages, AI-powered personalization can increase the chances of conversion. Personalized messages are more likely to resonate with customers and drive action, leading to better results and higher success rates.
Advanced data analysis: AI algorithms can analyze customer data in real-time, providing businesses with valuable insights and helping them make more informed decisions about their sales approach. By using AI to analyze data, businesses can gain a deeper understanding of their customers and create more effective and targeted campaigns.
How to use AI to supercharge your sales approach
Analyzing customer data
AI-powered data analysis and segmentation is at the core of personalized sales approaches. With the ability to analyze vast amounts of customer data, AI algorithms can help businesses identify key demographics, interests and behaviors, allowing them to create targeted email campaigns with ease.
This means that businesses can deliver highly relevant content to prospects, increasing the chances of engagement and conversion. By grouping customers into smaller, more manageable segments, sales teams can deliver specific and personalized messages that resonate with each group.
This can be achieved through basic rule-based segmentation, or by using more advanced AI algorithms to analyze customer data in real-time. With this approach, businesses can ensure that they are sending the right message, to the right person, at the right time.
Generating subject lines
The use of AI to generate subject lines can lead to higher open rates, as the AI model can generate subject lines that are more engaging and relevant to the recipient.
The use of AI for subject line generation can have several benefits over manual generation.
For instance, AI models can generate subject lines in large quantities and at a faster pace than manual generation. This can be useful for businesses with a large volume of emails to send.
Another advantage of AI for subject line generation is its ability to personalize subject lines for individual recipients. For example, an AI model can analyze the recipient's past behavior and email history to generate a subject line that is relevant to their interests. This can lead to higher open rates and engagement with the email.
Additionally, AI can also analyze the email content to generate subject lines that accurately summarize the content of the email. This can be useful for busy recipients who may not have time to read the entire email but still want to get a sense of its content.
Writing email content
AI-powered content generation involves the use of machine learning algorithms to assist marketers in creating high-quality, persuasive email copy.
This is achieved by using machine learning algorithms to analyze customer data and behavior, and then crafting messages that are tailored to the individual recipient's needs and preferences.
With AI, businesses can not only personalize the subject line and greeting, but also the body of the email. AI algorithms can analyze factors such as the recipient's location, language, purchase history, and browsing behavior to craft emails that are relevant and appealing.
By using AI to generate personalized email copy, businesses can increase email open and response rates, as well as improve customer engagement and loyalty.
Classifying responses
AI can also help classify responses to emails, allowing sales teams to prioritize and follow-up on the most important and relevant ones. This is done by using machine learning algorithms to analyze the text of the response, as well as other data such as sender, timing, and tone, to determine the level of importance and relevance.
With AI-powered response classification, sales teams can respond faster and more effectively to customer inquiries and feedback, improving customer experience and satisfaction.
Utilizing OpenAI, Autoklose now provides you with even more accurate insights into your email campaigns. You can filter out recipient replies based on their sentiments towards every email you send.
Autoklose Sentiments™ categorizes replies based on response with the help of AI with 97% correct rate compared to manual human verification, allowing you to easily identify engaged prospects and save time on those who are not interested. Possible reply types include:
Regular
Positive
Negative
Unsubscribe
Autoresponse
OOO (out of office)
Bounce
Now you can quickly find all auto-replies in one place, filter them out and add them to the same or a different campaign with just a few clicks. This improved workflow within the Autoklose platform helps you focus your time and energy on nurturing prospects that are the most likely to convert.
Conclusion
AI enables sales teams to personalize their messages and deliver a relevant and engaging experience to prospects.
With the ability to automate repetitive tasks, improve conversion rates, and provide valuable insights, AI-powered email personalization is a game-changer for businesses looking to elevate their sales game. Whether it's generating subject lines, writing content, or classifying responses, AI has the potential to supercharge your sales approach and drive better outcomes.
To take advantage of these benefits, try Autoklose today and experience our new AI-powered feature. Transform your sales process and achieve better outcomes with the power of AI-powered email personalization.