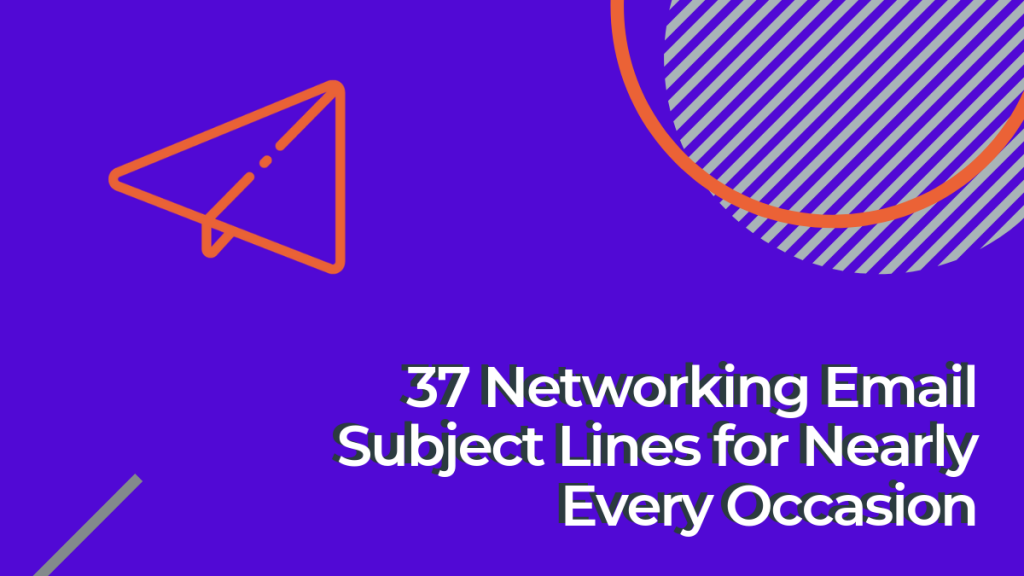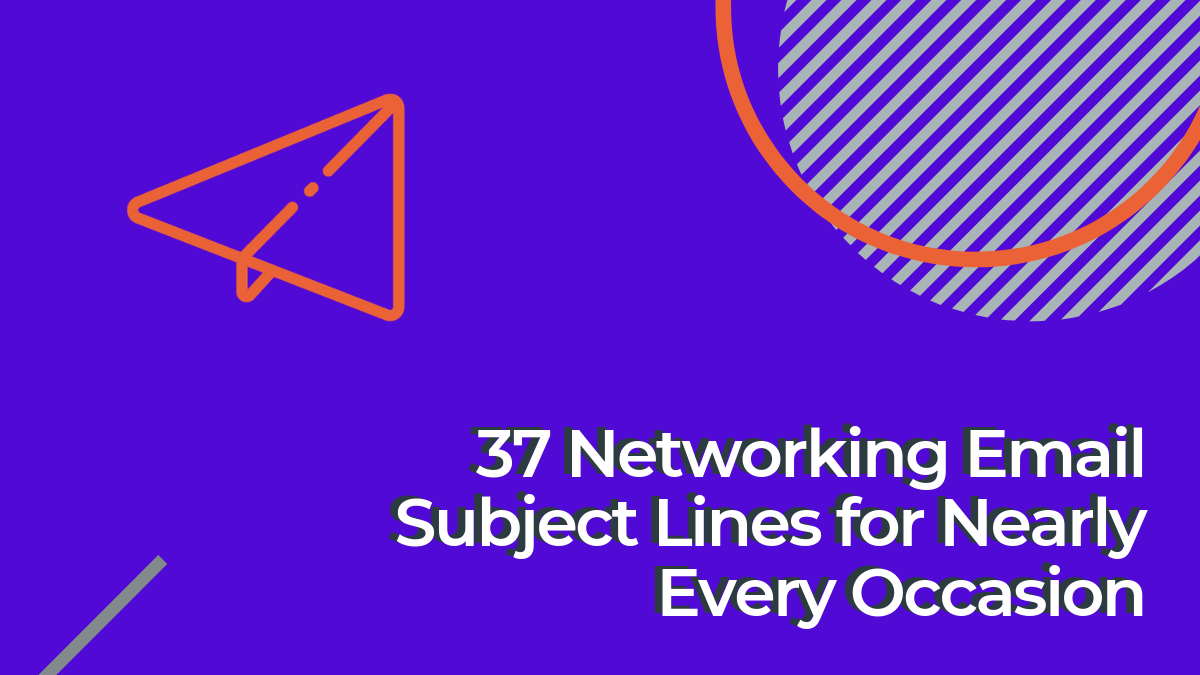 Building relationships is one of the key components in building a personal brand, earning authority in a particular field, or growing a business.
And networking is all about cultivating relationships and taking time and energy to help them grow and flourish. You just need to find the right people and take the right approach to start forging bonds.
However, networking can be super awkward.
It's not easy to muster up the courage to reach out to someone you don't know and ask for a favor. Whether it be in person or via email.
That's why we've come up with 37 irresistible networking subject lines to make it easier for you.


General Email Subject Lines for Networking
10 simple but effective email subject lines for any occasion
1. Saying hello + a quick question about [TOPIC]
2. Hey, [NAME], let me introduce myself
3. About your work
4. My opinion on [TOPIC], let me know what you think
5. Looking to learn more about [TOPIC]
6. Hi, [NAME], I think you'll find this interesting
7. [NAME], can you please help me with [TOPIC]
8. I have some great info about [TOPIC]
9. Hi, [NAME], this is [YOUR NAME]
10. [NAME], let's collaborate
Do you need more email outreach tips? DOWNLOAD our Ultimate Cold Email Outreach Playbook for FREE
Introduction Networking Email Subject Lines
Introducing yourself to people you haven't met before via email shouldn't be any different from introducing yourself in person. The key here, like in real life, is to be clear, straightforward and memorable.
To make a good first impression, you need to:
Be yourself
Be open and confident
Be positive
Be polite
Be fresh and different (in a good way)
Okay, so having that in mind, let's look at some examples of email subject lines for various situations when introducing yourself.
Introducing yourself to an industry expert
When reaching out to a well-known authority figure in your industry it's best not to go too wild with your subject line. Remember, someone who is an established expert won't be impressed nor has the time for witty humor or approach that can be interpreted as disrespectful. So, best to be humble and quick to the point. Also, remember to be polite. Even being overly polite can't hurt.
Introducing yourself to an expert for networking purposes
Big fan of your work asking for quick advice

I've been following your work for a long time. Let me briefly introduce myself

Hello, Mr.|Mrs. [NAME]. I've learned so much following your work

From one [OCCUPATION] to another

Looking to swap ideas with a fellow [OCCUPATION]

I noticed that you know a lot about [TOPIC]
Read More: How to Effectively Introduce Yourself in an Email and Make a Great First Impression
Introducing yourself to an influencer
Influencers can also be seen as the authority figures in their specific niche or industry. Depending on the field in which they are best known, you can consider approaching them with more flexibility and friendliness in your email subject line. There's also probably a lot of information about them online which you can use to grab their attention. Try finding something interesting in their work or life (no creepy stuff) to use in your subject line.
After all, influencers are often treated as celebrities in their own community so, showing them that you follow their work and social media presence can be perceived as flattering.

Bear in mind that you should always mention their name in the subject line, and also don't be afraid to sprinkle a couple of emojis here and there if appropriate. That will definitely make your email subject line pop.

Subject line examples for grabbing influencer's attention
1. Hey [NAME] 🙋‍♂️. I would love to hear your opinion on [ENTER TOPIC]
2. Hi [NAME], let's collaborate on this great project
3. Your latest work is awesome, [NAME]! Let me pick your brain 🤓
4. Inspired by your post on [SOCIAL MEDIA]
Introducing yourself to someone referred by a mutual contact
The key here is to always mention the name of the mutual acquaintance who referred you to the person you're contacting. That's the attention grabber and your best chance of getting your email opened.

These few examples can point you the right direction:
1. Hi [NAME], [MUTUAL CONTACT NAME] friend here. We've met the other day
2. Referred by [MUTUAL CONTACT NAME] to discuss [TOPIC]
3. Hi, it's [YOUR NAME]. [MUTUAL CONTACT NAME] introduced us at that event.
4. [MUTUAL CONTACT NAME] told me you know a lot about [TOPIC]. Hope we can discuss it sometimes
Introducing yourself to someone who shared an article or an opinion online
You may have read a piece online that really inspired you and got you thinking. Or you've read something and wished to challenge that author's opinion with some constructive criticism or dialog. Don't be afraid to make the subject lines a bit longer to incorporate the details about the thing you're contacting them about.

Check out the following subject line examples:
Approach someone for praise or a grumble
1. I have just read your article on [PUBLICATION], and I have a few questions about it
2. [NAME], I really found your piece inspiring – would like to discuss the topic further
3. I have some different insights on the topic you recently covered
4. Just read your opinion on [TOPIC]. Wow!
Introducing yourself to a hiring manager
It's important to strike the correct tone when sending an email to introduce oneself to a hiring manager. Act confidently but don't be arrogant.
The hiring manager shouldn't even need to open the email to know who you are and what you're applying for because of the subject line.
Instead of using a generic subject line like "CV for role" or "application for consideration," be specific about the position for which you are applying.
1. Saw you looking for a new [JOB TITLE]
2. Are you hiring a [JOB TITLE] at [COMPANY]?
3. I'd love to know what working at [COMPANY] is like
Following Up After an Earlier Contact With Someone
A follow-up email should be sent after an important call, meetup, or networking event. If you wish to stay in contact, collaborate on some project or do business with the person in question, it's important to let them know. The best time for your first follow up is two or three days after the initial contact or event.

Make your subject line quite descriptive. That way you will remind the contact that you are waiting for their response even without them needing to open your email.

So, let's see some examples for following up after a call, meetup, or networking event.
Email subject line when following up after a phone call
Let the person you are emailing know that you enjoyed the call you shared and that you are waiting for their answer or thoughts on the subject you discussed.

It can be something along the lines of:
1. Hi, [NAME], just following up to the call we had on [DAY]
2. [NAME], did you have the time to think about our call from the other day?
3. Great talking to you on the phone, please let me know when free for more networking
READ MORE:
How to Create the Best Follow-Up Email Strategy (+Free Templates)
How to Write a Follow-Up Email After Your Prospect Fails to Respond
Email subject line when following up after a meetup
Depending on the form of the meetup and the time spent communicating with your contact prior to emailing him/her, you can go either casual or polite with your follow-up email subject line:
1. It was an honor talking to you in that meetup, [NAME]
2. Just thinking about what you told me during that meetup. Care to discuss it further?
3. Hey, [NAME], I enjoyed our talk so much. Ping me when free to talk some more
Subject line for a follow-up email after a networking event
Networking events can be stressful, especially if you don't attend them often. But the more people you talk to, the more opportunities you'll have to further your career or business. After the event, you'll naturally want to stay in contact with the people whose ideas you liked.

Because you have already met, you can go with a simpler email subject line, similar to these examples:
1. HI, [NAME], great chatting with you at that event
2. You have such extensive experience about [TOPIC], would love to hear more
3. Hi, it's [YOUR NAME]. Let's continue our discussion further
All in all, your main goal here is to get the conversation going by making sure your emails get opened. You can do this by adapting email subject lines to persons you are contacting and making them sound relevant and important.

Just keep this in mind when coming up with your email subject lines or use one of our examples, and you will undoubtedly have more success in networking.
Email subject line when following up after a job interview
A thank-you email is a great gesture to do after an interview. By sending an email as a follow-up to a job interview, you can bring up any points you may have wanted to but didn't have time to discuss in person.
The inboxes of those conducting interviews are frequently overflowing with applications, corporate emails, and mailing list communications. As a result, it's easy for a recruiter to overlook an important message in all the noise.
You can get the hiring managers interested in your thank you email and get them to read it faster with a catchy subject line.
Thanks for the [JOB TITLE] interview!

Great meeting you on [DAY]

Thank you for considering me as your next [JOB TITLE]

Networking Subject Lines Best Practices
If you decide to create your own networking subject lines, here are some tips that sum up everything you should take into consideration:
Make it short and sweet.

You're reaching out to someone you don't know, so it's crucial to be concise. People are busy and they don't have enough time to deal with wordy and elaborate subject lines that don't get straight to the point. They simply glance through their inbox and if your main point is buried in an avalanche of letters, they won't even notice your email.

Be friendly.

If your recipients are businesspeople, they receive tons of email messages a day, some of which have been generated by algorithms. And they don't care about such emails. Show them that you know who they are and that your message isn't generic. You can do that by being warm and friendly. Throwing in something that's unique for them will also hit the sweet spot.

Make it relevant.

If your subject line doesn't ring any bells and if it doesn't resonate with your recipient, then they won't even bother to open your message. That's why you need to find something that will be relevant to them. This can be a mutual acquaintance, a conference you heard them speak, their new promotion or success of their company, or something that they're interested in. This part depends on the information you know about them, which means that you have to do your research well before reaching out.

Add value

. Ask yourself why your recipient would be prompted to open your email. What's in it for them? Is there anything they could learn or anything that they could benefit from by connecting with you? Or you can ask them to help you with something. People like when they're given an opportunity to do something for others, so don't underestimate their generosity.

Be inquisitive.

Asking questions is the best way to draw someone's attention. That's why subject lines asking for feedback or advice are among the most popular.
Closing words
Subject lines are the first thing your recipient sees, so it's important for them to stand out. Don't be afraid to jazz up your email subject lines and make it catchy. It's a fantastic way to grab a person's attention and make him/her want to read your message.
Don't underestimate the power of a good subject line. It can be the difference between someone opening your email and reading your message and someone tossing it aside.