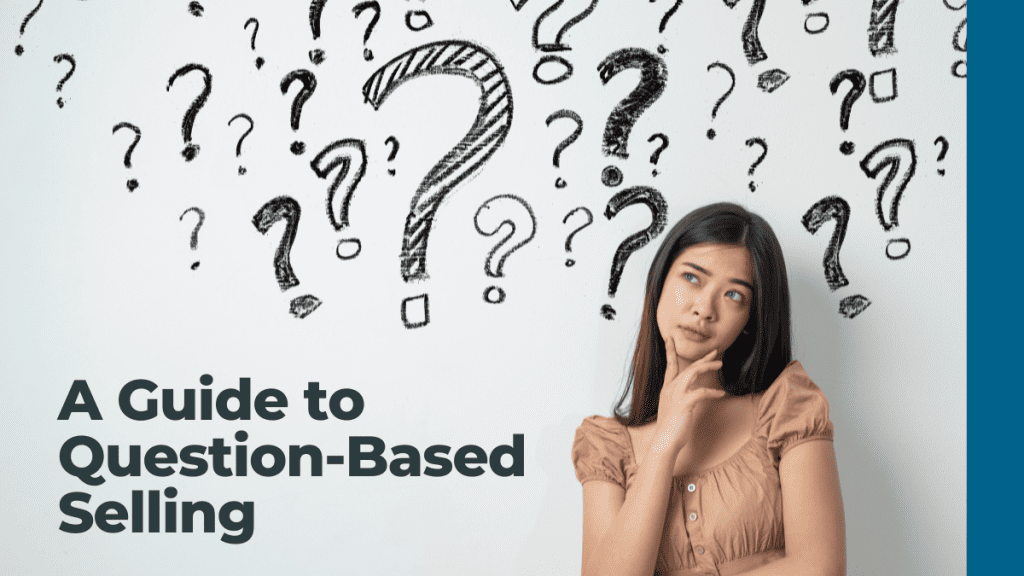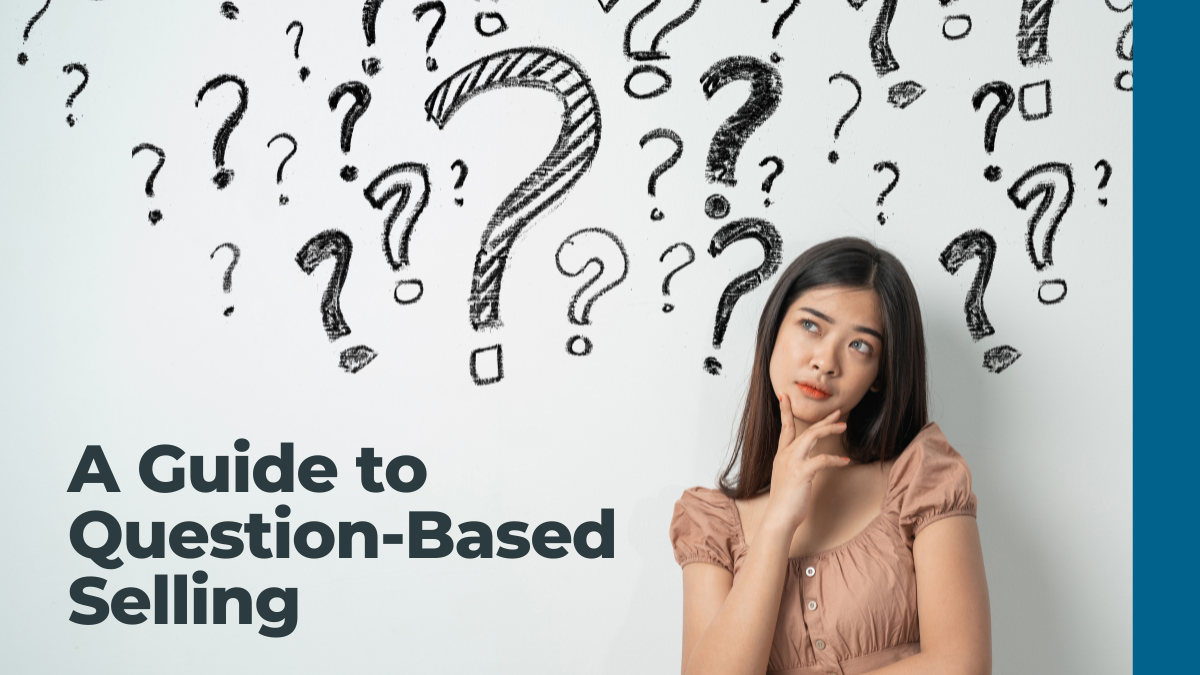 Understanding your target audience's needs and pain points is crucial for the success of your sales efforts.
The best way to get to know your prospects and uncover their challenges is by asking the right questions.
Besides getting inside your potential customers' heads, relying on these targeted questions will also allow you to align your offering with the obstacles they want to overcome and the goals they want to achieve.
Plus, with all the information you collect, it will be easier to pre-empt potential sales objections and disqualify tire-kickers who aren't a good fit for your business.
We've just described the main benefits of a powerful methodology called question-based selling (QBS). Let's discuss it in more detail and explore how you can make the most of it.
What Is Question-Based Selling?
In short, QBS is a tactical sales approach that consists of a series of carefully thought out open-ended questions whose aim is to obtain a valuable insight into who your potential customers are and what problems they want to solve.
Therefore, it's not about crafting a perfect pitch but about guiding your prospects throughout the sales process and helping them realize that your product or service is exactly what they need.
But, make no mistake. QBS will also serve as some kind of a litmus test for identifying your prospects' underlying issues and showing you whether your solution can actually help them.
This methodology works best if you use open-ended questions since they encourage prospects to delve deeper into their issues and allow you to spark the conversation.
Benefits of Question-Based Selling
There are numerous other approaches your sales team can use to speed up the sales process and close deals.
Here's why you should implement QBS as your go-to sales methodology.
Eliminate the guesswork out of the sales process 
It's true that you can draw from your experience and the information you already have from your existing customers.
But, this tactic boils down to assuming what your prospects want and need. Although such educated guessing is based on your industry and target audience knowledge, you can't be sure whether your prospective customers are interested in your solution or not.
Asking targeted questions will practically elicit correct and accurate answers from your prospects so that you can easily connect the dots and subtly include your solution in the conversation.
Here are some examples of discovery questions:
What's going on in your company at the moment?
Do you think there's something I can help you with today?
What would you say is your biggest pain point and top priority goal right now?
Engage with your prospects
Question-based selling heavily depends on active listening.
If we bear in mind that people like talking about themselves, you can combine these two things for your own benefit.
Come up with questions that resonate with your prospect and get them to open up about the obstacles and challenges they face. Not only will you get a lot of valuable information, but you'll also build rapport with them.
Such a customer-centric approach will allow you to engage your prospects early in the process and gradually build trust with them.
Establish rapport 
By showing your potential customers that your main objective is to help them solve their issues, you can build a foundation for a long-lasting relationship.
They will notice that you're not trying to sell your product or service regardless of whether it's suitable for them. So, even if you don't end up closing a deal, they will hold you in great regard, meaning that you can expect many referrals from them.
Examples of rapport-building questions:
What made you decide to take this call?
How to make this appointment worth your time?
What do you think about vendors in this industry/area?
Would you like to change something about this particular area of your business? Do you have any concerns about making these changes?
Close deals faster 
The right questions will allow you to talk your prospects through their pain points and challenges so that they can see their situation more clearly.
At the same time, this will set the stage for highlighting the features and benefits most valuable to a particular prospect and putting together a highly-personalized offer that will target their goals and expectations.
After you've already established trust with potential customers, your tailored pitch won't come across as too salesy.
All this can speed up the sales process and even create some upselling or reselling opportunities.
Here's how you can leverage questions for closing deals:
Do you have any purchasing and deployment timeline?
Are there any other vendors you're comparing us with?
Is there anything else I can do to help you finalize this purchase?
What's our next step?

How Does Question-Based Selling Work?
Successful QBS requires implementing a consistent sales process, which is something that many companies fail to do.
Besides coming up with the right questions, you also need to tie them to different stages of the sales process.
For example, you can use discovery, rapport building, qualification, or closing questions.
Here are some ideas on how to structure your sales questions for the greatest impact.
Encourage prospects to open up and discuss their goals
While it's important to understand your prospects' initial pain points, the more you know about their goals, the better.
There's always something further down the road they want to accomplish, and unearthing their ulterior motives is what can help you close sales more successfully.
Let's say a prospect wants their insurance agents to make more calls and make fewer mistakes. Using auto-dialing will help them solve this problem, and streamlining this process will ultimately boost the productivity of the entire team and bring more revenue.
So, it's not enough just to scratch the surface but start a conversation about prospects' long-term goals.
These questions might help:
What's your biggest pain point at the moment? Why do you think it is crucial to focus on solving it instead of something else?
What are your main long-term goals?
How will solving this problem bring you closer to your overall business objectives?
What happens when you achieve this goal?
Are your employees and the entire leadership aware of the importance of this goal? Are all of you on the same page?
Talk about the obstacles preventing your prospects from achieving that goal 
If your prospects know what they want to achieve, they most probably see the exact roadblocks standing in their way.
If we use the same example from the previous section, it could be that they don't have the right call automation tool. This obstacle might be caused by not having a budget or the fact that they can't get their buying committee on board.
Other reasons include being understaffed or having a team that's not well-trained to provide the right advice or efficiently handle customers' complaints.
It's obvious that you need to get to the bottom of things and identify where the bottleneck is so that you can offer your prospects advice that's not generic and commonplace.
The questions you can use to pinpoint what solution would be the best fit for your prospect are:
Have you had attempts to solve this problem? Why were they unsuccessful?
What solutions have you used to alleviate this issue? Why didn't it work? Was there a segment where it was successful?
Are you aware of any new challenges that may emerge after you solve this problem?
Is everyone on your team in agreement with this goal? Why or why not?
Final Thoughts
By fully understanding your potential customers' pain points and needs, you can become their trusted advisor at first and get promoted to their vendor of choice later on. Question-based selling is an excellent way to find out where your prospects are at the moment and where they want to be in the future. As a result, you could position yourself as a potential link between the two stages and a valuable asset they can use for making progress.