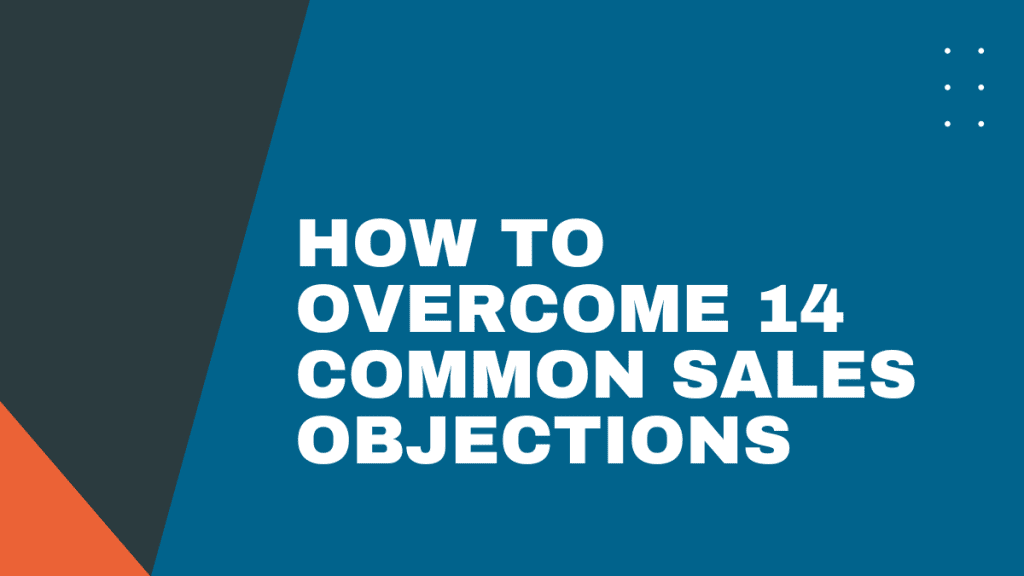 One of the most challenging stages of sales is prospecting and perfecting the art of handling objections coming from our potential clients.
Truth be told, at least 50% of our prospects are just not a good fit for what we are trying to sell, and there is not a lot we can do to change that.
Here's how you can recognize and disqualify such bad prospects so that you and your team don't waste time trying to nurture them.
But well-qualified prospects usually have objections too. And we are not talking about excuses some prospects make in order to brush you off, which you can easily recognize.
Knowing how to handle relevant objections when they appear, can make a huge difference in your sales pitch.
Here are some of the most common objections, and tips on how to best overcome them.
1. It's About Money
Most objections have something to do with your prospects' budget or your price.
Make sure that you're ready for this important conversation from the very beginning. Many prospects you get in touch with will probably want to discuss it during your first talk.
Here are some tips on how to navigate this talk.
Highlight the Benefits of Your Solution
To handle this kind of objection effectively, you should start demonstrating the unique value of your offer as soon as you get into prospecting.
The trick is in letting your potential customers have a clear and timely insight into all the benefits they get if they decide to purchase from you.
Let Prospects Have Their Say
When the prospect says that your product/service is expensive, you have to focus on the context to make sure you know what they are implying.
It is a good idea to give your prospects some time to object and voice their concerns, which you can listen to and help summarize.
You may conclude that:
Your prospect sees the value of your product but just can't afford it at the moment. The prospect might be having cash flow issues, or they might have burned all of their yearly budgets, so you can postpone the deal arrangements for later. If they see the unique value of your offer, and you nurture this prospect through, closing the sale after the finances are ensured shouldn't be the problem.
Your prospect simply doesn't understand the unique value your offer brings, so you've got to provide them with something they can relate to in order to get the idea.
A good way to try to reverse this objection into opportunity is to:
use a case study of a company that has made substantial progress with your help,
show your prospects specific examples of how your product/service will solve a problem for them,
provide your service for free, during a limited time, so that your prospect could ease the pricing pressure and make sure they are aware of all the benefits firsthand.
2. I Need to Check With My Boss
Often, the objections are related to the authority or ability to make a purchase.
Your prospect can tell you that they are not authorized to sign your sale, or that they need to convince/consult their team/boss.
This objection can mean two things.
The Prospect Really Needs Approval
Many B2B organizations have a complex sales process that involves a buying committee.
According to Gartner, a buying group in big companies consists of six to 10 decision-makers.
Surely, this means you need to find out who these decision-makers are, reach them, and get them in the room too so that you can hear about their concerns and address them.
It is a good idea to try to arrange meetings right away.
The Prospect Is Procrastinating
But sometimes, insisting on talking to the team can be a sign that your prospect is procrastinating with making a decision. T
hen, you need to follow up with your questions and find the true reason behind this procrastination and address it.
It may be they still don't see the value of your offer, so you should adjust your value proposition and check the first step in which we discuss how to help your prospect understand the value of your offer.
But, there's something else that you can do before you even get into this kind of situation.
Reach out to a decision-maker directly.
Now, this can be complex because their contact information isn't readily available.
But with Autoklose and its huge, searchable database filled with almost millions of clean, verified B2B leads, all you have to do is narrow your search down to decision-makers and contact them right away with your proposal.
That way you won't have to pitch your offer to someone who doesn't have the authority to make a decision.
3. It's Not Our Priority
This one is often used as a shrug-off line and an excuse for something else.
Professionals can always find some time to talk about methods to grow their business faster or earn more money, so that is exactly what you need to give them.
Your prospects, at the moment, simply don't realize that they need you. So, if you want to make some progress with them, you need to make your way up their top-priority list.
Leverage Feature-Benefit Selling
Instead of insisting on how great and powerful your product or service is, use the hybrid, feature-benefit approach.
Make your prospects understand all the benefits they will get and focus on the part of the bargain that will help them make more profit faster.
You can be sure this will definitely capture their attention.
So, instead of talking about all the great specs and features of your product or service, highlight how it can help them solve their biggest pain points.
4. I'm Using a Different Solution
Great!
Half of your job here is done – your prospect is quite aware of their needs.
And you are quite aware your prospect won't just go to their current service provider and ask to cancel their deal.
But even if they're locked in a certain deal, you shouldn't give up because they will have you in mind once they're a free agent in search of a service provider.
At this point, all you can do is:
Educate them about how you differ from your competitors
Emphasize what extra value will you bring to the table
Follow up with them on a regular basis to inform them about your latest upgrades and stay on their radar.
5. I Haven't Heard About Your Company Before
Which just might be the case.
So, you need to inform your prospect about the nature of your business and your offer, so they can find a reason to continue your communication.
Watch out for their next reaction and see how you can interest them in hearing more about the benefits of your product or service.
To be completely ready for this kind of encounter:
Prepare well in advance
Research your prospect in detail so that you can pinpoint their pain points accurately and align your offer with them.
The more you know about them, the better you'll present your offer.
Not all your prospects have the same pain points, needs, and interests, which is why your every pitch has to be highly personalized if you want it to work.
6. We Are Doing Great in That Area
Maybe they truly are, but still, things can always get better.
That's why you need to get more information about a solution they are using for the challenges they face.
You might notice an opportunity to add extra value to your offer.
Do this by differentiating your company or your service/product from your competitors – an extra feature or another payment option, whatever makes your customer tick.
This is the moment where you should rely on your sales skills and unleash your inner sales expert to convince your prospect that you're the best option for them.
Even if they seemingly don't need your assistance at this point.
7. You Don't Have This Feature
Do you?
This objection is a clear sign of what your prospect needs from you, as well as when it's the best time to continue your conversation.
Here are a couple of things you can do to resolve this.
Identify Prospect's Needs
You can ask for the kind of features your prospect is looking for and see if you can offer something similar.
Maybe there's an integration that might work for them.
Try to think of a workaround and see if your prospect is willing to accept it.
Upgrade Your Solution
However, in case you don't have a particular feature, it's a good idea to ask your existing customers whether they would find that particular feature useful.
If their feedback is positive, then you should consider updating your product and adding it.
After you do that, reach out to the prospect who objected to your product not having it and ask them whether their expectations have been met now that you can offer them exactly what they need.
This new feature will also be great for convincing your free-trial prospects to finally make a purchase, given that you've delivered added value.
Similarly, you can use it for upselling purposes and offering your existing customers to switch to a more advanced subscription plan.
8. I Don't Like Contracts
Strange as it may seem, this can be one of the objections that you might encounter.
Some people just don't like to be locked in contracts, even if they are more affordable.
Instead of trying to convince them to make an exception, offer them a month-to-month plan during which they can test your product/service and give them a lower price if they go for a long-term commitment.
9. We Don't Have Time Right Now
Your prospect may really be too busy with other challenges which need to be addressed urgently.
Or they just don't have enough mental energy to think another offer through – decision fatigue is a real thing.
In this case, you just need to follow up and catch your prospect at the right moment, so you could make your unique value proposition.
If you happen to hear this one, make sure to secure another follow-up, by letting them know that you'll reach out in a week or two, so that they can expect your email or call.
It would be even better if you could schedule the next meeting during which you'll have their undivided attention and an opportunity to present your product's benefits.
However, since this isn't always the case, Autoklose has the next best thing – an automated scheduling option via Calendly.
With this integration, your prospects can simply click on the link to your calendar, pick the time slot that suits them, and book a meeting.
Absolutely hassle-free.
10. I've Had a Bad Experience With This
Prospects who have had a bad experience with a product/service similar to the one you are offering can sometimes be reluctant to close the deal.
But this doesn't necessarily have to be the end of your conversation.
Here's how to best handle this situation:
Ask them to tell you more about their previous experience and try to understand their pain points
Show them empathy and put an emphasis on the way your product/service is different
Present them with social proof – user reviews or testimonials, can help you present your company in a more credible and trustworthy light.
Building credibility and trust can be of critical importance when it comes to prospects who tend to be suspicious due to their past negative experiences.
11. It's Too Complicated to Use
Your prospects can have doubts about whether they will be able to use the advantages of your product/service.
You can try to find out what are the specific features that are giving them trouble and remind them of your customer support when there is a need for a practical guide through certain issues.
However, in order to overcome this objection, it's best to provide your confused prospect with links to your knowledge database.
You do have one, don't you?
Offer them a list of all the relevant topics in the form of blog posts, videos, and how-to guides that they can read and solve any potentially confusing issues.
When your prospects can check setup manuals and see how it's actually easy to configure everything, it will be easier for them to say yes.
12. I Can Find This Product/Service Cheaper
If you hear such an objection, you will have to dig into it a bit deeper if you hope to move things forward.
Price Reduction Isn't the Answer
Don't even think about reducing your price.
Instead of that, it's a good idea to know your competitors so that you can easily explain the difference in the quality or features between your and their product to your prospects.
Zero In On Added Value
Again, insisting on the value which your offer provides is the best way to overcome such an objection.
If your prospect still insists that your price tag is hefty, even after you've explained to them why your product offers more features and better value for money, it's a sign that they're not serious and that you shouldn't be wasting your time with them.
13. We've Got So Much on the Plate Right Now
You should be prepared to hear something like this more often than not.
However, despite the fact that you should be empathetic and understanding when it comes to the post-pandemic situation in which many businesses have found themselves, you should still not give up on your prospect.
Be Direct
First of all, it's important to establish whether you aren't dealing with a tire kicker that will only waste your time.
Don't hesitate to get to the bottom of the problem right away.
In other words, when you hear the dreaded "There's so much going on right now. Call me back next month/quarter/year," ask them directly what they expect to be different then.
Be polite, but try to unearth what kind of change they're hoping for, to see whether they're just trying to make a lame excuse or they're really in a bad place.
Based on their answers, there are two possibilities.
Disqualify
If it's the former, you can call it quits, because that prospect doesn't actually have an intention to purchase from you.
Accept that and move on.
Maybe it's for the better because in that case, you're dealing with a prospect that's not the right fit for your business, and the other way round.
Engage Further
On the other hand, if your prospects start talking about the challenges they're facing at the moment, you can provide some additional value by offering them premium features for a regular price.
Or you can allow them to purchase just a couple of features they need at a lower price.
Find the right pricing model, and you'll score yourself a loyal customer.
14. I Have to Think About It
This doesn't sound like a harsh brush-off, does it?
However, it's actually a combo of a couple of the above objections – budget, authority, need, and timing.
These prospects will frequently ask you to send them more information and give them some time to think about your offer, and it's very likely that you won't hear from them ever again.
Although their intentions are basically good, they're not invested in this deal.
The worst thing you can do is leave it up to them to follow up.
That practically equals giving them control over your entire conversation because you'll be the one waiting for them to decide and call you back.
Instead of that:
Insist on setting a date for your next call
Tell them that you'll reach out and when.
In order to additionally improve your odds of closing this deal and eliminating more objections down the road, you can ask additional sales questions.
For example, find out what they would like you to include in your informational email or any similar open-ended questions to get them to talk.
This way, you'll be able to break the ice and get the conversation going.
Conclusion
Handling objections is a crucial part of your sales process, as it enables you to distinguish between qualified prospects who are worthy of your efforts and those who don't have the potential to turn into your paying customers and to whom you should say goodbye. Keep track of your own successful ways to handle these objections, as you will be better prepared the next time such an issue comes up.