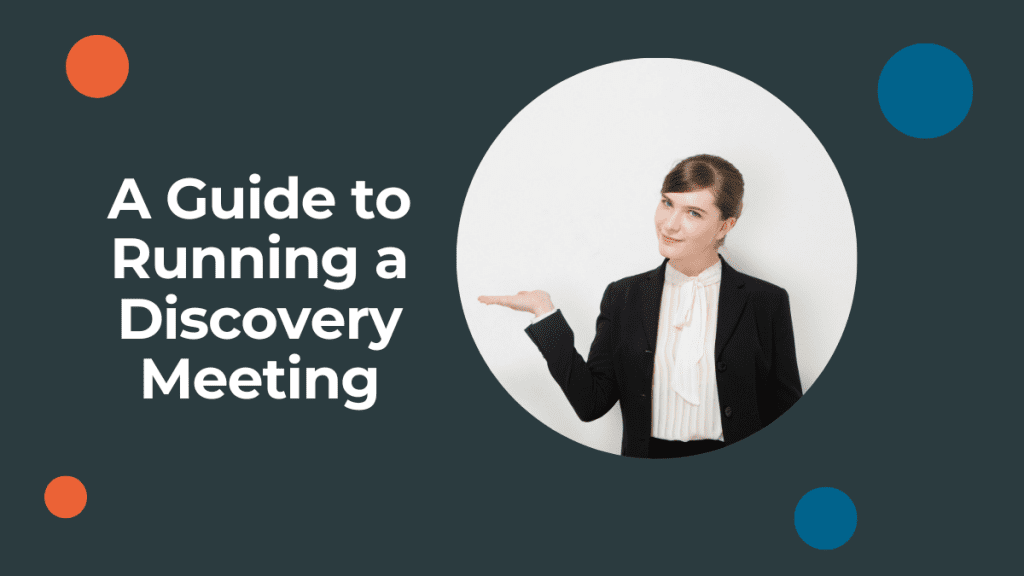 Closing sales is a joint effort that takes time, particularly in the B2B industry.
And while it's the sales rep who actually seals the deal and receives all the accolades, the truth is that the successful outcome heavily depends on the early stages of the process.
Understanding your potential customer's pain points and identifying their needs will help you figure out how your product or service can best solve their problems. Plus, it allows you to set initial expectations and build trust with your prospects.
That's why running an effective discovery meeting is crucial to securing the next appointment with your prospect and paving the way for the ultimate "yes."
What Is a Discovery Meeting?
When you land a new lead, you still don't know whether they're a good match for your product or service. That's why it's essential to find out whether you'll be able to qualify this prospect and develop a meaningful relationship with them.
A discovery meeting is an initial discussion between one or more sales team members from your company and a potential customer.
It allows you to unearth and identify the prospects' pain points through a series of sales questions.
This way, your sales team can determine how your solution can most effectively help in solving these issues and add value to them.
At the same time, your prospect can also learn important information about your business and product or service.
Here are the three phases of the sales discovery process that can be used to structure a discovery meeting and understand its purpose.
Source: Gartner
How to Prepare for a Discovery Meeting?
A successful discovery meeting requires detailed preparation.
You can't pick up the phone and improvise. The trick is having a mutually beneficial conversation so that both you and your prospect get all the information about each other.
Do Your Research
Before you set an appointment with your prospect, take time to research your prospect and their company in great detail.
If this part of the process isn't taken seriously, you risk undermining your efforts and wasting your prospect's valuable time.
Ad libbing isn't the way to go in this case, as you need to create a detailed agenda of the meeting and prepare probing questions. 
Remember that you have to collect as much information about your prospects as possible, and this requires understanding what their business is all about so that you can ask the right discovery questions.
Attach the Meeting Agenda
By including a clear, concise agenda in your calendar invite, you're showing your prospects that you're serious and that you mean business.
If there's no agenda, they might be under the impression that you're relying on opportunism instead of planning.
In addition to being thoughtful, creating a discovery meeting agenda lets you articulate your ideas and come up with tactics for taking your conversation to the next step.
Meeting Agenda Outline
Here are the elements your discovery meeting agenda should contain:
Time and date of the meeting,
Topics you want to cover,
Questions about your prospect's needs and goals,
Discussion about the benefits of your solution
Next steps
It's a good idea to allocate the time for potential questions both you and your prospect might have after the meeting.
All these details also give your prospect time to think about what their goals are and prepare for the meeting too.
Build Rapport
Top salespeople build rapport in the first 20% of the call, while their average peers achieve this somewhere around the 40% mark.
The better and faster you read the room, the more successful the meeting will be.
It's always safe to break the ice and start on a positive note. Small talk can warm up the entire situation, so don't hesitate to ask your prospect about their day, or weekend, and reference something you know they're interested in based on your research.
Also, you can mention that you researched their business and that you believe there's a business opportunity for both parties.
Focus on Your Prospect's Pain Points
Addressing the pain points your potential customer is facing can be a great way to start the official part of the meeting.
You can share insights you collected during conversations with other prospects and your own research. This way you will encourage the prospect to talk about their problems and specific, industry-related challenges.
By asking the right questions, you can steer the conversation in the right direction and introduce the idea of how your product or service can help.
Aligning your prospect's pain points with your solution can be an eye-opener for them.
However, if you notice that there's no particular alignment between what they need and what you offer, don't insist on it. This is a clear sign that the prospect isn't a good fit for your product or service, and that they won't be happy with it.
Aim for an Open-Ended Conversation
When crafting the questions for your discovery meeting, make sure they will result in long, detailed answers.
Open-ended questions will help you with this, especially if you also use clarifying questions to get more information.
Make a list of everything you need to know including:
What their budget is
Details about their challenges
Their company values.
Answers to all these questions play an important role in planning your next step and determining whether this particular prospect is loyal customer material.
For example, if your prospect is a great fit for your product but currently doesn't have a budget to purchase, then you should postpone the process and reach out to them after a couple of months. Knowing this particular detail will save you a lot of time.
Showcase Your Expertise
Presenting yourself as an authority in your industry will help you establish trust and credibility.
By talking about your industry and the typical challenges your prospects have, you can set the stage to introduce your product as a unique solution and explain what makes it different from other similar products.
Talk about the experiences of your existing customers as these stories will resonate with your prospects.
Advice from a seasoned expert will ease their concerns and make them more willing to work with you.
Discuss the Next Steps
Before you end a discovery meeting, make sure you secured at least a certain degree of commitment from your prospect.
This doesn't have to be a big step – booking a follow-up call will do.
The point is in setting expectations, both your prospect's and your own.
Talk about the potential timeline of events and ask your prospect about the pace they're comfortable with.
Just like you prepared an agenda, it's also important to create meeting minutes that you'll send to your prospects. This short document will recap what you discussed in the discovery meeting, map out the following action, and suggest a timeframe of events.
Conclusion
Every sales process starts should start with a discovery meeting. It's what sets the tone for your entire relationship with your potential customers and gives you both a chance to learn about each other and see whether your goals align. The purpose of this meeting is not only to get your prospect interested in your solution but also to tell you whether spending a couple of weeks or even months trying to close that deal makes sense.