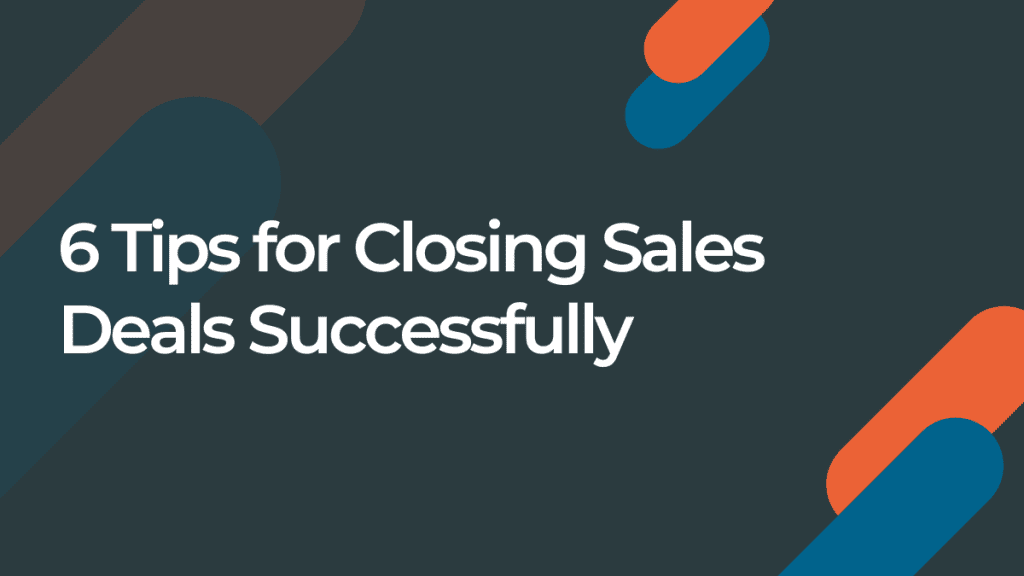 In the world of business, the outcome is the key feature of every procedure.
CEOs, managers, team leaders, and employees can value their own and other people's work when they can measure it.
Calculating these things is possible only when they're completed.
In many cases, the speed and manner in which a business procedure is finished also play an important role.
Since most business processes include sales, they're going to be the spotlight of this article.
We'll explain how employees, employers, and entrepreneurs can close sales deals.
1. Prepare for a Long-Distance Race
Experienced people in the sales industry know that every sale is a long-distance race.
Newcomers to this niche might not be aware of that at once, which may result in disappointment or fast burnout.
Therefore, every rookie salesperson needs to understand that it takes both knowledge and patience to close sales.
It's a process
For starters, you need to know that the end of the sales process is just a cherry on top.
If you don't make all the moves in this game properly, the end result will satisfy neither you nor your managers. Every successful close starts with carefully laid groundwork.
In other words, start by researching, nurturing, and qualifying your prospects, and focus on each stage.
This approach will significantly facilitate the actual closing.
Be flexible
What's tricky here is that every new sale is a new match. Some of the rules that worked in the previous game won't apply to this process.
Those salespeople who do everything by the book every time might be caught by surprise when they fail.
That's why every sale process demands a high level of adaptability and divergent thinking.
You need to have an A, B, and C plan for the sale that you're about to open.
If you realize that you're losing your prospect, put plan B or C on the table.
In musical terms, working in the sales department is much more like jazz than pop-rock. While there are some basic principles, much of the work depends on individual skills and ad-lib solutions.
So, you'd better learn how to improvise.
2. Analyze the Character of Your Leads
Let's say that you work in the sales department or you just need to start a sale process. You have your products and you have set your target audience.
Now it's time to contact your first prospect and try to convince that person to buy your products.
Address the right person
Most companies have a clear vertical structure.
In this hierarchy, it's extremely important to address the right person when you're starting a sale.
A huge number of employees and salespeople begin their sale process with an email.
If this initial step is wrong, all the other steps along that road will lead in an unwanted direction.
That's why it's crucial to address the right person, who is in charge of buying products from other companies.
For starters, you can go to the company website and check out their departments.
Serious businesses are transparent about their personnel so you should be able to identify your person there.
If you're not sure who to contact after visiting their website, the safest option is to write to the marketing team. In some companies, this team deals with sales and purchases, as well.
Gather information about the buyer
Once you've found your person, you can learn more about them from their LinkedIn profile.
That way, you'll gather enough input information about their professional style and preferences.
What's more, this research will help you identify things that this person might not like.
When we're making a sale plan, we need to assume what the person/company on the other side doesn't approve of. This will save you some time and money along the way.
All this intel will be useful in crafting a proper offer for that particular matter.
3. Present Your Products Transparently
When you find out everything you wanted to know about the buyer, it's time to make your offer.
Depending on the type of your business, you might use email, phone calls, or direct messages on social media.
Email
If the target business is already connected with your company, you can use email. This medium would be even better if your company is on their contact list. That way, your offer won't end in the spam folder.
Call
On the other hand, if you're trying to reach out to a brand new prospect, giving them a phone call is a better option.
The potential trap of this communication service might be the fear of cold outreach.
Many business professionals get various pushy cold calls. That's why this sales tactic has earned a bad reputation among businesspeople.
Warm up your prospects
That's why you need to sound natural and make a customized offer.
This will help you avoid coming off too strong.
For starters, open your call with your name, your position, and the company you work for.
This will help you survive the first seconds of the conversation. When the person on the other side recognizes the brand name of your product – which will be possible if you take a multichannel approach in the first place, they'll listen to your offer.
Be transparent
Regardless of the means of communication, present all your products transparently.
Stress out why you think these features will be useful to every prospect you contact.
If possible, let them know that you've analyzed their needs.
The fact that you've spent some time reading about the prospect will increase your chances of closing a sale.
4. Practice the Now-or-Never Approach
Some techniques and strategies can help you close sales.
Some of them are subtle, while others are bold.
In the middle, there are some strategies based on numbers and facts and the now-or-never approach belongs to this group.
What lies at the heart of this technique is the feeling of urgency.
Let's say that you want to offer your target audience a product suitable for their needs. Also, you've identified who to address in that particular company.
When you're writing your email or scripting your phone offer, highlight that it will last only for a limited time.
You can see often see this technique in TV commercials when they say that you need to order a product in a couple of days after which this particular deal is off the table.
This is a powerful and practical strategy but there's one potential catch in it: it mustn't be misleading.
Mind the trust
Businesses and individuals who craft misleading offers soon lose the trust of their prospects.
Therefore, if you opt for the now-or-never approach, it has to be part of a broader strategy.
So, if it's a limited-time offer, don't extend the period while this offer is valid. If you do that, the people who bought your products affected by the feeling of urgency will feel tricked.
To continue with the musical analogy: you would look like those old rock bands who organize their farewell tour every few years.
In a nutshell, if you want to close a sale successfully, you need to be sincere from day one.
5. Express Assertive Understanding
We've already said that skillful salespeople succeed in selling their products or services without sounding pushy or salesy.
In other words, they manage to seduce their prospects around the things that they sell.
While being sincere and transparent is important, you also need to express your understanding assertively.
Don't take things personally
In practice, this means that you shouldn't take any of your prospects' remarks personally.
They have every right to ask you more about your offer.
Some of them might even be impolite but that's an occupational hazard and it comes with the territory.
Dig deeper
When you hear negative reactions to your offer or company, ask those prospects why they have such an opinion. Let them share their experiences with you.
Perhaps someone has tricked them in some previous sales and now they're cautious.
Highlight the benefits of doing business with you
You must show them that they're wrong and that your products can make their professional or personal life better.
Whenever possible, highlight the financial benefit. If you want to sell ten air-conditioners to a small business, emphasize their high ecological standards.
While you're showing that you understand their position, show them that you have something that will bring benefits to them, and be prepared to address all their objections carefully.
6. Prepare for Rejections and Follow-Ups
Sometimes you will get rejected, regardless of your skills, understanding, and quality of the products you sell.
What's important in those situations is not to fall in despair but to prepare for a follow-up offer.
You know that situation in which you ask a seller at an open-air market about the price of fruit. When you say that something is expensive, they try to reduce the price. That's the simplest form of a follow-up offer.
Analyze previous rejections
After you've ended a sale process without a successful close, think about the offer.
Was it the price or the package of services that made the prospect reject your offer?
Perhaps they would buy it if it was a different period of the month.
You can ask these questions either at the end of your conversation or in the follow-up email.
Also, you may contact your financial department to check if you could tailor a special offer for that client.
Sometimes companies decide to offer packages with more services at a discounted price if that means winning over a big client.
So, analyze your prospect's answers, make changes to your offer, and send them that email.
Conclusion
These days the procedure for closing sales has become increasingly complicated because the contemporary business world is more complex.
In addition to offline businesses, a deluge of online businesses is being launched as we speak. So, modern salespeople need to be as transparent, intelligent, and knowledgeable as it gets.
With the global nature of the present-day market, it's important to work on your open-mindedness, as well. Those who manage to adapt to those new circumstances will keep on closing good sales.
We hope that our strategies, examples, and takeaways will encourage both new and new salespeople to broaden their horizons and stay ahead of the curve.