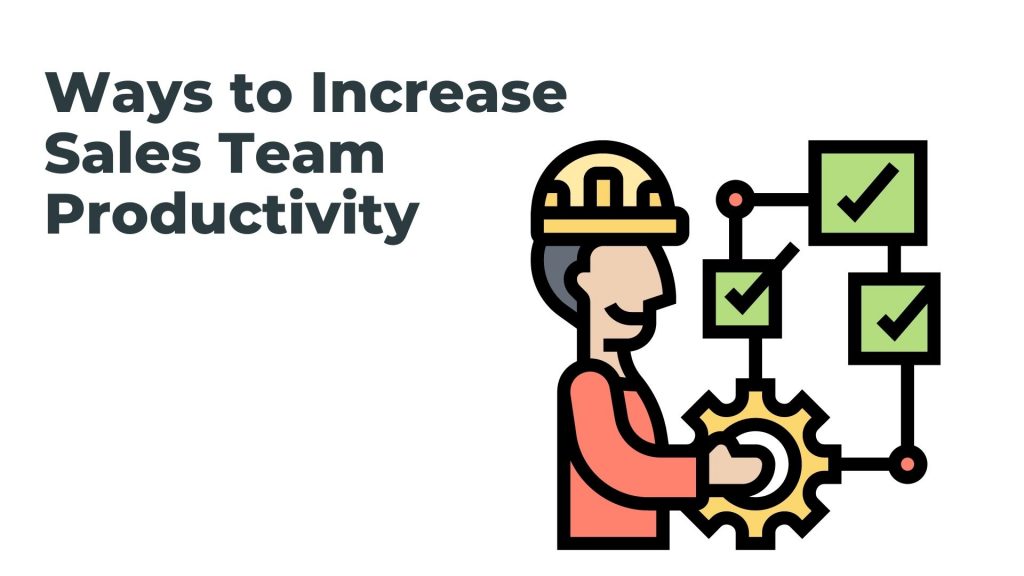 Sales productivity and performance have been identified as the top challenges when it comes to managing account executive teams.
Given that your sales team's productivity and performance are the factors that directly impact your bottom line, it's essential to deal with it properly and in a timely manner.
Easier said than done.
The Importance of Productivity in Sales
You can't simply tell your team, "Hey, guys, let's be more productive!" I mean, you can, but to no avail, because it's not like your people are unproductive on purpose.
Besides, the average salesperson spends less than 34% of their time actually selling, most probably because they're stuck doing administrative tasks, sitting in meetings, and doing other non-revenue generating stuff.
And let's not forget that many sales reps don't use a time-management methodology.
Finally, more than 40% of sales reps take 10 months or even longer before they become productive enough to contribute to their company goals.
That's why you need to come up with different tactics and strategies that will help them step up their game and unleash their inner killer salespeople.
And of course, you should be their role model.
So, what are the best tactics to turn your sales team into a well-oiled sales machine?
Sales Productivity: A Definition
Before we get down to listing all the things you can do to boost your sales team's productivity, it's important to get to the bottom of the unproductivity and inefficiency issue.
Sales productivity is all about increasing sales results while minimizing spending. In other words, the more your sales reps sell and generate revenues and the fewer resources (such as time and money) they spend while doing so, the more productive and valuable to your company they are.
In order to measure sales productivity, you should monitor how efficient a particular sales rep is when it comes to boosting the company's bottom line.
There are different factors that can be detrimental to your sales team's productivity, and some of them are:
High pressure to hit sometimes unrealistic sales targets
Reluctance to adapt and adjust to the latest technologies
Lack of consistent sales strategies and processes
Poor communication between departments, sales, and marketing in particular
Failing to set sales priorities
No alignment between marketing, sales, and operations.
Here are some tips on how to deal with these issues.
1. Introduce a Sales Team Shadowing Process
Every department has different goals, and although they should ultimately work towards achieving the same overall company goal – selling more and increasing the bottom line.
However, given that these smaller, individual goals seem to be at odds with each other, your departments aren't on the same page – their communication suffers and is unclear, while numerous opportunities are missed, and the next thing you know, their productivity takes a plunge, just like your profit.
That's why you need to align all your departments and help them understand how each of them works and what they're telling customers.
This will streamline their communication and create common goals.
By implementing a Sales Team Shadowing program, you can encourage cooperation between departments and allow every employee to better understand the customer.
Once you establish this process, it's a good idea to organize a training session for participants and acquaint them with your sales pipeline and the sales process so that they can understand the basics.
The next step is creating a rotation schedule – your employees should be allowed to shadow your sales reps' activities once or twice a month and sit through cold calls, demos, and follow-up calls.
This way, they'll gain a better understanding of the entire process, your target audience, as well as products, and later implement that knowledge into their work.
2. Implement a Consistent Sales Process
Productivity heavily relies on a firm organizational sales structure.
In other words, your sales reps can have their own way of doing some things, but they should stick to the established sales process as that's the only way to accurately measure their performance.
It's a good idea to identify the best strategies and tactics, share them with your sales team.
This way, it will be possible for them to follow concrete steps that will result in closing a new customer.
In order to map your sales process and identify its steps, you should analyze your existing sales process.
Find out what works and what doesn't by observing your sales reps throughout the sales cycle.
Figure out how long the entire process took and how much time passed between every step of the cycle. You can do this by analyzing your last 10 closed deals.
It's also important to understand what actions prompted the prospect to move to the next stage, and generally speaking, try to understand what tactics helped your sales reps move the prospects through the sales cycle from prospecting to closing.
3. Automate Your Sales Process
As I've already mentioned, your sales reps waste a lot of their time on administrative or repetitive tasks, and that's killing their productivity.
You can significantly improve their score simply by embracing sales automation tools that will pick up the slack and let your sales reps focus on the selling part of their job.
Autoklose, for example, can put your sales email outreach on autopilot and allow your sales reps to easily create, schedule, monitor, and tweak their campaigns in real-time.
You can significantly boost your sales reps' productivity through the use of triggered emails – these emails are automatically sent based on specific actions taken by your prospects.
So, basically, you're utilizing your prospects' behavior to send them the right message at the right time, and what's best, you can totally automate the entire process.
An example of this is a "thank you" email.
When a prospect subscribes to your newsletter, signs up for a free trial, or makes a purchase, a personalized trigger-based email is sent, thus engaging them additionally.
Using a sales CRM is also a must, as this tool can help your sales reps have all their redundant and administrative tasks taken care of – for example, data entry, which is a nightmare of all salespeople.
Opt for the one that has a built-in call tool, as well as the ability to integrate with other sales tools.
4. Creatively Encourage Sales Productivity
Apart from doing all these serious things in order to boost your sales reps' productivity, it's important to motivate them through different motivational tactics.
You need to make them feel good about themselves and valuable to you and your company by showing them appreciation.
People who feel that their efforts are recognized are much more engaged and productive at work, and this is important for reducing your turnover rate.
It's true that money is a great motivator, but you don't always have to offer them a big fat check in order for them to go out of their way and bring you results.
Sometimes а simple, handwritten thank you note will do.
Other ways to show your gratitude to your sales team for a job well done include:
Celebrating wins. You can take your team to dinner when they hit their quarterly quota or throw a small office party.
Acknowledging your employee of the month – a salesperson who closed most deals within that period. You can use a big meeting where management will be present to publicly thank that salesperson and thank them for their hard work.
Tickets to sports events, movies, or gym subscriptions – anything you know that makes your salespeople tick.
All these tactics won't cost you too much and can do wonders for your team's productivity.
Some research studies claim that non-monetary rewards are even more important than monetary ones.

5. A Well-Thought-Out Onboarding Process
The better and faster you train your new hires, the more they'll be able to contribute to your sales goals.
So, make sure that you onboard them efficiently, as that's how they'll spend less time on training and more time actually doing their job.
In order to do so, you should prepare your training materials in advance and constantly update them based on your best practices.
The Shadowing strategy mentioned earlier in this blog post is also a great way to break in new salespeople and get them up to speed.
By being mentored by your experienced salespeople, your new employees will be able to pick up some valuable tricks and avoid bad and low-value sales practices.
Key tasks of an effective onboarding process are
In-software training. Giving your new sales reps access to the software they'll be using in their daily activities will allow them to figure out how it works, experiment, and set it up. Provide them with video tutorials and organize training sessions hosted by your well-versed team members.
Polish their phone skills. It's essential for a salesperson to be proficient both in phone calls and emails so that they can tackle different parts of the sales process properly. Shadowing another sales rep is again a recommended procedure – their experienced colleague will show them the ropes and help them build and develop their phone skills, fight that common fear of rejection which is the factor that can hinder their potential, and deal with some of the most common sales objections.
Monitoring their progress. By introducing checkpoints and quizzes you'll prompt your new salespeople to learn and ramp up their skills according to the schedule. Get them to learn as much as possible about your product and its features and benefits, the software they will be using, managing their documentation, and company culture.
6. Communicate with Your Team
The importance of regular communication and feedback can't be stressed enough, especially when it comes to managing a sales team remotely.
Your reps, particularly new hires, need help in handling their daily challenges, which means that a manager should be available to them regularly.
It's even better to establish a check-in process and reach out to your team every day to see how their day is going, whether they're struggling with an obstacle or need help in dealing with a prospect.
Again, it's essential to overcommunicate with new members of your team and have a high number of interactions with them, particularly during the onboarding process.
Apart from regular check-ins that can be done via SMS or email, you should also organize in-person one-on-ones so that you can have in-depth conversations with your team members and share your expertise with them.
Such meetings will allow you to build loyalty with your sales reps, and they will feel comfortable enough to confide in you and share their problems and ask for your assistance.
That way, you'll be able to prevent more complex issues with motivation and productivity because sales is a tough and stressful job, which means that your team should have all the help and support they can get.
7. Provide Ongoing Training and Development
Providing ongoing training and development is crucial for the success of your sales team. By investing in your sales reps' skills and knowledge, you can ensure that they have the tools and confidence they need to succeed.
This can include a variety of different types of training, such as in-person sessions, online courses, webinars, and workshops. It's important to be proactive about training and development and not just offer it on an ad-hoc basis.
This can be especially important for newer sales reps, who may benefit from more structured training as they get up to speed with your company and products.
8. Promote Work-Life Balance
Promoting work-life balance is crucial for the success of your sales team and the well-being of your sales reps. Sales can be a demanding and high-pressure job, and it's important to recognize that your reps need time to rest and recharge in order to stay focused, motivated, and productive.
Encourage your reps to take breaks throughout the day, such as stepping away from their desks for a few minutes or going for a walk. It's also important to encourage your reps to unplug when they're not working, particularly after hours or on weekends.
This can help them avoid burnout and maintain a healthy work-life balance.
In addition to encouraging breaks and unplugging, it's important to prioritize your reps' well-being in other ways.
This can include things like providing access to wellness resources, such as gym memberships or mental health support, or offering flexible work arrangements, such as the ability to work remotely or set their own schedules.
By supporting your reps' well-being, you can help reduce burnout and turnover and ensure that your team is motivated and productive.
9. Foster a Culture of Productivity
Fostering a culture of productivity is essential for maximizing the performance of your sales team. This involves creating an environment where productivity is valued and encouraged, and where your sales reps feel motivated and supported.
One key aspect of fostering a culture of productivity is setting clear goals and expectations. This includes setting specific, measurable, attainable, relevant, and time-bound (SMART) goals for your reps and providing them with the necessary resources and support to achieve these goals.
It's also important to regularly review and adjust these goals as needed to ensure that they remain relevant and achievable.
Another important aspect is providing the necessary resources and support to your sales reps. This includes things like providing the necessary tools and technology, such as sales software or lead tracking systems, and offering ongoing training and development opportunities to help your reps build the skills and knowledge they need to succeed.
Recognizing and rewarding productivity is also key to fostering a culture of productivity. This can include things like providing sales incentives or bonuses for meeting or exceeding sales targets, or offering recognition or rewards for reps who come up with innovative ideas or solutions to improve productivity.
Finally, fostering an open and collaborative work environment is essential. Encourage your sales reps to share their best practices and ideas for improving productivity, and create opportunities for them to collaborate and share their thoughts and ideas.
This can help create a sense of ownership and accountability among your reps and drive better performance.
Closing Words
A happy and motivated sales team means satisfied customers and a better bottom line. These 9 steps can point you in the right direction and ensure that your sales reps are productive.