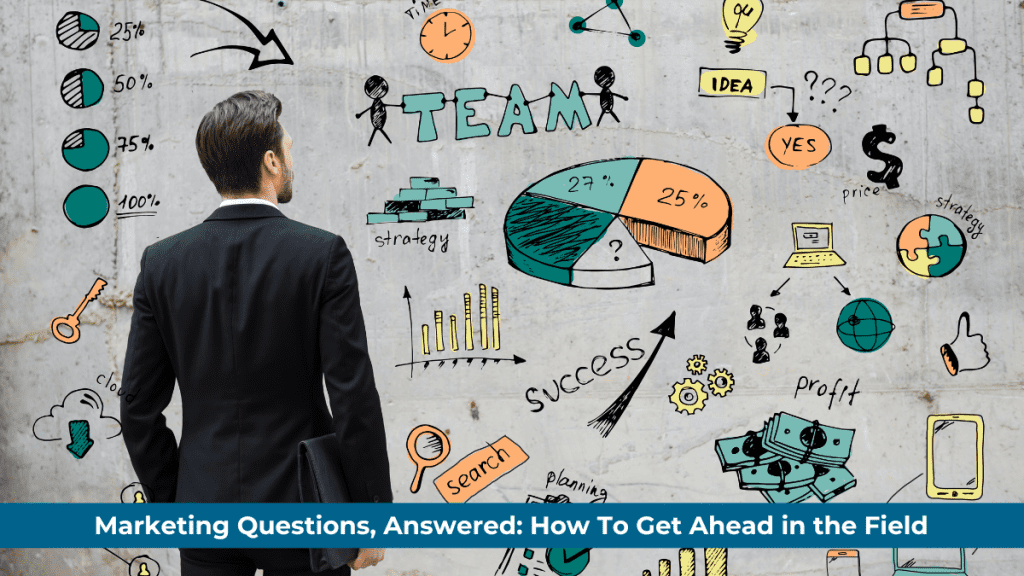 Gaining experience is key for marketers who are new to the field. Look for useful courses and instructional materials first, then hit the ground running by building a skill set and a positive reputation.
Content is king. Marketers should tailor their brand-building efforts to the platforms and audiences that work best for their niche. They need to become content creators and curators.
Drive awareness with intention. Good marketing is well-informed and well-measured: You should know your goal, and you need to have a solid plan for getting there.
Do you have what it takes to become a successful marketer?
First things first: You have to define what 'success' means to you.
Do you imagine creating a major campaign that garners millions of impressions or an advertisement that helps shift a societal value? Perhaps, instead, you're simply focused on obtaining a well-paying job in a satisfying career field.
Whatever your aim, those looking to achieve in the marketing industry need to get comfortable with challenge, change, and creativity. The successful marketer will be rewarded with exciting challenges and the potential for far-reaching influence.
Marketers are problem solvers in their own right, but we all need a second opinion sometimes. On an episode of the 0 to 5 Million podcast, Shawn Finder and Ollie Whitfield answer popular Reddit questions from aspiring marketers to help them achieve creative and career success.
If you're learning a new marketing strategy or wondering whether the field is right for you, these tips will help you make the most of your time — and strategize for what's next.
Make marketing your mission
The marketing space offers endless opportunities for professional growth. Start by dedicating yourself to understanding the industry, or at least the marketing niche that most interests you.
How do you begin? Start small. When Shawn first got into banking, he offered up free labor for a month. He told the bankers he didn't care about the money: He just wanted the experience. "The first way to get in the door is [to] do an internship," Shawn says. "Just get in there."
An internship might teach you marketing basics like consumer behavior, market research, and advertising. You might want to start with a small agency or a company that doesn't have a particularly robust marketing program — you'll be more likely to boast some authority and have the chance to try out different things.
Luckily, where your job experience doesn't teach you enough, online courses, podcasts, and books can fill in. While the courses may seem simple, Ollie recommends that beginning marketers complete offerings like the Google Digital Marketing Certificate — both to get certified and to see what new knowledge they can pick up.
Once you've gathered initial skills and understanding, start to pinpoint a niche. For instance, the beauty field alone involves a wide range of skills including:
High-level, like strategy and branding
E-commerce-related, such as micro-influencer relations and ad spend
Luxury, with more hyper-focused, personalized campaigns
You'll have a lot to learn early on. But if you focus on gaining hands-on experience and working creatively, you'll quickly master the fundamentals and be ready to thrive in this competitive field.
Win the content game
Content is king in the digital age. The marketer who finds an efficient way to create and curate popular content will quickly reap major rewards for their company or client. 
But reaching that point may not be so simple. With the glut of ads, blogs, podcasts, and images hitting social media platforms every day, marketers may struggle to stand out.
The solution? Be strategic — winning the content game means paying careful attention to the platforms you use and the types of content you create.
Platform choices
Just like no one wants to read a thousand-word Instagram caption, you won't get much engagement with a visually uninteresting, text-heavy video on YouTube or a niche sales pitch on Reddit. When marketing, the platform reigns supreme.
When you're trying to capture someone's attention, you should find them where they're already looking. A good marketer thinks about their target audience and distributes content on the platform where that audience is most likely to be.
For business-to-business (B2B) marketing, Shawn points out that Facebook, Reddit, and Twitter are less useful. "If you want to be doing the same thing that everybody else is doing, then obviously LinkedIn is the one," he explains. The career-focused social media platform is ideal for sharing articles, blog posts, and whitepapers that are central to B2B marketing campaigns.
Marketers should be sure to take advantage of platforms' similarities as well. In the age of vertical digital video, the same ads can be repurposed for YouTube Shorts, TikTok, Instagram Reels, and Snapchat. If your target audience uses multiple platforms, publish your content in each place — it's a simple way to expand your reach.
Upgrade your content
Ollie and Shawn encountered an aspiring marketer looking to build up their personal brand. "I'm a [university first-year] with not very much experience, but I have a lot of ideas," they wrote. "What should I do if I want to start getting noticed by these tech companies and B2B brands that I want to start working with?"
Shawn's answer is simple: Post something valuable on LinkedIn daily. By publishing high-quality and authoritative content, marketers can earn the respect and audience they're seeking. "It's not a short-term game — it takes time," Shawn says. "But if you can be an expert in your field, there's no better way to do it than LinkedIn."
People notice good ideas. By curating quality posts from around the internet or creating your own smart takes on various trends within your industry niche, you can build up a strong reputation.
Whether it's taking a little bit longer to nail the video delivery or writing with some extra panache, the way you package your content can greatly improve its impact.
Build buzz and track your success
Let's say your boss wants you to help market the launch of a new feature or sales item. You've got some time to prepare, money to spend, and achievable goals in mind. It's time to build buzz and track your success.
Creating buzz around a launch is essential to driving sales and growing business. The more often people talk about your brand, the more likely they are to become customers. But you'll need to be creative and think outside the box. This could mean hosting a contest, partnering with influencers, or creating a viral video — you just want to get people talking.
Does a PR piece make sense? How about blogs, social media, or paid ads? Is it time to get the entire company involved? Usually, more is better: Use every strategy and channel available, paying attention to where your target audience lives. You want to build up as much hype as possible around whatever it is you're selling or advertising.
But your efforts can't stop with just drumming up hype. The best marketers wring value out of every penny, using tools like Google Analytics, Omniture, or Mixpanel to track the performance of campaigns and modify them where needed.
"If you are doing any sort of marketing, the one thing you do is you have to make sure it's trackable," Shawn said. "Numbers speak for themselves at the end of the day."
Success is sweet. Knowing your numbers ensures you have proof that you've achieved it.