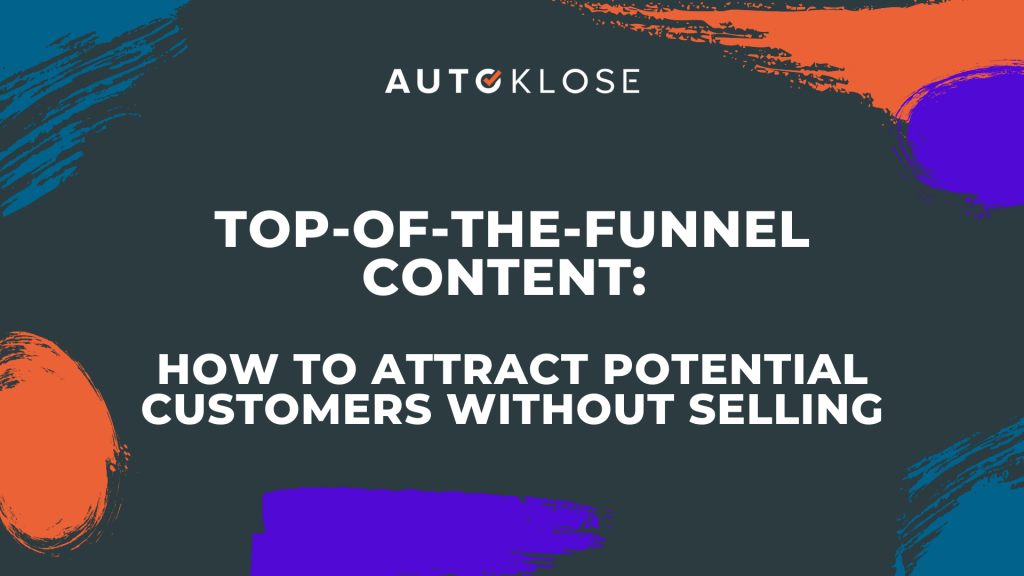 The idea of a sales or conversion funnel is thrown around a lot in digital marketing circles. While beginners might understand the concept at a superficial level, they might not be clear about all the nuanced differences between, and requirements of, each stage of the marketing funnel.
This article will focus on the first point of contact between prospective customers and your brand or business – otherwise known as the "top of the funnel". We will discuss the definition and scope of top-of-the-funnel content, examine what your content goals should be while strategizing at this stage, highlight the key elements of this kind of content, and showcase a few examples of excellent top-of-the-funnel content.
Let's get started!
Top of The Sales Funnel Explained
Before exploring how to structure an effective top-of-the-funnel content strategy, it's important to first understand the first stage of a content marketing funnel.
Simply put, a marketing funnel is a visual or conceptual representation of the stages users go through before they are converted to leads, and then to paying customers. It helps marketers understand the mindset of potential customers as they gradually familiarize themselves with a brand and its products or services.
A funnel's first stage represents people that have just come into contact with your business for the first time. You can think of it as the discovery stage, as it draws in potential leads that were hitherto unaware of your business's existence.
Naturally, this is the widest point in the marketing funnel. First-time website visitors and those that interact and engage with your social media posts all fall into this category.
Statistically, you're never going to be able to convert 100% of your top-of-the-funnel leads. However, nudging a few of these users towards the next part of your funnel is enough for your business to thrive.
That's what content at this stage is geared towards.
What, Then, is Top-of-Funnel Content?
Top-of-the-funnel content includes all the copy as well as visual and personalized content such as pictures, infographics, illustrations, animations, and videos that are used to attract and retain first-time website or social media visitors. Introducing social media approval to the process can be of great help.
Since the primary aim of first-stage funnel content is awareness and engagement, the content you use here should be completely free of obvious sales pitches. You want to engage consumers and encourage them to stick around. To do so, you'll have to disarm the apprehensions of would-be customers by first offering them value through offering educational material, answering their questions, or solving pain points.
Top-of-funnel content is chiefly geared towards creating an initial impression of your business in the minds of your target audience, increasing your brand awareness and trust, expanding your media relations, and building a relationship based on meeting their needs.

Its Key Elements
Most importantly, top-of-the-funnel content should not be self-serving or biased. The information you put out at this stage should be objective and non-promotional. It shouldn't focus on your brand. Since around 86% of search queries are non-branded, it means that your potential audience is much more likely to be looking for information than for specific products or services.
This isn't to say that your brand shouldn't be involved at all in the content, only that value and relevance should be the primary objectives. As long as you're genuinely offering solutions to users' pain points, your content is already filling a demand. Providing value means that your audience members are less likely to turn to another brand when it comes time to finally make a purchase.
I have found that approximately a 70/30 balance – where 70% goes to non-branded content, and 30% is allocated to branded content – is the sweet spot in terms of a top-of-the-funnel content strategy.
Another element – and advantage – of top-of-the-funnel content is that it tends to be evergreen. This means that it has a long lifespan of value, correctness, and relevance. While some minutiae might have to be updated periodically, the crux of the content remains relevant for a long time.
Content at this stage should be freely available. If your audience has to pay or jump through hoops to learn what your brand is about, they're more likely to leave quickly and not return.
Finally, a large portion of first-stage funnel content can include some form of call-to-action (CTA). However, CTAs at this stage shouldn't prioritize directing visitors to make a purchase. Instead, focus on engagement. For example, you might ask users to provide their email address or join your mailing list in exchange for access to more valuable content.
If your top-of-funnel content marketing is effective, it means that a higher percentage of your visitors will want to learn more about your brand. They'll dig deeper and seek out more information about your business and its offering.
There are many metrics you can use to measure the success of your top-of-the-funnel content marketing strategy. Arguably the most important of these metrics are visitor count, percentage of new visits, and bounce rate.
First-stage funnel content is a delicate dance between keyword research, providing value, and metrics monitoring. To boost organic visibility and, ultimately, rank well in search engine queries, your content will need to incorporate certain niche-specific keywords. Useful tools such as keyword ranking ones can help you research the right keywords for your content.
Examples of Brilliantly-Executed Top of Funnel Content Strategy
There are myriad options and channels available to you for promoting your first-stage funnel content. Similarly, there are various content sub-types to implement at this stage. You'll need to figure out what content types are best suited for your business and audience. Likewise, you can always hire a dedicated team to help you get through your marketing obstacles.
To give you a head start, however, here are the most popular forms of top-of-funnel content, as identified by Influencer Marketing Hub:
Influencer content aimed at spreading virally and boosting brand awareness
Paid advertising campaigns targeted at your target demographics
Social media content aimed at directing organic traffic to your website
Blog posts and articles that serve as valuable sources of information and optimized for SEO
If you're still not sure where to start with your content, don't fret. We're going to look at a few shining examples where brands have knocked their top-of-the-funnel strategy out of the park. Use these for inspiration and get creative!
HubSpot
Marketing and sales automation software HubSpot uses colorful and engaging visual content in its top-of-the-funnel strategy, such as on this landing page: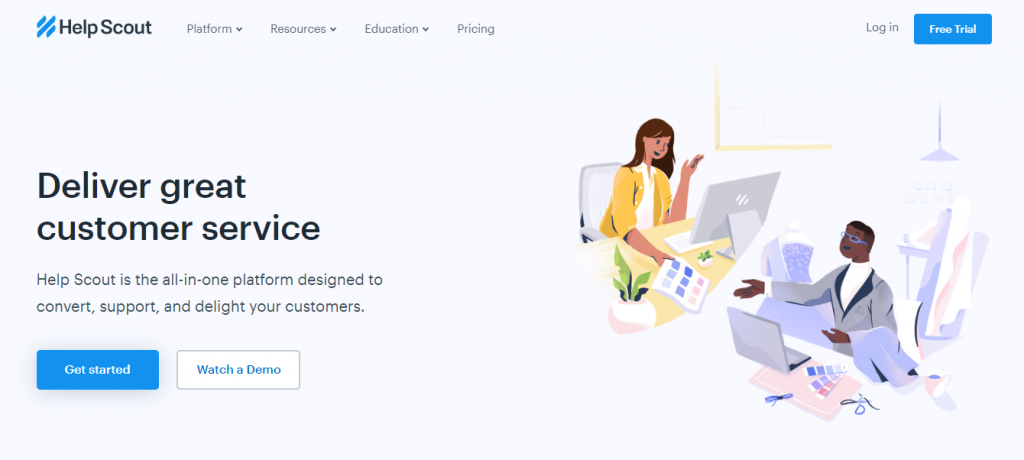 The company also draws potential customers in with an offer they can't refuse: "get HubSpot free". Offering the opportunity to try the system for free and then scale as their business grows provides a low barrier to entry for customers who may not be sure if HubSpot is right for them.
Check out the chat box in the bottom right-hand corner, too – this offers prospective customers another way to get in touch. 
Helpscout
HelpScout's implementation of a top-of-the-funnel strategy is brilliant in its simplicity. The customer service and enterprise resource planning (ERP) solutions company devised an excellent way to structure its landing page content to deliver the most value to potential customers: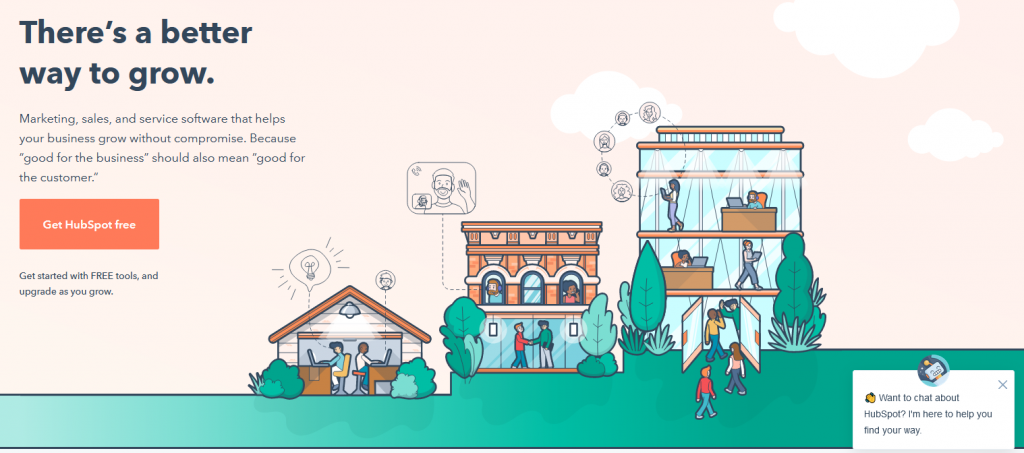 Understanding that enterprise customers (its target audience) are among the most apprehensive when trying out a new product, the company created a brilliant demo video to show off its product's ease-of-use and functionality benefits. The company placed value first before sales, demonstrating how they could help support customer service issues before asking customers to part with any money.
The website also features a clean background, easy-to-read copy, and unobtrusive content. The attractiveness of its webpage icons, logos, and visuals also adds to the quality of this simple but highly effective top-of-the-funnel strategy.
Buffer
Buffer, a SaaS provider offering social media scheduling tools, creates stellar top-of-the-funnel content on its YouTube channel. The short, informative videos appeal to anyone who is looking for information to help them level up their social media marketing game.
The videos are focused not on hard selling the solution, but on providing genuine value. In this example, viewers learn how to use company values to increase their business's success: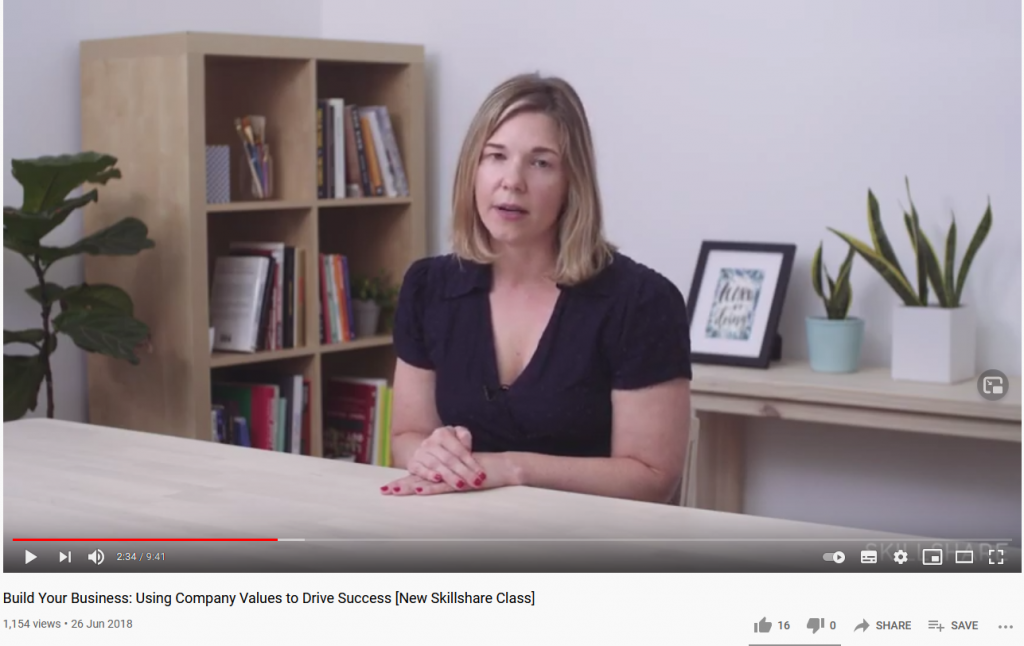 By providing valuable and informative content long before the viewer decides to sign up for Buffer's software, the company shows that it cares and wants to help. It also establishes credibility and authority in its niche.
Conclusion
Ingrained brand awareness should be your primary objective whenever you craft top-of-the-funnel content strategies – and providing high-value content should be your primary means of achieving that end.
If you can capture the attention and, ultimately, the admiration of your target audience, it's only a matter of time before some of them convert into qualified leads and then into paying customers.
There are a multitude of options available to you at this stage of the funnel. Start with a well-designed website, focus on building a strong social media following, ensure you keep your audience's needs and pain points front and center, and assess the results of your strategy.
Good luck!
Bio:
Nick Chernets is the founder of DataForSEO, a leading provider of SEO data for the marketing technology industry. With an API-led approach to data delivery, DataForSEO is enabling hundreds of software businesses to enhance their products with reliable, accurate, and fresh data.