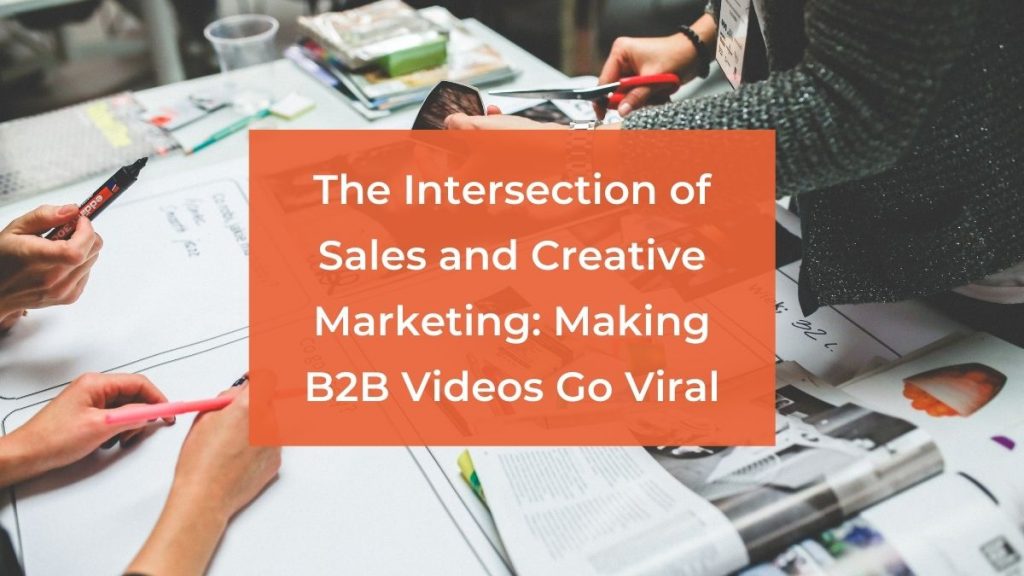 Dan Knowlton, Co-founder and CMO of Knowlton, a marketing agency in the U.K., joined Shawn and Ollie to discuss old-school networking and new-school creative marketing strategy.
When Dan and his brother Lloyd started their agency, they made the classic mistake of selling to anyone and everyone. They learned that qualifying leads was the key to avoiding underpricing and overdelivering.
Hiring practices can make or break a business. As the agency has grown, Dan has discovered the importance of defining roles and the power of bringing on experts.
B2B video content can be both entertaining and ROI-generating. Dan calls Knowlton's viral video approach "advertainment."
Historically, business and fun have been mutually exclusive. However, in the age of TikTok, that's no longer true.
No matter what you're selling — or to whom — there's a way to demonstrate its problem-solving potential in an exciting way.
Dan Knowlton, Co-founder and CMO of Knowlton marketing agency, prefers to do so with the medium of video. He's nailed the recipe for blending effective marketing and entertainment, which he calls "advertainment."
Dan and his brother Lloyd specialize in humorous marketing videos and social media ad strategy. While many people assume viral video can only happen in the B2C world, Dan says their fun and casual methods also work for B2B businesses.
In this episode of 0 to 5 Million, Dan talks to Shawn and Ollie about:
The sales mistakes he made building a client base for his marketing agency
Growing a business with smart hiring decisions
Getting inspired by creative marketing content across a variety of industries
The 'cringey stuff' of a grassroots startup approach
In the beginning, Dan and Lloyd went old-school to build a client base. On their dad's advice, they connected with other business owners at local networking breakfasts and turned them into clients.
Dan identifies three big mistakes they made in the early days when they were running the agency out of their parents' house.
Mistake #1: Not qualifying customers
Like many startups, Knowlton was vulnerable to the common error of taking on any and all business it could land.
"We said yes to anyone whowanted to work with us at the start because we wanted to pay the bills," says Dan.
Although they learned something from every client, they made some costly decisions. Dan remembers spending hours prepping a presentation for one potential client, only to find out the small business didn't have a sizeable enough budget to hire the agency.
Over time, the brothers learned the value of being picky about the leads they go after.
Upon recognizing what the agency was doing wrong, Dan decided to teach himself sales. He read the book "Gap Selling" by Keenan, which he credits with teaching him more "structured principles" of selling.
Mistake #2: Underpricing services
Another classic mistake for many service-based businesses is charging too little — which hurt the fledgling Knowlton agency, too.
Fueled by a sincere desire to help businesses grow with creative marketing, Dan and Lloyd wanted their expertise to be accessible to as many people as possible. They learned how much their services were worth only after missing out on profits one too many times.
Mistake #3: Overdelivering value
Hand-in-hand with underpricing, overdelivery became a problem the Knowlton team had to correct over time. The young, eager siblings were giving clients much more value than they were paying for because they were trying to do it all.
Instead of attempting to be a full-service agency, they had to figure out what they did best and refine their offerings.


Why defining roles catalyzes growth
In 2014, when Knowlton was a two-person team, Dan and Lloyd each had to wear multiple hats.
Their first hire was their cousin, who took important admin tasks off their plates. This simple decision to get help was a "game-changer" in Dan's eyes.
"It allowed us to take away all of the things we shouldn't be doing and focus on our actual roles of driving sales and managing projects," he says.
Nearly eight years later, they've seen the benefits of hiring people who know how to do what they don't do well themselves.
Entrepreneurs have to ultimately define their roles beyond the title of "founder," Dan points out.
Hiring the right people is a powerful growth catalyst.
Knowlton is now an 11-person agency, and Dan and Lloyd have ambitions to build a leadership team so they can continue to distribute ownership of their services — and free up their creativity.
'Keep an eye on TikTok'
Dan is a big fan of short, attention-grabbing video content. Even though this popular format is not yet centered around B2B, he predicts a professional social platform similar to TikTok will arise soon. It may even come in the form of a LinkedIn expansion.
Until then, he advises B2B marketers to stay on top of social trends regardless of the intended audience.
"Look outside your industry. What are the best creators doing on YouTube? What are the best people on TikTok doing?"
Getting curious about what's happening in other industries can help you discover fresh ways to communicate your one-of-a-kind value.
Taking the 'advertainment' route
Amongst B2B sales teams, social marketing content can have the reputation of being untrackable. Sure, it can help with brand awareness, but where's the return?
The data should be there, Dan says, but it can't be the only objective. Great video content doesn't let the viewer know that the creator intends to track their behavior.
"It's not just content that generates a trackable ROI. It's actually fun for the consumer to watch," he says.
In other words, it's "advertainment."
Dan describes Knowlton's style as strategic and funny, which satisfies both the marketing department and results-driven sales execs.
If you've always thought of B2B marketing as all business, all the time, why not take a page from Knowlton's book and flex your viral content creation muscles?
For more tips from Dan and Lloyd, listen to the Business Anchors podcast.
This is based on a conversation from The 0 to 5 Million Podcast, featuring founders, CEOs and revenue leaders from businesses between 0 and 5 million in ARR. Subscribe to future episodes to find out how they did it.