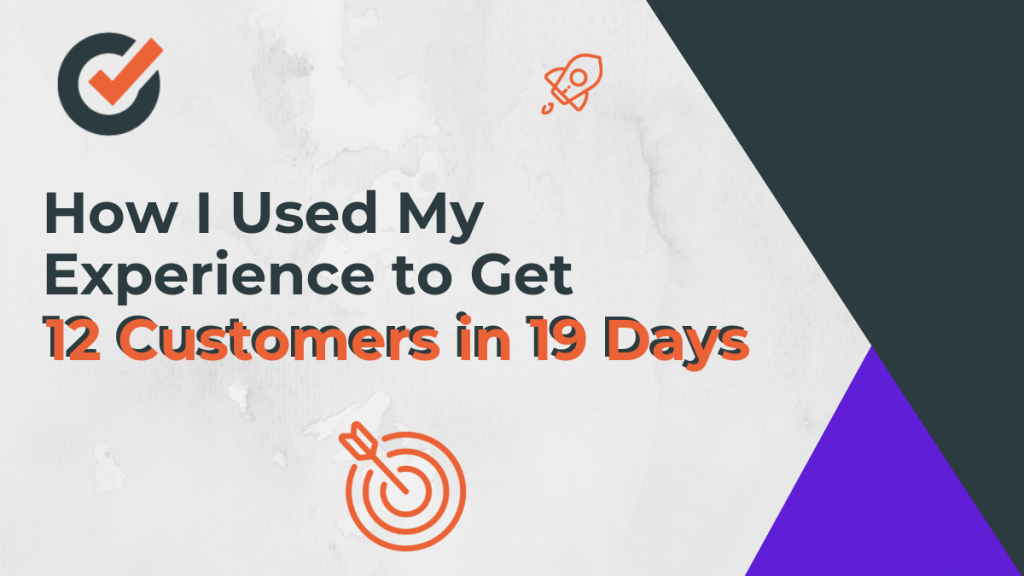 Here's a short but useful account of how I managed to land 12 customers in just 19 days.
And yeah, it's not for bragging purposes, but to help you do the same – get customers and your business going in no time.
If you focus and follow these tips, you'll see that it's a perfectly feasible plan.
So, let's dive in.
The most important RULE: Never Sell Your Product!
Wait, what? But, isn't that what my job is all about – selling products?
Yes, it is. But the trick is how you approach this entire process.
So, my No.1 rule is: solve a problem and your product will sell itself!
As an entrepreneur, I still see my friends, former colleagues, and bosses, and more importantly, my LinkedIn connections trying to hard sell their product.
And I can't stress enough how wrong this approach is.
If a company does not have a problem, no matter what you are selling they are not going to buy.
Your job as a salesperson is not to sell, rather more to consult. Try and educate yourself on your market, your customers, and the obstacles they face daily. The insights you gain during this process will help you navigate the frothy waters of our competitive industry and become a great salesperson.
Instead of pitching to everybody who comes your way, shortlist your prospects and offer you product only to those who seem to be the perfect fit.
It's also a good idea to check out your prospects' social media and website to see whether you can find out more about their potential challenges that your product could help solve.
Now that we established the most important rule, we can move on to 8 ways that helped me get my first 12 customers in 19 days.
1. Network With Anyone and Everyone
As a 14-year-old boy playing competitive tennis, I had no choice but to talk to different coaches, parents, and media that were three times my age. However, every coach would give me different advice on my tennis game just like different people can give you advice on your business.
Every time you step into a room, try to make it your objective to speak to a minimum of 8 people. This will help you expand your network and open yourself up to different opinions and feedback. Similarly, use LinkedIn to connect with experts from your industry and your potential customers, especially now that offline events have been postponed.
When it comes to sales advice, the best way of hearing about tons of tested and proven tactics that work is checking out some popular sales podcasts, and we've compiled a list of really great resources.
2. Don't Be Scared to Reach Out to Anyone
Fear is every salesperson's worst enemy.
GET OVER your fear of calling people. I have built many of my longest relationships by reaching out to people that can help me grow both intellectually and as a person. People that succeed are willing to help, so why not call them up and ask for their help.
What's best, sometimes they might not ask for anything in return.
Besides getting access to some valuable tips and experiences, you'll also overcome that limiting fear of reaching out to people.
This refers to your prospects too – one of the best and quickest ways to get customers is cold calling and emailing them. Generally speaking, cold outreach can be extremely effective if planned and carried out properly.
Even though many salespeople shy away from this strategy, we can't deny that if you want to grow your business and customer base fast, this approach is exactly what you need.
However, there are some steps to follow, and here's what I stick to when I pick up the phone to cold call my potential customers.
▪ Research. You can't call someone out of the blue without knowing the first thing about them other than the fact that they might be interested in your product or service. No, you need to be sure about who they are and why they need your solution. This means researching their needs and specific pain points. Prepare for every call studiously and take notes while you do that. Jot down your ideas and relevant information about the prospect so that you can use them during the conversation.
▪ Listen. Enjoying the sound of your own voice won't get you very far when it comes to cold calling. You should make an intro that will press the right buttons and get your prospect to start talking. After that, it's crucial to humanize your approach and actively listen to your prospect. This means not interrupting them, asking thoughtful questions, repeating what you've heard in your own words to make sure that you understand their point of view, as well as offering verbal cues that will show your prospect that you're listening and following them. Saying okay, mhm, or right indicates that you're really listening. It's also a good idea to try to match your prospect's tone – if they're expressing positive feelings, mirror that; if they're unhappy, angry, or frustrated, acknowledge this negative sentiment, empathize with them, and tell them how you can help.
▪ Embrace "No." One of the most difficult aspects of cold calling is being rejected by a prospect. But, this happens to all of us on a daily basis. Even though you can overcome sales objections, you can't expect to close every deal. So, learning how to accept every "No" gracefully and move on is an important skill. Whenever someone politely tells you that they're not interested in your offer, don't hesitate to ask them to be sincere and tell you why they believe you can't help them with their challenges and issues. This way, you'll get valuable feedback with which you'll be able to level up your pitch in the future. Also, don't let a negative answer let you down – remember all the customers who are happy to work with you.
3. Reply to Every Email Before You Start Your Next Work Day
Yesterday, I had one of my clients say to me "I feel like you reply to me before I even hit the send button".
Yes, everyone is busy but my customers are what my business thrives on and that is why I always reply to each email within 2 hours to the best of my ability.
This way, you'll never miss out on any opportunity and you'll show your prospects that they really matter.
Another factor that's important for the success of your email marketing is engagement, so if you want your prospects to find your emails interesting and intriguing enough to respond to, check out these tips that will help you increase email engagement.

4. Entrepreneurs Do Not Work 9 AM – 5 PM
Long gone are the days when you could succeed by working only 8 hours a day.
Nowadays if you want to make it, you need to work 24/7.
OK, this does seem like an exaggeration, but the truth is that you can have a regular schedule, go home and watch Netflix just because it's 8 PM. If you get an email from your prospect, or you have to browse LinkedIn looking for possible connections and prospects, then you can't simply go for a drink and chill out.
Work comes first and I can tell you that I even worked on my honeymoon, but that's the price you have to pay if you want your work to pay off.
I don't have a schedule, but I set goals each and every day. I want to spend 2 hours prospecting, 2 hours calling, 2 hours training/learning, and I do not go to sleep at night until all my emails have been replied to and I have fulfilled my goals that were set that day.
5. Flexibility With Early Customers
The first customers will always be hesitant to buy your product.
The reason for this is that the TRUST in the relationship has not been built.
In order to build trust in the relationship, I chose to provide my first clients on board with special pricing. I may be losing money on my first clients, however, I am building loyalty and a brand that doesn't have a monetary value associated with it.
As a matter of fact, I recently co-hosted a webinar with Kyle Racki of Proposify, and we discussed many things about running a SaaS and numbers obstacles along the way. One of the topics we talked about was how to get your first 10 customers to sign up.
One of my strategies was to ask my prospects how much they would be willing to pay for Autoklose. Not only was this approach flexible but it also helped us figure out how to set our pricing.
6. Accountability
Take ownership of your business and assume all responsibilities when issues arise in your software.
Trust me, no matter how careful you are, it's going to happen at some point).
Every company has its own issues, and being a startup is no different.
Bugs and glitches are due to happen, working closely with your clients and knowing that no product is perfect will build a trusting relationship.
But, what's a crucial way of making sure that your customers perceive you as credible and trustworthy is that you always try to fix potential problems that may happen.
This means that your customer support needs to be stellar, and I can tell you that one of the most frequently mentioned reasons why our customers love Autoklose is that our customer support reps go out of their way to help our customers solve any issue and have.
This is providing value and a great user experience, and that's how you get positive word of mouth going and grow your customer base relatively quickly.
7. Live Up to Your Promises
Don't give your clients promises that you can't fulfill.
When you guarantee something on your website, demo, phone calls, make sure you can back them up with your business.
It is better to make fewer promises and over-deliver than the other way round.
Your reputation will suffer if you're misleading your prospects with false advertising. Instead of promoting a feature that has not yet been completed and implemented, focus on something else that should be your unique selling point.
Sometimes it's much better to offer a simpler but more reliable tool than disappoint your customers with a tool rich in features that is buggy and half-baked.
Being sincere with your customers will help you build an impeccable reputation, so make sure to always live up to your promises and your customers' expectations.
8. Be Passionate About Your Business and Enjoy What You Do
You probably know that proverb saying that if you do what you love, you won't have to work a day in your life.
While this sounds a bit too far-fetched, but as an entrepreneur, you have much more chances of achieving this goal and living your dream because you can basically choose to run a business that you like.
Wake up every morning and look forward to the day ahead.
When things are hard you are having a tough time closing deals, never give up.
It's much easier to go through a rough patch if you're passionate about your business.
If you work hard it will pay off and the only way you can do this is with passion.
When it's Monday tomorrow and although 99% of the world hates Mondays, I can tell you that I'm happy when I wake up and say to myself: this is another day to solve people's problems and I can't wait to help them.
When you enjoy your work, you look forward to each and every day on the grind.