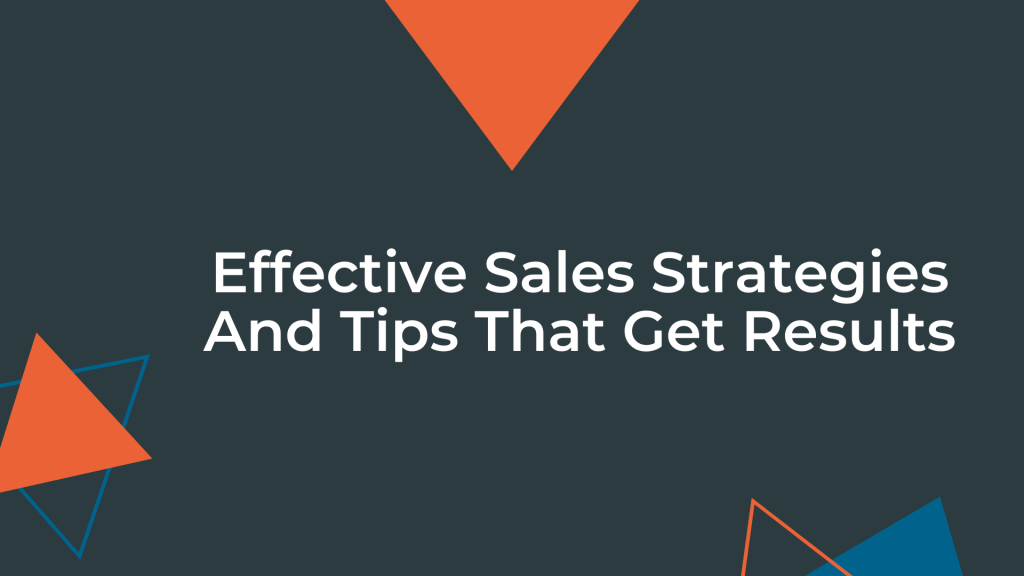 After you have spent resources and time developing a new product, finding people who will buy it is the next important consideration.
You might be confused about the best way to reach out to a customer or you are struggling with defining go-to sales strategies that bring results.
There are a number of approaches, tips, and techniques that salespeople use daily to get in touch with new leads. With fast technological improvement, new techniques are stepping into the picture.
Don't let that frighten you as many sales tactics are actually hard rooted in sales management by being extremely effective no matter what year it is.
The following sales strategies and tips can help you gain more customers, achieve the desired sales results, and ultimately grow your brand.
1. Benefits Come First
Some sales pitches get carried away quickly with a number of product features, packages, and options.
Always take a step back and think about the main benefits your prospect will gain with making a sale and how your product or service will make their life easier.
Remember that people don't buy products but convenience.
The turning point of the pitch is often the fact that your product or service provides them more benefits than what they have now.
Make sure they understand what you're selling before you dive into the specifics.
2. Research and Understand Your Prospects
This strategy is directly connected to the first one.
You should not only be able to explain what you are selling but it's also pivotal to understand the customer.
Do proper research before contacting them and try to answer how your solution can help their problems.
Start by asking yourself:
What are the main business goals of your prospect?
Are you familiar with their business activities?
What are the main obstacles in that industry?
What are the areas they can improve?
Are they working with your competitor and if yes, are they satisfied with the results?
Only when you learn about the prospect will you be able to personalize the conversation and take it a step further.
3. Target Small Markets
When targeting prospects, it is not always wise to cast a wide net. You can quickly get overwhelmed with the number and diversity of accounts and your goal will not seem attainable.
Start with a narrow contact list and focus on a specific industry, business size, or location.
Even if the selected niche doesn't bring results you will quickly head on to a new one with nothing to lose.
Once you hit a high returning niche it will re-energize your efforts and boost your confidence.
4. Start with Specific Goals
Just like you do with choosing a target market, you should define your goals to be as specific as possible.
It will help you stay focused and guide your direction each step of the way.
The goals should have a time frame. For example, a short-term goal can be to make X number of deals in each quartal.
Also, if the goal is measurable, it will be easier to evaluate each activity and track your progress.
For instance, you should explore the use of task management software as an effective solution here.
Check out our article on How to crush your sales goals.
5. Connect with the Right People
In the early '70s, salespeople got familiar with different buying roles.
A now well-known model of roles in the purchase process was formed a decade later. It consists of 6 roles. Depending on the organization, an individual can assume more than one role.
1. Initiator – recognizes the need to buy a certain product/service in order to solve a problem;
2. Influencer – this person influences other members to go ahead with the buying process;
3. Decider – the person who ultimately approves the buying decision along with all the details of the purchase;
4. Buyer – the person who handles the actual purchase;
5. User – the person who will use the product/service after the purchase;
6. Gatekeeper – the person who controls information or access or both;
The strategy of connecting with the right people means you need to find the decision-maker of the company and save yourself a lot of time. The way to do so is to follow the information flow, identify the experts, and trace connections to the top.
6. Embrace Storytelling
Salespeople use stories in order to increase customer engagement and capture their attention. Storytelling affects a person's intentions, motivations, beliefs, emotions, and actions.
Since storytelling is directly connected to the emotional side and people intuitively connect to stories, if you can grab that deeper feeling with your leads, you have better chances of turning them into regular customers.
Storytelling can be used at different stages of the sales process.
You can include an interesting story about your company when you are presenting yourself, add a narrative to your product pitch presentations or use contextual metaphors.
7. Don't Ignore the Feedback
If you get frequent requests from your customers regarding product features or if leads are not satisfied with your pricing packages, listen to them.
Keep your ears open, gather product feedback your customers are sharing with you, and be prepared to push for the changes.
If your customers notice that you are flexible and good at problem-solving, they won't feel ignored and lose interest in your company.
8. Pick Up the Phone
There was a moment in the sales history when cold calling was getting unpopular.
It was perceived as intrusive and aggressive and salespeople thought of it as a dying method. Now, with the development of the Internet, email, and social media, the phone stayed behind as the least popular method of direct communication with the customer.
However, phone calls are again becoming a popular activity for cutting through the online noise.
Call your prospects to follow up on an email, give details about things you previously discussed in an email or reschedule the meeting.
Differentiating your communication methods can increase prospect engagement and get quick results.
9. Follow Up Regularly
Once you made the first contact with a new prospect and got no response, you should try again and again and again. That's right, sending several follow-up emails is the way to go, especially when we have proof that 80% of non-routine sales occur only after at least five follow-ups.
You should set up the right follow-up strategy that pays attention to all the important aspects.
Define how many follow-ups should you send and at what frequency, what days are best for sending follow-up emails, and how to write each one.
Check out our full guide on How to Create the Best Follow-Up Email Strategy.
10. Give Product Demos and Free Trials
This might be the best way to show the value of your product, especially if you are selling software or a technically complex product or have a new product.
Giving product demos and free trials is also useful if you are in a highly competitive industry but managed to create an innovative product that offers more value to customers than what's already on the market.
Even if your prospects don't choose to buy after the trial period, you will receive plenty of feedback and learn how to make it more appealing to future users.
11. Don't Forget Existing Customers
Gaining new customers is always the goal but the cost of the acquisition is 5 times more expensive than customer retention.
Once you establish a relationship, nurture it and try to provide more value to them over time.
You can do this by building trust, empowering them with convenience, keeping open lines of communication, providing personalization, referral programs, getting more referrals, free samples…
12. Mind the Sales Experience
As buyers are overwhelmed with options, you have to be extra careful in client communication.
Learn how to negotiate and be very patient no matter how stressful the situation is.
This means you should think ahead during each step of the way and be flexible.
Don't put yourself in a situation of turning down a request from your prospect.
Instead, focus on accommodating their special request. Your competitive advantage might just be that – being flexible at the negotiation table and giving your prospects what they actually need and not just closing a sale.
13. Engage in Email Automation
When creating your cold email strategy, marketing automation can give you a detailed picture of customer behavior, help with lead nurturing, and of course, save valuable time.
Autoklose allows you to send automated and highly personalized emails, manage your contacts, and monitor campaign results while giving you access to millions of validated prospects.
14. Address Your Prospects' Uncertainty
If you notice that your prospect is uncertain about whether your product or service is what they need, don't ignore it hoping that it will go away during the demo.
This is usually the case if you notice that prospects are quiet during your pitch and that they don't ask many questions.
Maybe they're just confused and don't quite understand how your product or service works and how it can make a difference for them.
It's crucial to drop your script for a moment and address that elephant in the room.
Ask them whether they'd like you to be more specific and explain that particular feature in more detail.
The trick is to initiate a conversation and ensure that your prospects understand all the benefits that your product or service will bring them. Sometimes salespeople tend to focus on features and specs in order to impress their prospects, only to confuse them in the process.
So, picking up uncertainty in the air and being afraid to address it, believing that it will only open Pandora's box of objections is a wrong approach.
Set your prospects straight the minute you notice that something is off.
15. Be Flexible
Flexibility is key when it comes to negotiating.
Sometimes prospects need a little push when they're still on the fence, so being open to a slightly different agreement and making concessions can have a positive impact on the outcome.
By insisting on some minor details, you risk losing a customer. On the other hand, your willingness to give in and accept your prospects' additional demands, shows a clear intention that you want to work with them again.
This is a long-term approach to sales because if you're flexible your prospect will be more likely to purchase from you again or extend their subscription – and that's much better and more valuable than a one-time sale.
However, you still have to establish the number below which you won't go, and you should do it before the meeting.
Don't change your mind after that, and if your prospect wants an even lower price, it's important to clearly communicate your limit.
But, before you decide to sacrifice your pricing, think about providing additional value instead. Throw in a couple of premium features and create a win-win situation. It will be hard for your prospect to say no to such a generous offer, and you'll still stick to your initial pricing.
16. Analyze Your Past Sales
Your historical sales data can be an excellent source of information about your prospects and their purchasing habits, and you can use it to forecast future sales and identify the areas you can improve.
When you're setting your sales goals, make sure you check your sales records from the past year and establish what accounts spent the most, pinpoint whether there was a new hire in the sales department or anything else that could affect the outcome, as well as how many trade shows, conferences, and events you attended.
All this information can show you what works and what doesn't and point you in the right direction.
For example, if you notice an increase in sales after attending a sales event, hiring a new sales rep, or changing the type or frequency of customer communication, it's obvious that these factors contributed to such a result.
17. Listen to Your Prospects
We've already mentioned storytelling as an amazing way of connecting with your prospect on a more personal level and convey a message that will resonate with them, but that doesn't mean that everything should be about you and your company.
Quite the opposite!
Listening to your prospects and what they have to say is crucial for unearthing what bothers them and how your product or service can help.
Active listening will allow you to collect a wealth of information about your prospects that you can later use to close a deal.
Rather than talking about your product or service, It's much better to spend more time listening to your prospect.
Another useful tip is asking open-ended questions, as that's how you'll get your prospect to elaborate on their needs and wants.
Finally, when you ask a question, pay close attention to what your prospect is saying, and if necessary take notes. Not only will this show you're genuinely interested in them, but it will also result in making more informed decisions.
18. Establish yourself as a thought leader
Some of the most long-lasting methods to create your personal brand and give your business greater credibility are to share your advise, tried-and-true best practices, and specialized experience with others.
It's safe to say that everyone would agree that nobody likes to be marketed to. It is preferable to help people by providing answers to the issues they face.
And that's precisely what thought leaders do.
However, not all thought leadership content is made the same. While strong thought leadership may boost revenue, ineffective thought leadership can annihilate a business's sales targets.
Thinking about your target market, their pain points, and how your business can solve them is essential before launching a campaign designed to generate leads. You should also have someone from your marketing, communication, and public relations teams look through your strategy to make sure everything is consistent with your brand's voice.
19. Aim towards a mutually beneficial agreement.
The reason you should aim for a win-win agreement with your prospective clients is to show them that you value them as people and are interested in continuing to work with them.
What this means is prioritizing the maintenance of meaningful connections over the pursuit of short-term gains.
Failing to accommodate a potential client's budgetary needs at the last possible moment will cause them to walk away from a transaction.
However, you should enter the meeting with an idea of your "walk-away number," or the lowest acceptable offer.
Instead of lowering your pricing in response to price haggling, focus on bringing more value to the table for the customer. Keep a running tally of the extras, bonuses, and deals you can provide as a negotiating chip.
20. Prioritize Leads Using Lead Scoring
Before ever reaching out to a prospect, lead scoring may help you determine which leads have the highest likelihood of becoming a paying customer.
As part of your sales strategy, you should be qualifying your leads.
Inbound leads can be ranked on a scale from 1 to 100 depending on their qualities and behavior through a process called lead scoring.
Simply said, you need to give each lead a given number of points based on the various criteria you've set up.
A few examples of such criteria are the number of times a user has visited your website, the amount of personal data they have shared with you, and the level of interaction they have had with your business on various digital and social media channels. Opt for a digital business card over a physical one to ease data capturing and collection.
Closing Words
These tried-and-true sales strategies can help you increase your sales reps' effectiveness and performance, and help them become better at their job. Bear in mind, however, that the best way to hit and exceed your numbers is using your own experience, so make sure to email and phone your prospects, and have conversations with them. Every interaction is a goldmine of information, so take advantage of it.