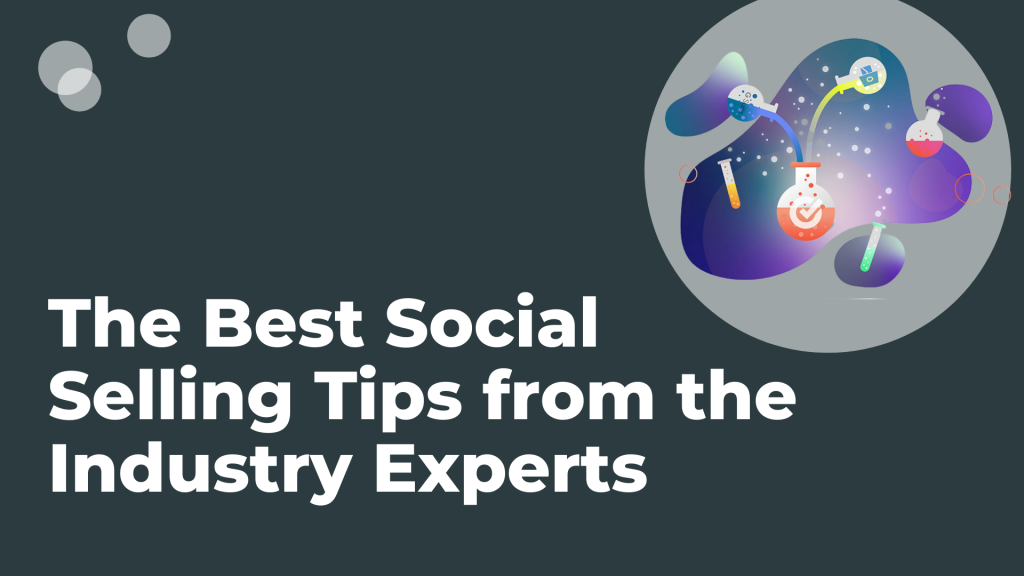 Sales has come a long way since those much-maligned door-to-door salespeople who tried to push their agenda and sell you something the first (and most probably the last) time they saw you.
Now it's all about building connections and nurturing relationships with your prospects.
It's not a one-time activity, but a process and social selling is one of the most effective and important parts of it.
Numerous stats corroborate this statement:
By 2028, 80% of B2B interactions between buyers and suppliers will happen in digital channels;
Practitioners of social selling attract 45% more opportunities than those who don't use this tactic, as they're 51% more likely to hit their quotas, while 78% of social sellers outperform their peers who don't use social networks;
84% of C-level execs use social media in making purchasing decisions.
How to tap into the power of this strategy and leverage it to find and engage with your prospects on social media?
We've asked our LinkedIn community to share their best tips and tricks.
Let's talk about the do's and don'ts of social selling first.
1. Do's of Social Selling
Here's the ultimate advice on how to make social selling work for you.
1.1 Put Your Best Foot Forward
Reputation is everything, especially in the digital world devoid of physical contact.
That's why you need to make sure that your online reputation is impeccable.
Another corny phrase that applies to our online image is, "First impressions are the most lasting."
In other words, you need to polish your profiles on all social media channels you're using.
We already discussed prospecting on LinkedIn in one of our previous blog posts and explained the best way of optimizing your profile on that social media network for professionals.
But, we'll round up the essential tips for LinkedIn and other platforms:
A professional profile image is a must!
Come up with a killer headline. Your title alone isn't enough. Tell people what you exactly do, what your strongest points are, and why they should hire you. Take a cue from VanillaSoft CRO, the one and only Darryl Praill:
The same goes for your Twitter bio.
You need to encapsulate the essence of your own and your brand's personality and communicate your core values in just 160 characters. So, every single word counts.
Another thing you should do is claim a custom LinkedIn URL as it's a really big deal.
Instead of a long and hard to memorize a sequence of letters and numbers, it's much better and more effective to have only your name in the URL.
I'm ashamed to admit that I haven't done that, which is why my LinkedIn URL looks like this:
Sloppy and irresponsible, I know.
But, the Founder of Autoklose, Shawn Finder, did that properly, which is why his URL is personalized and good for SEO. Besides that, it comes across as more trustworthy:
Your LinkedIn summary is not your resume.
Instead of listing your previous jobs and accomplishments, use this section to tell your audience more about yourself, your passions, and how come that you've ended up in sales.
Just like Shawn did:
1.2 Boost Your Credibility
It takes 20 years to build your reputation and five minutes to destroy it, said Warren Buffett.
And indeed, a single tweet or inappropriate post on your social media channels, and you're done.
Social media is a huge arena, and many other sales professionals are trying to get noticed and remembered.
The best way to build your credibility and establish yourself as an authority in your field is to post and share relevant, interesting, and valuable articles that your potential clients benefit from.
Also, join discussions and share your perspective on things. This way, you'll gradually become a prominent and trusted voice in your industry.
So, it's essential to hone your problem-solving skills and let them show through your engagement with the community.
Be where interesting conversations are, pick hot topics and start discussions, and generally speaking, be the life of the party on your social media channels.
1.3. Always Be Listening (ABL)
I know that salespeople like their ABS approach very much, but there's something that precedes it – active listening.
People don't fall for a hard pitch any longer, so you don't stand a chance of selling anything if you still cultivate that self-absorbed "let me tell you about my amazing product" approach.
They want you to educate them first and then show them how you can help them solve their pain points.
And you can do that only if you let your prospects talk.
Social media is great for feeling the pulse of your audience and learning what bothers them and what they'd like to read and talk about.
However, ABL doesn't refer just to listening to your prospects and what they have to say; you should also closely follow the industry trends and soak up all the relevant information.
This will help you stay ahead of the curve and allow you to craft your marketing message better.
Your content efforts would be much more effective if you'd know what topics to deal with.
But it can be complex to find your way through the marketing noise and identify what's hot and what's not in the fast-paced world of Twitter and LinkedIn.
Luckily, some tools can help you find your way around 24/7 updates.
For example, Topsy and its Historical Analysis feature allow you to analyze conversations from months and even years ago.
This way, you'll be able to identify relevant prospects and personalize your outreach based on what a particular prospect likes or complains about.
For example, a prospect might share an interesting blog post that you enjoy reading, and just like that, you've got yourself a great reason to touch base with them.
1.4. Provide Value
And do it consistently!
We've already mentioned that the world of social media is fast (and often furious). This means that you need to provide value consistently if you want to stay on your audience's radar.
It's easy to get carried away and start posting across different social media channels unselectively.
This way, you'll only spread yourself too thin. Instead of that, pick your audience's preferred networks and invest all your energy into creating and curating superb content on them.
It's important to offer your prospects a regular influx of
Helpful solutions for their pain points
Relevant industry news and updates
Useful blog posts and articles
Entertaining content such as Facebook quizzes, videos, and infographics.
However, this doesn't mean that you should spam their feeds with everything that you come across.
We all have someone we muted on social media for flooding your newsfeed with a torrent of irrelevant updates.
It's not about the quantity but the quality, so make your every post count.
Your every post should be worth reading and have a clear purpose. You don't want your prospects to say, "give me these 10 minutes of my life back!" after reading your blog post.
Follow the industry influencers to stay ahead of the curve.
1.5. Nurture Your Prospects
Social selling is all about building connections and nurturing your prospects.
You won't get very far if you don't engage with other people's content. So, devote a portion of your time to liking and leaving comments on your prospects' posts.
Also, monitor your notifications and always respond to people who address or tag you.
Even if their feedback is negative, it's essential not to ignore them. Handling complaints and criticisms properly can do wonders for your reputation and PR.
1.6. Share Customer Success Stories
Credibility and trustworthiness are the pillars of social selling.
You can brag about your fantastic product or service, but people are more likely to trust this if they hear it from somebody else.
A whopping 92% of consumers trust reviews and recommendations from other people, even if they don't personally know them, over branded messaging.
By providing social proof, you will convince your prospects that what your ads and commercials say about your product is true – your happy customers will corroborate these claims and vouch for you.
Share customer success stories, the results they achieved with your product or nice things they said about your company, customer support reps, or their overall experience with your brand.
Something like this:
2. Don'ts of Social Selling
Social selling isn't a new tactic.
It dates back to the pre-social media age when people connected by attending different conferences and events.
However, many salespeople forget that and fail to understand that the emphasis should be put on the "social" and not on the "selling" part of the phrase.
Here are a couple of big no-nos of social selling.
2.1 Trying Hard to Be Funny Without Providing Real Value
You know that feeling when you tell a joke and nobody laughs?
You might not see the faces of people who roll their eyes when you post something that you think is funny but doesn't contribute to the discussion, but you can bet that they're here and they're judging you.
Yes, memes and gifs are funny, but always bear in mind that LinkedIn is a professional network, and before you post a politically charged joke, ask yourself whether you'd tell it in a room full of people you don't know.
Everything you post on social media speaks volumes of your brand, so make sure that it's appropriate.
You never know whom you might offend with your insensitive remark.
Of course, this doesn't imply that you should be stuffy and conventional all the time – just try to incorporate humor cleverly.
Here's an example:
This meme is preceded by this text:
Shawn provides value by giving tips, and he sparks discussion by asking other sales leaders to join in and share their ideas.
So, even the F-word isn't used gratuitously.
2.2. Oversharing Your Personal Success Stories and Motivational Quotes
Many people use pseudo-inspirational narratives only to blow their own horn and talk about their 7-figure jobs.
Nobody cares about that!
And most people find it annoying.
The same applies to sharing nonsensical motivational stories whose purpose is shameless self-promotion.
Many people agree that patronizing your audience by telling them they can do anything they set their minds to is outrageous and counterproductive.
Being sincere and genuine is what people respect, so don't try to sell them fake-it-until-you-make-it ideas.
2.3. Pitching Your New Contacts
Don't even think about pitching your new contacts right off the bat.
This hard-sell method is exactly what social selling tries to eradicate.
Building relationships is the point, remember?
Resist the urge to ping your latest contact and tell them about how your product is perfect for their situation, even if it is.
Instead of that, start a conversation, ask them questions, listen to them, and try to understand their issues.
Show them that you care and that you intend to help. Only then will they be ready to hear your offer.
2.4. Sending Connection Requests without Following Up
Imagine a situation.
You're at a conference. You approach someone, introduce yourself, offer them your business card, and just stand there without uttering a single word.
That's similar to sending hundreds of LinkedIn connection requests and never bother to talk to the people in your network.
What sense does that make?
Even if you boast 500+ connections, you can hardly benefit from that crowd if you don't engage with them in a meaningful way.
It's best to try and make a great first impression and follow up.
Check out our blog post on the power of following up and learn how to leverage this effective method.
3. Community Feedback
Here are some social selling tips provided by our LinkedIn community.
Nicole Hoglund says that building trust is essential for social selling, and adds "The people you are connecting with and sharing content/messaging most likely do not know you. So if you shift your mindset/perspective to building trust vs. selling, you can then craft the plan to guide them to your solution (eventually). Bonus Tip: Start with your profile and provide immense value in your headline, summary, and description and see the difference if can have!
According to Beth Granger, social selling should be called social prospecting as it's "the online version of in-person networking, not selling. That difference will help you decide how to interact with people. Gloria Lafont also emphasizes the importance of networking in social selling. Here's what she suggests "Just like you would at business networking functions, know who your ideal contacts are, meet them, get to know them, be helpful, and build relationships."
Patricia Morris Finaldi's tip is simple and yet effective – be authentic! She believes that "Your target is often more sophisticated than you may think. Be true to your story and voice. That consistency will help strengthen your brand and lead to increased sales." Dan Smith agrees and says, "Show some personality!"
"Step one is adopting the belief that visibility creates opportunity. Always add value in excess of what you ask for in return," says Koka Sexton.
Joe Breen says, "Make sure your online persona matches who you are as a person. People need to get to know you, like you, and trust you before they will buy from you. An open, honest & accurate social profile is therefore key."
To David P., research which will uncover insights about your customers is essential. "Ultimately you'll be able to channel those (insights) to create the right message for the right audience. Remember, just because you have access to tons of data and are "data-rich," doesn't mean you have insight nowadays."
Attunement, or the ability to understand the perspective of your prospect, is what matters the most to Conor Lococo.
"Endorse someone for a skill or write a recommendation," is what Sandra Clark states as an important social selling tactic.
"Make a strong first impression!" This advice is valuable no matter what your industry or job is, and Lori Richardson explains "Don't immediately ask the other person to do something- make it easy for them to get what you do – initially you add value to them. That's what you do."
This is along the lines of what Nancy Nardin says and she elaborates that "When you invite someone to connect, don't assume they'll take the time to view your full profile. They will often look only at the first sentence that follows your name. That means they have only a few seconds to decide whether to accept your request – based on those few words. Be sure they represent what you do, and an idea of why they might want to connect."
Phil Gerbyshak stresses the importance of adding value – "make it a point to share content, respond to those who have mentioned you and are talking about you, those who have initiated conversations and anyone who might need your help first. Make it a point to serve first and add value to your network first, then invite people to go deeper with you one to one."
Jason Schober says "Social interaction in valuable discussions (like this one) is far more valuable than just posting content all the time. Make sure you engage, with value, to build visibility, create new relationships and strengthen existing ones."
Brynne Tillman offers a checklist that she follows:
1. Accept connection requests and send a welcome message
2. Check and engage in my notifications
3. Message and connect with people viewing my profile
4. Share content
5. Engage with other people's content (this is now checked off for today)
6. Work on my Sales Nav Prospecting plan
Mark McIntosh says, "Focus, simplicity, and quality over quantity," while Erhan Dilek thinks that adding fun is the secret sauce.
According to Mark Stonham, establishing yourself as an authority is what you should do. "Position oneself as a go-to specialist for a topic, Helps prospects define their need, Encourages them to ask questions. It's shareable. Content can be used on a 1 to 1 basis. "
"Ensure your mindset is right. When you fully embrace social it's like stepping into a room and closing the door behind you. You can't go back. It's a commitment," is the advice from Phil Stubbs, and it makes a lot of sense.
Timothy (Tim) Hughes insists that what salespeople need is "a personal brand, a strong network (not contacts) and inspiring and educational content."
Barbara Giamanco shared her no-nonsense advice, which reads, "Stop using social channels to spam people because you think it will short-cut the selling process. It won't but guaranteed you will annoy a lot of people. Use your first interactions to build relationships by using a message that focuses on problems buyers want to solve NOT what you want to sell!"
John Reeves has a similar opinion – Do not confuse social media platforms with advertising billboards: if you want to engage with your network post content that is relevant, don't mindlessly repost content, personalize it.
Sandee Rodrguez and Daniel Stepel agree that connecting on a deeper level is what social selling is all about. Daniel's word of advice is "Approach every new connection as your next best friend and not your next sale," while Sandee says, "I think it's important to remember that there are people on the other side of the screen. We need to get to know our prospects first, build a relationship, even a friendship before we even attempt to offer something to them. Just like we wouldn't meet someone at a networking event and immediately go into selling to a perfect stranger (at least I hope no one does!), we shouldn't do that with social selling."
"Always be serving, helping, connecting, and educating," is what Sandra Long suggests, while Deepika Shah highlights the importance of social proof by saying, "Show people why they should buy from you. It can be through testimonials or your videos. It's only when they know you are an expert in your area you won't have to do the selling anymore."
We hope that there are more than enough tips to help you hone your social selling skills. But don't forget that if you want to stay on top of things, you need to automate your outreach and sales process, and that's what Autoklose 🚀 can help you with.