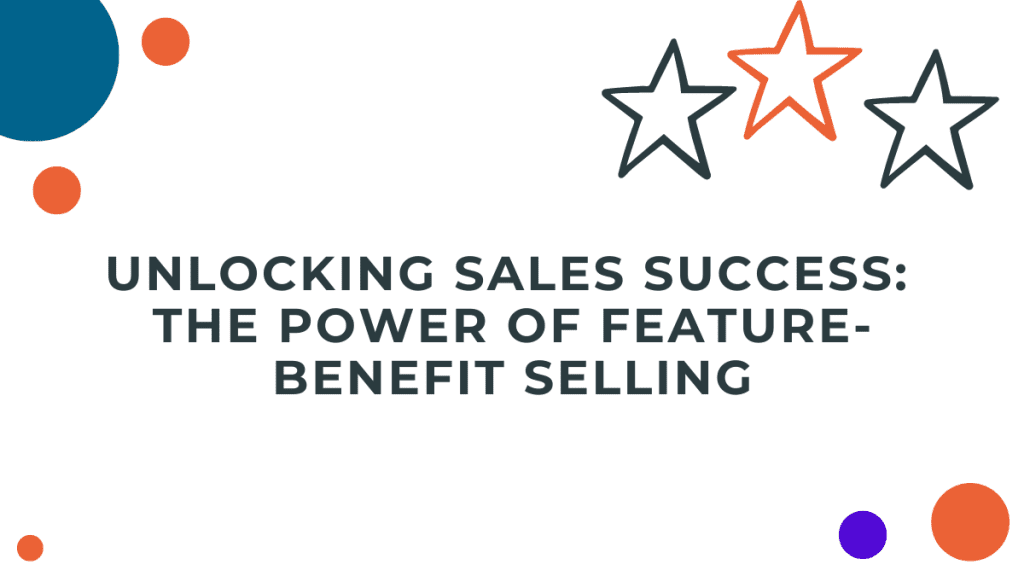 We live in a culture of consumerism, meaning that people always want to purchase something that's bigger, faster, better, and shinier than they already have.
New products are being launched even as we speak and they're on their way to outperform and outshine the ones that you're selling.
It's clear that the competition is fierce out there and that you really need to work hard in order to make sure your products or services catch the eye of your target audience.
Enter feature-benefit selling!
What's the Main Problem That Needs Solving?
Even when you cut through the marketing noise that your competitors are making and finally reach your potential customers, you should bear in mind that your every prospect is unique.
All of them might be a great fit for what you're selling, but their interests, needs, and pain points might be completely different.
And your sales approach should reflect that.
In other words, what you need to do is understand what makes your prospects tick and help them connect the dots between the features that your product has with its benefits.
So, try to make them realize how their life will be improved if they opt for your solution.
And that's what feature-benefit selling is all about.
Now let's talk about why this sales strategy can be effective in hitting your quota and boosting your revenue. 
What Is the Difference Between Features and Benefits?
I agree that these two terms don't need to be explained in terms of everyday speech – they can hardly be qualified as uncommon and rare.
However, it's essential to make a clear distinction between them in the context of sales, especially feature-benefit selling.
Although their purpose is to showcase the value a certain product or service will deliver, we should discuss them separately and in more detail.
What Are Product Features?
Features are functionalities of a product or service that enable users to do something – an email automation platform with a B2B-lead database, a car with blind-spot warning, a fridge that can crush ice, or a 5G-ready smartphone.
As you can see, features are more tech-oriented, and in some cases, potential customers might not even understand all the flashy mumbo jumbo and jargon aimed at impressing them.
The point of displaying features is to highlight a gamut of new opportunities that purchasing this new product or service will bring to potential customers.
What Are Product Benefits?
Benefits, on the other hand, throw light on how using these super cool features will impact, improve, and enhance the lives of those who purchase the product or service in question.
So, here we should highlight what potential customers will achieve if they make a purchase.
In other words, features on their own don't paint the entire picture and won't allow prospects to see why it's a good idea to purchase a certain product or service and how they can benefit from it.
Think about features as product or service specs that don't say much about the actual value your product or service can bring to your customers.
By focusing on benefits, you hit all the right buttons and take things to an emotional level.
Advantages of Feature-Benefit Selling
Feature-benefit selling offers numerous advantages for sales professionals and businesses aiming to market products to potential customers. Here's a breakdown of these benefits:
Identifies Customer Needs Efficiently
Employing feature-benefit selling techniques helps you swiftly pinpoint your customers' needs and the issues they aim to resolve through their purchase.
By asking probing questions about their preferences and past product experiences, you gain valuable insights to accurately assess their requirements and recommend suitable solutions.
Facilitates Customer Connections
Throughout the sales process, it's crucial for customers to connect how a product's features can lead to desirable outcomes. Feature-benefit selling enables sales professionals to proactively establish these connections for customers, expediting the decision-making process and increasing the likelihood of a sale.
Enhances Product Goal Comprehension
When customers can independently recognize how a product's features translate into benefits, they gain a deeper understanding of the product's objectives. This is especially valuable when a product's features offer unexpected benefits. Improved comprehension can compel customers to make a purchase.
Boosts Brand Loyalty Potential
Feature-benefit selling highlights the positive outcomes linked to a product's specific features. This can lead customers to perceive a particular product as superior to others in the market, fostering brand loyalty.
Improves Sales Performance
The cumulative effect of the advantages offered by feature-benefit selling ultimately improves the chances of closing deals and boosting sales. When professionals effectively connect features to customer needs, clients grasp how a product or service aligns with their goals. This can lead to increased purchases, recommendations to others, greater product usage, and repeat business, all of which contribute to long-term sales growth.

How to Identify Benefits That Will Resonate With Your Audience?
Not all of your prospects will be interested in the same benefits.
That's why you can't use a single set of benefits in order to appeal to your entire target audience.
While it's crucial to create your ideal customer profile and buyer personas, these models aren't enough if you want to connect with your prospects on a deeper and more meaningful level. 
What you need to do is initiate conversations with your prospects, ask them different relevant questions, and actively listen to what they will tell you.
That's the best way to unearth their unique pain points and understand their interests.
Direct communication will allow you to read between the lines and pick up some social cues. If you analyze these conversations, it will be clearer to you what particular pain points are bothering every single one of your prospects.
With all the information you collect, it will be easier for you to present the benefits of your product in a manner that allows your prospects to realize why your product is such an effective solution.
Emotional Benefits
Emotions play an important role when it comes to making a purchasing decision.
Address your potential customers' needs and desires
Promise a better future without the existing issues and pain points
Make prospects feel that their life will improve after they make a purchase.
So, making your offer more emotionally appealing by identifying the most relevant benefits and formulating them in a manner that resonates with your prospects will bring you more sales.
Functional Benefits
Besides these emotionally-based benefits, there are the ones that are much more practical in nature, such as that your product:
Has some time-saving features, meaning that they will have more time to invest in high-value tasks
Has some money-saving features, so that they will have more resources to invest in expanding their business, etc.
These inspire trust and credibility and explain how exactly your customers will benefit from implementing your solution.
How to Highlight the Benefits?
Although we have stressed the importance of evoking certain emotions in your prospects, the most important focus of feature-benefit selling is eliminating their frustrations by purchasing a product or service.
That's why mentioning these frustrations and promising that your solution will alleviate them is the way to go.
Delivering on these promises is a must, of course.
However, sometimes your potential customers aren't even aware of the problem they have, let alone a potential solution.
By opening their eyes to potential issues and roadblocks, you'll have an opportunity to offer your solution and mention its benefits.
The Feature-Benefit Selling Process
In order to do this, you can follow this feature-benefit selling three-step scenario.
Find out what your prospects want to achieve and what their business goals are. You can also ask them what their most acute issues are;
Help them understand what's getting in the way and pinpoint certain issues that prevent them from achieving their goals;
When they become aware of the issue, introduce your solution, and list the benefits that they will enjoy if they opt for it.
For example, our prospects want to grow their businesses by expanding their customer base relatively quickly. This is the first step of the process, as we pinpointed our prospects' business goals.
But, they can't generate enough quality leads. This is the second step and we highlight the problem by discussing the risks of bad and outdated data in their pipeline.
Then we introduce our DataUnlimited, a feature that offers a database packed with millions of B2B leads from different industries. It also allows automation of lead generation efforts. By using Autoklose, our customers can tap into a number of relevant business opportunities, reach out to them without wasting much time or money, and grow their business. 
Over to You
Now you can compare this approach with the ones we previously discussed – relationship selling and personal selling, and pick the one that best suits your business.