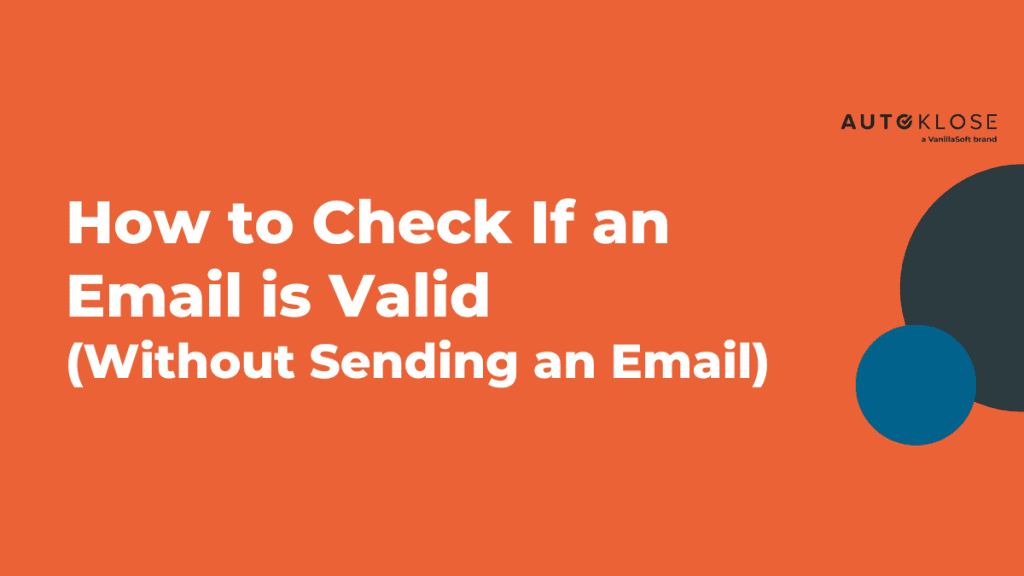 Cold email outreach is still very relevant, especially if you need a quick way to build or grow a prospect database. However, for this strategy to work, you need to be sure that the emails you collect and find are valid. 
And not only because of decent open and response rates. The first hurdle you have to overcome is reaching your recipients' inboxes. 
Before talking about how to check if an email address is valid, we should explain the consequences of not performing this procedure.
Why Is It Important to Check if an Email Is Valid?
Spam filters have become increasingly sophisticated, so you have very little room for mistakes before jeopardizing your sender reputation and ending up on an ESP's blacklist.
If your emails frequently bounce, it will be a red flag for email service providers that something is off. Fake, invalid, or obsolete emails that can't be delivered raise a suspicion that you unselectively launch email blasts, i.e., that you're a spammer. 
Sometimes, obsolete and defunct email addresses are decoys for honeypot traps used to capture spam emails. This means you can easily fall into these traps even though your emails are packed with valuable and helpful resources your recipients can benefit from.
So, how do you protect yourself from such a scenario and ensure that the new email address you obtained is legit without actually sending an email?
Here are a few tactics to help you with this.
The Password Recovery Hack
Email service providers offer their users assistance in recovering old email addresses and passwords. Google, Yahoo, and Microsoft have a handy feature called the email address checker, whose purpose is to identify whether the user entered the email address of the account they want to recover correctly.
And this simple tool can help you verify whether an email address is legitimate and valid.
All you have to do is use one of the following recovery pages depending on the domain of the email address you want to check, and in case it's incorrect or defunct, you'll be informed about that instantly.
However, a huge downside of this method is that you can use it for verifying one email at a time, which makes it impossible to scale the verification process. Therefore, don't count on this hack for your email outreach campaign because it would take ages to check more than a couple of addresses.
Use a Free Email Verifier
There are standalone email verifiers that don't have to be installed, and some of them are able to tell you for sure whether a certain address is valid or not. But, just like the previous method, this one isn't suitable for marketers with extensive lists that have to be verified before launching a campaign.
Google Email Addresses
Googling an email address is somewhat of a makeshift tactic you can use to see whether the address you got from a prospect is valid. Many people have a strong online presence and their email addresses, especially business ones, are listed on LinkedIn, company websites, and other digital channels.
Given that Google regularly crawls these channels and indexes all the data they find, when you enter an email address in the Google search box, you can establish whether it exists.
Still, this approach won't tell you whether the address is fake, plus it's not suitable for big lists.
Check the Email Address Syntax
Every email address consists of three parts – a unique identifier, the symbol @, and a domain name.
An example is [email protected]. 
A standard email address has to contain all these elements, and there are additional rules to follow. For example, the unique identifier "abc" in our example can have up to 64 characters and consist of different special characters, numbers from 0 to 9, and English letters in both upper and lower case.
However, the unique identifier can't start with a dot, and a dot can't be used consecutively.
A domain name is usually the same as either a business or email provider domain name.
Finally, make sure to check whether there's no typo in a domain name – @gmial.com or @yaaho.com.
Ping the Email Server
This technical tactic lets you check the validity of an email address without sending an email.
To ping the email box, you need a tool such as Telnet for Windows or iTerm for Mac.
Using the app you installed on your system, connect to the SMTP server via, for example, the standard port 25. Upon establishing a connection, you can check if a particular address exists. The server will either respond with OK 250, which is a positive reply, or "User Unknown," meaning that the address isn't valid.
This is just a brief description of the process, and if you'\re not particularly tech-savvy, it's not exactly the best solution.
Use an Email Verification Service
It's obvious that none of the methods we discussed above ensures a quick, reliable, or scalable solution for marketers and sales professionals who need their lists cleaned and verified regularly in bulk.
By opting for an email verification service, you don't have to worry about checking all those email addresses in your database manually or having to perform technical procedures you're not familiar with.
With Autoklose's AutoVerify feature, the verification of your entire email list is a breeze.  
It consists of several steps:
Spellcheck
Email Address Syntax Check
Spam Trap Detection
Domain Validation/MX Records Check:
Individual Mailbox Validation
As you can see, it covers most of the methods we mentioned above, but everything is automated, which allows for scalability and minimizes the chances of human error.
An email verification service like AutoVerify will improve your deliverability and protect your sender reputation from falling victim to spam traps and invalid email addresses. 
So, How to Check If an Email Address Is Valid Without Sending an Email?
Scrubbing your email list regularly is crucial for its health and for the success of your email outreach efforts. Although there are different tactics you can use to verify email addresses before launching your email campaign, it's best to leave it to professionals, who will make sure all your emails reach the right recipients' inboxes. Getting caught by spam filters can come with a hefty price tag, so it's not a good idea to cut corners when it comes to email verification.