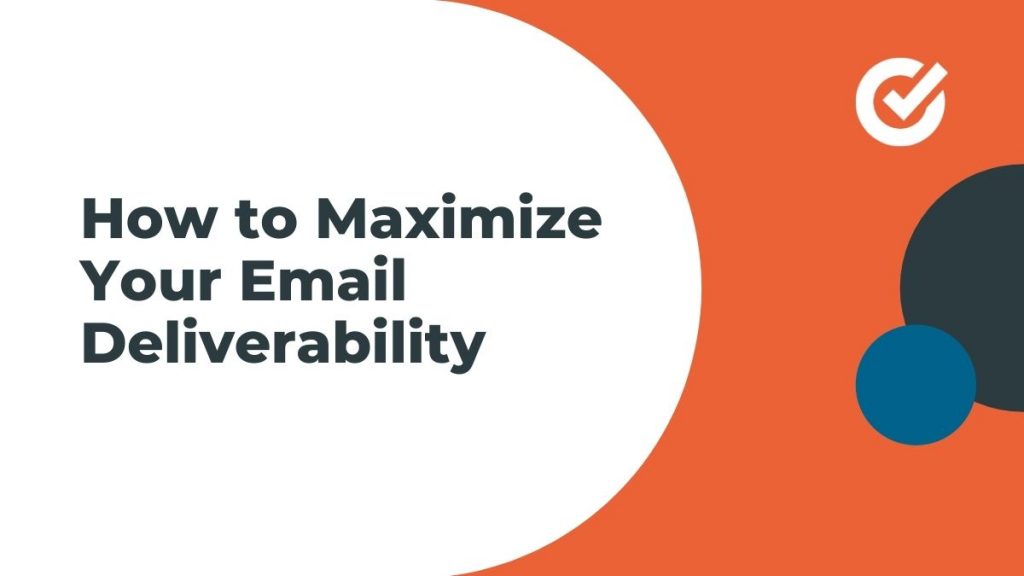 Email marketing demands a lot of precision in order to be successful. However, most people tend to focus on their copy, CTA, and improving their emails' subject lines.
While all these elements are essential to your campaign, it's best to take a step back and look at the bigger picture.
Think about it—before worrying about assessing statistics and engagement rates, the first thing you should focus on is whether your audience actually receives your emails.
If they don't, why even bother sending in the first place?
Yes, it may sound obvious, but this is a more significant issue than many realize.
According to a 2017 Email Deliverability Benchmark Report by Return Path, 20% of emails sent never reach the intended inbox. They just end up in spam folders or become lost.
This means that one in every five of the emails you send have zero chance of making an impact on your bottom line.
Here, we'll discuss the best practices that you can apply to maximize your email deliverability and ensure that your hard work reaches most (if not all) of your intended recipients.
8 Best Practices for Email Deliverability
1. Making use of SPF, DKIM, and DMARC
SPF stands for "Sender Policy Framework" and serves as a DNS TXT record that decides which servers or IP addresses are allowed to send emails from a particular domain.
Creating an SPF record involves a simple string.
A domain administrator can easily make that string and add it to a domain's DNS record as a TXT entry. There are also a few things you need to work on when creating an SPF record:
● The SPF version
● The authorized IPs
● The authorized third-party domains
● The "all" tag at the end that lets you know which policy should be applied when the receiving server detects another server that's not in your SPF record
DKIM stands for "DomainKeys Identified Mail," also known as "email signing." DKIM is another TXT record that's added to a domain's DNS.
You create DKIMs to prove that an email's contents haven't been tampered with and that the sender of the email is the real owner of the domain that has the DKIM record attached.
But unlike SPF, DKIM uses an encryption algorithm to make both a public and private key.
While the public key gets itself in the DNS TXT record, the private key remains on your mail server.
Because of that, experts recommend that domain administrators only manage DKIM records.
DMARC stands for "Domain-based Message Authentication, Reporting, and Conformance," and serves as email authentication, policy, and reporting protocol.
It works with both SPF and DKIM.
They ensure that a sender's emails are protected while telling the receiving server what it needs to do if neither authentication method passes.
It also provides a way for the receiving server to report back to the sender regarding emails that pass or fail the DMARC assessment. You can also run a DMARC report analyzer and oversee your domain security.
The quickest way to create a DMARC record is to use a DMARC wizard. Numerous websites offer this tool, such as Dmarcian, DMARC Analyzer, MXToolbox, and more.

2. Building Your IP Trustworthiness
As sad as it is to hear, spam is winning the email war. According to a report from Statista in September 2017, 59.33% of all mail sent is spam.
In response, ISPs have started to set IP based filters. They assess the IPs of incoming emails to determine their trustworthiness. If an IP looks suspicious, then there's a good chance that the emails associated with it won't get through
It's best to start slow with a small email campaign to build the credibility of your IP.
You can send a few batches at a time to individuals who engaged with you recently.
Once an ISP detects that recipients are opening those emails, your IP will gain more trust.
3. Using Confirmed Opt-In
A confirmed opt-in is when a person receives a confirmation email for subscribing. It serves as proof that they allow you to send them emails, and they won't take legal action against you if you do.
While it might be tempting to use a pre-checked box to get tons of people to subscribe, it might act as a double-edged sword and hurt your deliverability rate in the long run.
Why? Because it's deceptive, and it will allow them to throw spam complaints towards you.
Moreover, the engagement that is necessary for an opt-in is a vital part of the funnel which leads to eventual sales.
Instead, make sure you make sure that they confirm that they're opting in.
Yes, it will take longer to grow your list by doing those this, but it will significantly improve the engagement rate with your emails and therefore preserve your deliverability rate in the long run.
4. Streamline the Opt-Out Process
You don't just want to allow subscribers to opt-out, but you also want to make it easy for them to do this.
The reason for that is if someone can't quickly find the unsubscribe box, they might end up sending your email right where you don't want it to be in—the spam folder—so that they no longer receive emails from you, and the algorithms may think badly of your domain.
So the best thing to do is to place the unsubscribe button somewhere noticeable so that people can find it without a problem.
It's also a good idea to use a one-click unsubscribe button for less hassle as well as a confirmation notification to leave no doubt that a recipient has been unsubscribed.
5. Make Sure Your Sender Name is Consistent
It only makes sense that using multiple emails or having the wrong email name can get your messages sent straight to the spam folder.
It's also good to keep in mind that this is in direct violation of the CAN-SPAM Act and can result in fines. Always ensure that the sender's information reflects precisely what your company is or who you are.
We can't stress this enough—you need to be consistent with your email's sender name.
Marketing works best when you build a relationship with your audience. Consistency with your name and writing style helps with this.


6. Don't Flood People With Emails
If you've ever experienced this, you know it's not fun at all.
Even if you happen to like a particular store or brand, you'd still get annoyed by constant email barrages that jam up an already congested inbox.
This already happens too much—it is incredibly frustrating, so you don't want to add to that.
Apart from being a nuisance, it's also one of the quickest ways to turn a good relationship into a sour one. You just know it's not going to end well.
In short, you should avoid sending too many emails—period.
A good rule of thumb when sending emails is to have one to four emails sent per month.
While there's no perfect number that will ensure more engagement from your subscribers, it's best not to send more than five emails per month.
7. Learn to Segment Your Emails
If you want to send your client engagement through the roof, you need to learn how to segment your email list.
A study done by MailChimp compared the results of non-segmented campaigns against the results from segmented ones. The results speak for themselves:
● Segmented campaigns got 100.95% more clicks, 14.31% higher open rates, and experienced 4.66% fewer bounces compared to non-segmented campaigns.
● Segmented campaigns also had 3.9% fewer abuse reports and 9.37% fewer unsubscribers compared to non-segmented campaigns.
These are significant numbers, so it's easy to see why you should consider just how colossal marketing personalization is becoming nowadays.
A report by Marketing Insider Group states, "Seventy-eight percent of US Internet users said personally relevant content from brands increases their purchase intent."
Furthermore, Marketo—an authority in marketing and SEO content creation—has found that "Seventy-nine percent of consumers say they are only likely to engage with an offer if it has been personalized to reflect previous interactions the consumer has had with the brand."
So with this in mind, it's best if you got rid of email blasts meant for the masses.
Instead, replace them with personalized emails that cater to each client's specific needs and ones that address their wants.
Here are a few things you may want to consider when typing out emails for that personal touch:
Location
Demographic
Position in the sales funnel
Past purchases
8. Make Sure You Have a Suppression List
Not only is it essential to know who you're sending out emails to, but just as important is who you're not sending emails to.
It's best if you don't send messages to inactive subscribers and ones who don't engage with your emails. This way, you can boost your email reputation and deliverability.
To make this process run smoothly, you'll need to come up with a suppression list that contains all your inactive subscribers.
Doing this will help you avoid recipients that can negatively affect your email deliverability.
But if you're wondering how long you need to wait before moving someone to the suppression list, there's no definite answer, unfortunately.
DigitalMarketer does, however, offer this advice: "The higher your send frequency, the shorter the period of time before you suppress."
Conclusion
While it's easy to get caught up in all the small details of optimizing our email copy, we mustn't lose sight of what matters: making sure that our emails get sent to our subscriber's inboxes.
Considering that one in five emails never make it to their destination, it's safe to say that we need to allocate enough time to make improvements in this area.
Thankfully, there's plenty of ways to increase email deliverability, and this guide should take you eight steps further in the right direction.
Remember one thing, though. In the end, your primary target is to ensure that ISPs can trust your IP, which will boost your sender reputation.
As long as you put your focus towards achieving that, everything else will fall into place.
This post was written by Oli Graham. Oli is the Marketing Manager for content agency RightlyWritten