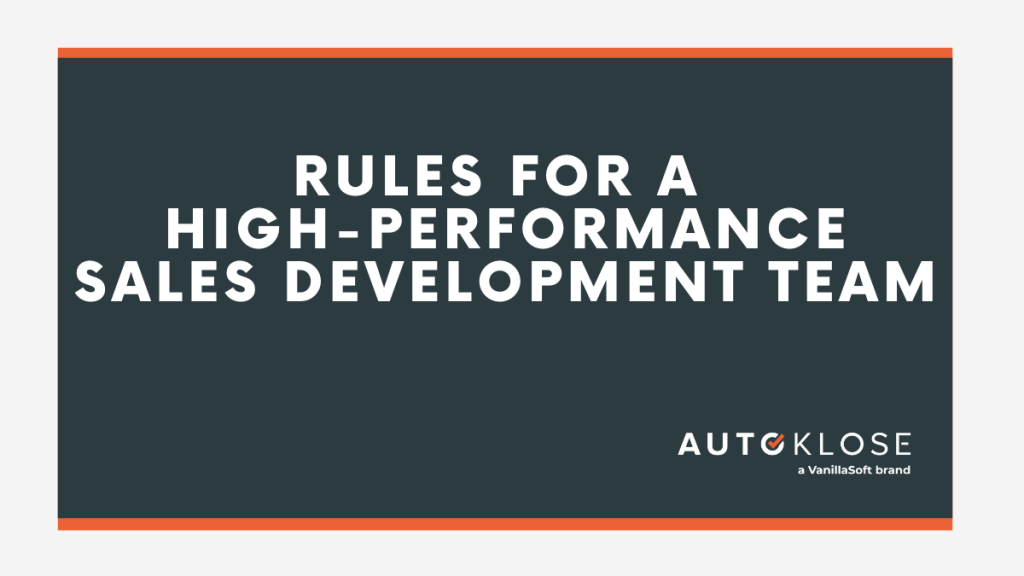 Sales is challenging.
Having proven rules to follow adds to predictability which is of paramount importance to every high-performance sales development team.
For things to run like a well-oiled machine, your SDRs have to feed your account managers with a steady flow of high-quality meetings and demos.
If your SDRs do their job well, your entire pipeline will be properly covered.
We've analyzed all that data and come up with 10 essential requirements for building and managing a high-performance sales development team.
1. Put situational awareness at their fingertips.
A one-size-fits-all approach doesn't work in sales, and your SDRs need to adjust their strategies, tactics, and messaging in accordance with every single scenario they encounter.
This, naturally, requires them to have all the necessary information about every particular sales situation and prospect.
If they have to click back and forth and search for the bits of data they need, they will lose a lot of time and miss a lot of opportunities.
It's crucial to highlight that situational awareness isn't important only when it comes to in-person sales – it plays an even bigger role over the phone and via email.
In order to implement a target account strategy, every member on the SDR team needs to have this situational awareness information at their fingertips and easily accessible, be it in their CRM, email, or sales automation tool.
Implement intelligent scripting for phone conversations
SDRs don't have the luxury of instantly reading the room when they're talking to their prospects over the phone. It's even more difficult for them to handle objections.
Logical-branch scripting is a solution that allows them to adapt to new situations in conversations on the fly.
It provides access to instant suggestions for handling objections based on prospect responses, without sacrificing authenticity and personalization.
Implement Autoklose Decision Tree for dynamic email campaigns
Similarly, drip campaigns and email sequences suffer from the lack of adjusting to prospects' responses. In other words, since these campaigns are created in advance, they don't reference actions prospects take between emails.
As a result, your campaigns stop being relevant.
Autoklose Decision Tree allows your team to create dynamic, non-linear campaigns that will automatically tune up your emails taking into consideration prospects' actions, and personalize them accordingly.
This makes email campaigns more relevant, personal, and engaging.
2. Scale carefully.
Scaling your SDR team doesn't simply mean adding reps.
Doing this quickly can affect the performance of your entire time and jeopardize the growth of your company.
Building an effective and high-performing SDR team requires a proper training and onboarding process, as well as breaking in the new hires and showing them the ropes and some tricks of the trade.
And all this takes time.
Besides that, SDR reps are more prone to burning out due to the intensity of this job.
That's why it's crucial to establish an effective sales process that will help you to spot the best candidates whom you can mold into the best people for the job and avoid high employee turnover which would take its toll on your SDR team coherence and company profit.
3. Hire for attitude.
Yes, you need well-versed sales experts who use an impressive arsenal of skills. But, these hard skills should be supported by equally impressive soft skills. 
Did you know that almost 30% of new hires left their jobs within the first 90 days?
One of the main reasons for this is misalignment between them and the company. This stat illustrated why should adjust your recruitment process so that it allows you to scan candidates' soft skills and attitudes using skills assessment like sales aptitude test.
Our LinkedIn community consists of thousands of top sales leaders and executives, which is why we asked them to share their perspective on what distinguishes a great salesperson from an average one.
Their replies, out of which we created a blog post, mostly mentioned empathy, determination, persistence, and tenacity as the main qualities every sales professional needs to have.
The point is that hard skills can be learned while it's much more complicated to teach someone the right attitude.
So, when hiring new SDRs, make sure to identify those passionate and dedicated enough who'll be ready to go out of their way to understand prospects and help them find solutions to their problems.
4. Automate your processes.
SDRs get in touch with hundreds if not thousands of prospects every week, which means that the administrative work will take up too much of their time that they could otherwise spend prospecting and scheduling qualified meetings. To streamline their tasks, they can use browser extensions. In Brave vs Chrome comparison, both browsers offer extensions and tools that can aid in automating tasks, helping SDRs manage their outreach more efficiently and maximize their prospecting efforts.
So, if you don't want to hinder their performance, analyze your processes and automate everything that you can. This way, they won't have to manually create contacts in your CRM or log every single interaction.
Time is money, and this particularly refers to this profession as your SDR team's time is extremely valuable, so make sure to treat it as such.
Every repetitive work on reaching out to your prospects, following up with them, monitoring stats and analytics, collecting data, and email marketing should be automated. This means providing your SDR team with the right tools to help them research and nurture prospects.
For example, customizable email sequence templates for different business situations can do wonders when it comes to automating email follow-up.
They can easily personalize every element and create personalization tokens, which will allow them to address every prospect with a meaningful message.
Such an approach will significantly improve your team's odds of closing sales.
A survey by McKinsey shows the impact of personalization on purchasing decisions, repurchases, and recommendations.
Source: McKinsey
5. Provide relevant data.
It stands to reason that your SDR team won't be able to generate quality meetings and demos if their data is corrupt, outdated, and irrelevant.
This is just like throwing darts in the dark and relying on guesstimating for something as important as prospecting is.
High-quality data is indispensable in this line of work, so don't make a mistake of buying unreliable lists on the internet.
Instead of that, you can have access to millions top-quality, scrubbed, verified B2B lead database from different industries in one place.
Autoklose allows you to refine your search with the help of different filters and pick the ones that your SDRs can actually use and warm up.
Besides the Autoklose DataUnlimited feature, your SDR team will also benefit from the Autoklose Granular Reporting which will provide them with detailed insights and help them fine-tune their campaigns in real time.
6. Monitor relevant metrics.
It takes on average 18 touchpoints to get a response from a prospect. So, It's clear that keeping a close eye on these metrics is of critical importance.
Every great SDR team monitors their progress, analyzes it, and uses the data to optimize their outreach.
That's where our previously mentioned feature comes in handy to automate everything and provide valuable insights which can be used for future reference.
7. Create a compensation plan.
Compensation plays an important role in sales development.
If you want hustlers who are ready to grind in order to land you new, qualified opportunities every day, then you'll have to reward them accordingly.
Pinpoint what their responsibilities are and make sure that they don't have to be punished if a sales rep doesn't close a deal with a qualified prospect that they have properly warmed up.
In other words, if their efforts do result in providing meetings and demos with sales-ready leads, then don't tie your SDR team's commission to closed/won deals.
8. Set individual and team goals
Knowing what motivates every individual team member is crucial for building a successful sales development team.
That's why every SDR team lead should talk to their reps and identify what makes them tick.
Get to the bottom of why
Understanding their personal and professional "why" is key to managing them properly and effectively.
Having a goal-setting brainstorming session every once in a while can do wonders for building team spirit.
This will bring you closer to your teammates and understand what the best approach for working with each one of them is.
Get personal
But don't keep things on a generic level.
For example, encourage people to talk about their specific goals, and go well beyond the idea of salary.
Ask them to share their goals down to the tiniest detail – maybe they're saving money in order to buy a new car, or want to create a nest egg so that they can send their kids to college.
It's these highly personal and concrete goals that drive your SDRs to hustle and do their best.
Besides, that's what helps them survive rainy days and rough patches. And if we bear in mind how challenging their job can be, it's clear that they need to have strong motivation.
9. Provide consistent feedback
Your SDRs might have excellent gut instinct and intuition, but they still can't read your mind.
Hence, providing regular feedback is a must, if you want them to stay motivated.
The fact that you don't have any complaints doesn't mean much and it doesn't necessarily imply that you're satisfied with their performance.
That's why you should regularly and consistently communicate your feedback and offer your suggestions and guidance.
Keeping the lines of communication open at all times is even more important when it comes to communicating criticism. It's not always easy to tell your team member that their performance isn't exactly superb.
But, if you know your feedback is constant, meaning that you recognize them for what they do well, and if you implement coaching and a supportive approach, breaking that unpleasant news won't be perceived as too harsh.
Here are some tips to help you push your SDRs in the right direction.
Ask them to self-evaluate their performance
Don't start with "You need to" or "I want you to."
Instead of that ask them what they think about their performance, and tell them that you noticed they struggle with a particular area of their job.
Be careful with criticism
Constructive criticism should be ended with a compliment – but make sure that it's genuine.
You don't want to be too harsh, but help them understand what they do good and what needs improvement.
Offer support
Always express your confidence in your SDR's ability to improve their performance but tell them that you want to help them and support them.
It will be easier for your SDRs to come to you and ask you for help if you encourage them to reach out whenever they need.
Support your SDRs to be more proactive
It's a good idea to ask them how they think they could improve problem areas. By encouraging them to be introspective and analyze their performance, you can help them to better understand their weaknesses and pinpoint issues that hinder their success.
Conclusion
Your sales development team is on the front line when it comes to generating new sales opportunities. They're the ones who bring prospects to your funnel and direct them towards sales and account representatives. Put simply, your sales efforts will be just as successful as your sales development team, so make sure to use these tips when building and scaling it.