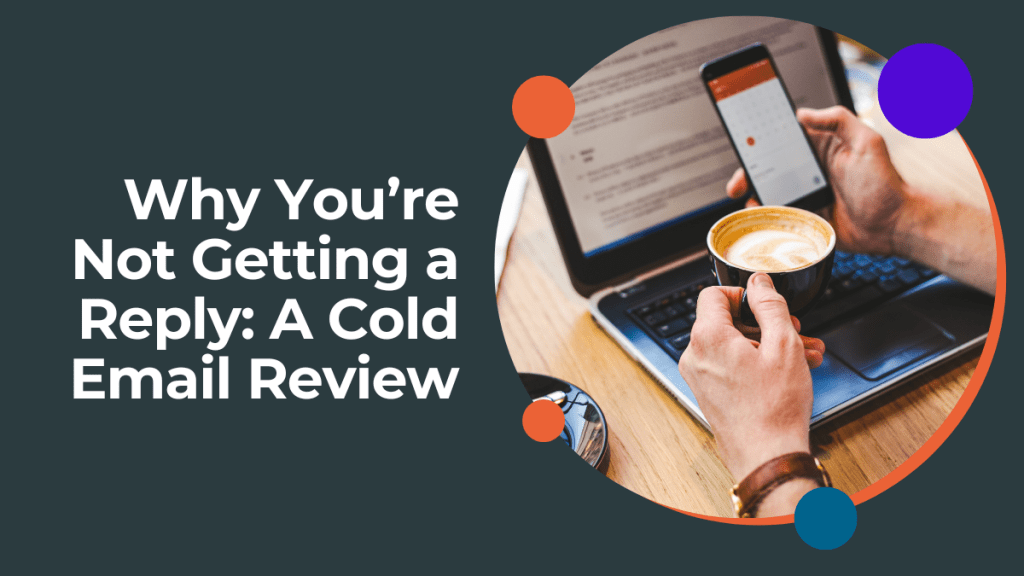 Chances are, your inbox is overflowing with promotional emails, including numerous cold sales messages competing for your attention.
As a sales rep, you might be a bit more open to reading them than the average recipient, but you still might ignore a good portion.
And when it's your turn to be the sender, you could feel intimidated — like there's no fresh way to start a virtual door-to-door introduction.
It's hard to keep up with the latest email etiquette and come up with an approach that's personalized for the prospect but still manageable for you.
So, why is it that your carefully constructed cold emails often go unanswered? Is it the subject line that fails to grab attention, or perhaps the body of the email that lacks the personal touch?
While there isn't a one-size-fits-all answer, there are common mistakes and overlooked strategies that might be hindering your chances of getting a reply.
In this article, we'll offer a critical review of three different types of cold emails:
The one that talks too much about an offer and not enough about pain points
The one with an ineffective video and unnecessary references
The one with the canned subject line and a sales-y CTA
1. The "I have an idea for you"
Sometimes, when your intent is to present your solution as a casual suggestion, you can go a bit too far with that tone and turn the prospect away.
Let's talk about one example of this type of email.

Subject Line
"Video Testimonial Idea"
Verdict: 🤷🏿
While this is a nice, short subject line, it's not personalized. Some people may open it, but others will assume it's an automated email.
Opening Line
"My name is _______ and I work for _______."
Verdict: 👎🏽
An email recipient already knows your name — it's in the "From" field! Instead, Shawn recommends using this important real estate to hit them with a pain point. In this case, it might've been better to say: "Are video testimonials something your company is struggling with?"
Also, don't forget that if you don't have preset preview text (that little part of an email you see from your inbox before opening it), it will default to the first line of your email. You don't want to waste that space introducing yourself!
Body
"Our clients include companies like ______. We can produce videos in person or fully remote…"
Verdict: ❌
If you want to refer to a company you've worked with, it's more effective to share specific results you achieved for them. How many leads did you help them get? What dollar amount of sales did they see after using your product or service?
Furthermore, name-dropping will be way more impressive when it's a company that's similar in industry and size to that of the recipient. You want them to be able to picture themselves working with you and achieving similar results.
As for the other details included in the body, it's not necessary or helpful to dive into how your service works yet. Those questions can be answered later in a call or demo. Focus on earning one-on-one time with the prospect first.
Closing
"If you're open to reviewing options, can I send you some pricing and examples?"
Verdict:❓
This email hasn't done enough to persuade the reader, so chances are they won't be open to seeing your examples at this point. (And, as Shawn points out, even if you ask this question, you'd be likely to follow up regardless of their interest.)
Instead, try a direct question like, "Are you interested in closing deals faster?" Then, give them an easy way to get in touch.
2. The boring video
Video is quite a compelling medium — if it's done well. And if you're going to embed a video in your cold email, it needs to be a great one.
Let's take a look at what not to do with a video email.
Subject Line
"[Prospect's Name] + [Sales Rep's Name] | Video Intro"
Verdict: 😐
It's generally good to grab the recipient with mention of their name, but not when it's unclear why you're reaching out.
Instead of a general phrase like "video intro," use the subject line to get at what your video is about. Otherwise, the time it took to record and embed a video may be lost because it won't even be opened.
Opening Line
"Hey ______, I put together this quick video for you to go over how we've been helping companies…"
Verdict: 💤
This text could be a lot stronger. Why not mention something wild and different you helped one of your clients do to achieve crazy numbers?
Body
"Our clients include companies like ______. We can produce videos in person or fully remote…"
Verdict: 🙅‍♀️
As we noted in our feedback about the first email, you should carefully choose any companies you refer to. They should ideally be a direct competitor of the prospect's company.
The embedded video in this example shows up as a GIF of the sender scrolling on the recipient's website, then opens in a new window. Sending the reader to an external link is not a great idea because you want to keep them focused on what you're asking them to do.
If they were to click, they'd find that it's nearly two minutes in duration, which Ollie says is a bit too long for a prospecting video.
Closing
"I'd be happy to schedule 40 minutes to show you a demo. When are you available?"
Verdict: ⛔
Forty minutes of someone's time is a lot to ask when all they know about you is what you've shown them in this lackluster email. Try to book a demo with a duration somewhere in the 15-to-20-minute range instead. Go for a "pattern interrupt" — a random, interesting number like 17 minutes — to grab their attention and show them you're different.
When you combine this request with the video and the case study linked above it, there are too many calls to action.
Don't give your prospects decision fatigue by asking them to make too many choices in one email.
3. The plug-and-send
We all know how an email coming from a CRM with zero customization looks. People receive so many that they can easily pick out the generic ones.
Even if you're using automation software to send your email campaigns, you should try to make it appear that you're not sending the same one to hundreds of people. 
Let's see how overly sales-y copy impacts how your email is received.

Subject Line
"2023 Video Strategy for [Prospect's Company]"
Verdict: 🚩
The subject line is the first clue that the email is impersonal. This one is an obvious example of software automatically pulling the company name.
Moreover, it refers to what the sender can offer. Instead, do a tiny bit of research and mention something the person will care about.
Opening Line
"Hey _____, will you be needing any video content in 2023? I'm reaching out to see if there might be an opportunity to connect and provide a quote…"
Verdict: 😖
This first question is one with an obvious answer. What company doesn't need video content these days? Moreover, it doesn't refer to the specific type of content they produce or the problem it could help the reader solve.
When the recipient immediately knows that a sender's only goal is to give a quote, they're going to run in the other direction. That may be implied in a good cold email, but it shouldn't be directly stated right at the beginning.
Body
"Here are some examples of our work."
Verdict: 🥉
Even if this person's work is phenomenal, they still haven't spoken directly to the reader and what they need. If someone wanted to find a list of case studies or testimonials, they could probably do so on your website.
What's the connection between their needs and your services that they may not be able to make on their own — that one thing you could say that would make the lightbulb go on for them? Write that instead.
Closing
"If you're impressed at all with the work, I'd love to connect."
Verdict: 🛑
The sales-y language continues right to the end of this one. And Ollie says he'd be thinking about whether he could justify a call with the sender to his boss (even if that sender is claiming to be president of a company).
Your prospect should be able to understand enough about what you offer from your cold email alone that they won't be worried about having to explain it to someone when they do schedule a call.
Cold Email Best Practices
You can improve open and conversion rates on emails sent to cold leads if you follow a few basic tenets:
Don't use a subject line that makes it obvious that it's an automated email. Avoid using generic subject lines that scream "automated email." Instead, take the time to research and mention something specific to the recipient that will pique their interest. Personalization can significantly increase open rates.
Hit upon a key pain point in your opening line. Capture the reader's attention right from the start by addressing a specific pain point or challenge they may be facing. Show that you understand their needs and highlight how your solution can help them overcome their challenges.
Keep the entire email super short. Cold emails should be brief and to the point. Aim for a length of 50 to 75 words to ensure that your message is easily digestible, and never go over 200 words. Long paragraphs or excessive information can overwhelm the recipient and lead to disengagement.
Use a direct CTA, but don't ask for too much of their time. Clearly state the action you want the recipient to take. Whether it's scheduling a call, requesting a demo, or exploring more resources, make it easy for them to understand what the next steps are. Avoid asking for too much of their time in the initial email.
Plan a sequence of six to eight cold emails. Sending a single cold email might not yield the desired response. Plan a sequence of six to eight follow-up emails to maintain engagement and increase your chances of receiving a reply. Each email should build upon the previous one and offer additional value or insights.
A/B test and refine your campaign: Experiment with different elements of your cold emails, such as subject lines, opening lines, body content, and CTAs. A/B testing can help you identify what resonates best with your target audience and improve your overall response rates over time.
Closing words
Crafting effective cold emails can be a daunting task, but by avoiding common mistakes and implementing overlooked strategies, you can greatly increase your chances of getting a reply.
Remember, if you wouldn't reply to your own cold email, then don't send it!