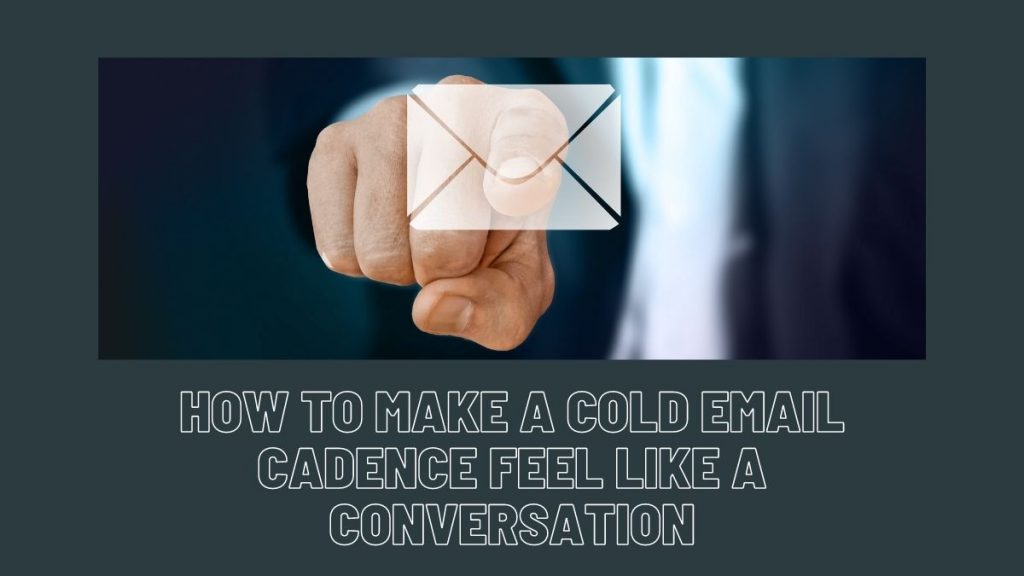 Michael Hanson, CEO of Growth Genie, joins Autoklose's Ollie Whitfield to chat about effective cold email cadences, which begin with a free content offer and end with humble feedback emails.
How long should you wait between emails? Michael says a week is too long, but a day is too short.
Aim for as many as 30 touches — a combination of LinkedIn connection requests, emails, and video or voice messages— over a few weeks. Be sure to segment your email list first!
You might be surprised at the conversion potential of a simple feedback request. Michael shares why people appreciate the right kinds of follow-up emails.
You're generating an outcome with your cold email tactics, even if you don't know it.
Your message could pop into someone's inbox at the wrong moment or get lost in hundreds of other emails. But if you get the big things right — namely, subject line and frequency — you have the power to influence your open rate, which should have a direct impact on your close rate.
Michael Hanson, CEO of Growth Genie, knows that cold outreach doesn't have to be an experimental game. On our Ultimate Guide to Appointment Setting webinar, he chats with Ollie Whitfield and reveals some clear-cut advice for tweaking a cold email strategy to make your messaging unforgettable.
On this episode of 0 to 5 Million based on that webinar, Michael shares:
Why you should offer free content in your first email
How to effectively structure a cold email cadence — and each email within it
A humble approach to follow-up emails that can boost conversions
Getting the ball rolling with a new prospect
The "cold" in "cold email" refers to an undeveloped relationship with your lead, but it shouldn't mean they have zero familiarity with you and your business — or that you have no idea what they do. You can personalize cold emails without taking on a ton of extra work.
Personalization won't work if it comes too late, so don't shoot from the hip with an intro email. Michael suggests using a LinkedIn connection request as your first touch. 
Prep work: Connect and segment
Assuming the person has accepted your request and you can see their LinkedIn profile, explore it to build the foundation of your first email.
What's their role, and how long have they held that position? Is there any recent news about their company that could be the source of a relevant pain point?
This prep phase doesn't have to take a long time: You can connect with a lead on LinkedIn, send them a somewhat customized email, and even call them on the same day.
However, no amount of prep will be effective if you neglect one important factor: segmentation.
"Most people fail at the very first step," Michael says. Usually, that means running a cold email cadence with a general list.
Your prospects will likely fall into many different categories, and you should be drawing lines where they matter to you. A cold email won't convert your newsletter subscribers, so don't try sending one to them. Segment your leads and show them you've made an effort to understand their needs.
Craft your opening email
Ideally, you won't launch a cold email campaign without having something valuable to offer: at least one free webinar, ebook, guide, or another piece of content that speaks to that persona's stage in their journey.
Michael and his team at Growth Genie have had success offering pieces of free content upfront, tying in calls to action. They ask "Are you interested in this?" rather than simply linking to content.
"If they say yes to that, there's a pretty good likelihood they're going to be interested in a meeting," he says.
Michael's pro tip: If you haven't heard back from your prospect in a few days, reply to your previously sent email and say something like "What did you think of this?"
When you keep one conversation thread, the recipient can scroll and see your initial personalized email and piece together what you're about. Bonus: After a few emails, in which it looks like you're having a conversation with yourself, some people will reply because they feel bad for not getting back to you.
The ideal cold email cadence
Michael's team works fast and manages to hit about 30 touches with each prospect over three weeks. This total combines multiple channels, including LinkedIn voice notes and video messages in addition to emails.
How do they implement this kind of cadence?
They send roughly seven emails and seven LinkedIn messages — and place about 10 to 15 calls.
The LinkedIn part of the cadence looks like this: Connect (so you don't have to communicate via InMail), follow with voice notes every few days, and add a video message if appropriate.
The email part of the cadence looks like this:
Offer content (no links) in a personalized email.
Follow up by replying to your previous email and creating a conversation thread (still, no links).
Send an embedded video.
Share case studies in the fourth and/or fifth emails.
Ask for feedback in your sixth or seventh email.
Michael is a fan of sending emails every two to three days. You risk annoying someone by reaching out every day, but if you wait a whole week they're likely to forget about you.
Yes-or-no questions and short subject lines: Cold email best practices
It's one thing to know how many emails to send and how often, but it's also important to know what each of those emails should look like.
Let's drill down into the parts of a cold email, the Growth Genie way.
Subject line
Michael agrees with our subject line research, which suggests that short (three to four words) and personalized is the way to go.
Body
Here, you should hit upon three big points:
The "why": This is the reason the person should care about connecting with you. It should be apparent that you can help them.
The pain: Michael says you must use personalization to trigger pain points, rather than to make random observations. For example, there's no need to use valuable space to mention their favorite sports team. Instead, go for a trigger that's directly relevant to what you're selling.
Are they hiring tons of new SDRs, who tend not to be productive for up to six months? If you can solve that problem, hit upon this pain from the start.
The interest: You should aim to make the person indicate their interest in your content offer — get them to hop on the "yes" train right away.
Closing
A great cold email will end with an ask — one that's not too presumptuous.
Asking for the reader to take a big action or make a commitment to meet with you can feel like a lot. Instead, try to encourage a reply by gauging their interest.
Use the simple yes-or-no question approach we mentioned above.
This works when you're offering content in that first email; e.g., "Would you be interested in reading [this great white paper]?"
When you're mid-sequence and you've embedded a video, you could ask "Does this message speak to you?"
"If you ask for people's interest, rather than their time, they're a lot more likely to say yes," Michael explains.
Ideally, you should be able to replicate this easy formula and send 40 to 50 emails a day (or more if you're using some automation).
No more breakup emails
Towards the end of a cadence, especially if you haven't gotten traction, you should send a request for feedback.
This tail end of an email sequence used to be for saying Goodbye, thanks anyway. But the more effective approach is to use a genuine, curious tone.
As Ollie says, "There's no more breakup email, there's a feedback email."
Feedback emails can even convert, Michael points out. That's because people love to see humility — especially when it's unexpected in a sales email. So this final step is no less of a conversion opportunity than any other.
No matter how many emails you choose to send, stay humble and open. You'll either get a valuable conversation going, or you'll find out why your cadence didn't work.
This is based on a conversation from The 0 to 5 Million Podcast, featuring founders, CEOs and revenue leaders from businesses between 0 and 5 million in ARR. Subscribe to future episodes to find out how they did it.