Here is a situation you probably experienced a number of times. You are working tirelessly to generate new leads, create the best prospecting strategy, write the perfect outreach email. You send the emails expecting high response rates but there is no answer. Do not lose your hope. It's time to get familiar with the effectiveness of follow-up emails.
Statistics suggest that only 24% of sales emails are opened but just 20% of leads are followed up. In fact, a campaign with just 1 follow-up mail can convert 22% more prospects. This means there is a massive loss of potential opportunities. Also, it tells us that the fear of seeming annoying to prospects or getting rejected can discourage further contact.
Another reason why follow-up emails aren't getting the respect they deserve is the fact that marketers spend most of the time creating first impression emails and not focusing enough on persistent methods of contact.
So, how should you start?
When to Write Follow-Up Emails?
In most scenarios, you will create follow-up emails after you've sent the first outreach email and it resulted in no response. However, follow-up emails can also be useful when you want to check in after the first meeting or reconnect with existing clients.
Best Time to Send Follow-Up Emails
Even if most emails get opened the first day they are received, you should wait at least 3 days before sending a follow-up. Do not make the mistake of not giving them enough time to respond.
There are many studies that tell us what day is best for receiving an email response. Several studies have suggested that Tuesday and Thursday give best results with other weekdays not being far behind. A Hubspot report is in favor of Tuesday and concludes that sending emails on weekends is a bad strategy and you should avoid it.
When it comes to the optimal time of day to send a follow-up email, many agree it should be between 10 AM and 11 AM in the recipients' own time zones. On the other hand, the worst time for opening emails is 12 PM.
Send your follow-ups in the middle of the week: you don't want to end up on the Monday morning pile and simply never get an answer.
OK, now that we told you what others say, it's time for you to figure out what works for your audience.
Take demographics into consideration. In email marketing terms, this translates to don't send your older audiences as many emails as you would your younger demographic. They will perceive it as pestering and rushing. Not the case with teenagers and young adults, who will often appreciate more emails in a week.
Analyze your data. If you want to perfect your email timing, you will have to reach into your own data stores and start assigning timeframes to certain audience segments. If your list comes from an unfiltered source, you will rarely know anything about the people you are sending these blasts to. The trick is to start getting to know your audience better. Previous engagement metrics are a great source of information, and you can also add a custom (and very brief) survey to your outbound emails. Granted, not many of your leads will take the time to get back to you, but those who do will provide some very valuable insights.
Take time zones into consideration. Reach out to your prospects at the best moment. This means that you shouldn't send them an email at 5 AM. Autoklose allows you to schedule your outreach based on your recipients' different time zones. This is part of our SmartSend feature, and it means that Autoklose calculates your sending times and launches every individual email so that it reaches your recipients at 2 PM their time.
How Many Follow-Up Emails Should You Send?
The frequency of follow up emails is the next important consideration. Especially when we know that 80% of non-routine sales occur only after at least five follow-ups.
You should send follow up emails a minimum of five times, each time giving the recipient more time to respond.
By prolonging the time before the next follow-up email, you reduce the chance of overdoing it and being marked as a spammer.
You can make a plan and structure follow-up emails something like this:
Follow up 1 on day 3
Follow up 2 on day 7
Follow up 3 on day 14
Follow up 4 on day 30
Follow up 5 on day 60
How to Write a Follow-Up Email?
Subject Line
The subject line is the first thing your potential client sees before opening an email. It is not enough to create a compelling subject line for a cold email but to write an equally impressive one for a follow-up.
You should write direct and sharp subject lines that clearly show your intention. This means your subject line must provide key information – the goal you are trying to achieve. When it feels natural, use the recipient's name in the email subject line. Also, ask a question that can only be answered by reading the entire email.
Examples:
Regarding our next step
It's not late to get started
Do you mind providing me with feedback?
Here's the link I promised you
You can read more about effective subject lines in our blog post. (link to new blog post)
Email Openers
Email openers should mention the initial email and remind clients you already contacted them before. In case you already met with the client, make sure they understand who you are.
Examples of effective follow-up email openers:
Last time we spoke…
It was nice to meet you at…
I left you a voicemail but wanted to send this email as well.
I wanted to follow up on an email I sent last week.
Have you had the chance to look at my previous proposal?
In case you missed my email last week…
Your colleague suggested that I reach out to you…
Explain Your Intention
Once you've introduced yourself and made sure the client realizes you already made contact once before, try to summarize why you are emailing them. Do not make the assumption they remember your previous email. Create the same message just in a different format.
In order to create a compelling follow-up email, you should identify your main goals and make the effort to explain the primary objectives of your email. For example, you might want the client to provide you with specific information or update you on a certain matter. Your objective can be to set a meeting, get the client to participate in your study, test your product or get familiar with your service. Follow-up emails can be great for reconnecting with existing clients or getting feedback.
Finally, when portraying your intention in a follow-up, keep it short and sweet.
Examples:
I have a product that will be perfect for you.
Here is a link to my resource:
Are you interested in a free trial month?
I would like to invite you to an event we are hosting…
Call To Action
It is more likely for the client to answer if you provide them with a specific offer. You can propose time and date for a meeting or a call, or ask for a different person to get in touch with if your lead isn't the right one for your offer.
If you keep sending follow-up emails without getting a response, align your calls to action with each email you send.
Examples:
When would be a good time for you to discuss this in person?
How about a 5-minute call on Tuesday or Wednesday 10 AM?
Here's the link to my calendar, feel free to make an appointment:
Follow-Up Best Practices
Use a multi-channel approach and make sure to always get closer to your prospects – after you get your prospects to respond, try to schedule a phone call as your next follow-up. After that, work towards a personal meeting. Following up is a process, so upping your game leads to success.
Make it about your prospects. Your follow-up should revolve around your prospects – talk about them and mention your product or service only as a means of improving their lives. Benefits – yes! Features-no!
Define the next step. Ask your prospects how much time they need to consider your offer, and scheduling the next follow-up. By signing off your email with "Talk to you soon," you're putting them in charge of your communication. This way, you won't have to wait for them to ping you.
Say "Thanks." Whenever your prospects respond, and whatever their answer is, make sure to thank them for their time. Remember that they're busy professionals, and yet they took their time to write a couple of lines instead of turning a blind eye to your email.
Personalize your outreach. Making your prospects feeling special is crucial for the success of your strategy, so use Autoklose to personalize every single element of your campaign. We even allow you to create your own personalization tokens and take this whole process to the next level. It's practically the next best thing to the 1-on-1 email.
Spark their interest with your Subject Line. We already know that a catchy and intriguing subject line is what makes people open an email. So, make sure to use one-liners, funny puns, a bit of controversy, and similar tricks to catch the eye of your recipients. But, make sure that you don't cross the line and offend someone. Finally, it's important to deliver – promising something in your subject line only to lure people into clicking on it, while talking about something entirely different in your message is a surefire way of ending up in spam.
Ask questions. By asking relevant questions in your subject line, you're implying that your email offers answers and solutions.
Don't get carried away. Remember – you're not writing a novel! Keep it short, informative, and to-the-point. Your prospects don't have time and patience to read long-drawn-out messages, so tell them what you want right away. The KISS – keep it short and sweet – is the best approach.
Don't use industry jargon. Don't show off and confuse your prospects with some hi-tech words and phrases. Be as natural as possible and try to talk to them as if you do with your friends and family. The point is to explain the benefits and specs of your product or service in layman's terms and help everybody understand why it's so amazing. And industry jargon will only alienate your prospects instead of bringing them closer.
Don't clutter your messages. By including more than one offer or talking about more products, you're distracting your prospects' attention. So, focus on one thing and have a single call to action. Similarly, don't pack your email with a lot of images and links because people don't like it when they have to figure out what exactly you want them to do – your narrative should build up and lead them towards that action you want them to take.
Know when to let go. If your prospects ask you to remove them from further follow-up emails, do it immediately. It gives a clear message they are not interested in your proposal, and you won't change their mind no matter how persistent you are. Thank them for their time and move on.
Don't send passive-aggressive emails. Even after 5 follow-up emails, you should be as polite as if it was the first one. Sending frustrated emails will only decrease your chances of getting a response. Don't take it personally and keep a positive tone.
Follow-Up Email Templates By Autoklose
Template 1
How about that teaming up?
Hi (First Name),
Have you had a chance to think about my idea? Both our companies could benefit from this synergy. We could expand our customer bases and increase profit.
What do you say?
Let's have a meeting and come up with some strategies. Here's the link to my calendar, so feel free to make an appointment:
[calendar link]
Hope to hear from you soon,
Template 2
Persistence is my middle name
Hi (First Name),
I'm not ready to give up just yet because I believe that we could achieve some great things together.
Our call will take up only 15 minutes of your time, so let's talk and see if we can work something out.
Here's the link to my calendar, so find a time slot that suits you:
[calendar link]
Warm regards,
Template 3
I respect your time. You should too
Dear (First Name),
I just want to check how you're doing and whether you had the time to take a look at our new [feature/features]. I know that must be super busy, and that's exactly what [your product] can help you with! The whole idea behind the latest feature upgrade is to help business professionals like you work less and achieve more.
Here's the link with all the details: [link to new features]
All the best,
Your Name
Template 4
Do we need anything else?
Hi (First Name),
As you know, we did everything previously agreed upon. This means that we:
1) say what you accomplished
2) say what you accomplished
3) say what you accomplished
Is there anything else that you need us to do before we move on to the next step this week?
Cheers,
Template 5
[First Name] I noticed you never scheduled a time for our chat and wanted to try one last time. As you can see, I'm pretty persistent.
I really hope we can jump on a call this week to discuss potential synergies. If I don't hear back from you, I can't promise I won't try again 🙂
You can use the link below to book the time that works for you best.
Stay well,
[Your Name]
Template 6
Don't you feel bad for me yet?
Hi [First Name], I emailed you 4 times, called you once, but never gave up like Tom Brady in the second half of that famous Super Bowl. I hope you can appreciate my persistence as I believe I can be of assistance.
All I need is 15 minutes of your time, and I actually booked off the entire week for you. 🙂
You can use the link below to book the time that works for you best.
Have a great day,
[Your Name]
Template 7
[First Name], you can't fault me for trying
[First Name], you are a salesperson.
I'm sure you'll agree with me that persistence is the key to success. The reason I'm insisting on this 15-minute meeting is that I'm convinced both you and I could create a great, profitable synergy.
Click on the link below to pick a free slot in my calendar, and let's connect this week.
Best regards, [Your Name]

Create Your Follow-Up Campaign With Autoklose
Autoklose makes it easy to schedule and monitor the follow-up process.
Step one: Add Campaign Info
Once you create a campaign, select follow-up dates and hours.
Step two: Choose Recipients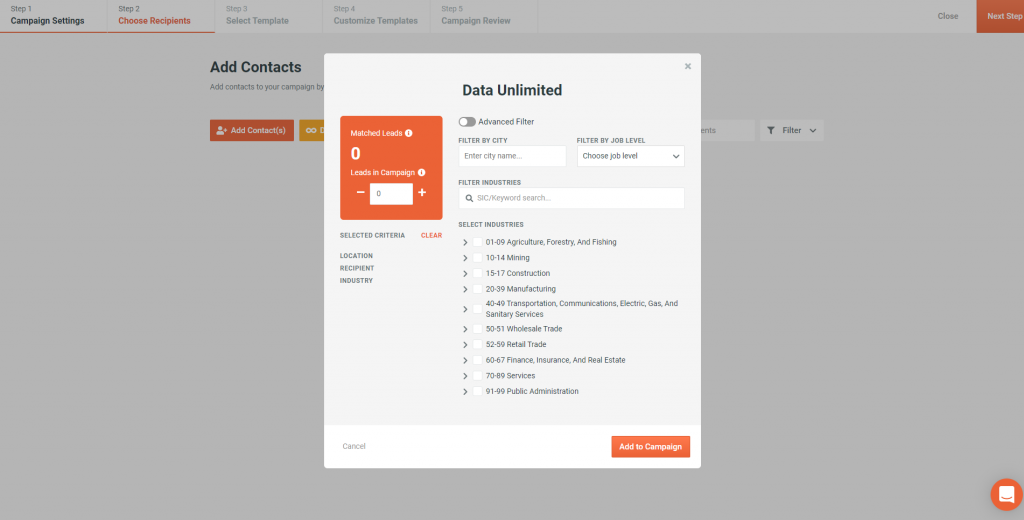 Step three: Choose Templates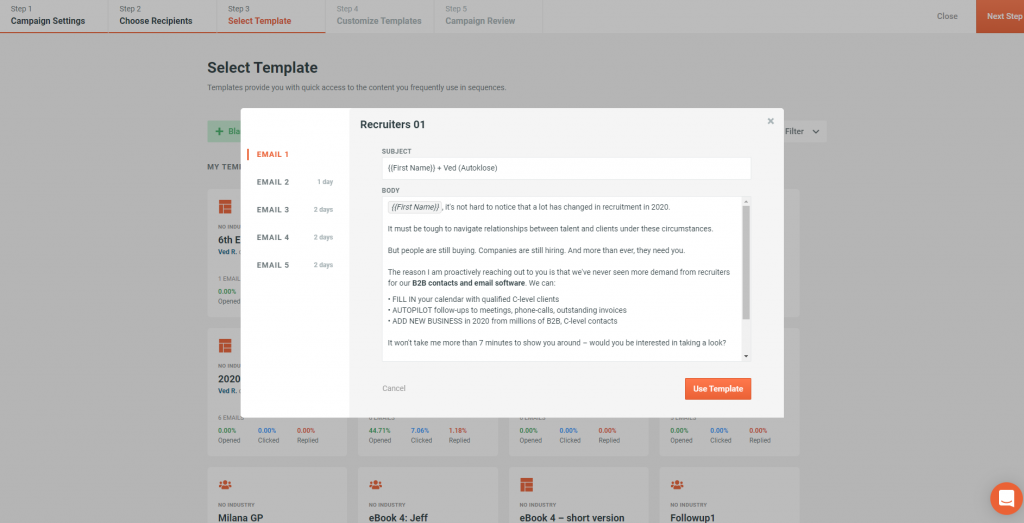 You can write your own follow-up email or use one of the Autoklose templates that are customizable and can be personalized.
Step four: Customize Email Sequence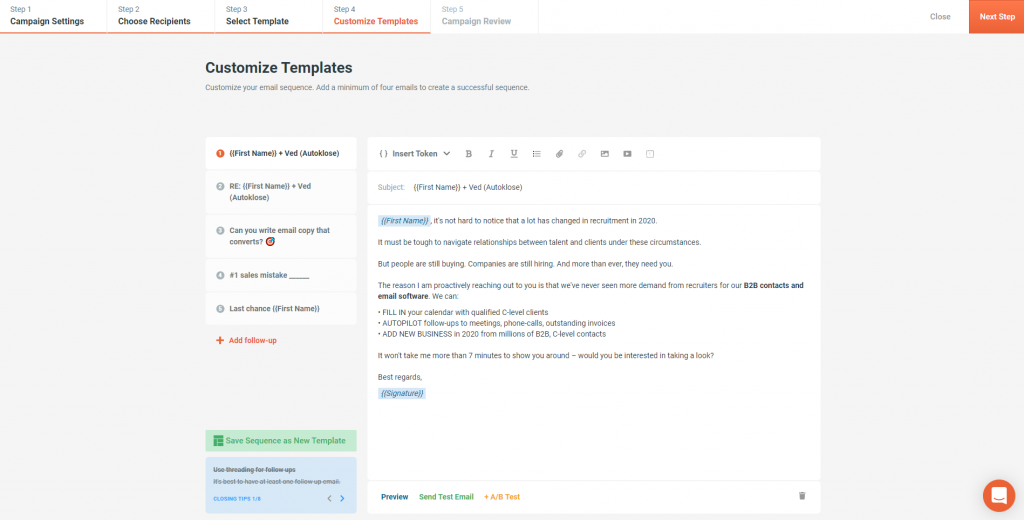 Add as many follow-ups as you need and create a sending interval. Schedule these high converting emails and monitor the results.
Closing Word
When it comes to the success of your email marketing efforts, persistence, balance, and timing play the most important role. So, don't give up if you haven't heard from your prospect after two or three emails. As for the best timing to send your emails, use our suggestions, but bear in mind that there's no one-size-fits-all approach. Therefore, monitor your metrics and tweak your campaigns accordingly.

---