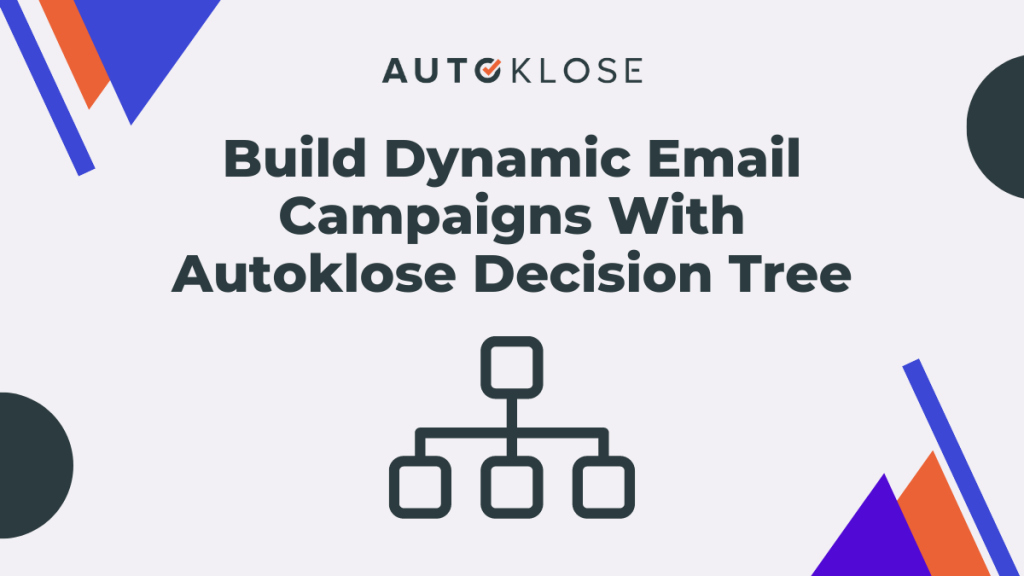 Personalization makes a world of difference in email marketing.
It's a factor that decides whether your prospect will convert or roll their eyes and hit the delete button upon receiving a generic email from you.
More than 20% of marketers credit personalization with improved email engagement. 
Autoklose already offers a number of different methods for making your emails personalized and more relevant to different segments of your audience.
Our new feature, Autoklose Decision Tree, will allow you to additionally improve your email marketing by transforming your campaigns from static to dynamic.
What Exactly Is Autoklose Decision Tree?
Sending drip campaigns or email sequences to your prospects or customers is a great way to stay top of mind and nurture interest in your product or service.
However, such campaigns can have shortcomings:
Once the prospect replies, the campaign ends, and that prospect has to be added to a new campaign manually
If the prospect clicks on a link or registers for a webinar, the next email in the sequence won't reference that.
In other words, regardless of whether the prospects take action or not, the campaign doesn't adjust accordingly. And your business opportunities slip through the cracks.
Enter Autoklose Decision Tree.
This new feature allows you to create dynamic campaigns that will take prospects' actions into consideration and tweak the campaign tone, messaging, links, content, and other email elements.
Let's say a prospect responds to an email from your sequence. Based on their reply, they will be directed to another completely new branch of the decision tree. Also, if a prospect clicks on the link in an email, the campaign will take a new course.
In other words, your campaigns won't be linear and the same for every prospect but customized based on their actions.
How Does Autoklose Decision Tree Work?
This feature uses the so-called binary split. In a nutshell, all the actions we mentioned, such as opening an email, clicking on the link, registering for a webinar, or replying to an email, in essence, have a binary answer – it's either YES or NO.
For example, clicking on the link in an email means YES, which will create a new branch for the email sequence. If the prospect doesn't click on the link, they will get a series of emails crafted for the binary answer NO.
You can establish as many decision points as you want.
Enabling the option to "Stop campaign for any recipient that replies" can free up the condition limit, thus allowing you to do more personalization.
In this case, it would not be necessary to use the "Add specific condition" that will remove recipients from the campaign after a reply.
Therefore, you can use this condition, for example, to move recipients with a positive reply (the YES branch) to a different campaign, while a negative reply (the NO branch) can be tagged for future reference.
Benefits of Autoklose Decision Tree
Now that you have an idea about how Autoklose Decision Tree works, we can talk about how you will benefit from using it.
1. Take Follow-Up to the Next Level/Increase a Win Rate
You already know that following up is a must if you want to properly nurture and convert your prospects. The odds are they won't respond to your first, second, or even third email. As a matter of fact, 50% of all sales happen after the 5th follow-up. 
But, in reality, you won't achieve much if your follow-ups aren't highly personalized and tailored.
Autoklose Decision Tree allows for more flexible and responsive automated sales nurturing by making your follow-ups more personal, relevant, and encouraging to your prospects.
Every email they receive from you will reflect their past engagement and actions, and they will be under the impression you're talking to them directly and not simply sending out prescheduled messages to your entire contact list.
You can add up to seven different conditions, which will tremendously improve your personalization efforts and increase the number of emails you can send.
Together with the "Stop campaign for any recipient that replies," feature, these conditions give you a lot of opportunities to build and personalize your campaigns.
2. Boost Productivity
Crafting an email campaign is a time-consuming process.
Even more so if you have to customize your response manually every time a prospect takes (or doesn't take) action.
Instead of wasting time on doing these low-level tasks, you could be working with highly engaged prospects while Decision Tree does the mundane work, thus closing more deals.
3. Improve Reply, Click, and Conversion Rate
Email automation is a very helpful tool for every salesperson and marketer.
Still, if not properly executed, it results in bland, impersonal emails that recipients won't open.
Autoklose Decision Tree changes the static nature of automated email campaigns and makes the entire process more responsive.
Naturally, if your emails are tweaked based on recipients' behavior and actions, you can expect that your reply, click, and conversion rates will increase together with prospect engagement.
To learn more about this feature, its benefits, and how to properly set it up, check out our help article. 
Let us know what you think about Autoklose Decision Tree. Does it help you with your automated email campaigns? Is it easier for you to manage nurture campaigns and free up some time for the prospects most likely to convert?