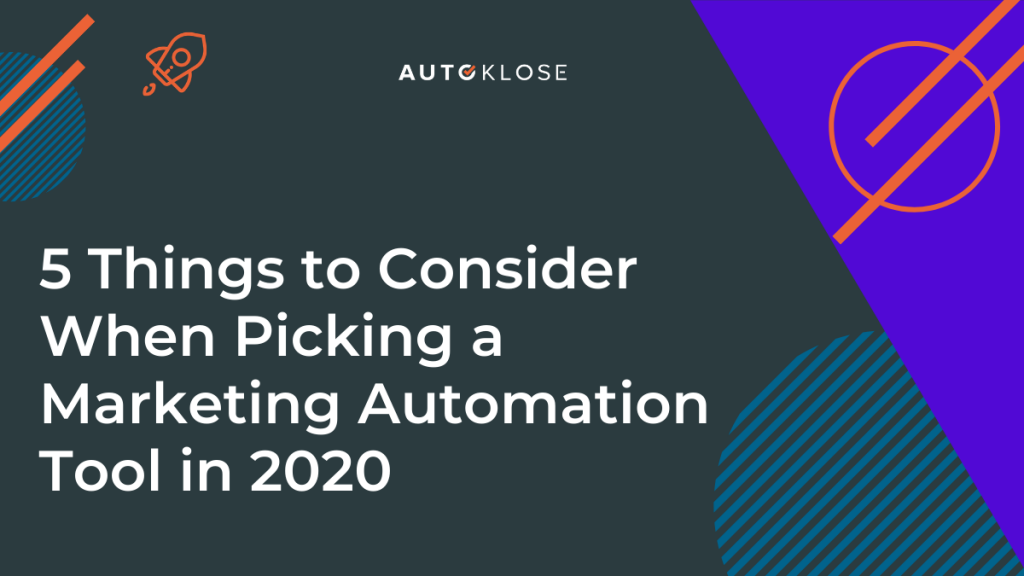 For many marketers, marketing automation is no longer a luxury but a necessity. Stats say that 67% of marketing leaders currently automate processes. The numbers don't come as a surprise. After all, there are countless benefits to adding automation software to your marketing efforts.
For B2B marketers, in particular, this allows you to take the guesswork out of lead nurturing. Additionally, with marketing automation, you can centralize marketing and sales, as well as personalizing user experiences at scale.
That all adds up to one thing – marketing automation allows you to make more money for less effort by increasing productivity. Considering that most of your competitors already take advantage of this, you can't afford to ignore automation.
Having said all of this, which is the best marketing automation tool?
The answer will actually vary depending on your business needs. In this article, we'll look at five things you should consider when picking your marketing automation software.
But first, let's get our terms in order.
What Is Marketing Automation?
According to Techopedia, marketing automation is the "use of software and web-based services to execute, manage, and automate marketing tasks and processes."
In other words, software and web-based services basically replace manual processes that are considered repetitive. As a result, the functions of marketing automation are:
Marketing intelligence
Web-based archive and real-time traffic analysis
Workflow management
Built-in or integrated CRM
Marketing campaign monitoring
Lead management, scoring and nurturing
Data orchestration
Based on this definition, there is no truth to the belief of some that marketing automation is only relevant to email or social media scheduling.
Marketing automation tools can make it easier for you to deal with many aspects of your business. The key is to pick the right one and optimize it.
This brings us back to our original question. What should you consider when picking a marketing automation tool?

Here are the five most important things.

1. Nature of Your Business
You need to have a good understanding of what your business is first before picking your marketing automation tool. This is because if you understand the nature of your business, it's easy to determine what your goals are.
So, for example, are you a small business seeking to convert more leads? Are you an e-commerce site that wants to promote products directly and increase your sales?
Once you have the answers to those business questions, you can determine which is the best marketing automation tool that can help you reach those goals.
Of course, this presupposes that you do your research on the tools that have caught your eye. Just go to the product's website, and you'll see those listed for you. You can translate these into strengths and weaknesses of each.
Crosscheck your goals with the list of strengths and weaknesses of each tool. If a product will not help you meet your business goals, then remove it from your list. Repeat the process until you're left with your top marketing automation tools.
Once you have that, you can again start the process of elimination by taking into consideration these four other remaining items.
2. Your Business Software
You can optimize the benefits of your marketing integration tool if you have a full understanding of how your business software works. For example, you need to know how your customer relationship management software works if you want to pick a marketing automation tool.
This is because most tools combine both marketing efforts.
It's also crucial to check out the list of integrations of any automation tools you're considering. After all, you're trying to save time and effort. You don't want to have to find a new project management tool because your new automation platform isn't compatible with what you use now.
Most marketing automation software also integrates with a CRM tool, assuming they do not have a built-in CRM at no extra cost. Remember that while automating each of your operations makes them more efficient as a unit, automating how they interact with each other can help you get powerful insights.
3. Budget
This is a no-brainer. Your overall budget for acquiring that marketing automation tool will determine the kind of tool you will pick in the first place. Providers typically have several plans. Some are free for a specific period, others have limited features.
And then there are those "entrepreneur" plans that include many features such as enhanced security and a dedicated customer service representative. For example, a sophisticated time clock app will be pricier than a basic one.
The prices of these paid tools can vary a lot. Some are under $10 per month, while others cost over $2,000 per month. Some are billed annually. The cost depends on the integrations, features the tool has, and the number of users.
The point is this, you have to make sure about the amount of money you're comfortable shelling out when picking that marketing automation tool.
Obviously, you can't go beyond that (unless you make a subsequent successful appeal to management for a stretch in the budget). The key is to get that marketing automation tool that is within your budget but also has the features you need.
4. Tool Social Media Capability
Nowadays, social media is a fact of life. Just look at the stats. According to the latest stats, there are 3.5 billion social media users in the world. Just to give you an idea, that's about 45% of the population of humans on earth.
This Image is From: Oberlo
The same study found that an average of three hours per day is spent on social media platforms.
But how is all this relevant to your business? Well, those 3.5 billion users are all your potential customers. That average of three hours of social media usage per day can also be more than enough to make conversions if you just implement the right strategy.
Having said that, this means that when making any business decision, you have to factor in social media.
It doesn't matter if you're running an e-commerce store or a brick-and-mortar flower shop. The fact remains that you should have social media campaigns to reach potential customers on Instagram, Facebook, LinkedIn, you name it.
Therefore, when picking a marketing automation tool, you should ensure that it allows you to check on these social media campaigns on those multiple platforms.
Other tools have advanced features that allow you to monitor your competitors' performance on social media. Some also give you updates on relevant threads.
Monitor your brand using social listening tools wherein you can access direct and indirect brand mentions, keywords, and hashtags across all major social media platforms.
Choose the marketing automation tool that also allows you to schedule and send your posts. An ideal tool is also one that allows you to analyze your potential customers' social media activity.
When you analyze their shares, likes, and clicks, you can make the necessary adjustments to different aspects of your business.
5. Reviews
The best people to listen to when considering any tool are people who've actually used it.
This is why reviews are so critical. Reviews can reveal features you may not see on a product's website or in their marketing copy.
These are people who have had first-hand experience with the tool so you can also find out from them what other benefits. You can learn from them so you can make an informed decision.
You should pay more particular attention to the reviews of businesses that are similar to yours. This is because your business is more likely to respond to the same tool in the same way. If your competitor gushes about a product, you can take advantage of the free demos some offer and test it yourself.
Reviews can still only provide you with the supplementary information you need. Always remember that bet information about a marketing automation tool you're considering should be derived from your personal circumstances.
Many businesses may be similar to yours, but they are still not your business.
How to Pick a Marketing Automation Tool in 2020?
In this article, we explored the importance of marketing automation tools. Gone are the days when these were a luxury. There is widespread recognition that the benefits of marketing automation tools actually provide far outweigh their costs.
There is no truth to the belief of some that marketing automation is relevant to a limited number of functions.
Marketing automation, after all, covers basically everything, including marketing intelligence, web-based archive and real-time traffic analysis, workflow management, and data orchestration.
There are five key things to keep in mind when choosing marketing automation software.
These are the nature of your business, your existing business software, your budget, the tool's social media capability, and the experience of other people.
As with any other product or service, choosing a marketing automation tool requires careful thought and research. Just follow these tips, and there's no reason you won't end up with that marketing automation tool that is just the perfect fit for you and your business.
Owen Jones is the Senior Content Marketer at Zoomshift, an online schedule maker app. He is an experienced SaaS marketer, specializing in content marketing, CRO, and FB advertising.