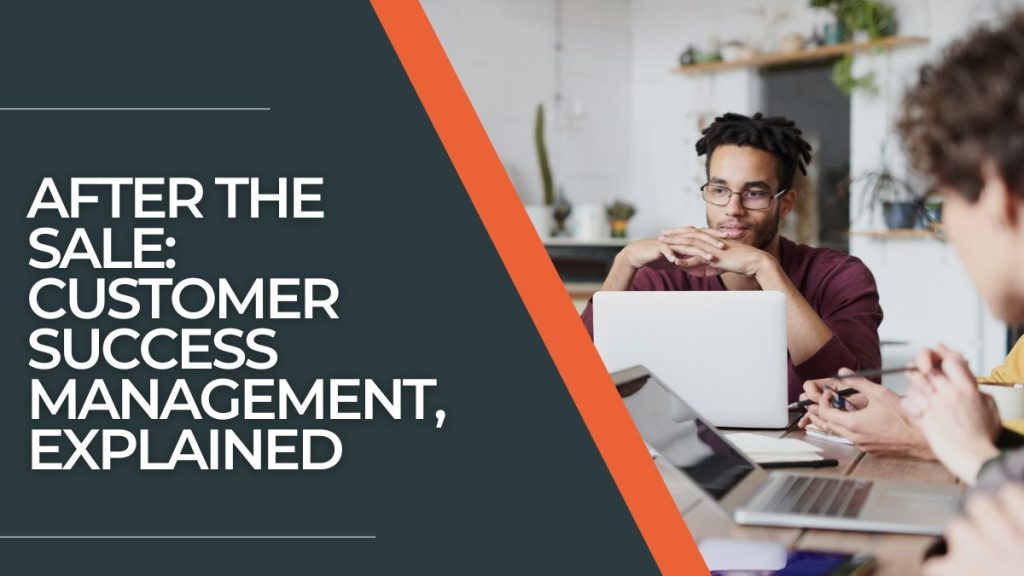 Customer success management is an increasingly critical sales process. It allows a seller and buyer to put the sale in the rearview mirror and work together to create value.
The best customer success managers prioritize feedback, engagement, and retention. They balance contractual priorities with sales relationships and always aim to help customers succeed.
In response to customer success questions from around the industry, Shawn and Ollie emphasize the importance of giving customers the best possible experience without compromising on financial and personal values.
When a new customer signs a contract, the sale doesn't end — rather, a new relationship begins.
The sales team now has a crucial task in the service of creating value and driving growth: keeping the customer engaged, happy, and empowered.
These efforts are so important that customer success management just might be the reason a buyer signs on to a new product or service in the first place. Sales and customer success teams work to help customers achieve their potential, hoping their growth will result in later, larger sales.
The work requires balance, dedication, long-term planning, and short-term patience. On an episode of the 0 to 5 Million podcast, Shawn Finder and Ollie Whitfield answer questions from sales teams about customer success challenges, both large and small.
Here are some of the major takeaways — actionable advice for salespeople and customer success managers (CSMs) hoping not only to deliver customer success but also to exceed expectations.
Get customer feedback that works
We've all received an email asking us to rate a product or service. But ubiquity doesn't equal usefulness: Shawn says the strategy can be a miss. In fact, he tends to score randomly just to get the 'number-crunchers' off his back.
So is customer feedback really a fool's errand? Far from it. Personal, specific customer feedback can help a sales team and its CSMs glean helpful insights and avoid repeat issues. The following two approaches tend to yield the most generative ideas and keep the team properly focused.
1. If you want help, get personal
Shawn suggests taking advantage of the time you already spend with customers to ask about their experience and if anything could be improved upon. Listening is key, but responding to their concerns is even more important. If a customer makes a complaint and doesn't see any change, they're less likely to give feedback in the future.
Another way of getting personal feedback is asking customers what features or products they'd like to see from your company going forward. It's a clever way of bringing in ideas, and it helps you understand what your customers use now and what an even better experience would look like for them.
A rating scale can work, Ollie says, but it helps when, rather than using the typical one-through-10 scale, a company gives its customers a more personal, relatable scoring framework. For instance, he has customers weigh in using a range of facial expression options.
2. Keep your eye on the ball
The most important feedback for sales teams is the sales themselves. Ollie calls net retention rate — or the percentage of recurring revenue retained from existing customers — his "north star" from a customer success management perspective. Ratings and feedback take a customer's pulse, but sales can truly inform your team of what products and features are most appealing.
Keep an eye on which customers grow their contracts and which ones cut back on usage and subscriptions. Observe which niches of your industry are bringing you the most success.
If you want to know what customers are thinking, listen to the almighty dollar.
Err on the side of customer engagement
When you want to engage your customers on a deeper level, you need to understand where they are in their journey with your product or service. That knowledge lets you provide the right levels of support and guidance.
New users may need more handholding and more onboarding assistance, while experienced customers should expect advanced training and resources.
Oftentimes, CSMs face the conundrum of how best to interact with a client. They may feel like they're messaging too much — which could annoy or bother customers — or they might worry they're barely there and not making clients feel supported.
Ollie and Shawn stress that it's best to keep engaging customers — give over-engagement the benefit of the doubt. "Your job is to be persistent," Shawn says. "If you don't get rejection, you don't know where you stand."
You can always explain another feature, send another video guide, or forward another article, Ollie says. The extra information nudge could be exactly what a customer needs to streamline a process or handle an issue.
If a customer has gone silent, that doesn't mean they don't want to hear from the sales team anymore. You may just need to take a step back and try to envision what they need and where they are in their business cycle.
"If you're not getting a response, you have to always look at it as, 'What have I not done?'" Ollie says.
Advocate for yourself and your time
The high demands of customer engagement could drive any dedicated CSM to work themselves into a frenzy. But CSMs need to advocate for their time by prioritizing larger clients, setting boundaries, and sticking to signed contracts.
Shawn and Ollie heard from a CSM who only got two of his 10 touchpoints at a company to show up for an initial meeting. The ideal solution to this problem is a strong contract — the CSM shouldn't have to do anything more than hit 'record' and give the presentation to the customer representatives who showed up.
"Time is money. If you've told them to come and they've only brought two of the 10, that's their responsibility to get everyone else that onboarding," Shawn says.
Customer demands on your time as a CSM can vary widely, but you should aim to organize your availability in tiers that depend on the size of the contract or sale.
Of course, good service is imperative across the board. But if you're letting a tiny firm steal time from a large, growable customer, you are mismanaging your client base.
Shawn shares that it's useful to set expectations for response times and crisis meeting availability, especially when customers try to push for more attention. In these situations, self-empowerment can pay off. Keep in mind that if you're feeling energetic, properly busy, and excited about the day's work, you will serve your customers and your team better.
Be direct but kind — you're on the same side, and if you can help a customer thrive, everybody wins.