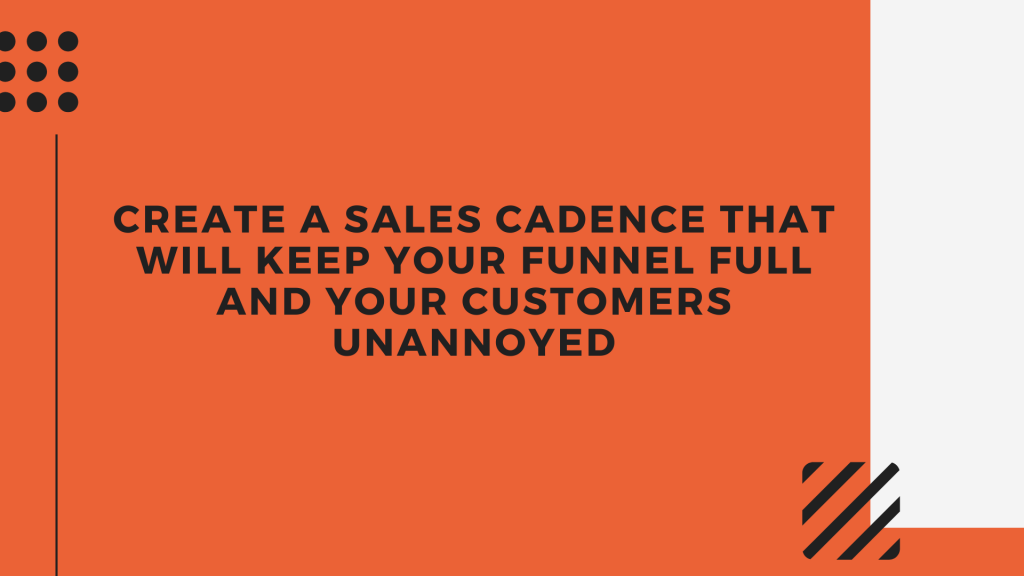 One of the greatest fears of every decent sales rep is that they will annoy and bore their prospects to death which will result in a number of failed deals.
But how to avoid this unpleasant scenario when it takes a great deal of persistence to explain all the benefits of your product and service to your potential clients?
According to different sources and based on our own experience, it takes no fewer than 12 touchpoints to qualify a viable sales lead.
And most sales reps give up after only two.
Finding the right balance between being persistent and being a pain in the neck is something that many sales reps still have to practice, and that's what a well-thought-out sales cadence can help them with.
What Is a Sales Cadence?
To put it simply, a sales cadence is a sequence of different sales activities and methods whose main idea is to establish contact with a prospect, engage them, and nurture them into becoming your customer.
What's also an indispensable part of any sales cadence is a timeline, that is, the frequency of these activities.
As we've already mentioned, persistence is the secret sauce – according to Max Altschuler, CEO of Sales Hacker, there should be at least 10 touches with the same prospect over a predefined period of time.
In my experience, you should use the Autoklose Always Running Campaigns and follow up with your prospects until they respond, sign up for your service, download your eBook, schedule a demo, or unsubscribe.
This unlimited and endless sequence of emails will make sure that you keep on reminding your prospects about your offer, and at the same prevent a prospect gets the same follow-up email more than once.
If you're still wondering what the purpose of a sales cadence is, here are four extremely important things about it:
your leads won't slip through the cracks of your CRM
it allows you to create predictable revenue
your sales team will have an established framework they can follow
your leads will move to the next stages of the funnel and towards closing deals.
This process can significantly improve the communication between your sales reps and your customers, and as we all know, sales is about reaching out to people, helping them, and building relationships.
So, a successful sales cadence is a catalyst that turns your sales funnel into a lead qualification machine.
I'd like to emphasize that all companies, regardless of their size, could greatly benefit from a well-structured sales cadence – not only big corporations and enterprises should use this tactic.
Here's what you should bear in mind when creating your sales cadence.
Who's Your Target Audience?
The first step in building your sales cadence is identifying who your target audience is and establishing your buyer personas – these could be VPs, C-level execs, different managers, and directors.
It's clear that you can't have the same cadence for every buyer persona.
For example, what works for C-level execs is a greater number of personalized emails with fewer phone calls.
On the other hand, when it comes to managers and supervisors, your cadence should consist of an equal number of emails, phone calls, and social media touchpoints.
Also, it's worth noting that as for different business models, B2B can successfully leverage the sales cadence method and benefit from it greatly.
However, B2C businesses might find cold outreach to be a more suitable strategy, especially those in high-priced niches.
The Channels of Communication
A good sales cadence includes a variety of different channels of communication with your prospects – emails, phone calls, voicemail, LinkedIn InMail, or direct social media messages.
This way, you'll be able to identify what each of your prospects prefers and use the information to fine-tune your sales cadence and focus on that particular medium.
The industries with shorter sales cycles and smaller deal sizes are better off with a more aggressive approach, such as phone calls right away.
But, if your sales cycles are longer and deal sizes larger, then you should start gradually warming up your prospects through email marketing and social media messages and then introduce a more aggressive medium like the phone.
In some cases, a sales cycle can last for a couple of months or even an entire year, as the whole process needs lengthy research, meeting, and budgeting phases.
By setting up a sales cadence, you can significantly speed things up and decrease your sales cycle.
Define Your Unique Selling Point
In order for your sales cadence to be successful, you need to have a unique selling point (USP). This is what differentiates your products or services from your competitors.
Ask yourself: what do your offerings have that will make your target audience opt for you and not somebody else who offers the same or similar solution?
Is it a competitive price?
Higher quality?
Additional features?
A better customer experience?
A new approach to solving a problem?
If you aren't sure which one of these ideas work best for your target audience, analyze your existing customers. Or you can even ask them why they picked your product or service and what is that about your solution that appeals to them.
You can run a campaign and try to understand why your existing customers love your brand. It would be best to quantify your questions to better pinpoint the exact reason why you're their top choice.
For example, formulate possible answers in the following manner:
The solution successfully solved a problem X
The solution helped me improve productivity by X percent
The solution increased the revenue by X
This way, it will be easier for you to distill your marketing message and USP, so that your campaign provides value to your prospects. In other words, you need to have a good reason every time you reach out to them, and with a strong USP, they won't mind multiple emails they receive from you.


What's the Ideal Duration and the Spacing Between the Activities
When we're talking about the duration of your sales cycle, we're referring to the length of your sequence from the very first touchpoint to the last one.
How long should a sales cadence last?
It usually lasts somewhere between two and four weeks.
In other words, you shouldn't go for a shorter sequence because that way, you'll fail to properly engage your prospects and get them to respond or make their first move.
What about the time gap between outreach attempts?
Spacing is the time gap between contact attempts, and it's crucial for making your sales cadence effective and yet not spammy.
Generally speaking, you should start with an introductory email and a follow-up call.
After that, you need to give your prospects some breathing space and send an email every other day. Add phone calls and social media messages for versatility and a comprehensive approach.
Is there a formula for structuring your sales cadence?
While there are different opinions on how to structure a successful sales cadence, Max Altschuler, CEO of Sales Hacker, suggests the following timeline:
day 1 – email/InMail
day 3 – an email in the morning, a phone call in the afternoon
day 5 – a call in the morning, a call with a voicemail in the afternoon
day 7 – an email in the morning, a call with a voicemail in the afternoon
day 10 – an email in the morning, a call with a voicemail in the afternoon.
This is just one example, and you should A/B test your cadence to see what works and what doesn't.
Of course, you can take a more aggressive approach and structure your cadence in the following manner:
day 1 – an email in the morning, LinkedIn connection request with a note
day 2 – a phone call in the morning; if there is no response, call in the afternoon
day 3 – a highly personalized email in the morning, a phone call in the afternoon
day 5 – a follow-up email with different added value, a LinkedIn message in the afternoon
day 7 – a phone call in the morning and in the afternoon. In case there's no answer, leave a voicemail
day 10 – a break-up email in the morning in which you ask for permission to follow up. A text message in the afternoon.
day 12 – a LinkedIn message in the morning, a phone call in the afternoon.
day 14 – a phone call in the morning and in the afternoon. If there's no response, leave a voicemail.
day 15 – a phone call in the morning, a breakup email in the afternoon.
Additional tips and tricks
In order to additionally jazz up your approach and make it personal, it's a good idea to include a personal video in some of your emails.
Luckily, with Autoklose, you don't have to be tech-savvy in order to record, edit, and attach your video to your email. Our integration with Vidyard makes the entire process as simple as possible.
Given that the very word "video" in a subject line can increase your open rates, it's clear that this tactic can be highly effective for eliciting responses from your recipients.
The Autoklose Email Campaign Management paired with our Email Sequence Templates for different business situations will help you build and schedule your sales cadence properly.
Besides that, we've recently introduced the Autoklose Template Analyzer, which will help you avoid spam words and phrases in your emails and provide you with useful tips on how to optimize your campaigns for the best results.
Craft the Right Content for Your Cadence
It stands to reason that you won't send the same message every time you're reaching out to your prospects.
The success of your sales cadence heavily depends on how you craft and tailor your content to every segment of your audience, the channel of communication, as well as to every single attempt.
As for the very email copy, trying to blatantly make your prospect feel guilty for not responding to you is a big no-no.
You can use witty remarks and humor, but try not to cross the line.
We've mentioned the break-up email as it's an effective way of generating FOMO and a sense of scarcity, so here's an example that you can use in your cadence and get your hesitant prospect to finally respond:
Although I'm still deeply convinced that [your product] is something that will help you grow your business, it seems that our professional relationship has run its course before it even began :(.
If you're having some second thoughts, let's have a quick call, and I'll show you why I believe that [your product] can be exactly what you and your business need.
Here's the link to my calendar, so pick the time slot that works for you, and let's grab an online coffee and discuss things. LINK
Hope to talk to you soon,
[Your name]
When it comes to the content that you can send your prospects, again, versatility is the way to go.
Think about what would resonate with every segment best, and don't send something just for the sake of it.
Another big no-no is sending the same content all the time. And never send content packed with fluff, that is, articles or posts from which your prospects can't find out or learn anything new.
Only helpful content that they can actually put to good use in order to solve some of their issues will do.
Also, there's no need to limit yourself to your own content only – somebody else's content which your recipients can benefit from, is always welcome.
That way, you'll also show that you genuinely care about helping them and that making a sale isn't your first and foremost goal.
Include different content formats, and create ebooks (check out our B2B-Sales Handbook and find a lot of firsthand advice and tips on different sales tactics), infographics, webinars, blog posts, videos, case studies, customer testimonials, or anything that you think your prospects might find useful.
As you can see, creating a cadence is a must if you want to have a viable sales process that can help you nurture, qualify, and convert leads.
The trick is in monitoring the performance of your campaigns closely and tweaking the content, frequency, and communication channels based on the analytics.
With Autoklose, you'll always be in the know when it comes to your rates, as our granular analytics gives you a detailed insight into how your campaigns are performing in real time and allows you to polish and tweak them.
Conclusion
Having a well-structured sales cadence will result in getting your message across without annoying your prospects. These tips can help you build a sales cadence that's perfect from the technical point of view, but if you want it to really work, make sure you polish your messaging and make it resonate with your target audience.