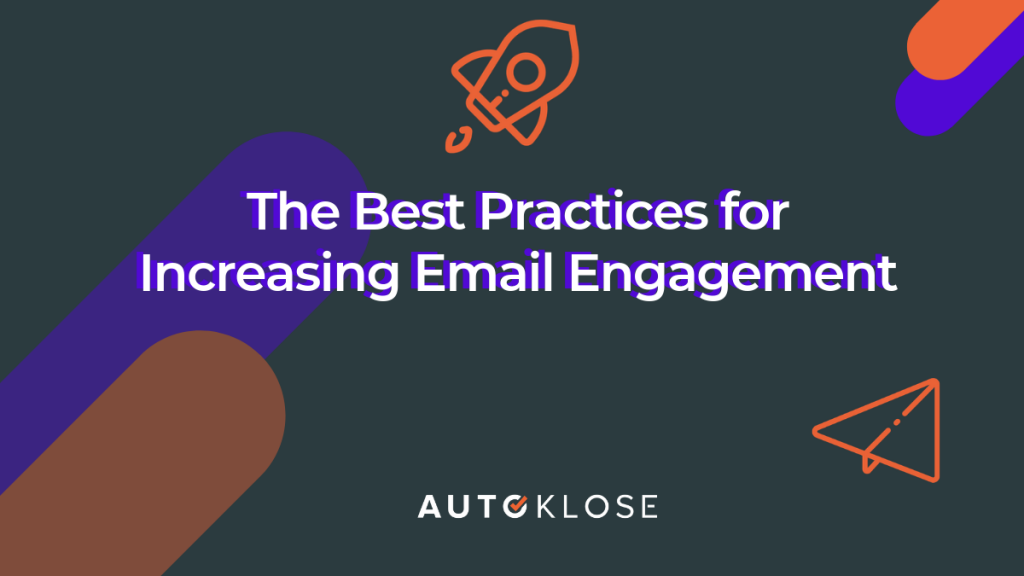 126! That's the number of emails that an average employee sends and receives. On a daily basis!
So, what happens when you send an email with your amazing offer to your target audience?
It's most probably buried in an avalanche of other emails and as such completely invisible and irrelevant to your recipients.
We can't deny that getting no response from your recipients is one of the most frustrating things in email marketing.
It renders you powerless and makes you feel invisible.
But, there are practices and methods that can bring you your superpowers back and make your emails unmissable.
What's the Problem With Email Engagement?
Although low engagement and click-through rates can stem from many different things, we'll just mention the most common and basic ones so that you can identify and eliminate them.
The same stat about the number of email and other messages your recipients get every day indicates that they're overwhelmed at the sight of their flooded inboxes.
Sometimes they don't even have enough time and energy to deal with them right away, and just leave them unopened and unreplied.
Can you blame them?
Before you start dealing with the low engagement issue, ask yourself these questions:
Do you have the right email address? This is a pretty common roadblock given that 37% of email addresses change annually. That's why you should clean your list on a regular basis, and leverage our huge 30-million contact database full of verified and regularly updated B2B leads thus improving your deliverability score and relevance of your emails.
Is your timing right? Your prospects' schedules are hectic and packed with a lot of meetings and other important stuff. So, it's safe to say that they have a lot on their plate. Now, if your email finds them at their busiest time of day, they'll simply ignore and forget about it. While studies say that Tuesday is the best day to launch your email campaign, don't forget that millions of others are aware of these studies which means that they also schedule their outreach on that day, thus flooding your recipients' inboxes. It's best to analyze your open rates and see what days and times perform best for your target audience. Autoklose's granular analytics allows you to keep track of all these metrics and fine-tune them in real time.
Does your message resonate with your target audience? It's another frequent issue, as people want to reach as many prospects with their outreach as possible. But, having the exact same message for your entire contact list is a really bad idea. In a nutshell, only a portion will find it relatable, and those with whom it doesn't resonate will be under the impression that you don't understand their needs.
Have you picked the right channel? Yes, email is the preferred communication channel for 73% of millennials and 86% of business professionals, but if your email messages are opened but aren't responded to several times, you should try to reach that prospect through other channels such as LinkedIn InMail or even call them.
Now, let's discuss what you can do to improve your campaigns and increase your email engagement.

1. A/B Test Your Emails
No matter what the culprit behind your poor email engagement rate is, A/B testing can help you polish and tweak absolutely every element of your email message.
You can start with your subject lines and test different lengths, wording, structure, and levels of personalization.
Here are some ideas to experiment with in your subject lines:
Use questions: Worried about your poor engagement rate?
Use numbers: 7 tips for improving your engagement rate
Use their first name: Mike, we released a new feature!
Use their job: As a content marketer, you'll benefit from…
When it comes to the copy itself, using the same template all over again can hurt your engagement rate.
Instead of that, create a number of different templates and test them. Or even better, use our premade sales email sequence templates for different business situations and events, together with converting subject lines.
We're constantly adding new ones to help you build an organized email sequence template database. This will save you a lot of time because you won't have to rack your brains every time you have to create an email campaign.
The Autoklose Template Analyzer will help you eliminate spam words and phrases and offer you a lot of useful tips on how to tailor your email outreach.
Finally, our Real-Time Reporting and Tracking feature allows you to easily monitor how your A/B tests are performing and help you identify the best-converting version.
Don't forget to A/B test your CTAs and play with different formats.
For example, the "Shop Now" invitation sounds too urgent and dramatic for prospects who haven't made up their mind yet, and they'll be reluctant to click on such a call to action. For example, test a soft approach and come up with something that goes along the lines of
Improve your delivery rate
or
Boost your engagement
or
Skyrocket your email marketing ROI
Such CTAs are focused not on the very act of conversion and making a purchase; instead of that, they highlight how your prospects will benefit if they click on them. This means that your recipients won't feel the pressure to make a purchase right away and they'll be more willing to take a look at what you're offering.
Your signature is another element that requires A/B testing.
Many people neglect it thus diminishing their chances of getting a response.
We've already discussed what a good, high-converting signature looks like so we won't elaborate about that again, but it's worth mentioning that you should include a professional headshot and links to your social media channels.
2. Personalize Your Campaigns
Autoklose can help you personalize every element of your email, and even create and add your own personalization tokens, meaning that you can choose what you want to personalize or tweak and test it.
Generally speaking, it's a good idea to personalize your subject line by adding your recipients' first names as that seems as if you're addressing them directly (although every marketer and salesperson knows that it's the smart algorithm and not an actual 1-on-1 message, it still works and attracts their attention.)
In other words, we'll help you go well beyond that first-name level.
For example, if you're going to a conference in Chicago, it would be a great idea to have a meetup with your prospects who live there, so the following subject line will definitely grab your contacts who live in the Windy City by the eyeballs:
George, how about a meetup in Chicago next week?
Or, you can target them based on the industry and say something like:
Interested in our new marketing automation feature?
3. Tap Into the Power of Video
But, there's another way to take your email personalization to the next level.
Enter personal video!
A picture is worth a thousand words. Now, imagine how many words a minute of video is worth.
There's a catchy stat claiming that the number we're talking about is approximately 1.8 million words.
Doesn't matter whether this is exaggerated, the truth is that personal video can boost your engagement tremendously.
Even putting the word "video" in your subject line boosts opens by 19%.
Let's face it – people are too busy and impatient to read long-drawn-out content no matter how valuable it is.
Why don't we make it easier for them and present our offer by means of the personal video? It will be just like you're having a meeting with your prospects. And it adds a human touch to your outreach.
We've teamed up with Vidyard and added the GoVideo feature so that you can record your personal video within our campaign editor and easily attach it to your email.

4. Say Welcome and Thanks
It's commonsense decency to greet someone who comes to your home.
Why not apply this rule to the online world and do the same when somebody lands on your website or subscribes to your newsletter?
Welcome and thank you emails are low-hanging fruit for improving your conversion rates.
By sending a warm and personalized welcome or thank you email to your recipients who have signed up for your free trial or taken action you suggested, you're creating a great first impression and promising a positive customer experience.
Apart from expressing your gratitude, you can also add some interactivity to these emails if you ask your prospects why they decided to sign up or make a purchase or have they heard about you.
Not only will this increase engagement and spark a discussion, but it'll also show your recipients that you care about their opinion.
5. Tell Stories
Storytelling is one of the best and most effective tactics for increasing engagement.
So, instead of starting with your sales pitch right away, tell your prospects a story. It doesn't have to be long or complex. Just ensure that it's relatable and try to provoke certain feelings in your recipients.
It's a good idea to share your experiences and ways you managed to overcome certain issues and align these with your prospects' pain points.
And mention your product or service at the end of the email, just to remind them that by signing up or purchasing your product they can solve their issues.
6. Keep the Lines of Communication Open
Your prospects sometimes want to get in touch directly with you and ask you for assistance.
So, no-reply email addresses are a big no-no.
It's as if you're telling them to put a sock in it.
Instead of that, use a regular address and a sender name. This little detail will let them know that somebody is actually reading their emails.
But, if you really want to nail your email marketing, then you should insert different communication channels in your message so that your prospects can pick the one they like when they want to reach out. This means including social media buttons and your phone number.
However, there's an even better and more efficient way of streamlining your communication – share a link to your calendar and allow your prospects to book a meeting with you without having to wait for you to confirm whether the time slot they want is available.
How can you do that?
Autoklose teamed up with Calendly, a super-powerful scheduler took, to bring you this feature.
As of now you can create a link to your calendar within the Autoklose Campaign Editor, add it to your email message, and let your recipients book an appointment or a demo with you without sending emails back and forth.
This handy feature removes friction from the buyer journey and encourages your prospects to reach out to you, and that's engagement in its most basic and effective form.


7. Leverage Social Proof
Nearly 70% of people who purchase online read reviews before making a decision to order a certain product. The thing is that they want to be sure that the product they pay for will meet their needs and expectations.
And no matter how stellar your email copy is, they won't be convinced that what you offer is awesome and beneficial if they haven't heard it from some of your happy customers.
Research shows that online product reviews are 12 times more trusted by potential customers than advertising copy and in this case, it's your email.
In other words, if you want your prospects to trust you, show them what your existing customers think about your product – include their testimonials, reviews, thank you messages, or mention some of your high-profile customers.
Social proof is an extremely powerful marketing tactic that's very effective and persuasive. Basically, it vouches for the quality of your product or service. It serves as evidence that others are using your solution and are satisfied with it.
Here are some tips on how you can use social proof in your emails
Share your numbers. Impress your prospects by showing them how many people use your product or service, how many social media followers you've amassed, or, for example, how many newsletter subscribers you have. This is a cold hard fact that explicitly speaks in your favor.
Show your awards and accolades. Don't hesitate to include the awards you won in your email messages. Trust and credibility are crucial factors in the sales process, and there's no better way to let your prospects know that they will make the right choice if they decide to purchase from you. It's a good idea to add digital badges and certificates to your email signature as that will improve their visibility.
Add links to favorable media mentions. If your product or service has been featured in a relevant magazine, podcast, or blog post, direct your prospects towards those sources by sharing links.
Just bear in mind that social proof works only if it's absolutely genuine and sincere. Don't try to make up fake stories and testimonials as that can only ruin your credibility and reputation.
As you can see, all these tactics are very simple, and the only trick is to be persistent and, of course, use a sales email automation platform like Autoklose, which will automate your outreach but not at the expense of personalization.