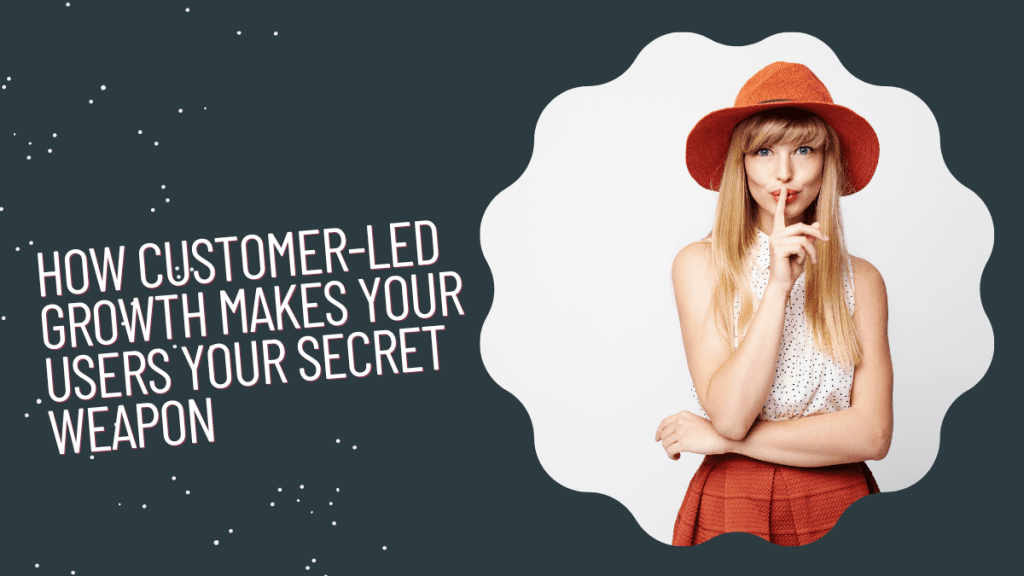 Product-led growth (PLG) is a great strategy for many organizations to scale their businesses. But smaller ventures may not have the right number of users to effectively implement a PLG approach.
Through the PLG principle of self-guided user exploration, customer-led growth (CLG) turns your user base — large or small — into one of your greatest assets.
By using customer feedback and qualitative insights about its products, any organization will have what they need to improve its offerings and grow its customer base.
Scott Rogerson, CEO of UpContent, shares how his team implemented customer-led growth in three simple steps: listening, recording, and referencing.
News flash: There is no foolproof, one-size-fits-all roadmap to scaling your business — as much as you might wish for one. (Okay, so maybe that's not news.) Each small and midsize business has a unique growth journey.
If you've been doing your growth strategy homework, though, you've likely heard the buzz about product-led growth (PLG). And while the principles of PLG are rock-solid, this approach isn't right for everyone.
Smaller organizations, in particular, often don't have the customer base needed to effectively implement a PLG strategy. But focusing on customer experience and user feedback will never steer you wrong.
Meet customer-led growth. By tapping into your audience insights and implementing them correctly, your organization can improve your product and deepen relationships with your users.
In his Growth Month presentation, Scott Rogerson, CEO of UpContent, explains both the draws and the drawbacks of PLG, as well as how you can implement customer-led growth to expand your customer base and improve your product.
When and how PLG works best
Scott defines product-led growth as "a business methodology in which user acquisition, expansion, conversion, and retention are all driven primarily by the product itself."
One of the greatest benefits of this approach is that it recognizes customers' desire to self-direct their evaluation, selection, and purchase processes. With PLG, the strength of the product fuels both customer acquisition and upsell opportunities that surface once customers begin to use the tool.
A strong product builds relationships with customers every step of the way as they explore its capabilities and find new ways that the product can solve their pain points.
Scott points out that product-led growth doesn't mean only the product manager or product team leads growth and makes decisions. Rather, product-led growth ensures that all teams are aligned in supporting the user's experience. And this alignment helps each team and the entire organization achieve their goals through a shared focus on supporting the customer's self-guided exploration.
"Customers aren't as interested as they were 10 years ago to hear information from the company to support their decision [to buy the product]," says Scott. "They want to find it themselves, and product-led growth certainly helps to facilitate this."
Letting the customer lead
Scott points out that effective examples of PLG exist in both the B2B and B2C spheres. He often thinks of Typeform and Zoom when considering his own growth strategy at UpContent.
Both of these tools display simple product-led principles like:
Making it easy for customers to understand what the solution offers.
Frictionless sign-up process.
Free sign-up that allows customers to use the tool in meaningful ways that solve their problems, but without having to pay.
This third idea is key because, as customers self-direct their exploration of the free version of the tools, they naturally discover the need for additional features and uses. From there, converting to a paying user and upgrading their plan is simple.
However, as Scott notes, "these flows didn't occur overnight… but they were the result of analyzing the behavior of their customers utilizing those platforms and conducting experiments within those platforms to understand how those subtle changes may change the behavior of their customers."
When done well, PLG results in lower acquisition costs and customers who understand the value of your product without a heavy lift from your sales or support teams. But as an approach to growth, it's not right for every organization.
Pointing to research from OpenView's most recent report, Scott explains that beyond the $10 million revenue mark, PLG is a clear winner. But smaller companies tend to see inconsistent success with product-led growth.
Why? "Smaller organizations tend to not have enough data points or interactions," Scott says. "In many cases, their customer base isn't big enough to say whether this subtle change or that experiment made a statistically significant impact."
Without the customer data or a long enough timeline to back up product changes, the benefits of product-led growth don't tend to hold up. This doesn't mean that smaller companies should throw out the principles of product-led growth, though.
Regardless of your organization size, your priority should be building a customer experience where users can answer their own questions through exploring your product — not through hand-holding. And this is where customer-led growth comes in.
Implementing customer-led growth
Every organization needs customer data to effectively drive product decisions. No matter how many customers you have, those who are utilizing your solution are your greatest asset. 
As users choose your product and self-direct their exploration of the tool, they can offer the valuable insights you need to improve and grow your product. The quality of your audience's feedback — regardless of the quantity of customer base — is the key to iterating your solution and supporting your growth.
How does this look for UpContent as a smaller organization? "We trade massive amounts of data for highly valuable information that our customers share with us about what they are — or are not — getting in terms of value from us," Scott says.
Their process for gathering this information that helps each of their team functions thrive is listening, recording, and referencing.
✅ Step 1: Listening
The first step for the team at UpContent is listening to their customers' experiences through a lens of several key questions. These include:
What caused you to look for our solution?
Why did you select our product over other solutions? What decision criteria did you use?
What value has resulted from using our solution?
What would you tell others who are trying to solve your same problem?
Are we getting the customers we expected, or are they trying to solve a problem using our tool that we aren't trying to solve? (And if so, should we be trying to solve that problem?)
The answers to each of these questions from your current users are pivotal to gathering the information you need to continue improving and growing your product. But it's important to not focus solely on gathering positive insights from customers. The problems and gaps your users express are what will allow you to improve and iterate.
For UpContent, having strong relationships with each of its customers streamlines this listening process. It uses quarterly customer check-ins, outreaches, and a baseline NPS to understand overall performance. These relationships are one of the key benefits of being a smaller organization with fewer customers.
"You don't have to worry as much about scaling so rapidly," Scott explains. "You need to worry about getting it right for those customers so that you can build and learn from their success or failure — to make sure that your solution continues to get better."
That's the beauty of customer-led growth.
✅ Step 2: Recording
Another key factor in gathering anecdotal insights from customers is letting them know why and how the information will be used.
If users understand that their answers will help you to tangibly make your product better and offer them more value, they will be more likely to be more open and more detailed about their experience. Recording their responses is the way to do that.
When gathering user feedback, you should be keeping records internally for future use. But Scott explains that it's also crucial to have the user information about your product available externally on an unbiased platform.
Potential (and current) customers want to see what others are saying about your product — the positive and the constructive — rather than just what you are saying about yourself. Having qualitative customer data publicly available also lets self-directed customers get their questions answered based on others' experiences.
UpContent uses G2 for this external recording, and it is consistent about inviting every customer to review their product — regardless of their experience. "It was important for us that [our G2] page is truly representing the sentiment of our customer base, not just the ones who are having a great experience," Scott says.
The UpContent team collected these reviews from the start. Now that UpContent has more than 200 reviews on G2, the data offers both rich feedback for their company and useful insights for prospective customers.
✅ Step 3: Referencing
Once you've gathered in-depth qualitative data from your customer base, no matter its size, your ongoing task is to reference the data to fuel your customer-led growth.
In both one-to-one and one-to-many conversations, UpContent refers to customer feedback to help prospects understand where its solution fits in the market. The team frequently directs potential customers to the UpContent G2 page in sales conversations — and not just to showcase the positive reviews.
"We are fine that there are other competitors [on G2]," Scott points out. "We want that person to be making their best choice because… it's the 12th month and the 24th month and the 36th month when we really start to see the benefit, the margin, and the value from having that customer."
For subscription-based SaaS services, rushing to convince a new customer that their solution is the right one only to lose them shortly after can be worse than not having that customer at all. That's why UpContent prioritizes helping users find the best solution for them — even if it isn't UpContent.
The self-direction of a product-led and customer-led growth approach starts with the sales process, letting prospects explore user feedback to make the most informed decision they can.
Armed with audience insights, organizations large and small have the tools they need to improve their product and catalyze growth with the customers who are right for them.