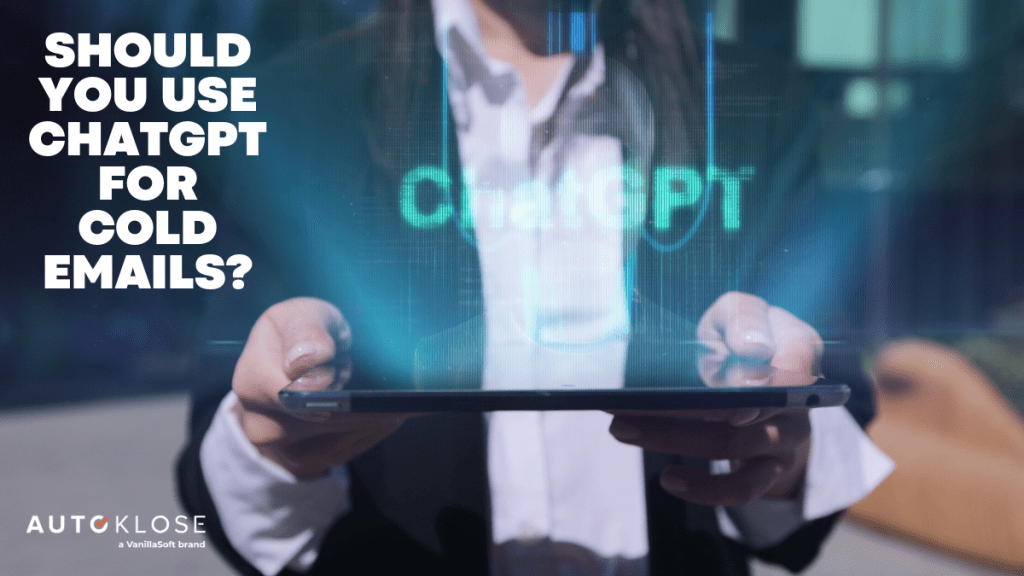 For as much buzz as it's created, ChatGPT isn't without its critics. Future regulations will likely clamp down on the use of AI text generators for blog content, social media, and other marketing materials.
ChatGPT does have use cases for email marketing, but the tool needs the correct prompting to give helpful outputs. Users should understand both its potential and its limitations.
New automation tools cannot replace a comprehensive email campaign strategy. Marketers should be cautious not to trust too heavily in ChatGPT.
Unless you've been living off the grid for the last six months, you've heard of ChatGPT.
The OpenAI product has taken the internet by storm with its lightning-fast capabilities to answer questions, edit code, and generate long strings of text — including emails.
It's brimming with marketing potential, yet large language models like ChatGPT aren't without their flaws, and anyone in sales should wonder about the long-term ramifications of using AI email generators. It's easy, but the results are, well, robotic. A cold email pitch to a prospect isn't going to convert with a cookie-cutter headline and stilted body text.
That's not to say marketers should ignore it altogether, though. ChatGPT is an incredibly useful tool for fine-tuning a sales strategy and now is the perfect time to take advantage of it.
In a recent episode of the 0 to 5 Million podcast, hosts Ollie Whitfield and Shawn Finder discuss the potential of ChatGPT, the future of generative AI, and the smartest ways to use it in email marketing.
Too good to be true? ChatGPT won't stay like this forever
ChatGPT arrived like that cool Christmas present you weren't expecting, but it didn't take long for the magic to wear off. OpenAI has already moved "priority access" to ChatGPT behind a paywall of $20 per month, and congressional buzz about AI regulation is growing. Google has reiterated that ChatGPT should not be used to manipulate search rankings, so prompts like "write an SEO-friendly marketing blog for my website" could result in penalties from the search giant.
Amid concerns of copyright violations and misinformation, attempts to clamp down on ChatGPT are growing. Stanford University has developed DetectGPT, a tool claiming 95% accuracy in determining if a written work is AI-generated, and other researchers and companies have released similar programs. Plus, AI pioneer Geoffrey Hinton's recent departure from Google further confirms that AI development will face headwinds in the coming years.
"At some point, anything that's too good to be true comes to an end," Shawn says.
But that's not to say there won't be use cases for ChatGPT. As Shawn explains, "[ChatGPT] will be able to assist people, but it's not going to take over jobs." The dream of putting a one-sentence prompt into an AI email generator and then watching it make millions on your behalf simply won't happen. Instead, marketers should see ChatGPT as a tool for sharpening their email campaigns.
Marketing Use Cases for ChatGPT
For Ollie, effective use of ChatGPT starts with knowing your strengths and weaknesses as a salesperson. AI tools can challenge a strategy and point out areas for improvement.
"I know I have my drawbacks," Ollie explains. "So I might say to [ChatGPT], Hey, look, here is my cadence for a certain persona. Poke holes in this."
Perhaps ChatGPT will identify that too many of the emails in a campaign are negative, focusing on psychological triggers such as fear of missing out (FOMO). Connections and compliments are proven cold email opening lines, and AI can recognize the tone of a message to highlight opportunities to improve.
If part of your outreach strategy is segmenting your audience, you can describe different user personas to ChatGPT and then ask it to create versions of an email draft that would appeal to each persona.
This process won't create a plug-and-play script to send to a marketing list, but it can provide some starting points to tweak a campaign. With this mindset of using ChatGPT as an assistant — rather than a replacement for human planning and creativity — here are two ideas for how to use AI in your email generation.
1. Ask for revisions, not opinions
One of the biggest mistakes users make with ChatGPT is to ask it open-ended questions like, What is the best way to write a cold email?
You'll get a gigantic list of ideas — but no definitive answer. Perhaps it's a quirk of the programming or maybe language models are just polite. In any case, Ollie has observed that ChatGPT is reluctant to form an opinion. "I've asked it a bunch of silly questions," he reports, "and it refuses to take sides."
Instead, prime the conversation by giving ChatGPT a task. If one of your subject line tactics is to provoke curiosity, you could instruct ChatGPT to draft ten versions of a subject line that will intrigue a reader.
Then, give pointed directions such as "revise the subject to make it sound more urgent" or "include a placeholder for the recipient's name." ChatGPT can function like brainstorming at hyperspeed even though it lacks the critical faculties to make a final decision.
Ollie recommends using ChatGPT as a sounding board. "Start with it and then play with it and tweak it," he advises. The tool won't write a killer email from scratch, but it can certainly polish a draft.
2. Detect reply type
While Shawn foresees a crackdown on using AI-generated content in blog posts and on social media, he still predicts continued use cases for ChatGPT. One example is detecting reply types.
Generative AI offers the potential for more personalized automation than the classic drip campaign. When someone replies to an email, ChatGPT may be useful in determining the tone of that message and responding appropriately.
In this example, ChatGPT might detect the intent of a customer's reply and present ready-made options for the business's answer, similar to Google's smart reply in messaging.
The ChatGPT API in apps is likely the most sustainable future of AI email generators. "[In the] long term, I think it's just another tool," Shawn says. While it may lead to smarter automation, it's still not writing cold emails without human oversight.
Beware of the bandwagon
New tech comes in fads. If history's any indication, ChatGPT will lose its place in the limelight soon enough. Like crypto, NFTs, or real estate in the Metaverse, tech trends often skyrocket on hype right before a crash.
That's not to dismiss the time-saving potential of AI email generators. On ChatGPT, Ollie says, "I don't think we've scratched even close to the surface on what you could potentially do with it."
But no matter how ChatGPT integrates into future email applications, large language models will always be inherently limited by the data sets they're trained on. They will always have trouble with fact-checking and struggle to keep up with trends.
"It will never be able to tell you what's next," Ollie points out. "It will tell you what is." The inability to adjust based on real-time data will prevent full-scale automation. Marketers need to remember that there is no magic bullet, and anything promising a click-click-done instant solve is bound to be low-quality.

Best of both worlds
Now and in the future, successful email marketing is a collaboration between human ingenuity and time-saving tools.
ChatGPT has amazing capabilities to quickly brainstorm and revise email templates, but decision-making and high-level strategy need to rely on real-time data for engagement and conversion rates. At least for now, ChatGPT is best used as an assistant, not a sole author.