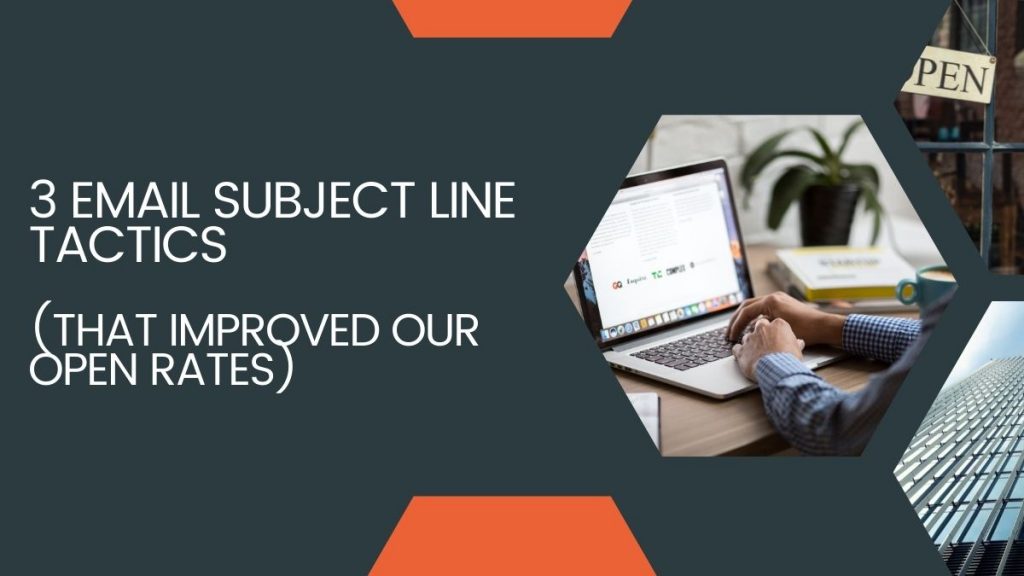 They say every line of copy has one job:
To hook the reader enough so that it's impossible for them to not read the next line.
As you can imagine, this is important in every communication, from your email signature or a social media post, to a billboard on the highway.
But make no mistake—it's most important for the subject line of an email.
Let's talk about why.
Why Subject Lines Are So Important
If your subject line doesn't make people want to read the next line, then you're toast. Poof. Goodbye. You've become an afterthought. Or, even worse, a never-even-thought-of.
All the hard work you put into writing that email? It's all gone to waste—literally and digitally, as in, it's probably in your prospect's trash folder.
The thing is, you often only get a single shot with an email. If the person receiving it isn't hooked by the subject line, then you've missed out on a prime opportunity to do one or more of the following:
Educate the prospect
Share content
Build rapport
Book a call
Stay top of mind
Now just imagine the automated sequences you have for your various lists (BOFU, TOFU, event follow-up, etc.) in your email marketing software.
Imagine if you could do the five things above at scale with those contacts. It'd be powerful stuff, wouldn't it?
You could educate at scale.
You could book meetings at scale.
And you could, in the least, stay top of mind at scale.
The good news is, you can. In fact, companies, solopreneurs, and freelancers are doing this every single day with their email marketing.
And it all starts with subject lines. You just need to write good ones to make it happen.
What Makes A Good Subject Line?
At a purely measurement level, a good subject line is one that leads to high open rates without misleading the reader.
In other words, click-baity subject lines and gimmicks don't count. Although they may get opened, they're merely one's attempt to boost a vanity metric (open rate) at the expense of their audience's opinion of them.
And nobody reading this wants that, I'd imagine.
Your subject line has to relate to the content of the email for it to truly work, and that requires effort.
You need to understand the psychology of humans, study the craft of persuasive copywriting, and know your audience's fears, pain points, and desires like the back of your hand.
Do these things, and you'll soon be able to rattle off high-performing subject lines in a rapid fashion that relate to the email content, no matter what it's about or how interesting it may or may not be.
And what do high-performing subject lines do, exactly? Among other things, they do one of the following:
Make it about the reader, not the sender
Provoke curiosity about a solution to a problem
Tease the "why" behind a problem's existence
Fascinate the reader by teasing a value and embellishing a benefit
Combine two opposing ideas (paradox)
Use hyperbole
Now, let's take a closer look at the first three of those things, why they work so well in subject lines and an example of each.
Subject Line Technique 1: Make it about your audience, not you
Want your emails to get opened more often?
The first thing you should do is analyze your subject lines to see if you can make them less about you and more about your audience.
Why?
Because people respond more positively when they feel like they're being communicated with on a personal, one-to-one level. And, even more so when they see that you're looking out for them, not yourself.
The best way to do this is to avoid self-interested language like "we" and "I" and to craft an email that includes words like "you" and "your" or the prospect's company name.
Think about it this way:
Let's say you run into a guy at the local coffee shop. You ask this guy how he is, and he goes on and on and on about his life, work, and family. He doesn't ask you how you are and he doesn't show any interest in what you've got going on.
Then, he proceeds to leave. You think to yourself, Gee, I sure hope I don't run into that guy again, all he cares about is himself.
Right?
Well, it's the same idea with email marketing.
You have to try and make everything about your audience. Do that, and they'll see that you care about them and their situation. And, believe it or not, they'll actually start looking forward to your emails.
Here's an example of a subject line we use in follow-up communications that exemplifies the power of making the copy more about your audience and less about you:
Your vision for effective employee retention
The open rate? 41%. That's over double our industry average of sub 20%.
And it's even more impressive when you consider the fact that it's the fifth touch in a five-touch sequence that went out to all registrants of a webinar.
That's how powerful writing subject lines about the receiver can be.
Do it well, and you'll see those open rates climb higher and higher.
Subject Line Technique 2: Provoke curiosity about your solution to your prospect's problem
Chances are, the people on your list have some business problem they're looking to solve.
And, if the problem is pressing enough—or if they're repeatedly reminded of the pain points—then these people will be quite receptive to learning about a solution.
But they don't want to hear that a solution merely exists.
They want to learn how it works, how it'll help them, or how a company like theirs solved the same problem with your solution.
In other words, they want a story to relate to. For example, a case study — something that makes it easy for them to imagine life with your product or service.
If you have one of those, then half the battle is over.
Now it's time to tease that story in your subject line to entice them to click.
Like we did with this one:
How this company reimagined onboarding with 360Learning
This email nearly doubled our industry-average open rates (38%), and it did so because it piqued people's curiosity by:
Alluding to a bigger story beyond the surface level ("How this company")
Hinting that the story has to do with transformation and change ("reimagined")
Showing them that this story of transformation is relevant to them ("onboarding")
And, of course, we tacked on "with 360Learning" to inform them that this transformation was made possible because of our solution. However, given that this subject line is a bit longer than most, there's a good chance many folks didn't even see that part in their inbox.
But that's just fine because as long as the visible part of your subject line is intriguing enough, then length really doesn't matter much.
Onward.
Subject Line Technique 3: Tease the "why" behind a current problem state
So much of human intrigue centers around problems and obstacles because we're hardwired to avoid such things for survival purposes.
If we can't avoid them, then they gnaw at us incessantly until we can solve them or figure out a way around them.
But before we're able to solve a problem, we need to learn why it exists and understand its root causes. Otherwise, we spin ourselves in circles and fail repeatedly with the same old strategies.
This dilemma provides a golden opportunity for marketers in spaces where a great change is occurring—which is, for the most part, every industry in existence today.
Because so much is changing, companies everywhere are facing enormous challenges that they need to solve. But with everything moving so quickly, it's nearly impossible for day-to-day practitioners to study the problem and boil it down to its root causes.
All they know is that a problem exists.
Now, if you know why that problem exists, then you have a powerful hook to capture your audience and educate them.
Here's what that looks like in one of our email subject lines:
This is why training is failing
Like the previous example, this subject line also boasts an open rate nearly double that of the industry average (37%).
That's because it:
Pertains to a growing problem in the industry (failing training)
Plays up people's interest in figuring out "why" training is failing
Reveals that the email contains the answer to the question "Why?" ("This is")
And when you look at it, this subject line structure doesn't even have to be anchored by a problem or a pain point. Instead, it can be about a general curiosity of your audience or something you know they'd be interested in learning about.
So, go ahead and give it a shot. Something tells me you and your prospects will be glad you did.
Putting These Subject Line Techniques Into Practice
When it comes to using these subject line techniques for your emails, the process is pretty simple:
First, study them some more.
Second, start using them.
Third, monitor results, test, and refine.
Subject lines are a tough egg to crack, but the more you can perfect a handful of these techniques, the sooner your emails will become impossible to ignore.
But a word of caution:
Make sure you perfect more than one or two of these techniques. Use the same ones over and over again, and your audience will sniff out your attempts at persuasion in an instant.
And that's not good, because it reeks of desperation.
That's about all there is to it—so, carry on now, fellow wordsmith, and be sure to add not one or two, but three or four or five persuasion techniques to your email writing arsenal.
Do that, and the success you so desire shall be yours.
—
Author: Jimmy Burt, Senior Copywriter at 360Learning