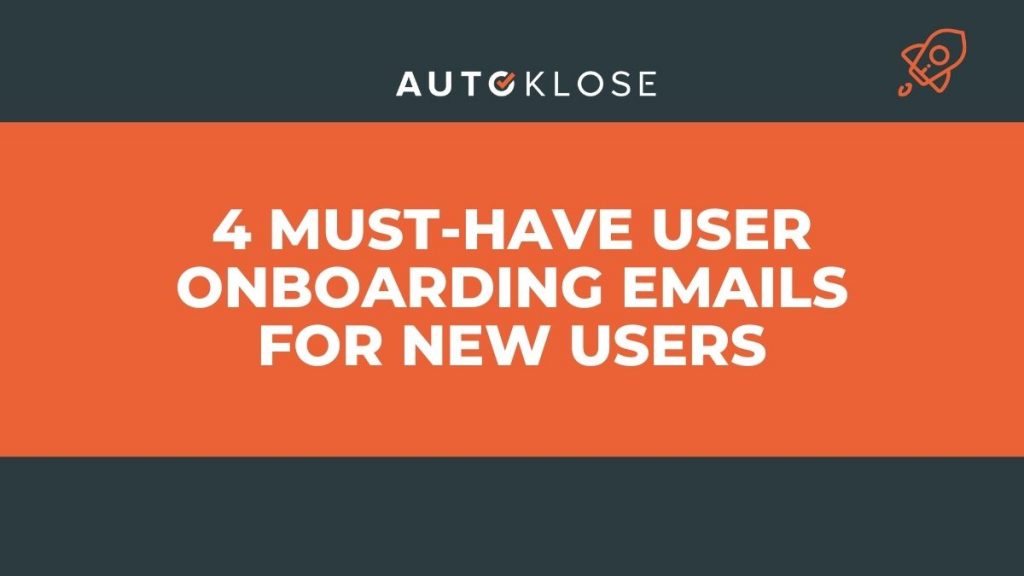 You likely already know that a well-defined user onboarding process is crucial to engaging and retaining newly signed up users. After someone signs up for your product or newsletter, your goal should be to quickly show them how your product will help them solve something, and user onboarding emails play a critical role in doing that.
Simply put, a strong email onboarding strategy can be the difference between getting your new users to become loyal to your brand or losing them for good. While there are many types of onboarding emails you can send, the following four should be central to your onboarding strategy.
The Warm Welcome Email
The welcome email is the first touch that you have with your users after they sign up for your product and are an essential branding ingredient for any business. In fact, welcome emails have some of the highest engagement of all marketing emails, with an average open rate of 84.22% and a click-through rate of 25.91%.
That's because newly signed-up users are excited about your product. They have decided to engage with your brand and are thus, are highly receptive to hearing from you.
So, don't waste this opportunity to form a great first impression by turning your warm welcome into a hard sell. Instead, let your welcome email work for you as a way to show your brand voice, values, and mission. Use it to lay the foundation for a meaningful and authentic relationship with your users.
Welcome them to your brand's community, but also crisply highlight the benefits of using your products. In doing so, you will drive new users to their "aha!" moment quicker, and keep them excited about what's more to come.
Below is a good example of a welcome email by Tidio.
See how the design is short and appealing, with a clear CTA, social proof ("300,000 businesses"), and personalization by introducing Tidio's Head of Customer Support — Olek who would be guiding the new user through the onboarding process.
Zapier takes the welcome email to the next level by tailoring it to the user — based on how they signed up.
Since this particular user signed up with Google, Zapier provides useful tips on how to integrate Zapier with Google apps for a more seamless workflow. As this welcome email is personalized to the user's needs, that user is far more likely to stick around with the product.

The Social Proof Email
Your newly signed-up users have thought of your business as something worth giving a shot, but they may not know exactly how much your existing users love your product (and why).
That's why user testimonials — aka social proof — is so powerful. In fact, 72% of consumers say positive testimonials and reviews increase their trust in a company, while 88% of consumers trust online testimonials and reviews as much as recommendations from friends or family.
Sending a succinct email showcasing success stories and testimonials is the perfect way to convince dubious new users to give your product a go. Here's how Invision takes a direct approach to their social proof email with a featured image showcasing all the brands and designers that happily use their product.
The short paragraph and CTA below motivates users to take action, and the result is a powerful testimonial email that sticks with Invision's core theme of appealing and minimalist design.
The Proactive How-To Email
New users may feel a bit overwhelmed when trying out a new product. A proactive how-to email (for instance, one with FAQs or a step-by-step "get started") can minimize points of friction within a product by addressing common concerns, without users having to seek support.
A great way to proactively engage your new users is to evaluate data from your onboarding process and determine where in the process do your users get stuck or churn. These friction points can then be addressed in the how-to email.
Ideally, the how-to email is concise, skimmable, and easy to follow. If you can't fully walk a user through the product in a single email, include links to useful guides or demo videos — interested users can click on these and get a comprehensive step-by-step breakdown.
Check out the below example from Webflow, a tool to design and build responsive websites without writing any code.
Webflow has an active community of users, but it can still be a complicated tool for new users. So they offer new users to connect with their network of experts who will help them overcome early-stage barriers. They also let users know it is okay to be confused in the beginning, thus reducing anxiety and the risk that users would think this product is not a good fit for them.
The Early Re-Engagement Email
User churn is one of the biggest challenges plaguing product marketers today. Studies suggest that 21% of users abandon an app after just a single-use. Having a re-engagement email as part of your user onboarding strategy can be effective in motivating new or lapsed users, and give them a gentle nudge needed to pick up where they left off and continue down the path to loyal adoption.
Below is a good example of an early re-engagement email by Todoist.
The email showcases just how much the tool has to offer in terms of integrations that streamline a user's workflow. It's a simple yet persuasive pitch to remind unengaged users about what they're missing out on if they don't use the tool.
Over to You
The goal of user onboarding is to help your users reach the "aha!" moment as soon as possible, so they discover the value they were seeking and stick to your product.
In fact, user onboarding is vital to internal company processes as well. For example, if you bring in an enterprise-grade software like ServiceNow to enhance employee productivity, you might as well leverage a ServiceNow training software to ensure every employee quickly and successfully adopts the new software.
User onboarding emails, especially the ones discussed above, are an excellent way to boost early user engagement and reduce churn. Make sure to identify the friction points that impede users from correctly adopting your product, so you can tackle these as part of your user onboarding emails. Finally, try to make the emails contextual and personalized so that they truly resonate with your users.

Author Bio:

Gaurav Belani is a senior SEO and content marketing analyst at Growfusely, a content marketing agency specializing in content and data-driven SEO. He has more than seven years of experience in digital marketing. He likes sharing his knowledge in a wide range of domains ranging from ecommerce, startups, marketing to human capital management and much more. His work is featured in several authoritative business publications. Connect with him on LinkedIn and Twitter at @belanigaurav.