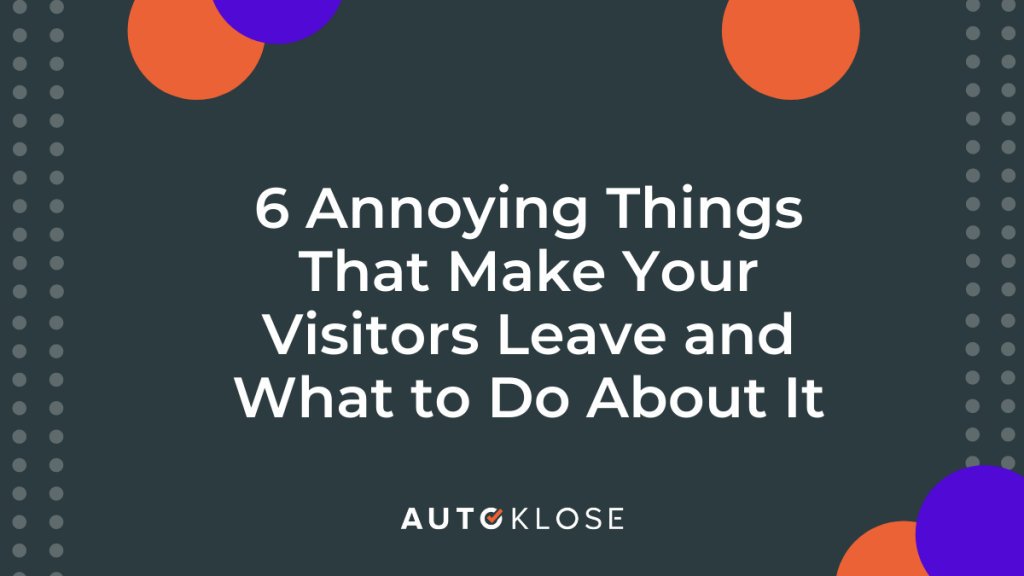 Okay, we spend a lot of time discussing different ways email marketing and email outreach can help you attract new prospects and sell more.
But, in order for this strategy to work properly, you need to fine-tune a couple of other things too.
Unbelievable as it may sound, but more than one-third of small businesses don't have a website!
Yup, this isn't a typo – 40% of SMB owners really don't think that having their own corner of the internet to present their company is a big deal. However, these days, it doesn't require any special knowledge or huge amounts of time to build a website.
So, it's great if you're not among them, but that doesn't mean that your job is finished.
Many websites leave much to be desired and if you notice that your churn rate is high, or that all the traffic you work so hard to attract doesn't convert into paying customers, it's clear that you're not doing something right.
In other words, it's equally important to prepare your website for a surge of visitors that will pour into it after a well-executed email outreach as it is for you to later track these visitors.
Let's go over a list of most common rookie mistakes that make visitors hate your website.
6 Annoying Things That Make Your Website Visitors Leave
1. It's Painfully Slow
OK, this one is pretty obvious and straightforward.
If your website takes ages to load, your impatient visitors who are pampered by the latest technologies won't give you the benefit of the doubt and wait for a couple of seconds to see whether your content is actually good and worth the time.
No, they expect your website to load in a flash.
According to some stats, a 100-millisecond delay can lead to a 7% drop in conversions. For example, ten years ago, Amazon concluded that this kind of latency could cost them 1% in sales, so be prepared that people are even more impatient these days.
This may sound too harsh, but generally speaking, the mobile version of your website should load in no more than 3 seconds if you want people to stick around.
There are different things to achieve this benchmark, but most of them have much to do with coding.
So, find a top-notch developer who will know the tricks of the trade such as minifying and combining CSS, HTML, and JavaScript files, minimizing HTTP requests, using asynchronous loading of CSS and JS files, and enabling compression among other things.
Also, don't pick the most affordable hosting option at the expense of your speed. Once you start getting more traffic, make sure to switch to either a VPS or a dedicated server in order to live up to your visitors' expectations.

2. It's Unattractive
Yes, website functionality is important, but if your layout, images, and other visual elements aren't attractive, 38% of visitors will stop engaging with your content.
Superficial as it may sound, that's something that you should bear in mind when designing your website.
If your website looks like it's a flashback from the Windows 95 era, you can bet that your audience will have some trust issues with it – many people believe that an ugly or outdated website isn't credible. Moreover, 94% of bad website feedback is design related.
So, apart from providing superb content, which is crucial for building loyalty, make sure that your website is eye candy if you want your visitors to stay for more than 15 seconds, that is the amount of time you have to capture their attention and explore it.
It's a good idea to update your theme, once in a while, check your fonts for readability, and use high-quality images.
3. Your Content Isn't User-Friendly
How many times have you read that providing value is crucial for the success of your content?
It can't be denied that useful and relevant blog posts, videos, and how-to guides, which help your audience solve some of their pain points and issues are a must. Websites that offer such valuable content are popular both with search engines as well as searchers.
However, there's a catch.
No matter how amazing your content is, your visitors won't read it if it's heavy on the eyes. Neither will Google bots be able to properly crawl and index it.
In other words, if you serve a compelling blog post, packed with useful tips, in a messy, unstructured manner, through chunky, unscannable paragraphs, you can be sure that your visitors won't bother to read it. And search engines will take notice, which will result in low rankings.
To avoid such a scenario, it's important to use proper formatting. In other words, you should include headings and subheadings to break your paragraphs into smaller, more digestible sections so that your readers can grasp them more easily. Besides, using H1 to H6 is good for your SEO efforts.
You can also use bold, italics, or underline to highlight the critical points or phrases in your content.
Finally, images can make your content less monotonous, and you can even use different charts, GIFs, memes, and other visual elements to jazz it up. Also, let's not forget how powerful infographics can be when it comes to making your content more appealing and shareable.

4. Videos on Your Website Autoplay
Video dominates the digital marketing landscape, and we recommend that you should include this format in your outreach as it can bring you tremendous results.
However, there's this mistake that many website owners still make.
Imagine how your visitors feel when they enter your website with their earbuds on, and all of a sudden, music from the embedded video starts blaring.
Saying that it's annoying would be an understatement.
So, spare your visitors from such an unpleasant experience and let them choose when they want to play a video on your web page.
5. Your Navigation Is Poorly Structured
User experience is one of the most important factors that both Google and your visitors highly value.
If people who come to your website looking for a specific piece of information can't find it without going back and forth endlessly, then you need to improve your navigation and make it more intuitive.
Here are some of the best practices when it comes to this element of your website:
Make your labels descriptive. This will help your visitors find what they're looking for. It's a good idea to list your products or services based on different categories as this will tell your audience what your company does up-front. Besides, descriptive labels are good for search engines. Generic labels such as Services or Products don't tell anything about your company, so it's better to avoid them. For example, if you're selling sports apparel, it's a good idea to have Shoes, Clothing, Accessories, and offer different ways of organizing these labels based on different sports or genders.
Avoid drop-down menus. Although they're popular, drop-down menus can be hard to crawl by Google robots and sometimes they can be hard to click precisely, which will definitely annoy your visitors. However, one particular type of drop-down menu can be effective – a mega menu. If you have a big site with a lot of diverse products, you can take advantage of it.
Don't be too creative when it comes to your navigation. Your visitors expect to find navigation in the usual places. So, stick to the header navigation bar, footer navigation bar, and sidebar. That way you won't confuse your visitors and leave them scratching their heads as to how to explore your website.
Don't use buttons. While it's true that navigation should stand out and be conspicuous, it shouldn't make clutter on your web pages. In other words, given that you already need to have a button for your CTA, don't use this format for your navigation.
Improve your internal linking structure. Include relevant internal links leading to other pages on your website in your content – up to three internal links per blog post, will help your visitors explore the topic in detail. Besides, this approach will help Google see that your content is organized so that it allows users to learn as much as possible about a particular topic.
6. It's Not Mobile Friendly
Now, this is a big problem.
According to Google, 46% of people say they wouldn't purchase from a brand again if they had an interruptive mobile experience.
The search engine behemoth also frowns upon websites that aren't optimized for mobile – in July 2018, it rolled out mobile-first indexing. In a nutshell, Google mainly uses the mobile version of a website for indexing and ranking.
Your visitors will be extremely frustrated if they have to zoom in and out of your website in order to read the content. Needless to say, this will significantly affect your conversion rates because making a purchase and entering a credit card number and the name isn't exactly the most comfortable experience on a non-responsive web page.
Fat-finger errors can cost you a lot, so make sure to optimize your website for mobile.
These 6 things can ruin your visitors' experience with your website and make them leave never to come back, not to mention that they will tell others about their disappointment too. If you want to prevent this worst-case scenario and keep your visitors, pay attention even to the smallest details and make sure that your website is user-friendly by improving these critical elements.