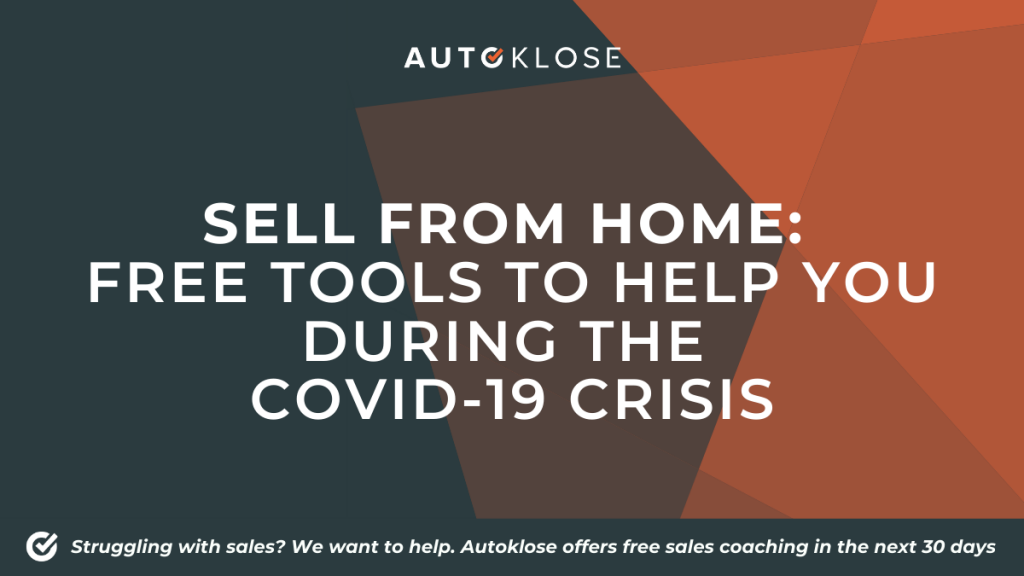 Sharing is caring.
That's why a number of software vendors decided to help businesses and their employees settle into this new work-from-home routine more easily and seamlessly.
Apart from the fact that this vicious virus has hit the global economy hard, it also affects our productivity. It's not easy to focus on your daily tasks when you're surrounded by panic and fear.
And as freelancers and contractors know, there's another underlying aspect of remote work that can take a toll on your productivity – it's hard to motivate and organize yourself, especially when you're only starting out with such a working arrangement.
In order to help you to find your feet in these new, unusual circumstances, we decided to put together a list of useful free and discounted tools and resources that can come in handy when you work from home.
Autoklose
Category: Sales engagement platform
Offer: Free 1:1 sales coaching with C-level experts every Wednesday and Thursday
People are at home. Sales reps and business owners now more than ever need to utilize direct dials and email as outreach channels. Autoklose is a sales automation platform suitable for streamlining sales outreach. Thanks to our DataUnlimited feature, it's possible to do prospecting from your home office. Since the outbound approach, which is extremely effective for situations like these when numerous events are canceled, needs to be planned and mapped out carefully, free sales coaching sessions can help you find your way out of the existing sales slump.

P.S. Our sales executives are ready to postpone your subscription and give you FREE access to Autoklose based on your use case, so book a demo call now.

Zoom
Category: Videoconferencing service
Offer: Free for up to 100 participants and under 40 minutes
The ultimate video conferencing tool offers a free plan that SMBs can benefit from, as long as there are no more than 100 people on a video call and if it's kept under 40 minutes. If you don't want your calls interrupted after this period, there's a $14.99 version.
The company, however, extended its free plan in China during the outbreak and allowed unlimited meeting times.
Vidyard
Category: Video messaging service
Offer: Free secure video messaging for internal communications through June 30
Staying in touch with your team while working remotely is essential. And video messaging is the next best thing to face-to-face communication. Vidyard knows this and wants to help businesses stay connected with their workforce during the COVID-19 pandemic.
Zoho
Category: Cloud-based productivity tools
Offer: Free access for up to 20,000 small business customers to their existing Zoho applications for up to 3 months
Zoho, a web-based online office suite, has responded to the ongoing crisis by making things easier for their customers, most of which are SMBs. The company has launched a program that will allow up to 20,000 small businesses to use their existing Zoho applications free of charge for 3 months. The companies need to apply for this kind of assistance, and the ones that are heavily affected will be prioritized.
Loom
Category: Video messaging service
Offer: Removed recording limit on the free plan, cut the price of the Pro version by 50%, extended a trial period through July 1, 2020
As being on the same page with your team and communicating with them is of paramount importance, it's good to mention several tools that can help you with this.
As of now, until July 1, 2020, new users of Loom will have a 30-day free trial period (instead of 14 days.) Loom Pro will be available for $5 instead of $10, while the recording limit on their free plan will be unlimited.
LogMeIn
Category: Videoconferencing, webinar, and device management service
Offer: Expanded agreements with the existing customers by including additional tools and services free of charge for up to 3 months
The company demonstrated its support to businesses by creating Emergency Remote Work Kits, which is basically free access to its additional tools and services such as GoToMeeting, GoToWebinar, and others. Besides that, companies switching to the remote working scheme will be offered assistance with deploying and training users.
PandaDoc
Category: Document automation software as a service
Offer: A Free eSign plan
A tool for streamlining sales and improving deal workflow, PandaDoc created a new Free eSign plan, featuring the following functionalities:
Unlimited document uploads
Unlimited eSignatures
Payment processing.
This solution for an unlimited number of users will be completely free of charge so that business owners can collect signatures and process payments remotely.
InvoiceBerry
Category: Online invoicing software
Offer: Sign up for InvoiceBerry's 30-day free trial now!
Online invoicing is a key tool helping business stay afloat, organized and paid during these unprecedented and trying times.
InvoiceBerry helps small business owners streamline their invoice and expense related processes while also saving time and money. Thanks to the recurring invoice function, business owners can automate their billing by scheduling invoices to be sent off at a specific date and frequency.
Say good-bye to manual invoicing and hello to one less thing to worry about.
Slack
Category: Team collaboration and communication platform
Offer: Free for smaller teams for an unlimited period of time
While Slack focuses mainly on offering discounts to non-profits and those working on coronavirus research, small businesses can use its regular free plan, which provides access to 10,000 of their team's latest messages, 10 integrations with other apps, and 1:1 video calls between team members. 
Calendly
Category: Online appointment scheduling software
Offer: Free virtual meeting integrations through June
Calendly is a tool that allows businesses to facilitate booking meetings.
As the entire business world went remote, the company started offering Zoom and GoToMeeting integrations for free through June.
Bill.com
Category: Cloud-based billing service
Offer: Free 90-day subscription for SMBs affected by COVID-19
Maintaining cash flow is essential for every business, especially when a crisis strike. Bill.com is software that helps SMBs automate processing bills, generating invoices, as well as sending/receiving payments.
This offer is available from March 28, 2020, will streamline these tasks and make it easier for entrepreneurs to keep their businesses afloat during the pandemic.
Workable
Category: Recruiting and hiring platform
Offer: Free access to the Video Interviews add-on for customers on an annual plan
Recruiting and hiring new employees remotely can be quite a challenge for HR professionals. That's why the Video Interviews add-on offered for free by Workable can be a safe and effective way for companies to find and identify top talent, thus reducing the effects of coronavirus on their business results, quality of service, and profit. The company offers this deal to its annual plan customers.
Google
Category: Workplace collaboration and video conferencing software
Offer: Free premium version of the tool until July 2020
In an attempt to mitigate the effects of this health and economic crisis, the tech giant decided to make the premium version of its workplace collaboration video chat free for businesses operating remotely.
This means that it will be possible to have up to 250 participants on a call, while live streaming will be available for up to 100,000 viewers per domain. Plus, meetings can be recorded and saved to Google Drive.
These are some of the most useful tools that will make the work-from-home transition as smooth as possible and help businesses stay in touch with their teams, customers, and potential employees. 
Billdu
Category: Online invoicing app
Offer: Register for a 30-day free trial with Billdu!
In these challenging times, online invoicing serves as a key tool to help businesses and freelancers maintain stability, organization and timely payments. Consider using an invoicing app for great results.
Billdu is an invoicing app that empowers businesses with a robust suite of features for creating, sending, and managing invoices. Designed with user-friendliness in mind, the app simplifies the invoicing process and improves cash flow with swift payments.
Its extensive customization options and intuitive interface make it an indispensable tool for small businesses seeking efficiency and professionalism in their financial transactions.
___
Additional reading resources to help you sell from home, make it through this economic slowdown, and prevent coronavirus take its toll on your business:
7 Ways to Work and Sell From Home During the COVID-19 Outbreak from Autoklose
How to Keep Your B2B Sales Strong During the Coronavirus Crisis from Autoklose
Coronavirus: The Black Swan of 2020 from Sequoia Capital
The Virus Survival Strategy For Your Startup from Steve Blank
Making Sense of the Economic Impact of the Coronavirus from Harvard Business Review