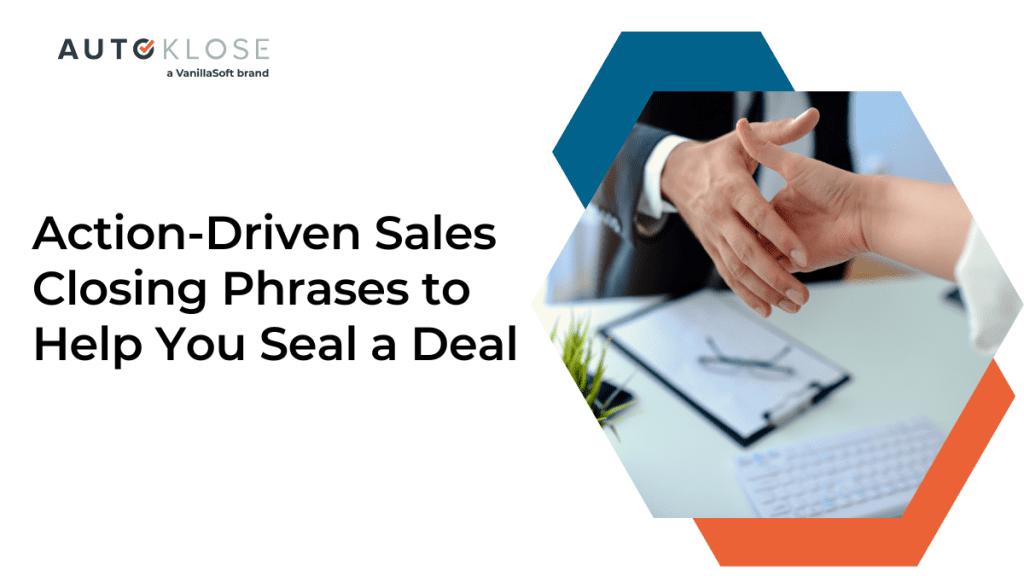 Closing a sale is rarely a simple and straightforward process that you can make reliable predictions about right off the bat.
You can be several emails or phone calls into the sale before even getting a decent understanding of how your prospect feels about your pitch.
That's why effective sales closing phrases are not only intended to ensure that you'll make the sale but are also often employed to start drawing a protracted sales process to an end.
Despite the fact that there is something to be learned from long talks with indecisive prospects and that you should by no means rush them into making a decision, you could waste staggering amounts of time if you allow them to completely dictate the tempo of your conversation.
The following approaches and associated sales closing lines are therefore meant to:
Help you close the sale
Expedite the process
Allow you to learn more about the more reserved prospects
Here are some of the most effective and powerful oneliners for closing the sale, as well as the reasoning behind them.
Top 5 Most Effective Sales Closing Statements
Every customer is different, which means that you can't rely on a one-size-fits-all approach to convincing them to say yes to your offering.
The following 5 sales closing phrases can be adapted and used in every sales context. These closing lines show you're determined to go out of your way to solve your prospects' pressing issues and pain points.
"If you get this solution at this price, is there a reason that would prevent you from doing business with us?"
This clever question leverages a reverse closing tactic. By responding "No," your prospect implicitly says yes to your offer.
This way, you can get them to formally put their signature on your proposal and seal the deal.
Even if a prospect responds with a "yes," you have an opportunity to address their objections and perhaps overcome them. 
"I'm really excited at the prospect of working with you."
Although seeming somewhat generic and polite, this particular sales closing phrase is great for reassuring your prospect that you expect a smooth and pleasant business relationship.
It works great for service deals, and it implies that your potential client can expect that you'll work and solve problems together.
Finally, it shows that you're very enthusiastic about this business relationship, which will, in turn, make them look forward to working with you too.
"Since our product fits your needs, it will, undoubtedly, solve this pressing problem smoothly."
Not only will this closing remark exude your confidence about the effectiveness of your product or service, but it will also allow you to convince your prospects that you understand their needs and pain points.
Also, by mentioning their existing negative circumstances, you'll encourage them to make up their mind sooner.
"How about giving our solution a try?"
If you see that your prospect is a bit afraid of making a definitive commitment, relieve the pressure by suggesting them to give your product a chance.
This approach will play down the risk and show that you believe your product or service is exactly what they need. Make sure to highlight the features you think will benefit your prospect the most and help them use the solution properly.
"I really wouldn't like to see your company experiencing [a negative consequence] because you didn't use the right solution. Do you want to prevent this scenario today?"
Playing the fear card is justified if you see that the existing situation will take its toll on your prospect's business.
Mention external factors that the potential customer can't control, such as new legislation about to come into effect or an economic crisis looming on the horizon.

Tips to Help You Craft Sales Closing Phrases (+ More Examples)
Maybe the logic behind the examples above isn't too obvious, so it's useful to learn how to create sales closing statements yourself. 
Here are some ideas about how to properly structure your sales closing lines and hit the mark when wrapping up your pitch.
1. Increase the Urgency
Unless the solution you are selling is extremely cheap and relatively unimportant, you can be sure that your prospects will have quite a few reservations before they sign up.
After all, they are spending their company's money, they have to go to other decision-makers, and they need to be sure that there isn't a better solution out there.
If your pitch up to that point did an adequate job of explaining why your solution is the exact one your prospects need and if they had plenty of time and information to weigh the costs and benefits, the only thing left for you to do is to help them get over that hesitation and actually commit and make a purchasing decision.
One of the best ways to do so is by either creating or simply highlighting the already existing sense of urgency. Of course, this doesn't mean deceiving the prospect but simply helping them see the situation from your point of view. This is best illustrated with lines like:
"If you need our solution to be implemented and fully operational by 2023 we'd need to start working on finalizing the contract by the end of next week."
Statements of this kind help them realize that their decision is not the final step in the process, but just an intermediary one and that they don't have the luxury of making it in a timeless vacuum.
In other words, it is not only your time they are wasting by indecisiveness but their own and their company's as well.
On the other hand, if they do seem to have all the time in the world on their hands, and you feel like they've got it by draining it from timid sales reps, you might want to make it worth their while to make the process faster. One of the easiest (if not always the cheapest) ways to do so is by offering an add-on or a discount for a limited time. For instance:
"If you sign up in the next 7 days, you get the first month for free."
"Signing up now would afford you a 15% discount for as long as you are using our product."
"If you make the purchase during the next 5 days, you will also get access to our advanced features, normally only available with higher-tier packages"
Of course, the opposite approach is also possible:
"While you are not required to sign today, the product will, unfortunately, only be available at this price until 2023"
2. Make Your Prospects Feel in Control While Learning About Them
When you consider the fact that salespeople can sometimes seem disingenuous or even manipulative in their attempts to make the sale, no wonder prospects sometimes feel like they are being dragged along for the ride, without ever getting behind the wheel.
While you taking the lead usually is the most time-efficient approach, you need to know when to step back and relinquish some of the control.
If your prospect seems overwhelmed, they might give you an irrevocable 'no' just to get you off their back. At that point, expediency is not your main concern; keeping the conversation alive is. That's when you need to resort to questions like:
"Where would you like us to go with this?"
"What would you like to do next?"
"How do you think we should proceed?"
"What's the next logical step?"
While ending a correspondence with something like this means that you still have some work ahead of you, it also:
Means you didn't lose the sale, which was practically imminent
Means that you get to find out what the prospect is really having an issue with
3. Address Specific Issues and Summarize the Benefits
With the prospect back on your side, and armed with detailed information on what's holding them back, you get to actually finalize the sale.
You may have learned they were hesitant for a number of reasons, having to do with anything from pricing and deadlines to specific product features.
Your sales closing lines in these instances need to acknowledge that final pain point, offer a solution for it, and more or less subtly inform the prospect that the process should be nearing its end.
Depending on the circumstances, you might need to end with something like:
"If you signed on today, we would be able to add the feature you have requested by 2023."
"We have created the custom payment package to suit your needs and budget, and have prepared a contract we would like you to go over."
"With [issue] fixed, we hope there is nothing stopping us from moving forward."
"From what you've outlined, it seems that our solution could save your company X money by 2023 if you signed today."
4. Give Your Prospects the Right Options
One of the first things you learn in sales is not to give your prospects too many opportunities to give you a hard 'no'. 
Sometimes, this means avoiding clear-cut yes-no questions and replacing them with multiple-choice ones, where each of the offered options is far preferable than the prospect simply walking away from the sale.
If you adopt that kind of attitude when selling, you might notice an increase in your overall productivity, as you are no longer approaching sales from a "Will this happen or not" perspective, but instead with a much more proactive viewpoint of "What needs to be done before this happens."
Sometimes this is as simple as expanding your question, and reframing a definitive:
"Would you like to sign today?"
into a much more open-ended:
"Would you like to sign today, or would you like us to discuss anything else before you do?"
However, like I said, using this strategy just to avoid a 'no' means wasting some of its potential. You can also employ it to identify, and sometimes even to power through some of the issues the prospect is concerned about.
"What do we need to do to convince you to sign: lower the monthly costs, or allow you to add more users at the current price?"
"Would you sign if we added the feature we were talking about, or is there something else that you don't like?"
"Do you think that one of our other solutions might serve your needs better, or would you just like us to make some tweaks to the product we are already discussing?"
The Bottom Line
While these specific sales closing phrases can be of use to you, understanding why they work will do you more good in the long run.
You should try to make a habit out of:
implying or emphasizing the urgency
relinquishing control when you need to
succinctly making your case
learning how to formulate questions based on the answers you want to get
By observing the effectiveness of closing lines based on these principles, you'll easily find which strategies work best with certain prospects, and learn how to bag the sale as quickly as possible so you can move on to the next one.