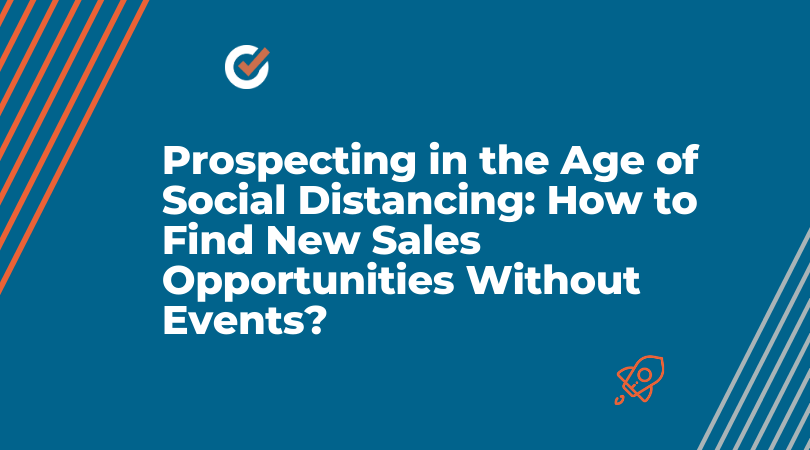 Remote is the new reality, and we'd better get used to it.
All conferences, trade shows, meetups, and other industry events have been canceled indefinitely, and we still don't know when life will return to normal.
And we know that networking, mingling, meeting new people, in-person meetings, and face-to-face communication are at the core of sales. Salespeople count on all these events to connect with their prospects, build relationships with them, and fill their sales funnels.
But, on the bright side, 2020 is the year in which social distancing, telecommuting, and even prospecting remotely can be achieved thanks to advanced technology.
Imagine if this had happened back in 1995!
Now that we have the means and tools, we should find a way to make the most of it.
It's worth mentioning, however, that these new circumstances require us to adjust our approach to selling, and this blog post will discuss that too.
Understand That This Is a Seismic Shift
While many salespeople are aware that these are challenging times and that our world has been turned upside down, it can be hard to grasp all the implications of this new reality.
In other words, we need to change our ways and adjust our sales approach, because our prospects' needs and pain points have changed too.
So, all this requires adopting a new mindset, strategy, and tactics in order to stay afloat in these uncharted waters.
Here's what this means specifically.
Accept That Things Will Get Slower and Take Longer to Wrap Up
Yup, this refers to your sales cycle too.
Your prospects are distracted and confused. They still don't know what will happen to their business, let alone whether they will need your product or service.
That's why it's crucial to realize that your outreach and messaging efforts will drop to the bottom of their list of priorities. Long story short, don't expect them to reply as promptly or to make a purchasing decision as quickly as you want them to.
But, this doesn't mean that you should give up. Doing nothing is a surefire way to failure.
Patience Is Key
Being persistent is essential, but that doesn't mean that you should be impatient and come off as desperate.
Adopting a long-term sales mindset means helping, nurturing, and being there for your prospects. A transactional approach is too pushy now, so steer clear of it.
Your prospects will appreciate your being patient with them and allowing them to take their time.
Be Compassionate and Empathetic
Drop your hard pitch (this should be the first rule to follow even in a regular situation).
Don't forget that your prospects are in distress. They and their family members, friends, and coworkers might be sick or worse.
That's why you need to humanize your messaging and show your own concerns and vulnerabilities. It's absolutely OK, and even desirable, to ask your prospects how they're holding up and offer your help (for free and without a hidden agenda.)
This compassion and empathy during a crisis might not result in closing a deal immediately, but you can be sure that those whom you have reached out to check on how they and their families are will remember your acts of kindness.
Great salespeople heavily rely on empathy and consider it one of their most important traits.
Opt for Bite-Size Offers
In situations when a potential crisis looms on the horizon, your prospects will be reluctant to commit themselves to a lengthy, expensive deal that comes with a number of premium features and nice-to-have optional services.
So, instead of going to all or nothing, it's better to rethink your offers and check out what resonates with your audience and your needs.
There are two general options:
Cut the scope
Cut your prices.
Although both make sense, you should bear in mind that by cutting your rates, you'll make a somewhat dangerous precedent as your customers will expect the deal they struck during the crisis to last throughout their entire business relationship with you.
That's why cutting the scope, that is what you deliver, seems like a much better solution. Create bite-size offers that will come with a lower price tag and exclude some premium features. It will be much easier to return to full-on offers and prices once the situation normalizes.
Re-Engage Your Past Prospects
Creating a re-engagement email campaign and reaching out to your past prospects can bring you additional leads.
Get in touch with prospects that said no some time ago and those who disappeared on you. It's not that you should count on these people and companies to change their mind, but it won't cost you much to give it a try – especially if you automate your email outreach campaigns.
With Autoklose, all your contacts are organized into different categories using various status labels, meaning that you can list all the prospects who declined your offer as well as those who stopped responding to your emails – in a second.
Then, you can add all of them to your new re-engagement campaign and use one of our email templates as inspiration for a compelling email message. The rest is easy – schedule your campaign and monitor its performance.
Come up with a special offer for them, and who knows; they might not be happy with their current service provider, meaning that you can capitalize on that.

Don't Neglect Your Existing Customers
Existing customers are more likely to spend money than completely new prospects.
So, it's crucial to touch base with your existing accounts, ask them whether they have some issues that you can assist them with.
But don't think about upselling at this moment.
By giving them a hand without asking for anything in return, you'll enhance their loyalty, and as a result, they will be more likely to stay with you after their subscription or contract expires. Retaining your existing customers means that you don't have to worry about replacing them immediately.
Cold Outreach Is More Important Than Ever
I know that some people won't agree with this statement, but the truth is that personalized and tailored cold outreach can bring a slew of new prospects to your funnel.
And since there are no events in the physical world, digital is your best chance to land some new opportunities.
It's important to use all the available channels – do prospecting on LinkedIn, Facebook, Quora, through ads, and referrals.
But, if you want to prospect on a larger scale, automated email outreach is the best way to get in touch with a lot of people quickly.
You can either use your email list, or you can tap into a huge pool of clean and verified B2B leads that we offer via our DataUnlimited feature. You can use different parameters and find potential leads from different industries, locations, and organization sizes – you name it.
And as cold outreach can be awkward, we have found a way to additionally personalize and humanize it by adding the Personal Video feature so that you can create an almost in-person experience.
Prospecting and selling without events and face-to-face communication can be difficult, but it's not impossible. Just revisit your already existing remote approach and adjust it to your prospects' needs and situation. Remember to always be kind and understanding and show it.