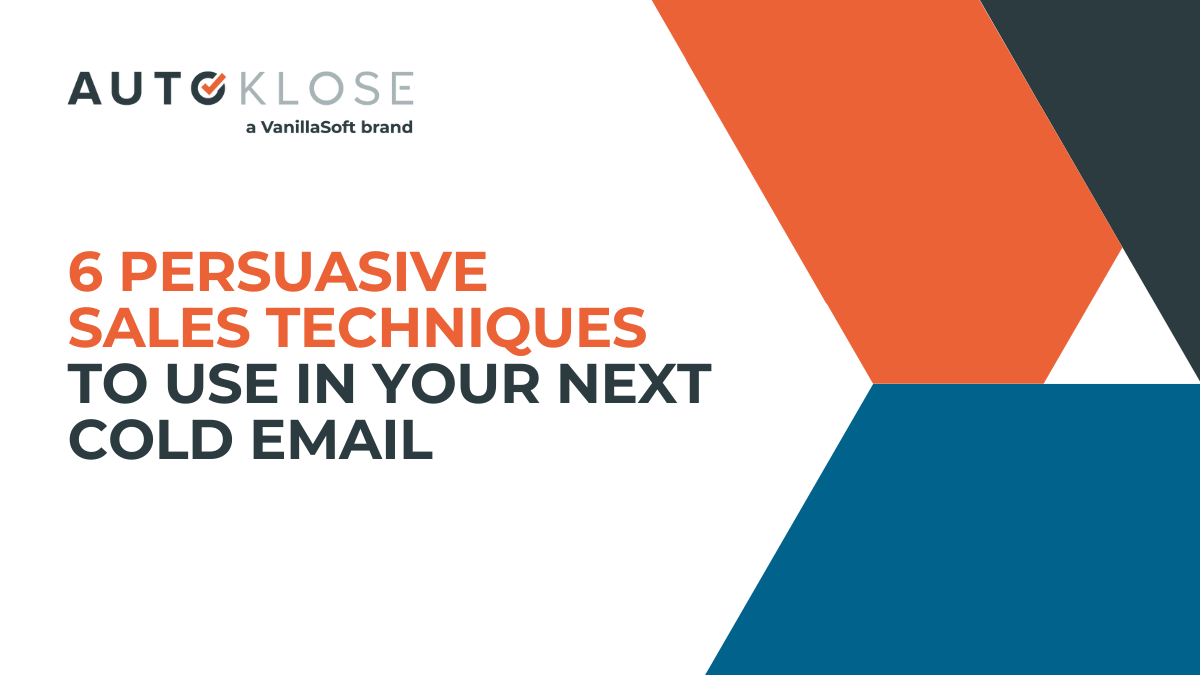 Email can be a powerful strategy when it comes to selling someone on something.
On the other hand, it's pretty challenging as you have only a couple of seconds to convince your prospects to continue reading and take your offer into consideration.
In order not to miss this short window of opportunity, you need to use the right tactics to bring your audience closer to your perspective and get them on board.
Here are the most important persuasive sales techniques to bear in mind when composing your next sales email so that it adds value to your recipients and increases their likelihood of making a purchase.
1. Speak Their Language
One of the biggest mistakes you can make is resorting to a one-size-fits-all, universal pitch.
Your audience is diverse, and the fact that they're interested in your product or service might be their only common ground. That's why you need to adjust your narrative to match their idea of the world.
Don't overlook any demographic characteristic of your target audience when composing your message, meaning that if your prospects are traditional businesspeople, you'll address them in a rather formal fashion.
But, if those who you want to reach out are the generations that grew up "on the internet," then you'll have to let your hair down a bit, and think about using slang, abbreviations, emojis, gifs, pop culture references, and memes.
Similarly, if you want to reach out to a certain professional group, it's OK to use jargon that they understand, as that way your message will resonate with them.
How to recognize a tire-kicker?
This could be quite a catchy subject line if your email is directed at salespeople who need to identify a prospect that's only wasting their time. By using slang that they understand, you'll show that you know what you're talking about and that you have a solution for them.
2. Be Honest and Genuine
In an attempt to attract customers, brands often resort to bold and bombastic claims.
This pushy marketing lingo can hurt your open and response rates, because saying that something is "exclusive," "best" or "never seen before" does sound corny and unbelievable. Instead of relying on a strategy that might be more fitting for someone promoting a magic potion, it is far more effective to be honest and sincerely communicate to your prospects what they will receive if they choose to take advantage of your offer.
It's no secret that salespeople tend to exaggerate a reality a bit in order to make their offer more appealing. This doesn't necessarily mean that they lie – they can simply try to convince a prospect that won't particularly benefit from their product or service to make a purchase although it doesn't exactly meet their requirements.
Instead of all this, a better persuasive sales technique is to be straightforward and don't use tall tales. .
Similarly, there's no need to write in a verbose manner in order to impress your recipients – you'll only alienate them. So, steer clear of big words and long-winded sentences.
Simply cut to the chase and be honest with what you want to achieve:
Hey Peter,
How about boosting the productivity of your sales team by saving 5 hours per week per sales rep?
That's exactly what you could achieve with our sales engagement automation platform – Autoklose.
Let's hop on a quick call and I'll show you how this works and provide you with relevant industry case studies.
In other words, you should be able to corroborate every offer or claim you make.
3. Use Social Proof
Social proof is your essential persuasive sales technique when getting your prospects to make their purchasing decision.
When you think about it, it's pretty logical: if our peers or companies from the same industry managed to solve a certain issue or succeed with the help of a particular tool or service, following the same pattern would mean that we'll have similar results.
So, don't be shy!
Let your customers do the speaking.
It's a good idea to share positive reviews from reputable websites in your emails.
Besides reviews, you can also take advantage of customer testimonials..
Another thing that you can share is badges proving that you've won a certain award. Since we've already discussed that having too many links or images in your email isn't a good idea as such an email will be perceived as promotional, you can put this kind of proof in your signature.
4. Explain the "Why" Part
The point of your email can easily be lost on your recipients if you don't specifically explain WHY they should make a purchase or register for your offer.
Whenever you're crafting your email copy as yourself what you want to achieve with it and WHY your prospects should be interested to read it.
Using the word "because" is a great approach as it will get you in the right direction and actually communicate your message to your audience. Psychology says that this word is magic as it can get people to do what you ask them to.
A simple study conducted back in the 1970s by Dr. Ellen Langer at Harvard University proves this. Researchers asked the subjects to use different requests in order to cut in and use the Xerox machine before somebody else.
The results of this experiment showed that people were more likely to let them break in line if they offered a reason. The difference between a meaningless reason such as "I need to make 5 copies" and a valid reason such as "I'm in a hurry" produced similar results – 93% vs 94%.
So, make sure to use something along the lines of:
Hi Peter,
I'm reaching out today because I browsed through your website and came up with a couple of ideas on how you could significantly optimize it for conversions.
Would you care to discuss them?

5. Leverage the BYAF Technique
Who doesn't like to be in control of making their own decisions?
Similarly, your prospects might feel a bit under pressure to purchase from you, and that's not a good thing.
They will start questioning your motives and their benefits from accepting your offer, and that can go on and get them under the impression that you're telling them what to do.
However, there's a simple technique that eliminates this kind of pressure and puts your prospects in charge – the "But You Are Free" technique
By handing over the reins to your potential clients, you're accomplishing the highest level of persuasiveness.
And the process is very simple: make a request and add "but you are free to decide as you like" or "but you don't have to feel obliged" or "but it's up to you to decide." Any phrase that allows them to choose whether or not they will accept your offer will be effective.
In a nutshell, tell them that there's no pressure and that they can do as they please after offering them something irresistible that would be a shame not to accept.
6. Get Your Foot in the Door with a Small Ask
Getting your foot in the door with a small ask is a strategic approach that can significantly increase the chances of success in your sales emails.
The principle is simple: once a prospect agrees to a small request, they are more likely to be receptive to future, larger requests. This technique builds a positive rapport and opens the door for deeper engagement.
The "foot in the door" technique leverages the psychological phenomenon that people are more inclined to comply with requests after they've agreed to a small one. It establishes a connection and makes your prospects more amenable to considering your main offer.
Craft a question or request that your prospects are highly likely to say "yes" to. This small ask serves as the initial point of contact, creating a pathway for more substantial interactions.
Don't forget to consider the specific needs and pain points of your target audience when formulating your question.
Don't forget to consider the specific needs and pain points of your target audience when formulating your question.
Over to You
These persuasive sales techniques can take your cold emails to the next level and get your recipients to seriously consider your offer.
From tailoring your language to various audiences and maintaining honesty in your claims to leveraging social proof and empowering prospects through techniques like "But You Are Free," each strategy plays a crucial role in crafting compelling and effective cold emails.
As you embark on your next campaign, remember that persuasion is an art refined through thoughtful strategy and genuine connection. Apply these tactics with finesse, and watch as your recipients not only read but seriously consider and act upon your compelling offers.