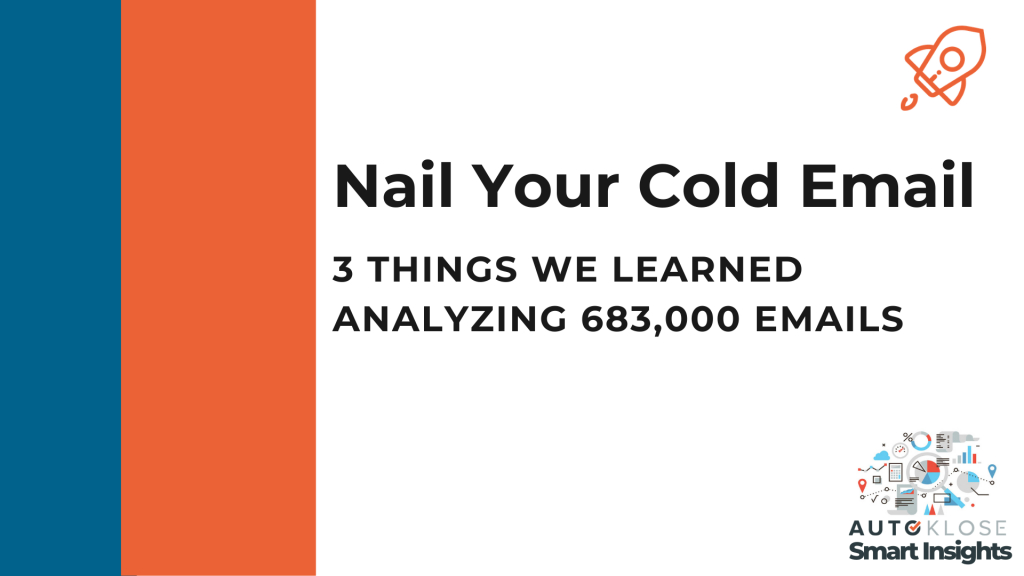 I've started experimenting with cold email prospecting and have always thought I was a creative writer. It turns out, creativity alone is not enough to have prospecting success.
Whether you're prospecting big enterprises or small boutique businesses, cold email is difficult.
And if sales reps around the world, tenured or starting their career, are struggling with this then it's surely time to get our lab jackets on and dig into some data. It's the only way we're going to learn to fail faster and win quicker with cold email prospecting.
So, we analyzed over 683,000 cold emails sent using Autoklose.
And after looking through just a few million lines of Excel and running a ton of formulas, we've found some surprising stats that have altered how we ourselves send cold emails.
Here's what we found, and what it means for you…
Cold Email Subject Line Length
How many words do most emails you send or receive have in the subject line? From our data, it's probably more than we should be using.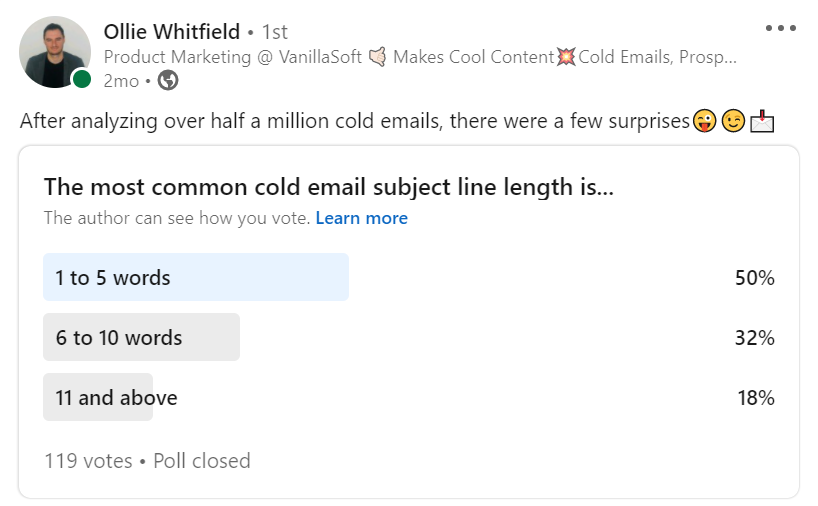 The most common cold email subject line length in our data is 4 words, with 14.7% of the total.
Surprisingly, 12% of the cold email subject lines we analyzed had between 11 and 20 words.
But thankfully, only 0.2% of cold emails we reviewed had a subject line with 21 words or more.
The most common cold email subject line lengths:
4 words, 14.7% of total emails reviewed
6 words, 14.5% of total emails reviewed
3 words, 14.1% of total emails reviewed
5 words, 13.4% of total emails reviewed
2 words, 7.9% of total emails reviewed
Expert Tip to Apply This Data to Your Cold Emails
"Email subject lines are important and it's hard to keep them short. It feels like you're fighting your instinct to convince your prospect of the value you can provide them when you are trying to write shorter subject lines. The data tells us that shorter subject lines are working well. I try and use 3 or 4 words in most subject lines. If I'm writing a cold email campaign to a prospect I try to find something on their LinkedIn profile or website that stands out and to reference it in the subject line. For example, "Your Autoklose case study". It' doesn't give away what I have to say about the case study. But it might make them curious about what point or question I have related to it would be." – Igor Stankovic
READ: 37 Networking Email Subject Lines for Nearly Every Occasion

Optimal Days of the Week for Cold Email Engagement
Across every industry, there are theories and ideas that certain days of the week return better results for cold emails and cold calls. We put that to the test.
Across B2B, we analyzed which days of the week return the best email open rate, click rate, and reply rate to find the days with the highest overall engagement from cold emails.
**Note – data from Saturdays and Sundays was surprisingly positive. Although the results we found show cold emails sent on the weekend perform around 50% as effectively as during the week, we're experimenting with weekend emails ourselves too.
Cold Email Open Rate:
Monday, 18.83% average open rate
Friday, 17.25% average open rate
Tuesday, 17.08% open rate
Cold Email Click Rate:
Wednesday, 17.56% average click rate
Tuesday, 17.15% average click rate
Monday, 17.02% average click rate
Cold Email Reply Rate:
Monday, 19.30% average reply rate
Thursday, 18.65% average reply rate
Tuesday, 17.54% average reply rate
Expert Tip to Apply This Data to Your Cold Emails
"What I've taken from this data and talked to my team about is how important calendar blocking is. We know that different buyers and markets work differently, so you have to adapt your process and the times, days you engage with prospects. But beyond that, we're making sure that we engage with prospects at the right time by pre-booking our calendars to get that work done ahead of time so we don't miss the optimal time slots where we should be engaging with prospects. We're not missing out on pipeline next week because we booked 3 demos at the exact time we need to be writing our emails before we send them. We're moving our daily and weekly team calls to make sure we don't stop our reps from getting their message in front of prospects at the times we know they're more likely to engage." – Shawn Finder
READ: The Importance of Timing for Sending Your Emails
Optimal Times of Day for Cold Email Engagement
This is another point of discussion we have seen a lot. Many people believe sending cold emails in the morning is more likely to generate a reply from a decision-maker, who may be looking at their phone as they prepare for their day of work.
Our data says otherwise, which I will admit was a surprise.
Cold Email Open Rate:
2 PM, 11.90% average open rate
3 PM, 11.56% average open rate
4 PM, 10.05% average open rate
Cold Email Click Rate:
2 PM, 12.10% average click rate
3 PM, 11.75% average click rate
4 PM, 9.8% average click rate
Cold Email Reply Rate:
2 PM, 15.23% average reply rate
3 PM, 13.53% average reply rate
4 PM, 11.36% average reply rate
Expert Tip to Apply This Data to Your Cold Emails
"It is always important to keep in mind there is no magic formula nor one size fits it all, but the best thing you can do is evaluate how you operate and do your best to put yourself in your audience's shoes. At 2pm most people are coming back from lunch, and getting ready for the "last wave" of the day; we are catching up with our emails and ensuring we haven't missed anything from our busy morning." – Catherine Robles


What Did We Learn?
Cold email prospecting is hard enough when you're doing everything right. We're applying these data points to our prospecting and it's helping us do more than just getting better engagement from our efforts.
In actual fact, proactively working toward sending emails at these certain times and on specific days of the week is allowing us to calendar block our time and be more intentional on how we operate as an SDR team.
And for our cold email outreach specifically, less is more.
Not just for our subject lines, but also for the email body length. We'll share more data on the best performing email body length in another Autoklose Smart Insights Series post soon.
We're starting to treat cold email prospecting like sending a text message. As long as the language and tone are appropriate for the prospect, who often hasn't heard from us before, we're seeing better engagement.
What do you think? Share this on your social profiles and tag us so we can hear what your experiences are with cold email.