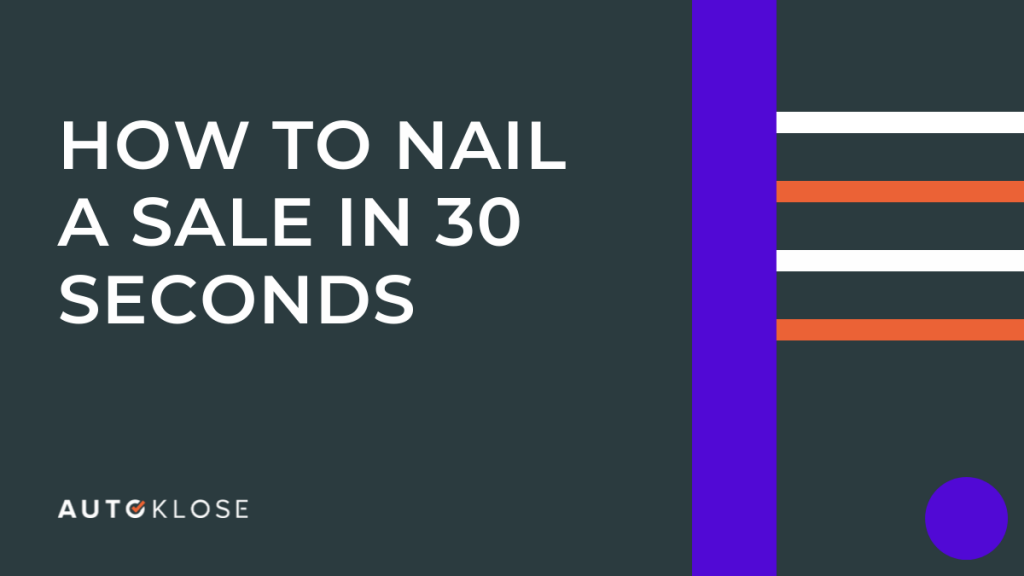 Do I have your attention now?
OK, to nail a sale in 30 seconds sounds a bit far fetched, but I promise that I'm going to help you close more deals faster (that's basically our mission here at Autoklose.)
You already know that closing a deal might take a couple of weeks or even months, depending on its size, particularly in the B2B industry.
Your prospects need time to think everything through, weigh their options, and see whether your product is the right fit for them, which is why you can't give them your offer and expect them to accept it immediately.
However, by making the right moves, you can significantly speed things up and get your prospect to say yes sooner.
Given that we believe that both cold calling and cold emailing still work if properly carried out, I'll give you a couple of tips which I've drawn from my own experience and discuss how to put both these tactics to good use for expediting your sales cycle to nail a sale quickly.
The Power of Small Wins Can Help Nail a Sale
Before you achieve that big win and actually nail a sale, you should focus on a number of small wins along the way.
In other words, these small goals that you achieve are paving the way to the final, big one.
So, don't shrug off small things such as when a lead responds to your email, when they ask you more about your product, or when you manage to schedule a call with them, as something that's simply a part of your job.
No, these small wins are important stages which will help you reach your main goal. Just like you don't start preparing for a marathon by running the entire 42-kilometer route during your first training, you should also have a detailed plan of your sales activities and go step by step if you want to succeed.
This step-by-step approach will allow you to take your every activity seriously and work hard towards reaching these small goals.
In other words, when you're creating your cold outreach campaign, you should invest your time and energy into making it relevant to your recipients. This means that prior to that, you'll do your research and learn as much as possible about every individual prospect you're emailing and incorporate the information you obtained into your email subject lines and copy.
Such a meticulous and thorough approach will result in a much better open and click rates.
And that's great!
I'm trying to say is you should be aware of the power of these minor milestones as the progress you make every day will help you reach your big sales goal and nail a sale.
But, there's something else that these small wins can do for you – boost your motivation and increase your engagement at work, both of which will result in closing your sales better and faster.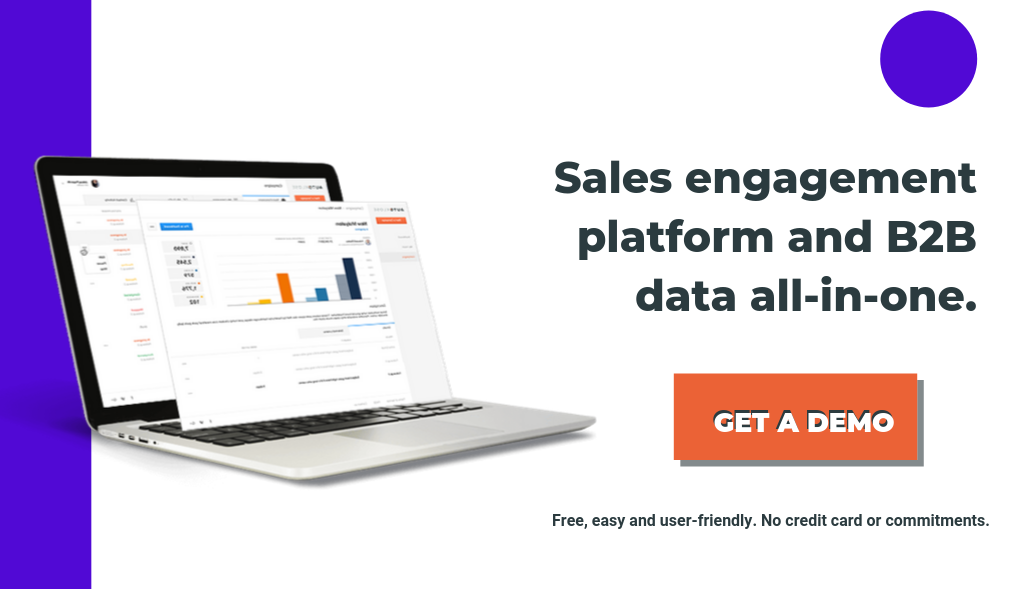 Know Your Prospects
I mentioned this one in the previous paragraph, and I'd like to discuss it because I think that it's one of the most important factors in landing a new customer.
Your potential customers expect you to know everything about them and their business in order to be able to offer them the best solution for their pain points.
So, make an effort and learn as much as possible about their industry, challenges, and trends. And if you really want to impress them, research THEIR competitors and give them a couple of ideas on how to beat them.
This will both show them how professional and dedicated you are, and what they can expect if they start doing business with you, and give you more information on how to actually present your product and its benefits so that your potential customers understand how it will help them step up their game.
Finally, this will allow you to personalize your approach and make an excellent first impression. And if we bear in mind that back in 2014, 55% of people spend fewer than 15 seconds on a web page. These numbers are even more dramatic when it comes to email marketing, and you can bet that if your subject line isn't compelling, your prospects won't even bother to open your email, while even if they do, they'll usually check out your opening line, and simply skim the rest of the copy to find what's in it for them.
So, we're talking about seconds here, and you should make every one of them count if you want to get your recipients to give you a chance.
That's why this research phase is so important, as it's only logical that if you craft a great offer directed at a particular small segment of your audience, you'll get their attention and ultimately nail a sale.
Capitalize on Your Audience's Issues
Yeah, I know that this sounds harsh and heartless, but you give it some serious thought, you'll see that it's actually a win-win situation – you're trying hard to identify your prospects' pressing issues and pain points and offer them a solution.
So, they get their solution and you get your deal, and everybody's happy.
As Benjamin M. Friedman said "Prospecting – find the man with the problem," so there's nothing bad in leveraging the power of negative thinking as that's a surefire way to win your sale.
So, don't hesitate to mention your prospects' challenges, conflicts, and other negative factors in your sales pitch. You need to make them feel uncomfortable for their own good!
This will create tension in their minds and your product or service will come as a relief which will wholeheartedly embrace.
Paint them a picture and show the things as they are now and how they could be should they decide to purchase your product or service.
So, we usually mention all the hours our potential customers waste trying to find the right prospects for their business, or how much money they lose on failed campaigns as the result of their dirty and outdated contact lists. Then we present them with our product which then seems like a lifebelt that will help their business stay afloat – Autoklose really helps businesses reduce the time their sales reps spend performing low-value, repetitive tasks and allows them to focus on selling.
Storytelling Rules
Oddly enough, sales isn't all about selling anymore.
Now you need to tell people stories that will be relatable and that will resonate with them if you want to nail a sale.
Long gone are the days when you could just prepare your sales pitch, deliver it, and get your prospect to accept your offer.
Instead of that, you need to create a narrative and keep your prospects engaged throughout the sales process.
Here are a couple of tips on how to do that.
Use emotions as they play an important role in influencing purchasing decisions. You need to jazz up your narrative with your personal feelings and beliefs, in order to connect with your prospects and establish a deep, meaningful relationship with them.
Include your prospects in your stories, as this will help them put your product or service in the context of their business and visualize all the benefits they can get.
The before-after method, which I already mentioned, will make your prospect the subject of your story, and they'll be able to see things from a different perspective and understand how you can help them.
Metaphors are powerful tools. As you know, B2B products and services are usually complex and their immediate benefits can't be easily explained. By using metaphors to present your prospects' problems and the solutions you offer in a day-to-day context, you'll get their attention and it will be much easier for them to follow you.
KISS
No matter what it is – a sales pitch, presentation, or an email, you need to keep it short and sweet or everything you say will be lost on your prospects. So, either KISS or a kiss of death.
Aggressive salespeople who never stop talking and pushing their agenda gave our profession a bad name, and people don't want to listen to their endless sales pitches anymore.
So, if you really want to captivate your prospects' attention and engage them, you need to stop talking and start actually listening.
In my recent B2B Sales Handbook, I discussed the way we at Autoklose do demos. Instead of flooding our prospects with numerous details and information, we just scratch the surface, mention the most important benefits of our product, and then leave the rest to our prospects – we encourage them to ask more questions.
If your product is a more complex one, it's much better to split your demo into a couple of sessions than bombard your prospects with everything they have to know. That way, they will have more time to ask questions and learn how the product can help them.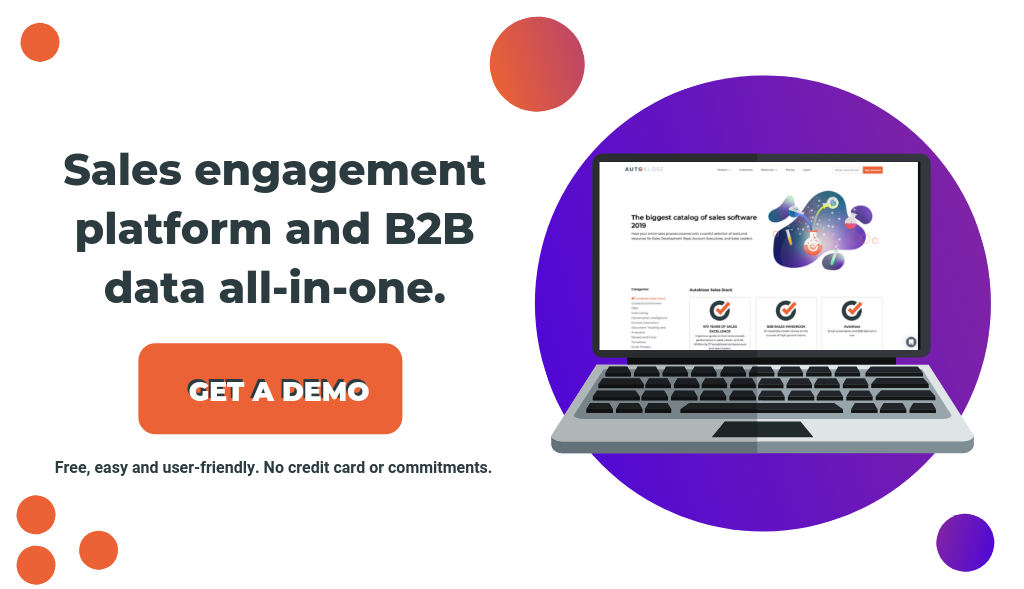 Turn Objections Into Sales 
We've all had our share of sales objections, and I can tell you that there's no need to give in and feel defeated.
Instead of that, try to perceive these objections as opportunities to convince your prospects that your product is exactly what they need.
So, your reaction shouldn't be "Oh, crap, I'm doomed" but "Great! Now I know more about this prospect and what they expect, and it will be easier for me to make my offer more appealing."
Check out our blog post about 12 most common sales objections and learn how to overcome them.
The most powerful weapon against many objections is social proof, so make sure to have a customer testimonial or a success story up your sleeve, and show your prospect how someone who's in a similar situation or industry benefited from your product or service.
Another trick that you can pull out of the hat is empathy. Build rapport with your prospects and tell them that you understand their position and that you're willing to help them see why your product is a good fit for their company. By putting yourself in their shoes you show them that your main goal isn't to sell them but to help them find the best solution that will help their business grow.
To find out more about how to deal with other challenges and become a great salesperson, check out the advice given by our LinkedIn community.
And that's an important distinction. The truth is that you don't need a customer who's not the right fit for your business either because that never ends well. So, make sure that you're on the same page, and approach this objection, not as an ultimate rejection, but as an invitation to see whether that particular prospect is a good match.