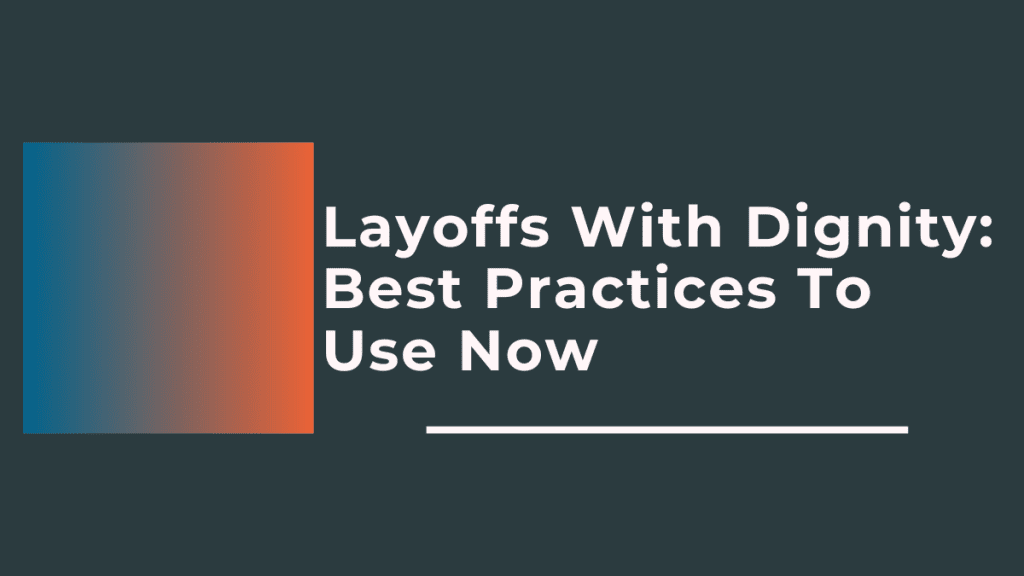 Layoffs are never fun, but there's no reason they have to be a disaster. Ollie Whitfield and Shawn Finder share their advice on how to make them as smooth as possible — and even find hidden opportunities in the process.
Encouraging people and treating them with dignity can pay huge dividends down the road. A layoff done right actually strengthens personal relationships and increases the likelihood of working with your most talented professionals again in the future.
Economic volatility is scary. But when the cycle comes back around, you'll want your A-team with you — so don't be too quick to let your best people go. That said, shake-ups are actually a great time for both businesses and workers to be very selective about who they want to work with.
We've all seen it happen: A video of a CEO laying off hundreds of employees in a careless way — via Zoom call with everyone on mute, for instance — goes viral. The hapless executive instantly becomes an internet pariah, subject to merciless scorn on social media.
That's clearly the worst-case layoff scenario and should be avoided at all costs. If only the layoffs themselves were just as avoidable.
The economy is volatile. Yet through every bump in the road, higher-ups will apply pressure to stay profitable — which often means trimming staff, unfortunately.
Whether it's your first time facing the unenviable task of letting a team member go or you've done it multiple times, laying off employees is never particularly fun for anyone involved. But there's a big difference between making the best of a bad situation and becoming tomorrow's "bad boss" internet meme.
Layoffs can be a thorny subject, but tough topics never stopped co-hosts Ollie Whitfield and Shawn Finder before. They spent an episode of the 0 to 5 Million podcast discussing the thing that nobody ever really wants to talk about. They can't make layoffs fun, but they just might help you avoid a disaster. 
Remember that employees are people
Companies that face the challenge of making cuts are in a race to either increase revenue or decrease expenses. Cutting staff often becomes the most expedient solution. 
Some executives try to shrink each department proportionally across the board. Others look to get rid of low performers. Still others take the opposite approach and try to take veterans and other costly employees off the payroll.
Whatever the strategy, Shawn says it's important to realize that every layoff is a unique situation. People have families — your employees are also suffering under the pressures of inflation, and they may even have other unemployment situations at home.
"At the end of the day, everyone is an individual — everyone has their own story. You don't know what's going on [at home]," Shawn points out. "So if you are going to let someone go, let them leave with dignity."
That means you shouldn't lay someone off via email, instant message, or group video call. Be professional: Call them, explain what happened, and thank them for their work. If the layoff is due to the economy — rather than their performance — make that clear, and offer to give them a referral or serve as a reference for their next job.
If Shawn has learned one thing from hiring and firing people, it's this: "You want to build a personal relationship with anyone who works for your company. You don't want to only have a business relationship — because everyone is a person."
Today's layoff may be tomorrow's boss
When a boss has to let go of talented team members with good careers ahead of them, one way of easing the tension can be to go public with the situation and explain the layoffs.
Ollie particularly noticed this during the pandemic. He frequently saw company leaders coming clean in LinkedIn posts, admitting the truth of what happened and vouching for the employees who were given the pink slip.
That might seem like a lot of work, especially for leaders in crisis, but Ollie sees it as a form of karma. "Fast forward into the future. That person might outrank you and do you a favor. They might end up being a customer at some point, or a partner," he says.
Treating someone badly now could have a real impact on your future career. On the flip side, if you lay off staff the best way you can — with decency, transparency, and encouragement — Ollie believes that "it will pay massive dividends for you down the line."
When you see a bright future ahead for someone, don't let a layoff ruin the opportunity to be part of it. The economy may be volatile, but strong professional relationships can survive even the roughest seas.
Don't lose your A-team
A shaky economy can strike fear into the heart of any CEO. It's easy to get scared, but Shawn recommends keeping a cool head.
Although not an economist by trade, Shawn does take a positive lesson from the last few years: The economy eventually comes back. "With 2008, we came back. We had the pandemic, it came back. And now it's inflation, interest rates … it's going to come back." When? Well, he admits, nobody knows. But he's sure it will.
That's why he believes if your company can stay afloat and keep its best people onboard, once the economy does cycle back, "you know your business will be right back to normal."
Good talent can be hard to find, and Shawn thinks companies shouldn't be so quick to get rid of their A-teams. Short-term profits may shrink as a result, but the long-term investment is worth it. Think of it this way: Wouldn't you rather have your top talent working for you than for the competition?
The silver lining? It's a great time to hire
Any economic downturn will bring a spike in layoffs. However, Shawn points out, "if you're looking to hire and to expand, now's a great time to start."
Widespread layoffs mean that there is plenty of good talent out there up for grabs. In fact, Shawn believes that "the most successful companies are the ones that are actually looking to hire people in a volatile economy."
Job-seekers should also see shake-ups in the hiring market as a great opportunity: This is a propitious moment for people to be very selective about where they want to work.
"I always recommend working for a company that you share the same values with," Shawn says. "You will also enjoy your job because the best kind of job is the one where you wake up every morning and you're excited to be there."
So layoffs — while never fun — aren't all doom and gloom. They offer hidden opportunities to build and strengthen both personal and professional relationships. Along the way, companies and employees alike can make the most of the shake-up.
And that certainly seems a better outcome than going viral for a layoff that lacks humanity, no?