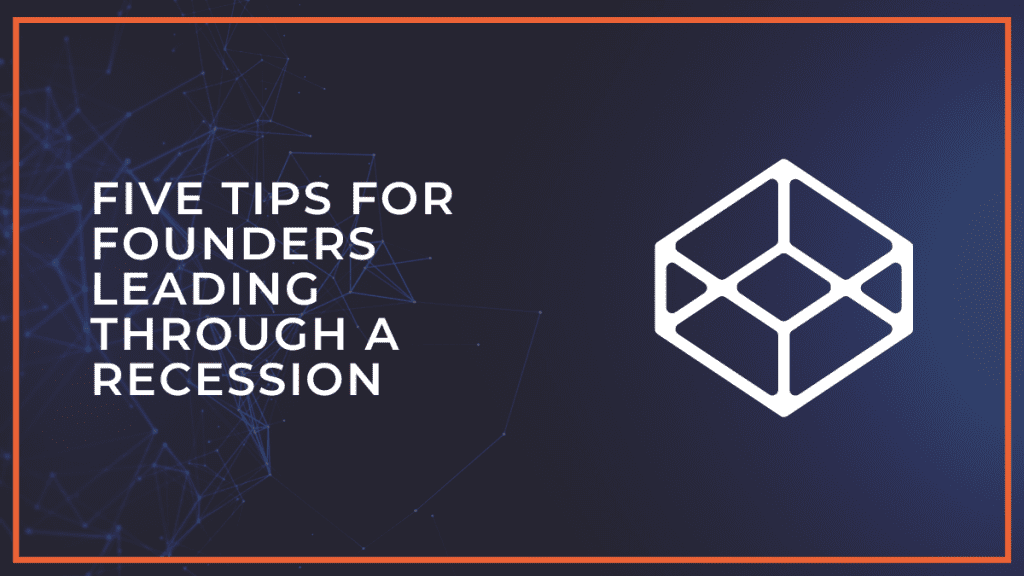 From inflation to layoffs, companies around the world are feeling the economic heat. And for founders, rumors of a recession make these especially challenging times. The key to leading well is staying level-headed and knowing this isn't forever.
Founders should start by communicating with their companies and setting expectations at all levels of the organization — whether those expectations are good, bad, or indifferent.
Best practices for limiting loss during a recession include limiting risk and unnecessary costs, raising prices, and drilling down to determine your ideal customer.
It seems everyone's least favorite buzzwords are also some of the hottest topics lately: inflation, layoffs, and, of course, recession. These trending topics bring with them a hefty dose of question marks and concerns for people at all levels of an organization.
As is often the case during an economic downturn, it can be tempting to expect the worst. If you're at the helm of a company and this is your first time going through a recession, you might not be sure how to proceed.
What should be your top priorities as a leader? How much should you communicate to your team, and when? Where should you cut costs?
To help answer these questions and more, Shawn and I discussed best practices for founders during a recession on an episode of the 0 to 5 Million podcast. Read on for five guiding principles to help you progress, even during a recession.
1. Don't panic
The first thing to remember, Shawn points out, is that recessions eventually end. "If you have a recession, things slow down for a bit. We will get out of it," he says.
Yes, prices and inflation are higher. The cost of doing business has increased. But founders everywhere should resist the urge to panic. Think about best practices for investing in the stock market. When stock prices plummet, you shouldn't necessarily sell everything.
Economic downturns come and go. They're "a roller coaster," Shawn explains. "It's up and down. Peaks and troughs." But it's important for founders to remember that the recession will pass. Rather than panicking, now is the time to make strategic decisions and plan appropriately.
For the time being, you may need to focus on simply staying afloat. And that's okay! Your margins and profits may be smaller in the short term as everyone navigates these tough economic times.
But if you stay the course and remember that the recession isn't forever, your company will be on a trajectory to thrive and grow again when the recession is over.
2. Be an upfront, transparent leader
At the start of COVID-19, nobody knew how to navigate a global pandemic. Workers knew the situation was unprecedented and felt a lot of uncertainty about how the pandemic would affect their organizations.
Shawn recalls gathering his courage and reaching out to a company leader at the time. He explained that most people in the organization wanted to hear from senior leadership about their plans to deal with the crisis.
For founders now, this may mean delivering a message of reassurance, reiterating company priorities, or setting expectations about the possibilities of hiring freezes or even layoffs.
For companies in good financial standing, Shawn's advice to founders is to host a town hall to reassure them and answer questions. "The one thing your employees want to know is [that] they have security," he says. "You don't want people to be scared, thinking they're going to lose their job because we're going into recession."
On the other hand, if your company is in an unsteady position, be upfront about how much runway it has. You might even choose to share what the timeline could look like if layoffs are possible. "Be very open and honest. The last thing you want is for people to think they're secure and find out that they're not really secure [due to sudden layoffs]," Shawn explains.
Whatever the status of your company, difficult seasons like a recession call for founders to offer clear top-down communication. This can disarm the situation and make everyone aware of what to expect, rather than keep them in the dark.

3. Take stock internally
During a recession, founders should examine the decisions they made in times of growth.
Did you go on a hiring spree when your company and the stock market were doing great?
Reexamine the positions you hired in times of excess and consider if they are essential when you need to be leaner. Especially for VC-backed companies, it can be tempting to hire en masse. But a recession calls for founders to be more risk-averse and avoid taking unnecessary chances with their spending.
Another important place to look for cost savings is your tech stack. Ask yourself what tools you're paying for that you use infrequently — or worse, not at all. Look at your cash flow and make sure you haven't forgotten about any monthly or yearly charges for subscriptions that aren't serving your business.
After scrapping unnecessary costs, the next step is consolidating solutions. Are you paying for two or three software tools where one could do the job with minimal operational impact? Think strategically to uncover these potential savings within your business.
Another area Shawn recommends exploring? Branding. He notes that, for example, marketing spend for some conferences can result in a surprisingly low ROI. If you spend thousands of dollars as an event sponsor, it should lead to a hefty return on your investment rather than just act as a brand play, especially when you need to save where you can.
"You might want to lay off spending as much money on the branding while we're in tough times," Shawn says. "Focus more on, how am I going to get more clients and more revenue?"
4. Consider raising your prices
At first glance, this advice may seem counterintuitive. But when you take a good look around, inflation is driving up the price of virtually everything.
People are seeing higher prices everywhere around them, from fast food to software solutions. Your gut reaction may be to keep prices low to keep customers around. But the economic conditions of a recession make it the right time to charge more for your solution.
If you've been around for some time without raising your subscription prices, consider a 20 to 30% price increase. These kinds of changes are happening all around us, and it's one of the ways to stay on course to profitability during and after the recession.
5. Get clear on your ideal audience
Tough economic times are a great opportunity to think long and hard about your ideal customer.
The heat of a recession can lead founders to ask key questions that they might not ask otherwise. For example, I recommend asking, "What companies do we work best for and how do we actually get them?"
Unfortunately, a recession may lead to losing customers who view your solution as a "nice-to-have" in their tech stack. And it's easy to see that loss of revenue as just that: a loss.
But when times are hard, you simply don't have the resources to spend on unideal customers. When you get laser-focused on the customers who can't live without your product, you'll be more likely to find more people like them.
A keen focus on your ideal customer also lets you move from being a product to offering a partnership. You'll provide better service and a more human approach when you value every single customer in the tough times brought about by a recession.
Of course, a recession brings challenges and difficulties for any organization, from slowed growth to dreaded downsizing. But founders who view a recession as a chance to reevaluate priorities and lead through trials earn the respect of their teams and their customers.