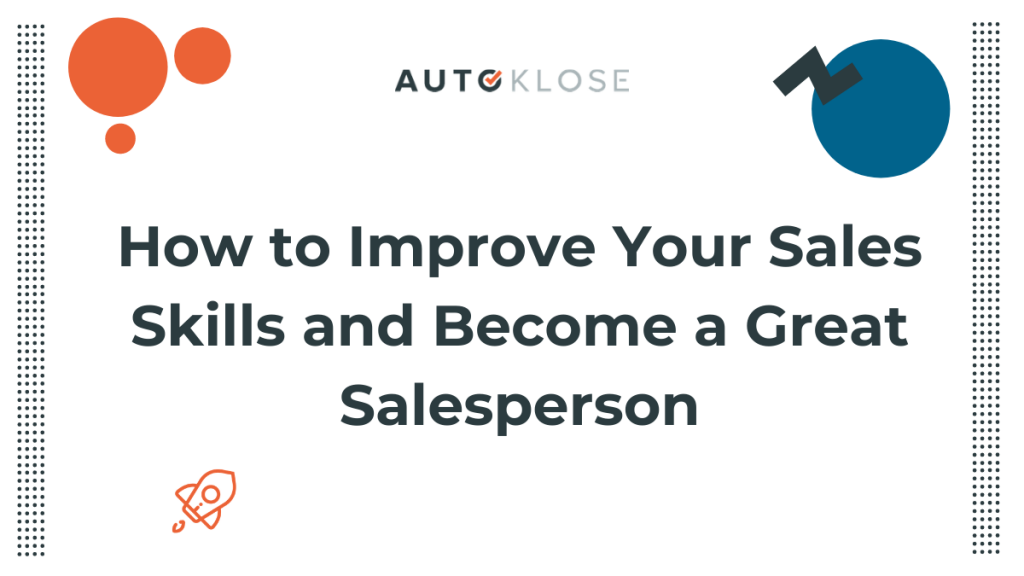 Even if you're not a salesperson, there will be times in your life when knowing how to sell something or sell someone on something – a business idea, your car, house, or even yourself when you're trying to land a job.
Come to think of it, even when you're on your first date, some sales chops will come in handy if you want to leave a great first impression.
No matter what your profession is, becoming a great salesperson should be your No. 1 goal.
So, like it or not, but being sales-savvy will help you a great deal in your life and career.
That's why this blog post is written having long-suffering sales reps who earn their bucks in a highly competitive sales arena in mind, but the general public can also benefit from the tips I'm about to share.
Believe in What You Sell

Although this doesn't sound like a skill, it's essential for being trustworthy and credible in your sales approach. In other words, if you don't believe that what you're selling is worth purchasing, why should your prospects?
The truth is that selling isn't difficult when you really like and actually use the product or service you're advocating. Think of the time when you had a really awesome, juicy burger and wanted to convince your friends to try it. It's also an act of selling, although you didn't earn any commission.
So, if you really want to persuade your prospects to purchase from you, it's essential to understand why the product or service you're offering is great for them and how it will improve their life.
As sales heavily relies on psychology, it can't be denied that you won't be able to deliver a genuine pitch capable of convincing your prospects that what you're selling is the real deal. Even if you practice in front of the mirror or with a colleague – potential customers will see through you.
But, the truth is that we can't always sell our favorite products. At a certain point, every salesperson is a tasked with selling a decent but far from superior product or service, and that's when things start going south.
Here are a couple of tips to help you in this situation:
Take a look at what you're selling from another perspective and angle. Even if it's not the best product on the market feature-wise, maybe you could take a stab at something else that sets it apart from the competitors. For example, great customer support is something that can be an excellent selling point.
Think about what your prospect needs, not what you think about the product or service. Does it solve their problems? If it does, then insist on that aspect, and illustrate that vividly in your pitch. Don't even try to go the "awesome features and benefits" way. Even if you believe that there are much better products out there, the point is that certain aspects of the product you sell will be perfectly suited for your customers and they might find it awesome.
Be honest. If you think that the product you're selling lacks some features, do admit it and say that you're working on improving it. This might seem as a counterproductive thing to say, but the truth is that this way you'll gain your prospects' trust. They will know that you're not lying to them and don't forget that trust is one of the most important factors when it comes to doing business with someone.
Put Yourself in Your Prospects' Shoes

Empathy is one of the most important traits of a great salesperson.
The ability to see things from your prospects' point of view and understand what they need is something that will tremendously help you when you're selling something.
Collaboration is another crucial, game-changing factor in sales.
A great salesperson isn't the one who sells most – it's the one who matches the right prospect with the right product or service. In other words, it's not the point to sell regardless of whether the customer is the right fit for your company, but to collaborate with a prospect in finding the best solution for their pain point.
That way you're not only making a one-time profit but ensuring more sales down the road – your happy customer will come back to buy from you again and will also act as your brand ambassador by recommending you to their friends, family, and business connections.
The first step towards becoming an empathetic, collaborative salesperson is reflecting upon your positive experiences as a customer. Try to remember your past purchases and interactions with salespeople that you would label as delightful – you'll probably notice that the best salespeople you've met were the ones that went out of their way to help you solve your problem.
And this means that they were actively listening to what you were saying without interrupting you or trying to push their agenda. Now, these are some serious selling skills that you should acquire – active listening and asking relevant, informed questions.
This is something that will humanize your selling approach to a great extent.
Have a Strategic and Well-Thought-Out Approach to Prospecting

Strategic prospecting is a combination of prospecting and lead qualification.
In a nutshell, instead of adding as many prospects as possible to your sales funnel and then qualify them based on how suitable they are for your product or service, you can be more picky and strategic during the very prospecting stage and add only those who have the potential to actually become your paying, loyal customers.
This way you'll have less work to do in the later stages of the funnel.
According to some estimates, almost half of your prospects aren't a good fit for your product. That's a lot, and just think about how much time you waste trying to nurture them.
OK, but how do you get more strategic about prospecting?
First of all, you need to develop your processes and polish them over time. You need to create your ideal customer profile and buyer personas.
Then, reaching out to the right people in the right places is essential, as well as automating and streamlining your communication with them.
That's what Autoklose can help you with. Our platform allows you to add your existing contacts or use our DataUnlimited feature paired with powerful filters to pick your prospects based on different parameters such as their industry, position, seniority level, location, and many more.

What does this mean?
With all these functionalities you can create tailored outreach campaigns for strategic prospecting, and get in touch with the right prospects, who could benefit from your offer, and send them highly customized and personalized email messages.
Let's say that you want to pitch your product to C-level managers in the automotive industry from California and send them a personalized outreach campaign consisting of the initial email and a number of automated follow-ups.
You simply log into your Autoklose account, start a campaign, and enter all the parameters and add relevant, verified contacts from our database packed with millions B2B leads. After this, you can either decide to come up with your own email templates or use some of ours. Then, you can schedule when you want every email message to be launched and that's it. The platform will do all this instead of you, and you won't have to worry whether you failed to reply to a prospect or sent the same message twice.
You can also monitor and tweak your campaigns easily, and see which one performs well and which one requires some additional polishing.
This way you will always have a number of interested prospects in your funnel.
As you can see, having the right tools in your arsenal is among the essential professional selling skills.