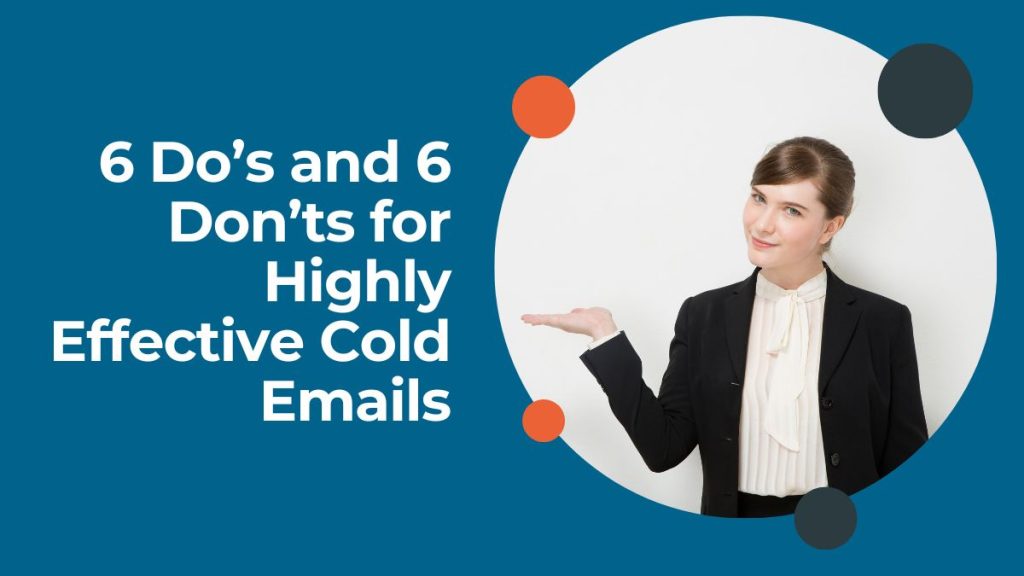 Cold emails: We all get them, and we all ignore them. But what's a salesperson to do when it comes time to send them? Ollie Whitfield and Shawn Finder have some strong opinions on the matter, and they're here to tell you what drives them crazy and what they love to see.
In a cold email, you have three to five seconds to get the reader's attention — so make them count. Don't waste time and space on introductions, information they already know, or small talk. And definitely steer clear of breakup emails.
Tell your reader what you can do for them immediately and always seek to engage or call them to action. Entice readers by sending them a message you yourself would want to read.
Be honest: How many emails that hit your inbox each day do you open? And how many of the ones you open do you actually read all the way through?
Now, let's flip the script: When you're sending messages, have you ever thought about what makes a great cold email and what sends people straight to the delete button? Ollie Whitfield and Shawn Finder have. In an episode of the 0 to 5 Million podcast, these co-hosts share their opinions on six "cold email killers" that every salesperson should avoid. And you might be surprised by just how common they are.
But don't worry: Even if you see a few of your own email crutches among the list of "don'ts," Ollie and Shawn also have a list of six winning strategies they've found to be successful in their own cold outreach. You won't want to miss those either.
So without further ado, let's get to the lists.
How to write a cold email that gets deleted
Both Ollie and Shawn subscribe to the idea that a cold email has three to five seconds to hook the reader's attention. This means that the first few sentences of your message couldn't be more crucial. 
Here's what not to do with that all-too-precious email real estate:
1. Don't introduce yourself
Emails that start with the sender's name, company, and job title are one of Shawn's pet peeves. "Right away, I know it's a cold email," he explains, adding that he can already see the person's name and company in the email address. So repeating these details is essentially wasting space. In the first sentence, the reader wants you to address their challenges or pain points — not reintroduce yourself.
2. Don't tell them their own job title
Mentioning the reader's job title and company is another no-no, according to Ollie. His immediate response to this opener? "Obviously, I know what my own job is, thank you." Not only does it cut into those valuable seconds of attention span, but the information is often wrong. Ollie frequently gets emails referring to previous positions he's had, which tells him straight away: "Don't bother reading further into this because the accuracy is questionable at best."
3. Don't say that you've been following their stuff for a while
Another trick commonly used to try to add a personal touch to cold emails is saying you've been "following the person's stuff." Ollie isn't a fan of this tactic because it sounds lazy and ambiguous. Shawn agrees, pointing out that it's something anyone could say.
4. Don't resort to small talk or apologies
Shawn has had it with the small talk at the beginning of emails, such as platitudes about staying safe and healthy. "By the time you've written Hope you're staying healthy, they're already on the next email," he says. Meanwhile, Ollie has no patience for what he sees as disingenuous apologies for the mere fact of sending a cold email. "Don't say, I'm really sorry, but I'm going to pitch you anyway, because you're not actually sorry," he advises.
5. Don't ask whether they saw your previous email
According to Shawn, they've always seen your previous email — they just haven't read it. You don't want to spend the first three to five seconds reminding them of the past when you could be finding a way to get them to read this email. If not, Shawn says, "I guarantee you're not going to get them on a call with you, and then I guarantee you're not going to be able to close the business."
6. Don't send a breakup email
When you haven't heard from a customer, don't send an email confirming that this is the last time they'll be hearing from you, and certainly don't use a cheesy breakup metaphor. Ollie has no time for this: "If I didn't reply to five emails, I have no skin in the game. I really don't care if we're breaking up."

How to write a killer email that gets read
After all those strategies to steer away from, you might be wondering what you actually can write in your next cold email that won't turn the likes of Shawn and Ollie all the way off.
Luckily, they've got some opinions on what you should do in your cold emails, too. Here is their take:
1. Do your homework, and show it
Rather than vaguely mentioning that you follow someone, make specific reference to content that you particularly liked. This is flattering, and it shows you know your stuff. For example, if they have a podcast, don't just name-drop it — say the latest episode you've listened to, or share which guests you liked and why. Specificity speaks volumes here.
2. Do ask for feedback
Instead of asking whether they saw your last email — which we already know is a nonstarter — a better strategy, Ollie says, is asking whether they have any feedback on your previous message. This is a call to action rather than a negative statement, and in Ollie's experience, people like to give feedback.
3. Do use the final email to gather information
We know Ollie despises a breakup email — who doesn't? — but he does recommend using later emails in the campaign to gather a bit more information. Phrases like maybe this isn't the right time can add a layer of empathy and the possibility of insight into the lack of response. "That's more useful than Hey, I'm not talking to you again because they don't care about that at all," he says.
4. Do get to the point immediately
Shawn's colorful way of saying this is: "I always like to hit with the uppercut in the first three seconds." Boxing metaphors aside, he recommends telling them exactly what you can do for them right off the bat, noting that this has worked extremely well with his SDR team. An example? "If I could triple the number of demos you have on your calendar and save eight hours a week, would you give me 15 minutes?"
5. Do write very, very smoothly
Ollie agrees with Shawn's direct approach but warns that, by rushing to get straight to the sell, too many emails tend to read jarringly. You want to entice people, not hit them over the head. He recommends trying to "wrap" the sentences together so they read "very, very smoothly." He remembers learning this technique in English class and still finds it useful today.
6. Do send emails that you would read
Shawn thinks the best thing you can do is read your own cold emails. "If you can say to yourself, If I was sent that exact same email, I would reply, then it might be a good email," he explains. On the other hand, if you read your own email and feel that it sounds sales-y or spammy? Shawn says that you have your answer: "Guess what? If you don't think they're going to read it, they're not going to."
And with that, you have everything you need to write a killer message that gets opens, reads, and responses. The gauntlet has been thrown, and you have your marching orders. Let the cold emailing commence!