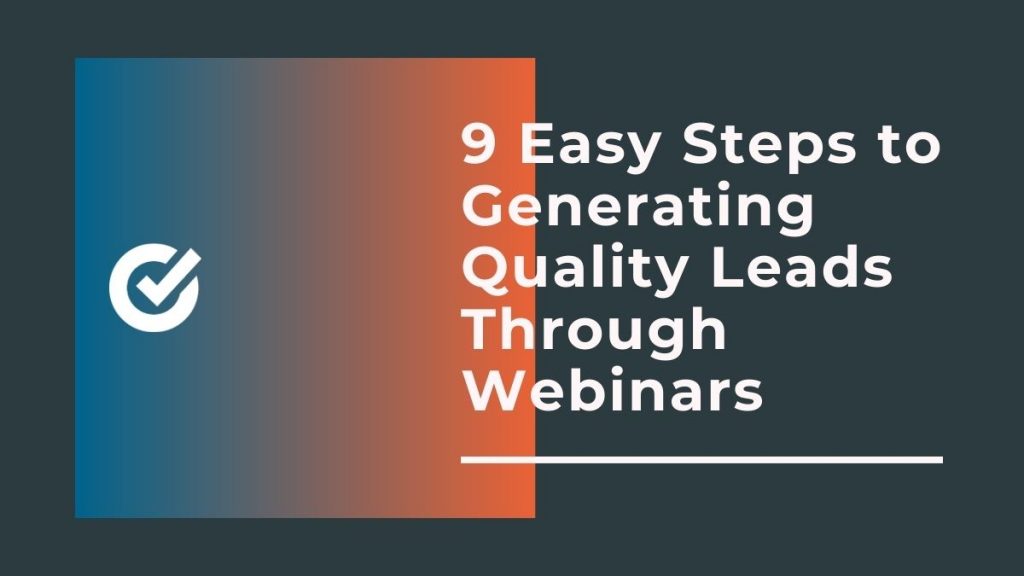 With the COVID-19 pandemic still raging and events curtailed or cancelled, many business owners and marketers are pivoting to online marketing to stay competitive in the new reality.
Webinars (a portmanteau of "web" and "seminar") are one of the most effective methods of online promotion. According to Wyzowl, 83% of marketers find them to be a useful strategy. On24 reported that it had seen a 330% increase in webinars being hosted in March 2020, as well as the number of attendees doubling year-over-year.
But how do you run an amazing webinar that generates high quality leads for your business? Read on for my quick tips that will help you see the results you want.
Step 1: Understand your target audience
You can only effectively market to an audience that you understand inside and out. Therefore, before you do anything else you should return to your customer persona. Don't have a customer persona yet? Stop and create one right now! Here's an example:

Source: Jeff Bulas
It's essential that you understand your ideal customer's demographics, professional situation, interests, and problems. Only then can you choose an appropriate topic for a high-converting webinar.
Step 2: Choose a topic that provides value
A webinar is much more than just a sales pitch. If you want people to register, attend, and stay right until the end, your webinar needs to provide value for your target audience. If you promise them valuable information and they turn up and feel as though you're trying to hard-sell to them, your attendees will get annoyed and leave.
So how do you choose the right topic?
Start by returning to the customer persona we created at the start. Consider what issues or problems your ideal client might be facing. Then think about how you can help them solve those problems. Your product or paid services might be one solution, but the webinar should provide value without the viewer needing to make a purchase.
Here's an example: as a writer, my ideal customers are business owners who are looking to grow their success through better copy. Therefore, a webinar on quick ways to improve your copy to make more sales would likely address a relevant need for those people.
The best rule of thumb is this: will the viewer come away from the webinar with useful information or actionable tips they didn't have before? If so, you've probably chosen a good topic. If not, it might be a sales pitch in disguise and you should rethink.
Step 3: Choose the right day and time
This might not seem important, but it can actually be a make-or-break factor. Studies show that Tuesdays, Wednesdays, and Thursdays are the best days to host a webinar:

Source: Daniel Waas
The best time of day for your webinar? 11am, 1pm, or 2pm, according to Gotomeeting. Very few people want to attend a webinar outside of working hours, and even fewer will give up an hour of their weekend.
Remember, if you're aiming to attract people in different time-zones, you'll need to take that into consideration. It's impossible to please everybody, but you should aim to accommodate the broadest possible section of your target audience.
Step 4: Reach out to invite people
You should advertise your webinar on your website, social media channels, and through your email list. But don't stop there. If there are particular people you'd like to invite, reach out to them personally.
You can use LinkedIn to find company representatives if you're trying to build a relationship with a particular business. Who you target will depend on what you do and what the webinar is about. In the case of the copywriting webinar example I used above, you'd want to target people in the Marketing department. If you were selling a software solution, you might reach out to the Head of IT.
Though you can send a direct message via LinkedIn, it's better to send a webinar invitation by email. If their contact information is not listed publicly, use a tool like Find Emails to look them up.
Here are my top webinar invitation tips:
Use an enticing subject line.
Keep it short and simple.
Personalize the email by using the individual's name.
Create a sense of urgency, such as by saying that registration closes soon or that only a few spaces remain.
Summarize the value the person will get from attending your webinar. What will they learn and how will it help them?
End with a clear call to action that links to your registration page.
Make sure your spelling and grammar is up to scratch. I recommend running everything through a grammar checker before you send it.
Here's a great example of a webinar invitation email:

Source: ClickMeeting
Step 5: Use an email sequence to remind people to attend
Statistically, fewer than half the people who register for a webinar will actually attend on the day. Gotomeeting found that the average registrant-to-attendee rate was 44%. It makes sense, therefore, to do what you can to maximize this number. An email sequence which sends several reminders is the best way to do this.
Here's how a simple automated webinar email sequence might look:
A "thank you for signing up" email as soon as the attendee registers.
A "one week to go" reminder.
A "happening tomorrow" reminder.
A "starting in one hour" reminder.
One study from Wild Apricot showed that sending 3 reminder emails increased participation by 215% compared to one email only:

Source: Wild Apricot
Automate your email sequence to ensure you never miss one of these crucial touchpoints.
Step 6: Offer a polished, professional presentation
Even if you're presenting your webinar from the comfort of your home, turning up in your sweatpants and having a pile of laundry visible in the background won't cut it! Dress professionally and present in a space with a smart or neutral background (you can always use a virtual background if necessary).
If you want to generate quality business leads through your webinar, your attendees need to view you as an expert. First impressions really do count, so make an effort.
Test your tech in plenty of time and ensure you have a strong internet connection. And, of course, don't forget to rehearse your presentation until it's as good as it can be. If you can get feedback from a trusted colleague, so much the better.

Step 7: Make your webinar active, not passive
People's attention span is short and we all have multiple conflicting demands on our time. If your webinar is entirely passive content, they're likely to tune out and not really take in what you're saying.
If you want to maximize engagement and therefore leads, make your webinar interactive. You can take audience questions using the chat-box facility, utilize interactive features like polls, prepare some "have a go" exercises, or even include virtual breakout rooms where attendees can discuss the topic in small groups.
The best way to get people to remember the material is to involve them directly. So don't be afraid of audience participation.
Step 8: Include a compelling CTA that induces FOMO
The call-to-action (CTA) is where you tell your audience what you want them to do next. It should come towards the end of your webinar, when you have already delivered the value you promised.
Since your goal is to generate leads for your business, your CTA should be something that furthers that goal. Perhaps you want your attendees to join your mailing list, register for your paid course, book a consultation, or buy your book. The call to action should lead to a landing page where you attempt to sell them this service.
The best way to get your attendees to take action is to create Fear of Missing Out (FOMO). Examples could be a discount or free consultation that is only valid for a short time. An Experian report found that emails which conveyed a sense of urgency doubled transaction rates compared to those without.
Looking for some inspiration? Check out these awesome call to action examples to get you started!
Step 9: Follow up
The follow-up stage is vital if you want to see those conversions from your webinar. Therefore, don't sit back and assume your work is done when the event is over.
Send an email to all your attendees later in the day or the day following your webinar. Thank them for attending, invite them to contact you with any additional questions, and reiterate your CTA. People sometimes need more than one reminder before they take action.
Don't forget to follow up with people who registered but didn't attend, too. Send them your slide deck or a recording of the webinar so that they can catch up in their own time.
Growing your conversions with webinars
The evidence shows that webinars are a powerful marketing tool and a fantastic way to generate more high quality leads for your business. So follow these tips to host an amazing webinar, and you'll soon see those leads and conversions rolling in.
Good luck!
Bio
Jess Amy Dixon is a Project Manager at Launch Space, where she helps SaaS clients land guest posts so they can generate links that push their content up the search rankings. She lives in the UK and when she's not writing you can probably find her knitting, reading, or sipping coffee. Follow her on Twitter and Instagram @JessAmyWrites.