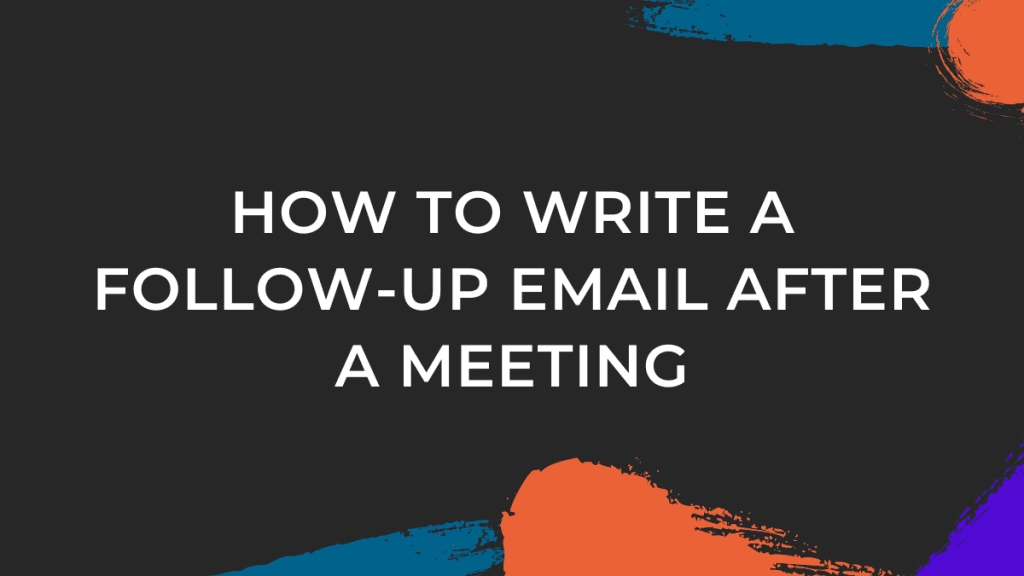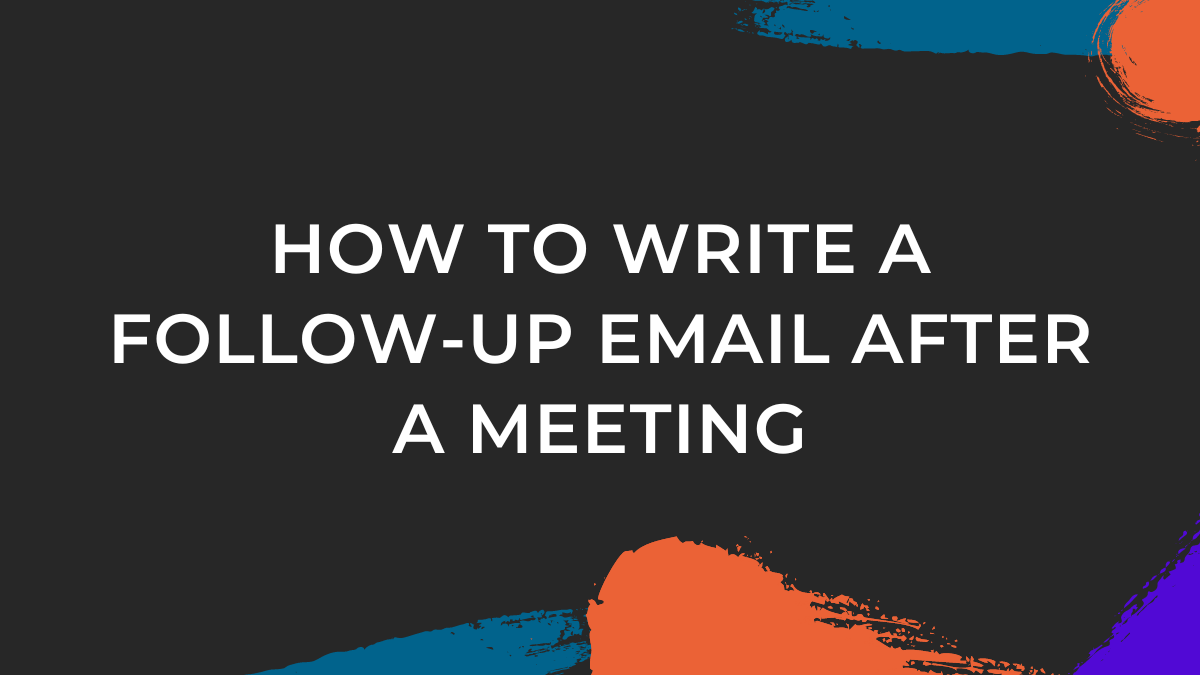 First impressions are important. How you present yourself during your initial communication with a potential client or employer determines how seriously they are likely to take you.
When you follow up after meeting with a potential client or employer, the follow-up email you send should be just as respectful and professional as the meeting itself.
A follow-up email after meeting with someone is an excellent opportunity to remind the person of who you are and what you discussed.
Additionally, email allows you to add information, clarify details, or extend an invitation.
With a bit of careful thought and planning, your follow-up email after meeting with an individual or a group can be a great way to move the relationship forward.
Here are some best practices you should follow when writing follow-up emails.
Remind them who you are
You should start your message by reminding them how you met; this will prevent them from having to spend time trying to find out who you are and how you obtained their contact details.
Express gratitude for their time
Going to a meeting might require taking time away from other activities. Being in a meeting prevents you from completing the tasks that have to be done. This is why it's crucial to express gratitude to the people who attended the meeting.
Reiterating your thanks is a nice way to express that you value their time and effort, even if you have told them so during the meeting.
Recount what happened during the meeting
The worst thing that can happen at the conclusion of a meeting is for no one to recall anything that was said. Everything you heard before the most recent conversation has gone straight through your head and out your other ear.
Accordingly, be sure to include a meeting summary in your follow-up email.
Individual notes taken by participants are unlikely to be consistent, and they may omit important information. Make sure everyone is on the same page and understands the next steps by providing a written overview.
You may be wondering what goes into a meeting summary. So, let's have a look at what details need to be included:
A list of main talking points
A list of key decisions made during the meeting.
A log of the tasks and the list of people responsible for them
Materials used as a point of reference during the meeting
Clarification and answers to issues discussed in the meeting can also be provided through email recap. You can send this email along with any supporting materials you may have.
Suggest the next steps
Make sure to include a call to action and the next steps in your meeting follow-up email. This will serve as a gentle reminder to those who may have forgotten the following steps in the process.
Having the following steps documented like this makes sure that everyone is holding themselves to the plan.
People who were not able to make it to the meeting will also benefit from this. If someone was unable to attend, they were likely still given some sort of follow-up task to complete.
As a result, those who could not attend the meeting will still be aware of their roles and obligations.
Don't forget to provide the date for an upcoming meeting
Your follow-up email should finish with a reminder of the next scheduled meeting. You can't imagine how frustrating it would be to have to hastily look through hundreds of emails to see when your appointments are.
Add the next meeting date to the conclusion of your follow-up meeting email rather than sending a separate email with the date.
This will establish a pattern, allowing your meeting's attendees to quickly and easily locate the next meeting time and place. Also, establishing this habit will help you avoid forgetting to send out meeting reminder emails until much later in the week.
Remember to keep it brief
Consider the time of your reader and get right to the point. It's crucial to have a goal in mind, and working toward that goal should be your primary focus, so cut out any unnecessary introductions, repetitions, or excessive details.
Shorter emails are more likely to be read and responded to. Try to keep your emails between 50 and 125 words for best results.
Choose the right timing
When it comes to sending any kind of email, timing is incredibly important. A timely follow-up email after meeting will ensure that you remain fresh in the recipient's memory. This way, you'll make sure that your message hasn't been forgotten and that you'll be front of mind whenever a suitable chance presents itself.
For most situations, it's best to follow up within 24 hours. This is a good practice for business meetings, conferences, events, interviews, and business deals.
However, there are some situations that require more time. For example, you should give potential employees a week or two before you follow up after a job interview.
Every three months is a good interval to follow up if you simply want to catch up with a network member for the sake of maintaining your contact with them.
Put your own stamp on it
Add a personal touch once you've successfully communicated your worth and interest in a professional connection. Sincerity and politeness go a long way. Here are some things to include in your message to make them more personalized:
Reference something from your conversation to make yourself more memorable. This will show them that you've actually paid attention and remembered who they are.
Consider adding a bit of humor to make your email more memorable. Be careful with humor, however, as it can easily backfire.
Include a formal and interactive email signature with a name, title, and contact information.
Convey your interest in moving forward. In your closing, make it clear that you're looking forward to working with the person and that you hope they will reach out to you soon.
If you're sending out identical emails to many different recipients, consider drafting an email template and leave room to add personal touches to the email for each recipient.
Follow-up email templates
Let's go over some examples of effective email follow-ups to use after meetings. Templates are categorized by use case, making it simple to find the appropriate follow-up action.
Don't forget to also choose an appropriate subject line for your follow-up email. Check out our examples of subject lines that will help you improve your open rates.
Simply saying thanks after a meeting
Hey there [First Name]!
Many thanks for taking the time to talk to me today. I appreciated the opportunity to hear more about [Company Name] and your role there. Thank you very much for all the help you gave me to get started in [Industry].
I want to wish you the best of success with the release of your new feature. I look forward to keeping in touch and catching up with you again soon.
Best,
[Signature]
Following up after an event
Hi [Name],
I wanted to say how much I enjoyed meeting you at the [Event] on [Date]. I appreciated you sharing your thoughts and opinions on [Topic].
For your convenience, I have included a document summarizing our conversation. I'd be interested in talking with you more about this and the possibility of working together.
Please let me know when it would be convenient for you to meet so we can continue talking. Please find a link to my calendar below, and I will get back to you in a few days. I look forward to our next conversation.
Sincerely,
[Signature]
Following up after a job interview
Hi [Name],
Many thanks for taking the time to talk to me today. It was great talking with you about the team and the role, and I'm thrilled to have the chance to join [Company Name].
I am eagerly awaiting word on the next stages in the employment process and invite you to get in touch with me if I can answer any questions or give any further information.
Kind regards,
[Signature]
Following up after a business meeting
Hi [Name],
The time we spent together was really informative, and I appreciate you taking the time to meet with me.
The information you shared with me about your position and the fantastic work your organization conducts was really interesting.
The opportunity to work with you and your team toward the shared goals we've discussed would be an exciting and welcome development for us.
To that end, here are some projects which we'd be really keen to work on:
[List of Projects]
If you're interested in setting up a follow-up conversation with both of our teams to discuss the specifics of our upcoming collaboration, please let me know.
We appreciate your patience and time.
Best,
[Signature]
Following up after a team meeting
Greetings [Team],
We appreciate you clearing your calendar to meet with us today. In recognition of your efforts on behalf of [Company Name], I would like to say thank you.
As a follow-up to our discussion, I'd like to restate some of the more important issues we discussed:
[List of Issues]
Here's a rundown of the tasks that need doing and what has to happen next:
[List of Tasks]
In case you have any questions after the meeting, please find attached the materials discussed.
I hope to see you at our next team meeting on [Date]. Have a great remainder of the week!
Best,
[Signature]
Following up to schedule another meeting
Hey there [Name]!
I'm happy to be back in [City]; I really enjoyed my time there the last time.
I know you have a lot on your plate, but I wanted to mention how much I liked what you did in your position and how much I enjoyed our previous conversation on [Topic].
I'd love to have coffee with you and discuss the progress I've made in this area since then.
While I'm in town, let's meet up if you're available.
Best,
[Signature]
Asking for feedback
Hey there [Name]!
It was a pleasure to finally meet you in person at [Event]. As I work on [Project] at [Company Name], your extensive background and standing in the [Industry] are invaluable resources that I draw upon.
Although I recognize your hectic schedule, would you be willing to review a section of [Project] if at all possible? Any feedback you can provide would be highly appreciated.
In particular, I'd appreciate hearing your thoughts on [List of Issues].
Really appreciate you taking the time to help me out.
Best,
[Signature]
Wrapping up
Writing a follow-up email after meeting is an integral part of the process.
After a meeting, take the time to write down key points and recap what you've discussed.
Use this opportunity to show your appreciation for their participation and your desire to stay in touch.
Demonstrate your interest in moving forward, and make clear what the next steps are.
Remember always to keep your follow-up email brief, professional, and sincere.
Use the examples above as a template for your follow-up emails, but don't forget to add your personal touch!