Sales email automation tools are no longer a fancy gimmick — it has become a staple tool in every sales rep's tech stack. With a myriad of email automation platforms out there, discerning which tools truly drive results can be a challenge. What functionality is a necessity, and what is just a nice-to-have you'll hardly ever get a chance to use? 
In this blog post, we'll narrow the choice down to 10 essential features that are an absolute must and discuss how they can benefit your business.
What Makes Sales Email Automation Tools So Indispensable?
Before we delve into the most critical features your new sales email automation tools should have, let's briefly discuss how implementing this powerful tool can help your business grow.
Shortly put, automating your sales email outreach means creating and scheduling campaigns in advance based on specific triggers, rules, or recipient actions. This process can help you save time, boost productivity, and improve conversions.
Let's be more specific and see what well-chosen sales email automation tools can help you with:
Time optimization. Sales professionals spend an average of 21% of their day writing emails, which is a lot. Automation drastically reduces this, freeing time for other essential tasks like relationship building, selling, and enhancing product knowledge.
Precise prospect targeting. Automation tools allow for advanced segmentation, meaning emails are sent to specific subsets of leads based on criteria like their buying history, previous behaviors, interests, engagement levels, and more, ensuring messages resonate more deeply with them.
Consistent follow-ups. Automated software ensures that no lead goes untouched. Systematic reminders and follow-ups increase the probability you'll convert leads into paying customers.
Scalability. Manual email processes become untenable as your company, prospect list, and sales efforts expand. Automation ensures that whether you have 100 or 10,000 leads, each gets the personalized TLC tailored to their needs and preferences.
Data-driven decisions. With built-in analytics, sales teams can see which emails perform best, which subject lines get the most opens, and what content drives engagement. This empirical data guides strategy, taking the guesswork out of your email campaigns.
Now we can list and discuss crucial sales email automation features.
1. Robust Email List Management 
Food list management is pivotal to the success of your sales email campaigns. Every organization collects a vast amount of information about potential and existing customers. But it's not just about having a huge list of email recipients — it's about organizing, labeling, optimizing, and keeping it clean and fresh.
Otherwise, you risk ending up with an endless list riddled with missing fields and outdated contacts that will catapult your emails right to spam folders.
One of the primary advantages of sophisticated list management is the ability to effortlessly import contacts from and export them to your CRM. This ensures that your email automation platform and CRM work in harmony, keeping all data synchronized and up-to-date.
Using tags and labels, you can categorize contacts based on various criteria like industry, time zone, funnel stage, prospect activity, engagement, or lead source. This level of granularity makes targeted outreach a breeze since you can filter out all the contacts from a particular category with a single click and add them to a campaign.
As your business grows, so does your contact list. That's why the ability to upload, remove, or de-dupe contacts in bulk saves you a lot of time and minimizes manual errors. Similarly, bulk edits ensure that large-scale changes are just a few clicks away.
2. Detailed Segmentation and Personalization 
Cookie-cutter email campaigns don't cut it, and adding the recipient's first name won't change the fact that you're sending generic mass emails. True personalization has to go well beyond creating a single email for an entire group of people and changing only details such as their title, name, or industry.
That's where segmentation comes in to help you transform these robotic emails bordering on spam into relevant messages that resonate with different audiences. But, manually doing this on a large scale is virtually impossible.
There are different segmentation criteria you can apply to your campaigns and send them tailored emails that will reflect their needs, preferences, and interests. Some of them include:
Point of subscription. You can segment your contacts based on where they signed up for your email list, such as your website, social media, or a lead magnet. This way, you can send them relevant content and offers based on their initial interest and intent.
Level of engagement. You can segment your contacts based on how they interact with your previous email campaigns, such as opening, clicking, replying, or unsubscribing. This way, you can identify your most engaged and loyal subscribers, as well as those who need more nurturing or re-engagement.
Activity triggers. Another way to segment your contacts is based on their actions on your website or app, such as browsing products, adding items to the cart, purchasing, or abandoning the items without making a purchase. It's possible to set up personalized emails that will be sent at the right moment and match their behavior or needs. For example, a shopping cart abandonment email paired with a discount can encourage them to change their mind and complete the transaction. A thank-you email with relevant resources that can help the customer make the most of the product they bought is a great way to engage them post-purchase.
Such automated campaigns can go a long way toward building relationships and loyalty with your potential and existing customers.
3. Dynamic Campaigns
The previous feature we mentioned allows you to create and schedule linear and somewhat static campaigns. Although these emails reflect customers' actions and behaviors, there's a feature that will take your interaction with them to the next level and turn it into a conversation.
Dynamic campaigns, such as those created with the help of Autoklose's Decision Tree, are much more flexible in the sense they don't have to end once the prospect replies, makes a purchase, downloads an e-book, or registers for a webinar. 
With traditional campaign builders, you have to manually add prospects to a new campaign once the existing one is completed. With dynamic campaigns, each prospect's previous actions will be referenced in a subsequent follow-up. The system automatically redirects them to another branch of the same campaign or to an entirely new campaign.
Email sequences created like this are much more engaging and personalized and result in a higher conversion rate.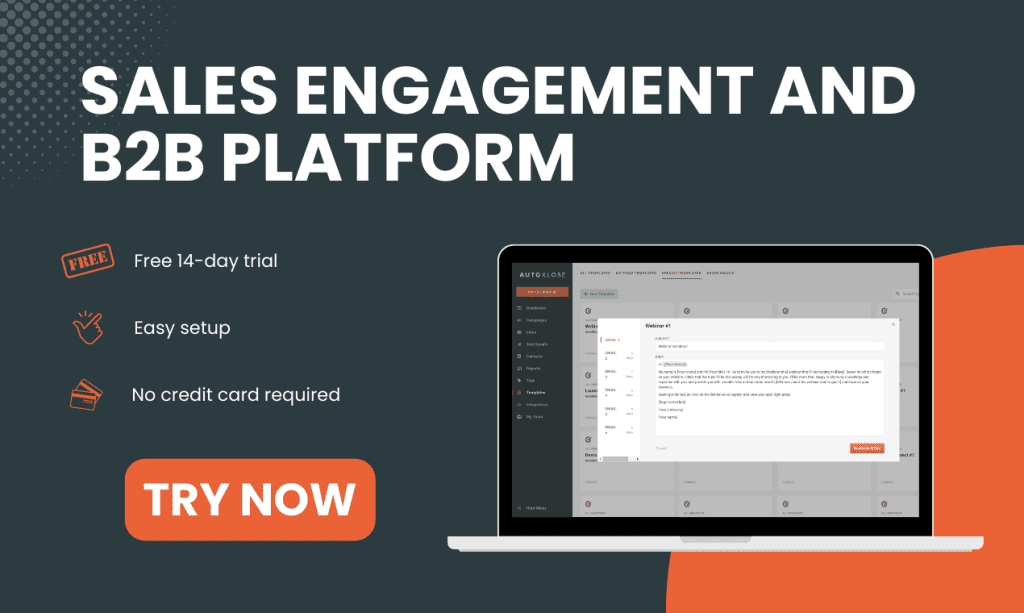 4. A Library of Customizable Templates 
Crafting the perfect email and subject line every time you want to send out a message is time-consuming and even more so if we're talking about an entire sequence. Salespeople, although they are capable of nailing a great pitch, don't have enough time for this activity. 
That's why a template library comes in very handy and provides pre-designed templates that can be customized based on the desired outreach. This means less time composing emails and more time selling.
Sales email automation software that comes with a library of templates for different use cases, purposes, and occasions, such as prospecting, networking, following-up, referrals, and marketing promotions, is worth investing in.
This feature can save you time and effort by providing you with proven and effective email copy that you can customize and personalize according to your needs and preferences. You can also create your own email templates from scratch or save the best-performing emails and share them with your sales team.
Let's also not forget it's essential for businesses to maintain a consistent brand voice and messaging across all platforms. Email templates ensure that every email sent out, regardless of the sender, retains the company's specific tone, style, and formatting.
5. A Powerful Email Editor 
An engaging high-converting email requires more than just compelling copy — it's about delivering that content in a visually appealing and impactful manner. When shopping for a sales email automation platform, look for one with a powerful and feature-rich email builder that comes with the following options:
WYSIWYG, or What You See Is What You Get, is a functionality that allows you to view changes in real time without worrying about what will happen once you hit the send button. No more toggling between editing and preview modes; what you craft is precisely what the recipient sees, eliminating guesswork.
User-friendly interface which makes the email creation process intuitive and hassle-free.
Customization capabilities such as changing the font color or size, adding videos, images, gifs, emojis, background colors, and other multimedia elements, and adjusting the layout and formatting. This will allow you to stay on brand even if you have no HTML skills.
6. Compliance with Anti-Spam Laws
When discussing email marketing or sales outreach, we can't overlook the importance of compliance with anti-spam laws. Adhering to CAN-SPAM Act, GDPR, and CASL, you not only protect yourself from potential legal consequences but also ensure that your recipients view your brand as legit and trustworthy.
Features such as a spam checker or unsubscribe button aren't just mere add-ons but are fundamental to the success of your email campaigns. 
Being flagged as spam or, worse, violating anti-spam laws can severely damage your brand's reputation. But make no mistake — although your intent isn't to spam recipients or send unsolicited emails, spam filters qualify certain words and phrases as spammy, and sometimes it's hard to tell which ones will get you blacklisted. Besides the obvious "$$$," "fast cash," or "unsecured debt," even the unassuming "opportunity" or "lifetime" can get you into trouble.
To minimize this risk, your sales email automation platform should have a spam checker that will scan your email copy and subject line to gauge if it contains any spam words or phrases.
By providing real-time feedback, this useful tool allows you to make necessary adjustments and prevent your emails from being perceived as spam by your email service provider or recipients themselves.
The ability to add the "unsubscribe" link or button to all your emails with a single click is another essential feature you should consider.
7. Generous Sending Limits 
Another indispensable feature when considering a sales email automation platform is its sending limits. This aspect can greatly influence the scale, pace, and effectiveness of your email campaigns.
Here's why decent sending limits matter:
Scalability. For growing businesses and startups, it's essential to reach a large audience without being hamstrung by restrictive sending limits. A platform that provides generous sending quotas ensures you can scale your campaigns as your business and audience grow.
Flexibility in campaign planning. With decent sending limits, businesses have the flexibility to design campaigns that fit their unique strategies, whether it's a broad outreach or segmented micro-campaigns. This means no more spreading out emails over a couple of days or compromising on the number of recipients.
Optimized engagement. The timing of your email sends can significantly influence open and engagement rates. If you're limited by low sending caps, you might not be able to take advantage of optimal sending windows, potentially reducing the impact of your campaign.
Autoklose's sending limit is set to 500 emails per day per account, allowing you to plan your campaigns effectively and avoid triggering spam filters. Remember that Autoklose sends emails from your own Gmail, Office365, or any other third-party mailbox, meaning that you should also be aware of these limits.
8. Detailed Reporting 
The importance of using data-driven insights to inform and enhance your sales email marketing efforts can't be stressed enough. For this, you need software that will offer comprehensive analytics and detailed reporting. Besides the most common metrics such as open, click, unsubscribe, response, and bounce rate, you should also make sure the platform of your choice offers deeper insights into how your campaigns and team members are performing.
Autoklose's Dashboard puts all the relevant information at your fingertips and shows you real-time stats such as:
Top 3 warmest prospects
Top 3 most clicked links
Top 3 highest-converting templates
Hourly open rates
Daily open rates.
The Reporting option allows you to filter reports by team members and campaigns, as well as campaign statuses and date ranges.
9. Lots of Integrations 
To make the most of your sales email automation platform, it should seamlessly integrate with other sales, marketing, sales intelligence, and productivity tools. This way, you'll make sure your email strategy draws from a unified and synchronized data pool.
By merging with platforms like CRMs or analytics tools, a sales email platform ensures data continuity. This continuous flow means no more manual importing of contact lists or updating lead statuses. Everything is synced, saving time and reducing the chance of errors.
Integrates go beyond just data management as they will raise your personalization game. Direct access to data like purchase history or website interactions can make your emails more targeted and relevant. Instead of generic blasts, you're communicating based on real, actionable insights and customer behavior and preferences.
10. Best-in-Class Deliverability 
One of the most important factors to consider when choosing a sales email automation platform is whether it guarantees a good and reliable deliverability rate.
When you're sending emails in bulk, things can go wrong, and your carefully crafted email campaigns might not be delivered to the intended recipients due to bouncing, bouncing, being blocked by your email service provider, or being marked as spam. Deliverability is crucial for the success of your email marketing campaigns, as it affects your open rates, click-through rates, conversions, and, ultimately, your revenue.
There are many factors that influence deliverability, such as the quality of your email list, the content and design of your emails, the reputation of your sender domain and IP address, the authentication protocols you use, and the frequency and timing of your email sends. A good sales email automation platform will help you optimize these factors and provide you with tools to monitor and improve your deliverability over time.
Email list validation and cleaning. This feature will help you remove outdated, inactive, incomplete, or fraudulent email addresses from your list, reducing bounce rates and spam complaints.
Spam testing and analysis. We've already discussed the importance of having a spam checker, as it can reduce the odds that your campaigns won't be delivered.
Sender reputation management. A reliable email automation platform will help you maintain a good reputation for your sender domain and IP address by following best practices such as using your own mailbox for sending campaigns, setting up SPF, DKIM, and DMARC authentication protocols, and avoiding blacklists.
Email delivery tracking and reporting. It's crucial to measure and analyze your email delivery performance, such as open, click-through, and conversion rates, as well as deliverability issues. Your email automation software should also provide actionable insights and recommendations on optimizing your email campaigns and resolving any potential problems.
In Conclusion
From ensuring personalized outreach to providing detailed campaign analytics, the right sales email automation software empowers you to work smarter and forge deeper, more meaningful connections with your audience. As you weigh your options, remember to prioritize the features highlighted in this article.