It's a hot, long summer, but the Autoklose team has been working hard to refresh the look and feel of our Campaign Editor.
The main goal was to streamline campaign creation and guide you through the process step by step.
As of now, our Campaign Flow is much more intuitive, and it will be even easier for you to craft your campaigns for success. We even offer tips with which you'll be able to boost your email marketing efforts and better tailor your campaigns to your audience's needs and preferences.
There are still the same 5 easy steps, and we just polished the design and user experience so that you don't have to scratch your head as to what you should do next.
Step 1 – Campaign Settings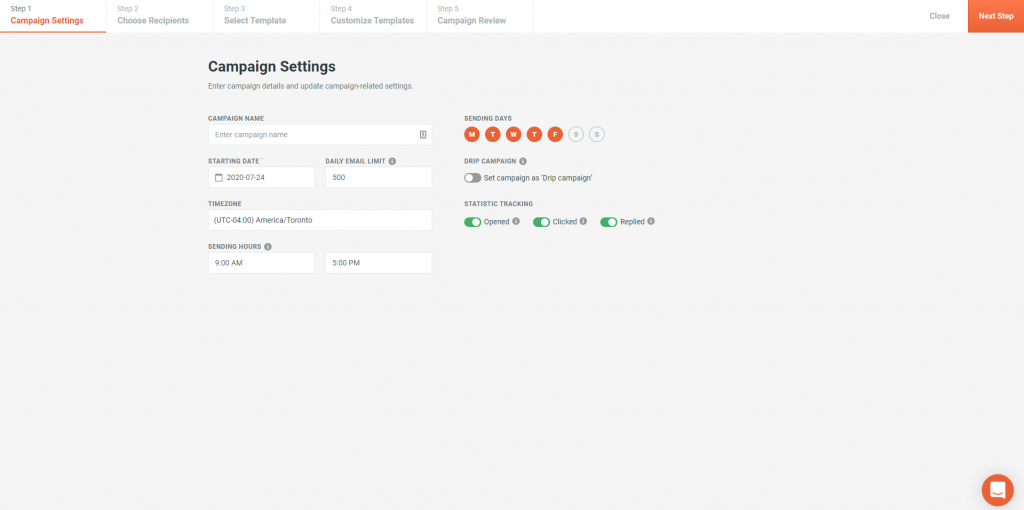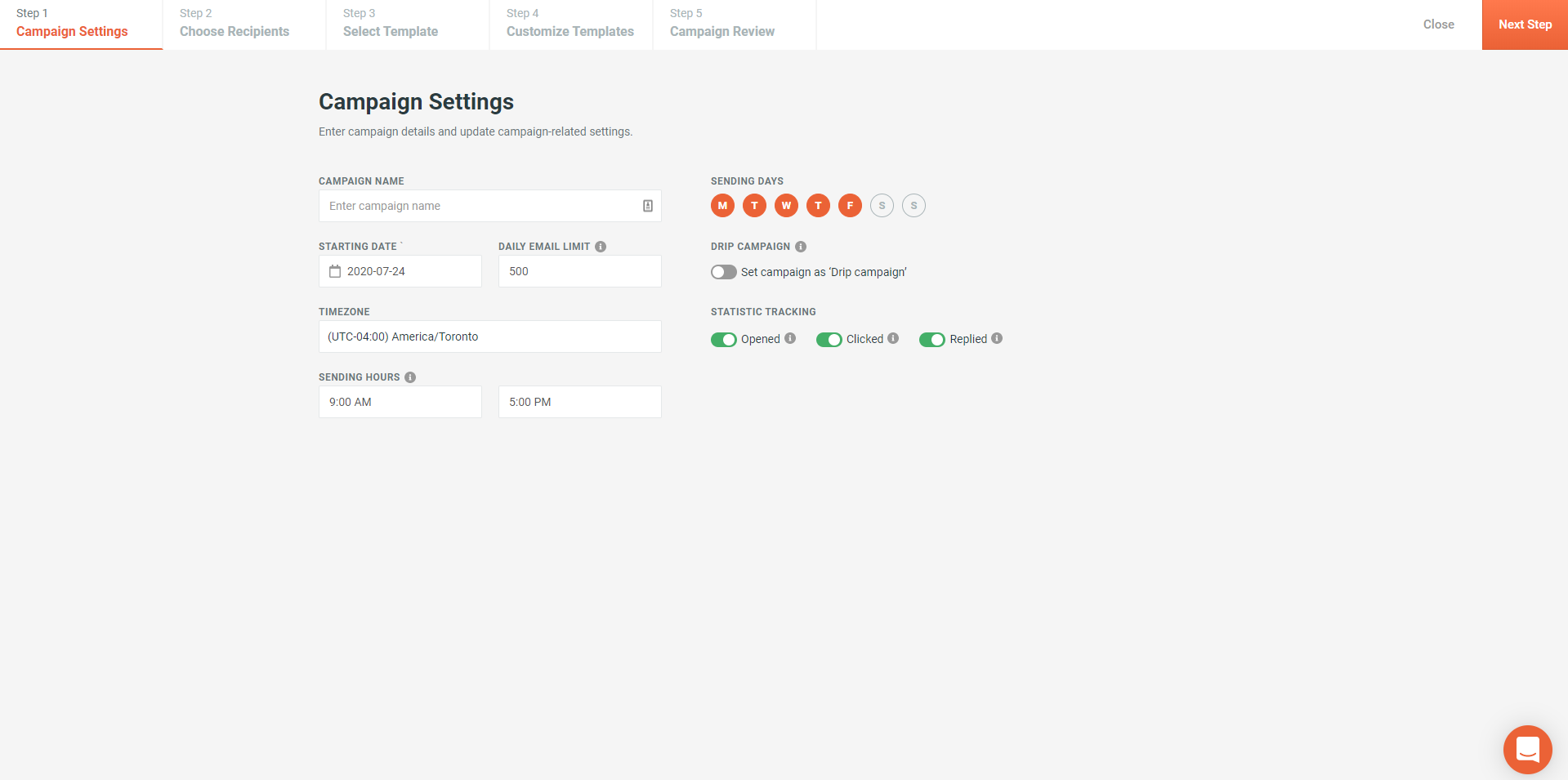 In this step, you can name your campaign, and define a number of different settings such as select sending days, timezone, and sending hours. However, it would be a good idea to read relevant resources and schedule your campaign for the best times for outreach and prospecting.
Besides that, the Automate Actions feature allows you to choose among different conditions and combine them with one of the automatic responses. This way, you'll additionally customize your campaigns.
This is also the moment to pick what campaign statistics you want to be tracked.
Finally, in this window, it's possible to adjust your daily email limit.
Step 2 – Choose Recipients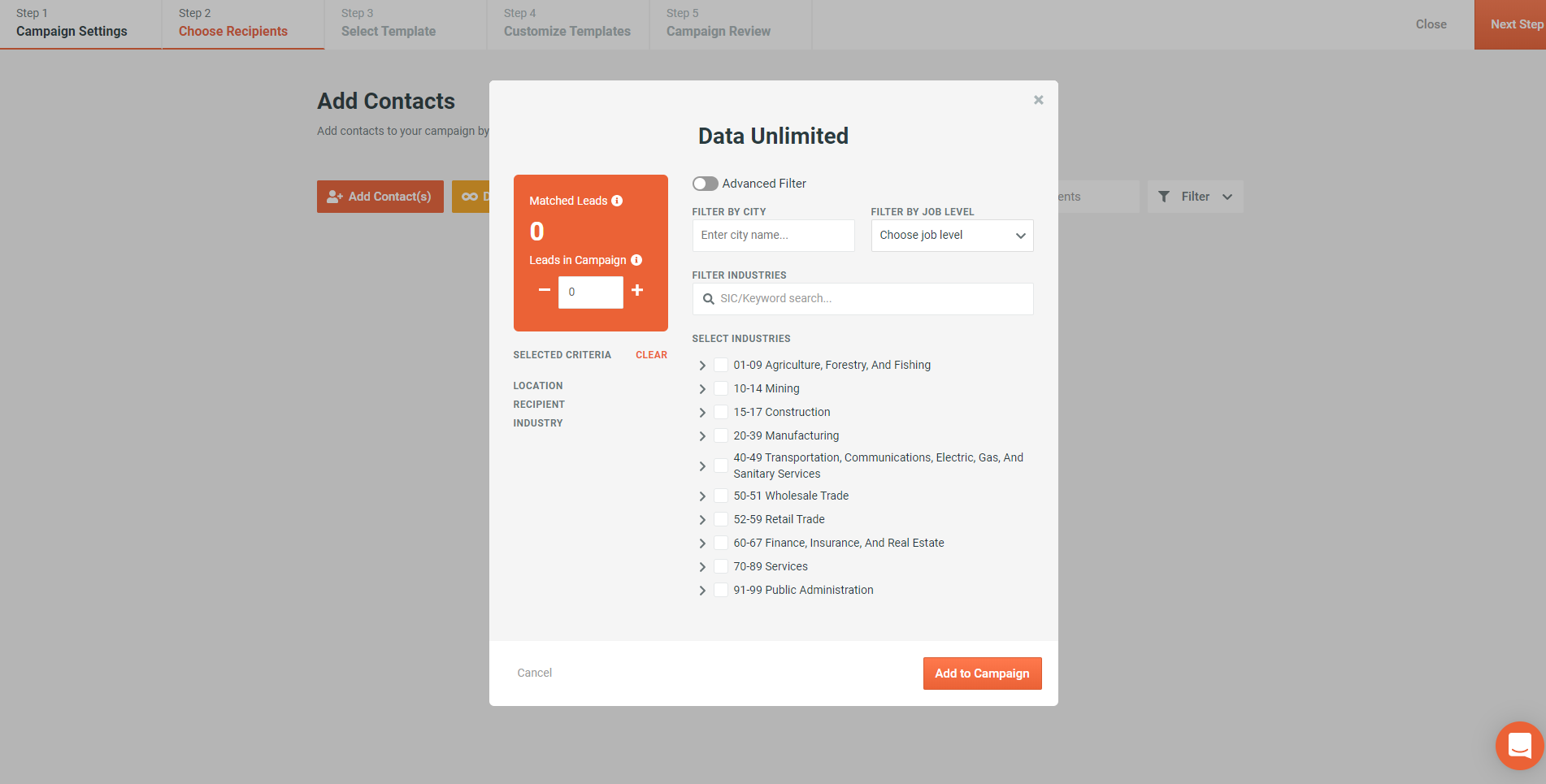 As its name suggests, this step is all about adding recipients to your campaign.
You can do this by adding them from your existing contacts, adding new contacts, uploading a .CSV file, or using contacts from our DataUnlimited feature.
Our B2B database is packed with millions of clean and verified leads from different industries, and the filtering functionality allows you to set detailed parameters. This way you can select contacts based on their role, seniority level, geographic location, role, phone number, and email, to mention just a few.
Even though there are different sources from which you can upload your contacts, Autoklose makes sure that there are no duplicates in your campaign by consolidating them.
This is the step in which you will segment your recipients and send them tailored and relevant content only, thus increasing your open, click-through, and reply rate.
What can additionally help your emailing efforts are tags – a feature that categorizes your contacts based on how engaged they are with the content you send them. This means that you can create a campaign and target hot leads only.
Step 3 – Select Template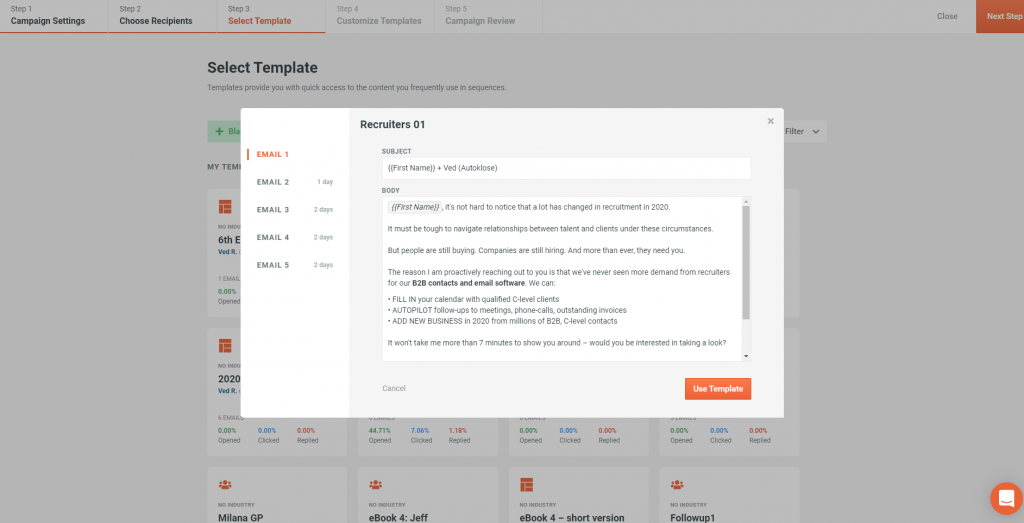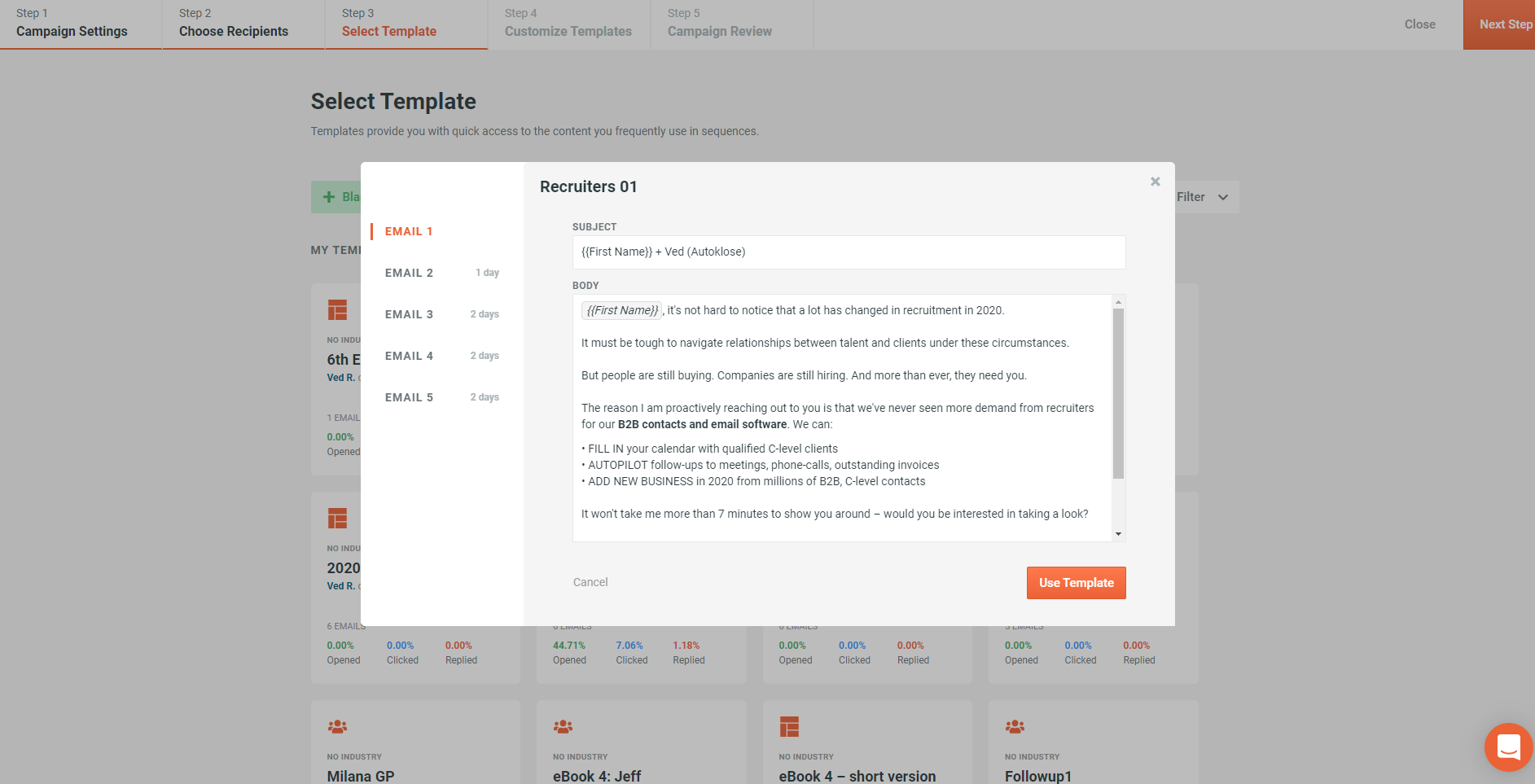 In this step, it's time to select an email template sequence that you want to customize and send to your recipients.
And again, you have several options:
you can select a blank template and start everything from scratch
you can select one of our existing templates or sequences for different business situations and customize them
or, you can pick one of your well-performing templates and send it to new recipients.
Step 4 – Customize template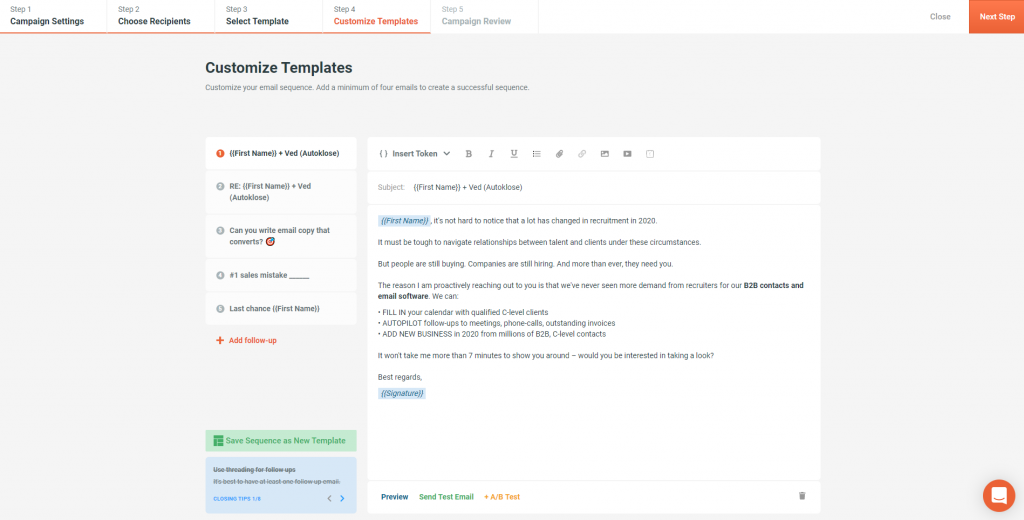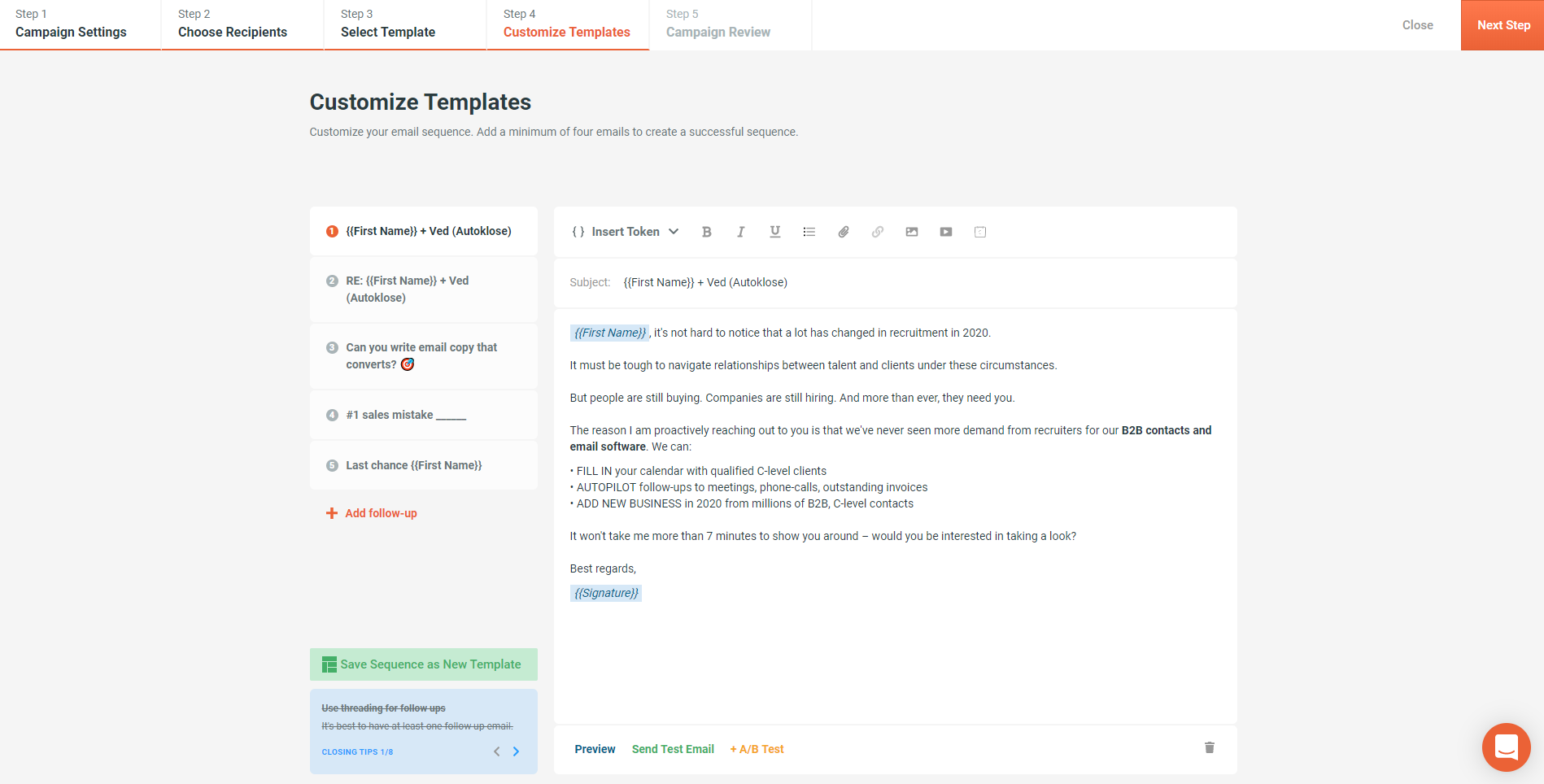 After you've selected your templates, it's time to customize them.
You can attach files, leverage video prospecting, add tokens or custom fields, insert an infinite number of follow-ups, intervals, etc., inside your templates.
It's important to state that our powerful Autoklose Template Analyzer will highlight any spam words or phrases, and prompt you to remove them, thus helping you avoid relentless spam filters and improving your deliverability.
Another valuable option is A/B testing, with which it will be easy for you to identify what works and what doesn't and stick to a winning template.
Finally, you can share your templates with your teammates and ask them for their opinion.
Step 5 – Campaign Review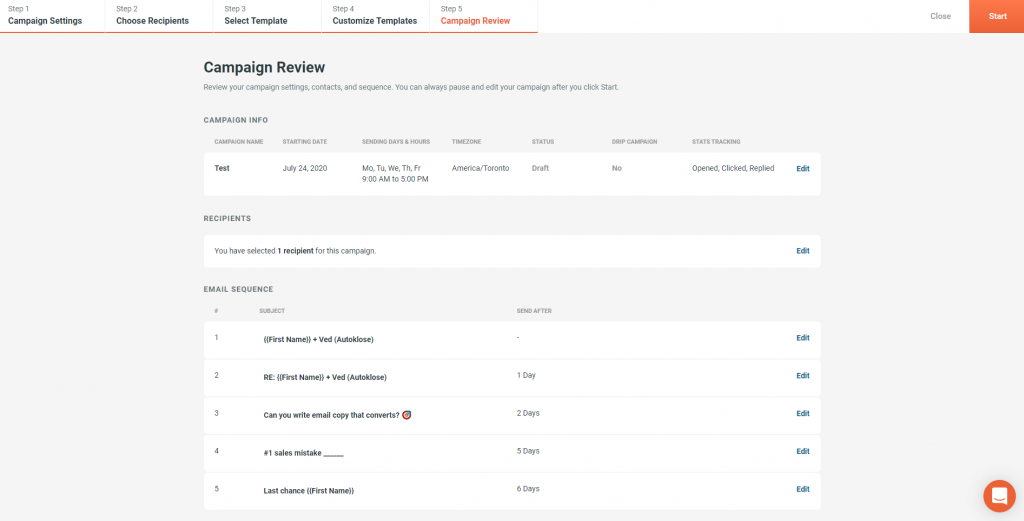 After you have adjusted and tweaked everything, it's time to review your campaign and check whether everything is properly set.
This window lists all the Campaign elements including the number of recipients, starting date, sending days and hours, timezone, the status of the campaign, as well as what stats will be tracked. 
You can also preview your email sequence.
In a nutshell, the Campaign Review is like a mini dashboard that has all your campaign settings in one place, from which you can easily edit them and hit Start.