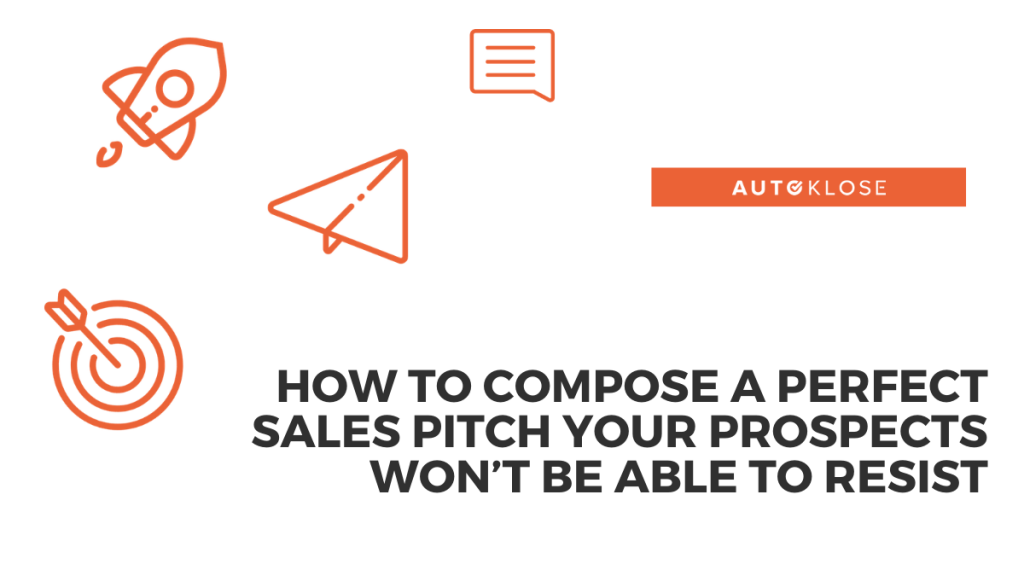 Your sales pitch is a critical element of your entire sales process.
And the trouble is that you have to squeeze all the reasons why your product is so great and beneficial to your prospect, communicate your brand statement, mission, and vision, as well as connect with the prospect in a matter of minutes.
Making a memorable impression is your ultimate goal, and that can be pretty challenging because you can easily slip into bragging about how cool your product is without actually offering value to your prospect.
Here are some tips that can help you create a killer sales pitch.
Don't Pitch!
Okay, this sounds a bit contradictory, but the thing is that nobody wants to listen to a traditional sales pitch.
Most people associate the idea of a sales pitch with stuffy sales reps who talk their prospects' ear off and whose only goal is to push their own agenda.
The times have changed, and contemporary customers want more than being pitched to.
They want a two-way conversation and not a monologue. This means that you have to understand what their pain points and needs are and create your presentation around how your product or service can help them.
This brings us to the following point:
Put Your Buyer's Needs First
In other words, your entire pitch should be crafted in a manner that takes their perspective into consideration.
Your every prospect is different so that your sales pitch can't be generic. Instead of that, you have to connect the dots and show how exactly your product will help and benefit every individual prospect.
Sounds logical, right?
And yet, only 13% of customers believe that a salesperson understands their needs.
It's true that an ideal customer profile and buyer's personas help, but they're only scratching the surface. You need to go beyond these uniform, one-size-fits-all scripts.
In order to tailor your every sales pitch based on the needs of every individual prospect, you have to do your research and have a clear idea about who you're going to talk to. Find out what their company's goals and priorities are.
Also, during the preparation phase, it's essential to acquaint yourself with their industry, clients, and competitors.
By doing this, you won't have to worry whether a prospect is familiar with your company or not – you'll show them that you've done your homework and that you're ready to walk the extra mile to help them with their issues.
When they understand that you spent hours exploring their particular case without any guarantee that you'll make a sale, you'll convince them that your intentions are honorable and not opportunistic.
How to Grab Their Attention
The main trouble with a sales pitch is that prospects can easily see one coming, and your entire presentation will be lost on them.
That's why you have to take a different approach and make your introduction not about yourself but about them. This is a surefire way of capturing their attention and engaging them in a further conversation. 
One of the best ways of achieving this is by asking a couple of questions about their company. While it's true that you should show them that you know a great deal about their company, it's not exactly a good idea to have everything worked out for them – what's your prospect's role in the whole thing?
By asking relevant and knowledgeable questions, you show that you've been researching, but still want to hear their opinion before you suggest the best solution for their problem.

Have a Strong Unique Value Proposition
A unique selling proposition or unique value proposition is a clear statement that highlights a key differentiator or a benefit of your offer and tells your prospects why they should pick you over your competitors.
The most important factor of a well-crafted UVP is that it relies on your product or service benefits and not features.
Again, you need to understand your prospect and their pain points in order to emphasize particular aspects of your product or service that can offer a solution.
Build Your Pitch on Top of a Relatable Story
Storytelling is a crucial element of every marketing strategy, and it humanizes your message and pitch.
Pick a good and genuine personal story and build your pitch around it. Your prospects will be more likely to listen to what you have to say if you present it through an interesting narrative. Stories that resonate with your prospects can help you build a more meaningful relationship with them.
Storytelling is an excellent vehicle to showcase how your product or service works in a context familiar to your prospects. It's much more effective to use this strategy than to describe and explain how your product works.
In order to engage potential customers, you need to draw them into your story and get them to participate in it, rather than to let them passively observe it.
Be as clear as possible, and use your existing customers' examples to illustrate, for example, how much time or money your prospect can save within a certain period.
A before-after approach is also great for painting a picture of how your prospect's world looks like at the moment and how it can look like after using your solution.
Ask Your Loyal Customers to Put in a Good Word for You
You can tell whatever you want about yourself and your product, but unless there's someone who can vouch for you, your prospects won't trust you.
Social proof in the form of your existing happy customers can offer proof that you're reliable as well as that you deliver on your promises. 
Snippets of your customer testimonials and reviews should be incorporated into your sales pitch, as they will offer you a certain degree of credibility. Mention the results they achieved and how you helped them reach their goals.
Besides that, it's a good idea to offer an authority from your niche to try out your product or service for free, and use their reputation to additionally corroborate your claims.
Of course, social proof works only if it's genuine and authentic.

Wrap Up With a Specific Request
After you've discussed your prospect's needs, interests, pain points, offered them your solution, illustrated how it worked for others, it's time to formulate and sum up what you want your prospect do next.
This is something like creating a compelling call to action for your emails or landing pages. 
Be very precise about your expectations and tell them what action they should take next and how.
Many salespeople don't properly wrap up their pitch – being afraid of objections and rejections, they never actually suggest a sale, but only throw hints at prospects. 
So, instead of leaving your prospect to read your mind, tell them what you want and what your idea is. Don't be afraid to use words such as "sale," "close" or "proposal."
It's a good thing to be prepared for additional questions and objections, and think about potential answers that will convince your prospect to give your product or service a chance.